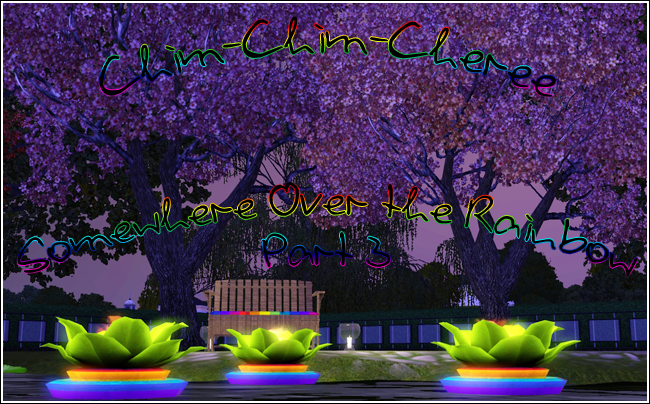 !Attention!
This is Part 3. Read
Part 1
and
Part 2
first!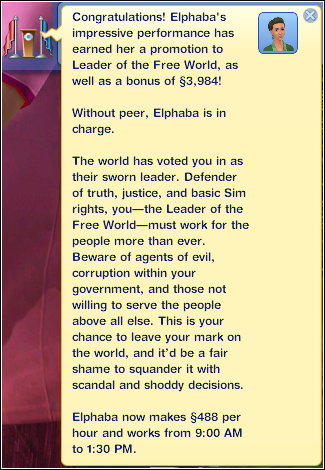 DUN DUN DAAAAAH!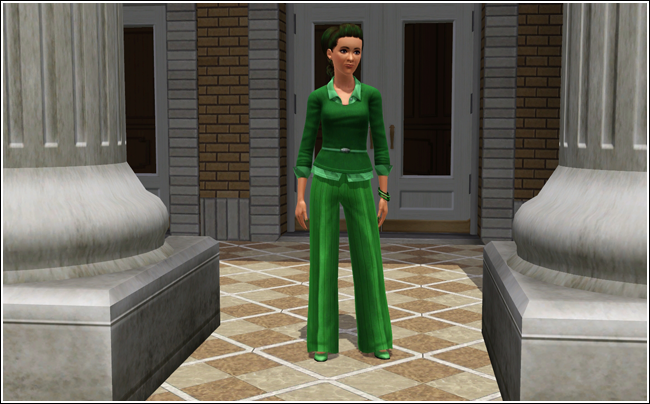 Elphaba looks untouched by this.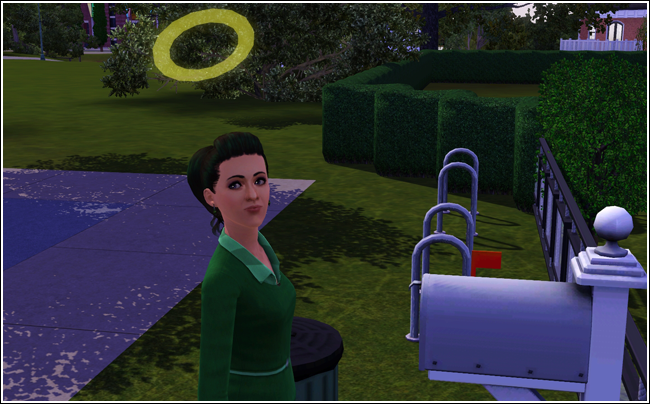 So she goes home and donates to a charity.
Meanwhile I remember why I was keeping Vireo around. Because she had a boyfriend in Isaac.. but after moving out I got a message that they had broken up. So I moved Vireo back in and ran to the library where Isaac and Stan were hanging out.. so I could fix them back up.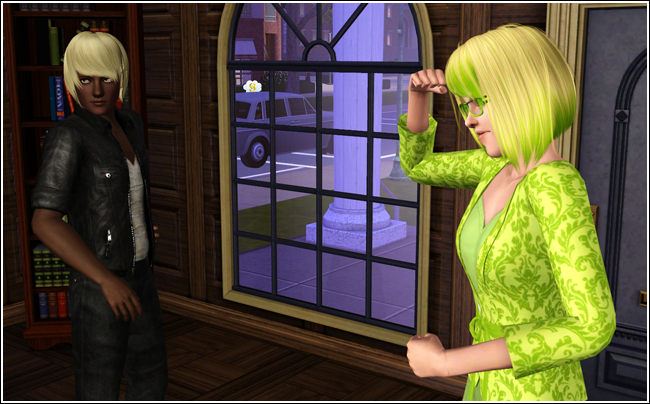 Isaac: I'm better than this. I shouldn't have to date my ex.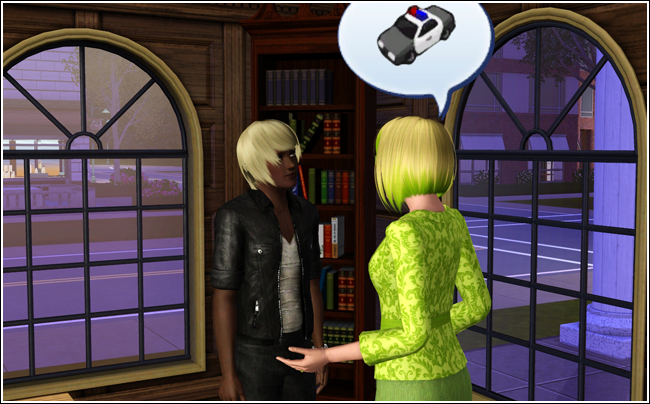 Vireo: So you're a cop, right? I came here in a cop car! How's that for awesome?
Isaac: Alright, I'm listening.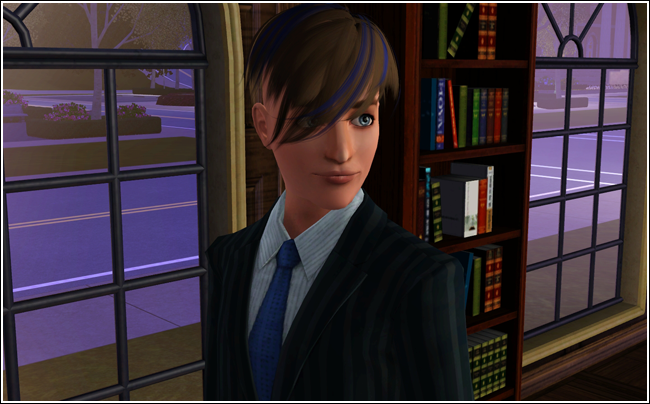 Meanwhile, Stan was amused by the book he was reading.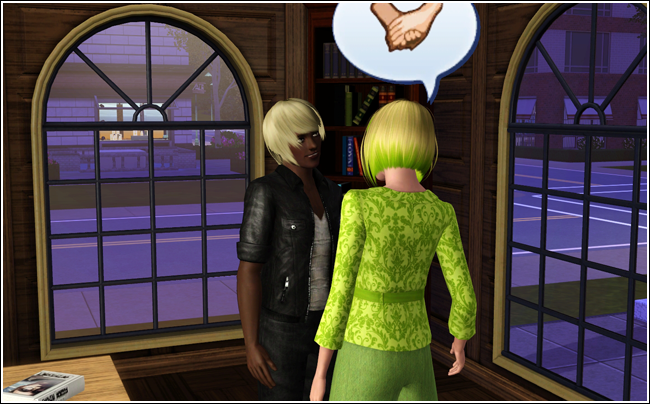 After asking him to be friends and finding out that they're only acquaintances, I had to get them to be friendly.. before finally..
Vireo: What happened to us? We used to hold hands..
Isaac: I remember that. It was good times..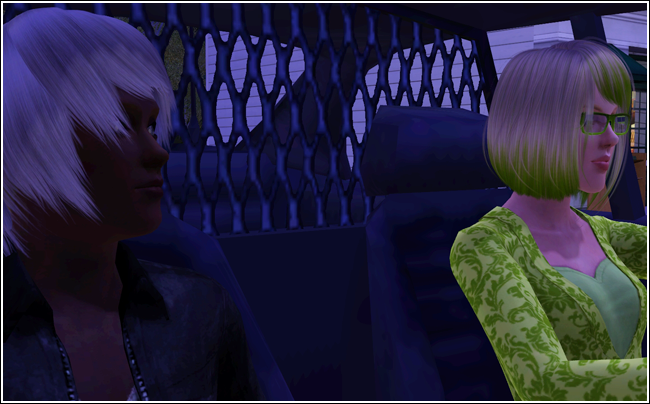 Vi invited him over and drove him there in said cop car.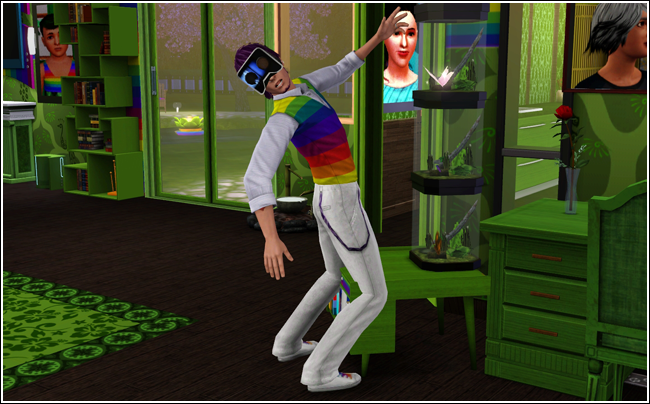 Ah, the legacy house.. how we missed you.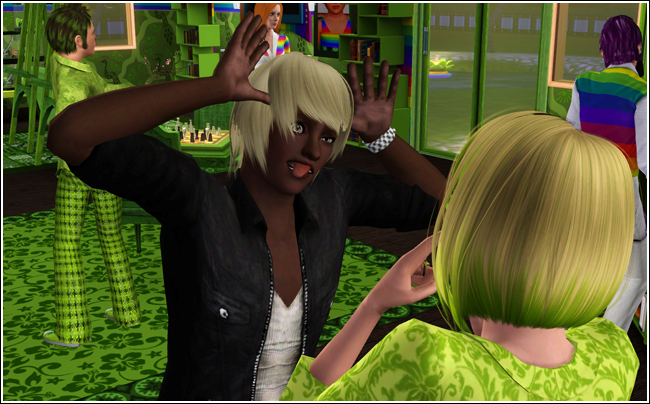 Vireo felt the need to confirm that they're both weird before inviting Isaac to move in with the family.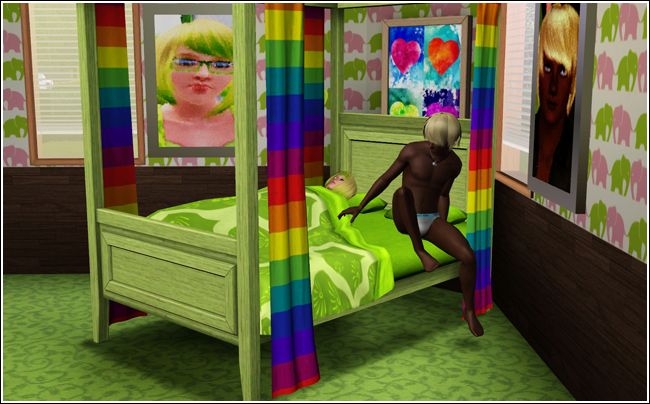 And then I replaced Cherry and Vireo's single bed with this double. Chlorine still sleeps in this room too, in the corner behind the camera.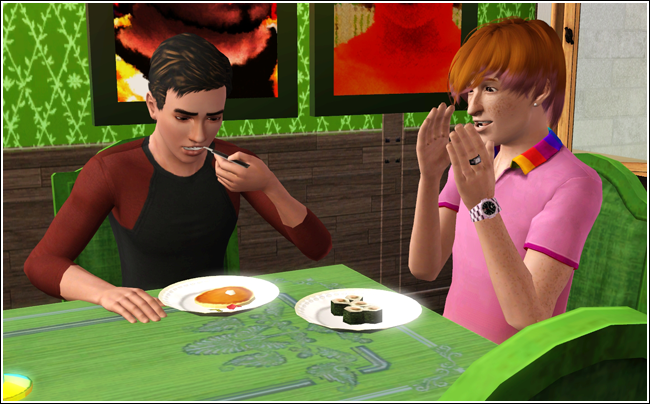 Flamingo: Yay! Thank you for making sushi, honey!
Nick: Mhmm.. did your mum make pancakes again?
Jordan keeps making pancakes for no reason at all!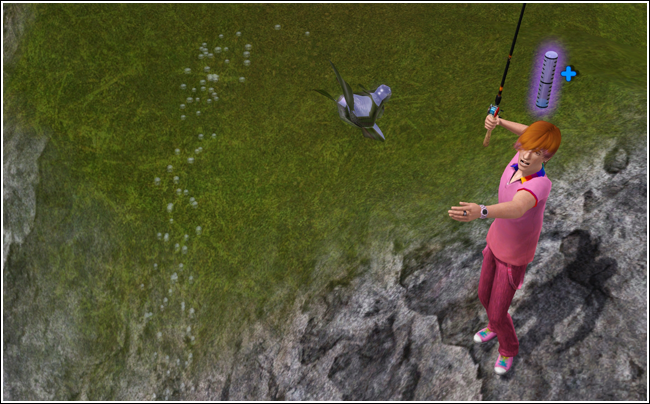 Flamingo keeps on fishin'!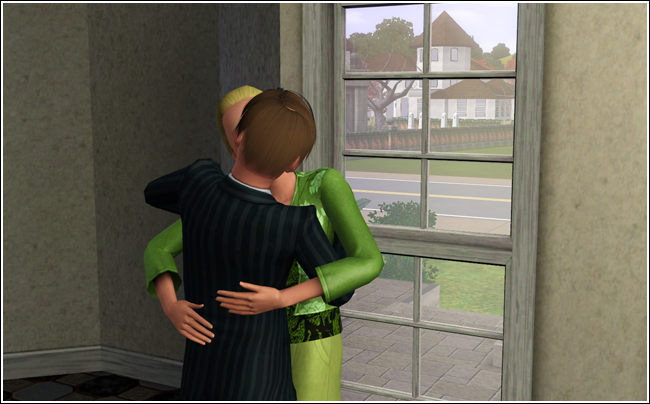 So Chlorine went to visit her boyfriend. Turns out Stan lives across the street.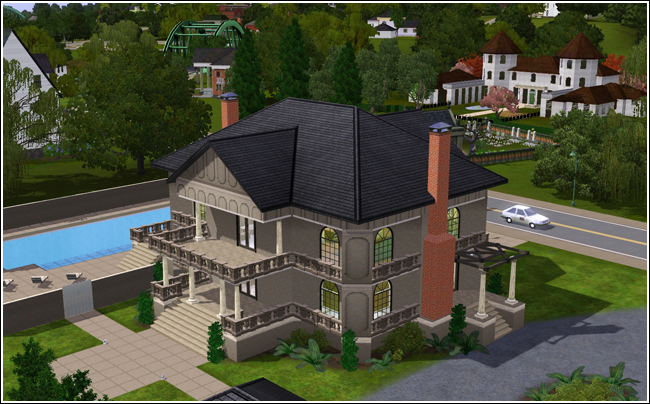 In this house. Wow, pretty.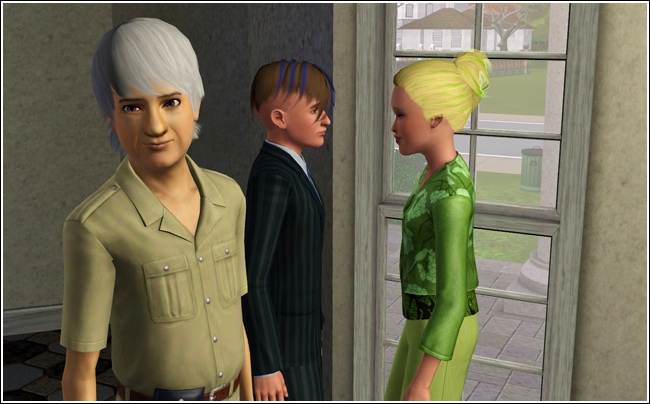 He lives with his step-parents Frederick(I think it was) Grim and his wife. You may remember this guy as Evander's son! I think this is him. I'm pretty sure.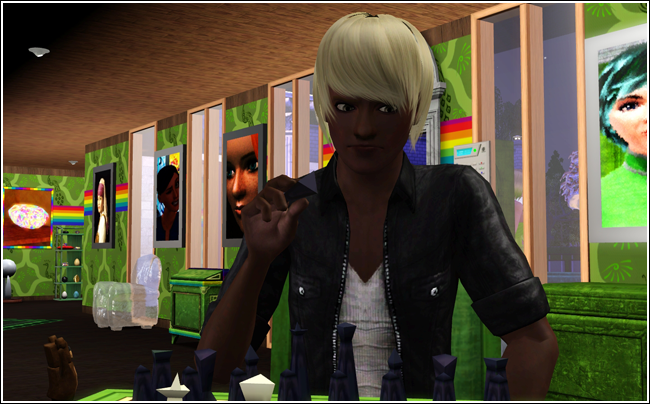 I decided to change Isaac's clothes, seeing as Lime generation is still an official generation.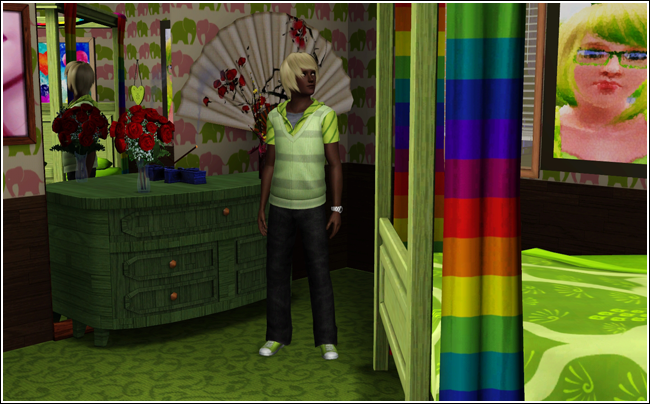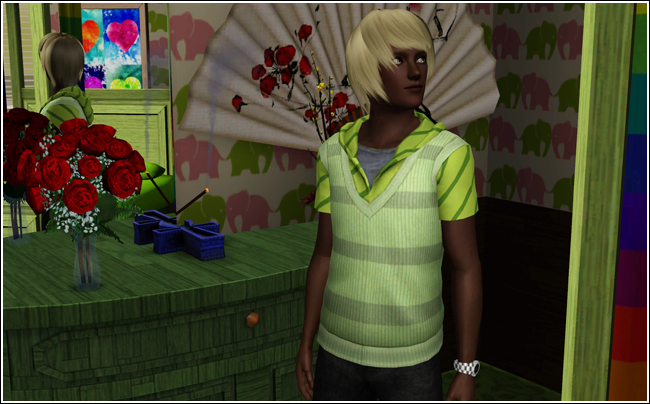 I love it.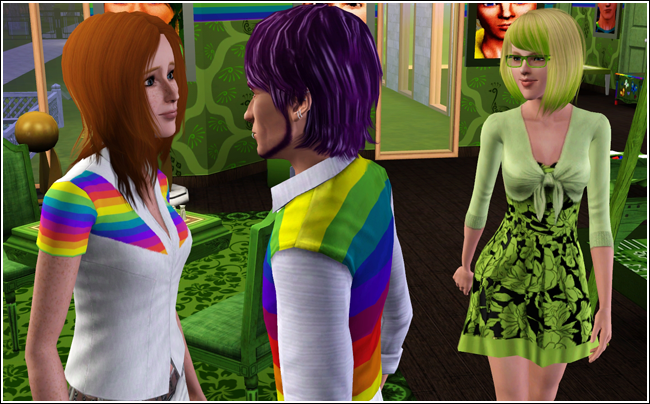 Vireo gets a new outfit as well.
Jorcaine: :) <3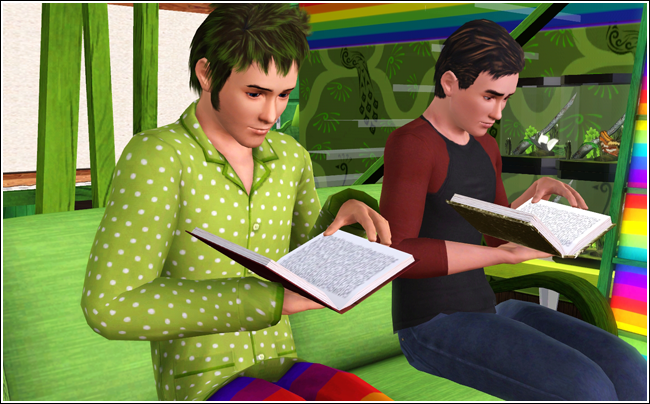 There's a lot of this going on with 4 geniuses(Nick, Pie, Flamie and Jordan) and 2 of them being bookworms.
Everyone loves to read.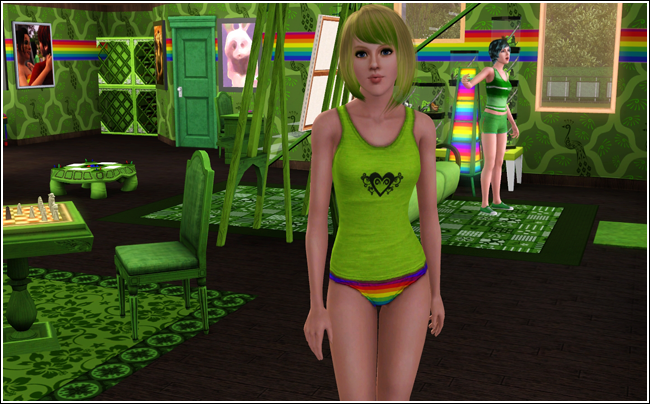 I also finally got Vireo a proper Lime wardrobe.
I've been looking for ages for a proper long tank top for women like this one, to replace the one EA gave us.. the short one that shows the belly pretty much no matter which bottoms you choose.
This one is by Lilisims. I wish I had one that didn't cling to the body just this much.. but it'll do.
The bottoms are a part of the set but they're separate :) so you can put this top with other pants/skirts if you want, which is awesome.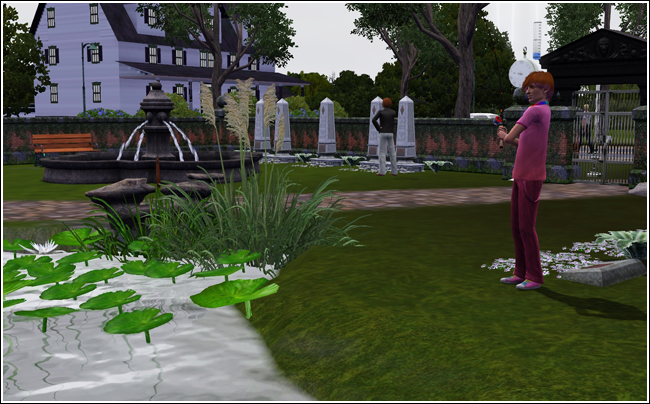 I changed the graveyard a bit. It now welcomes visitors :)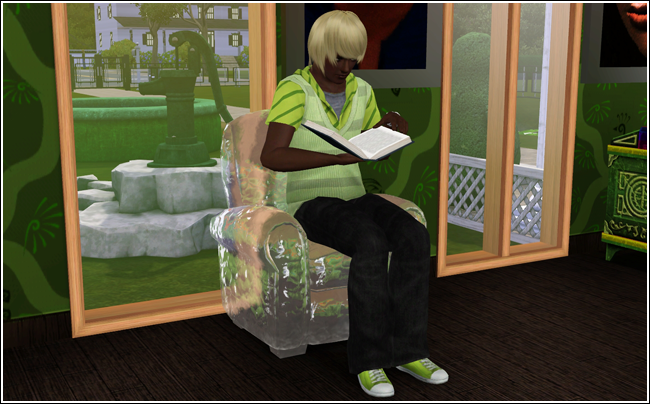 They like this ice chair xD even though after a while you stop feeling your bum.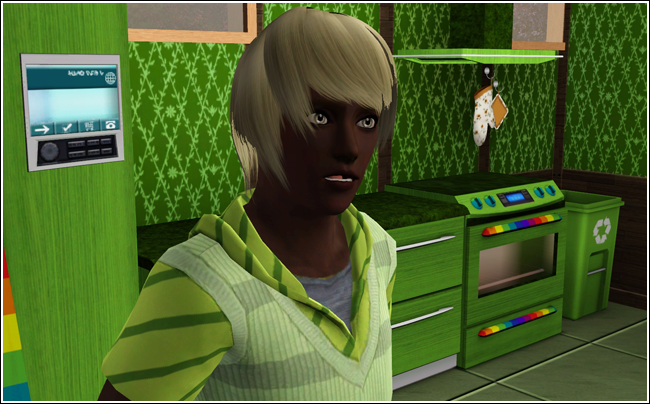 Isaac: Wait.. wait..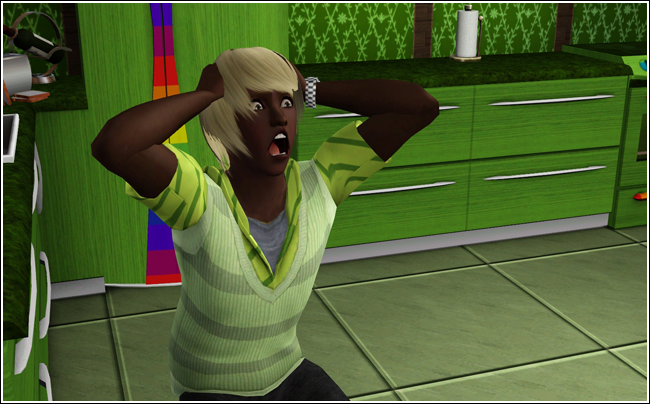 Isaac: DID I LEAVE THE TAP ON?!
Isaac Deens is Athletic, Frugal, Inappropriate, Neat and Neurotic. Fun!
You can go download him from his own
legacy page
.
He wants to become an International Super Spy.
He likes Classical Music, Autumn Salad(like Vireo) and Sea Foam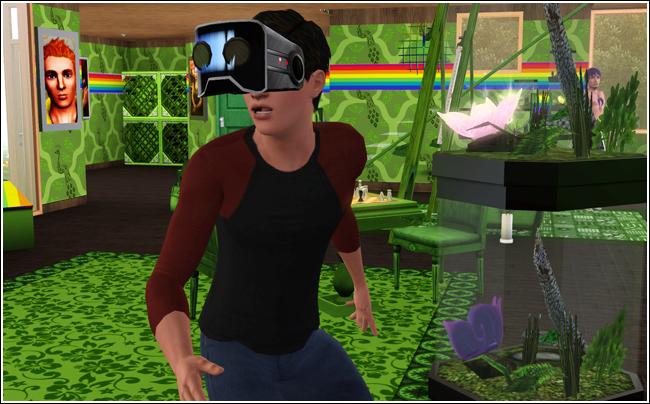 And this is Nick being--
Nick: WHO'S THERE!?
x3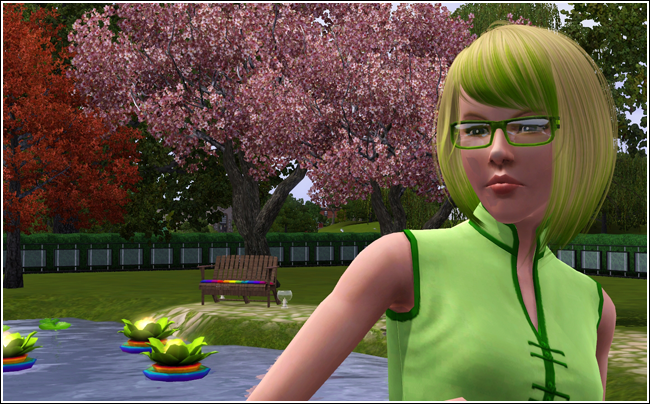 Vireo is FIERCE.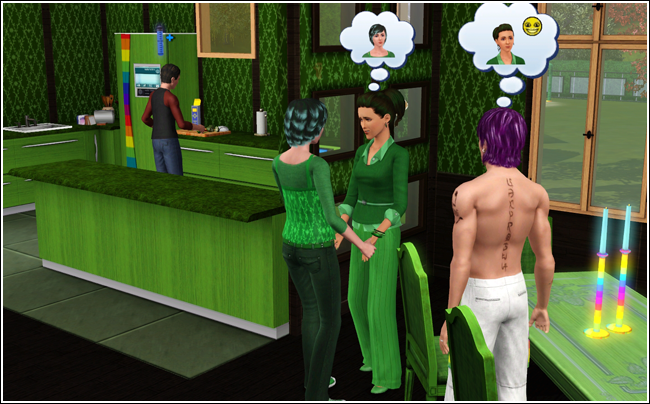 Coke: I'm so glad Elphetta are still together :D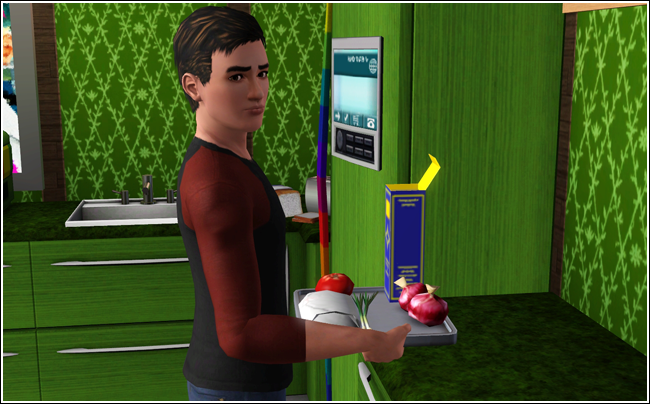 Mmm.. spaghetti! Coke's favourite.
Nick: I've got to go though. I've got a date with..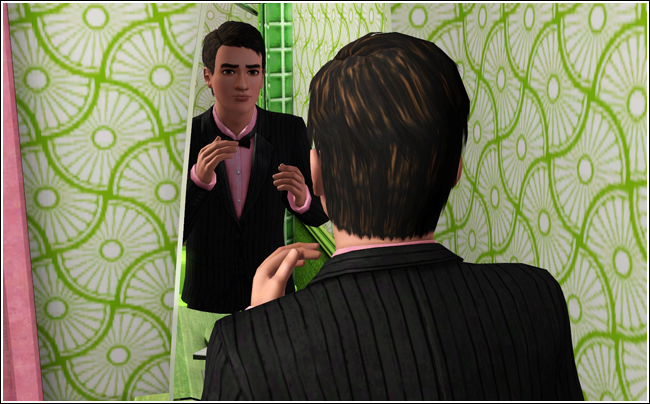 Nick: The mirror.
What follows is probably the awesomest matching set of formal wedding outfits I've ever out together.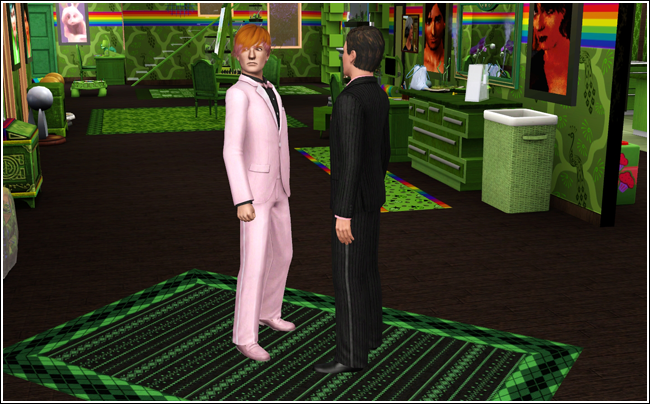 Flamie: YEAH. Wedding time!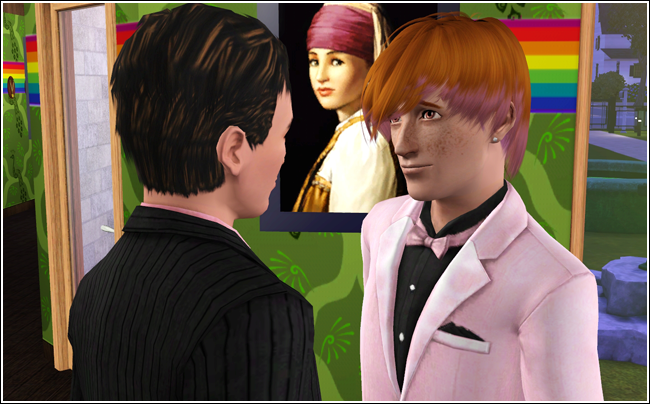 Pink and black go so well together, omg.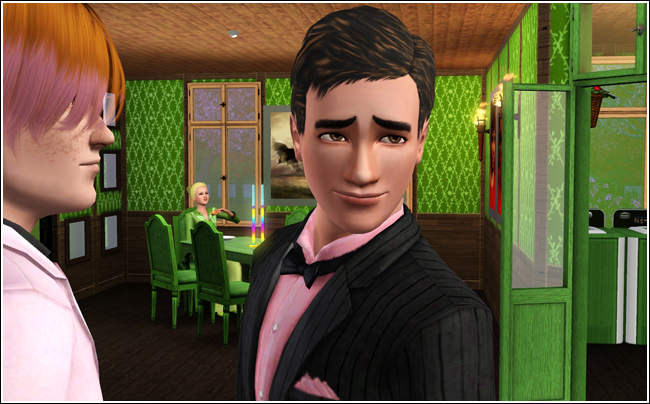 Nick: We're hot. If I do say so myself.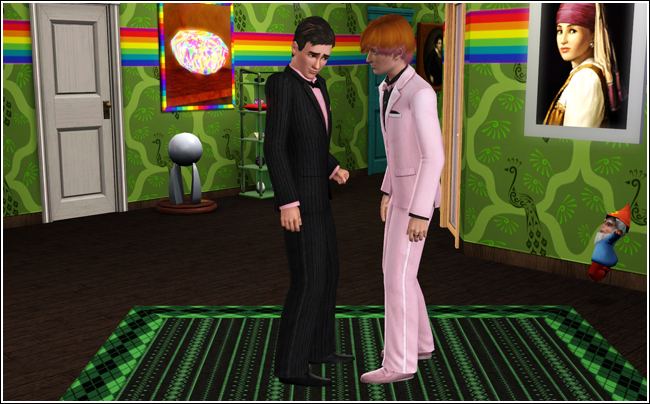 Far too cute to be legal.
I adore this scene.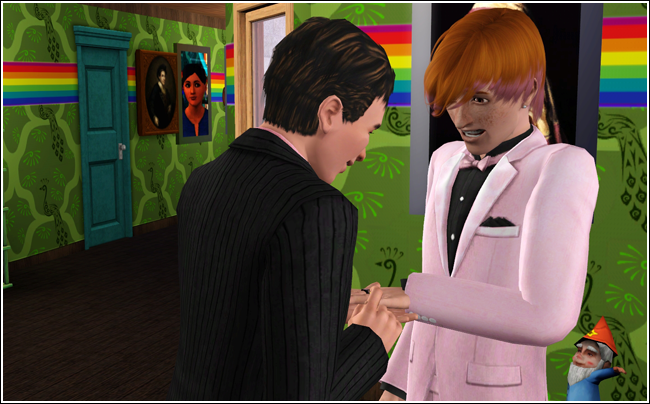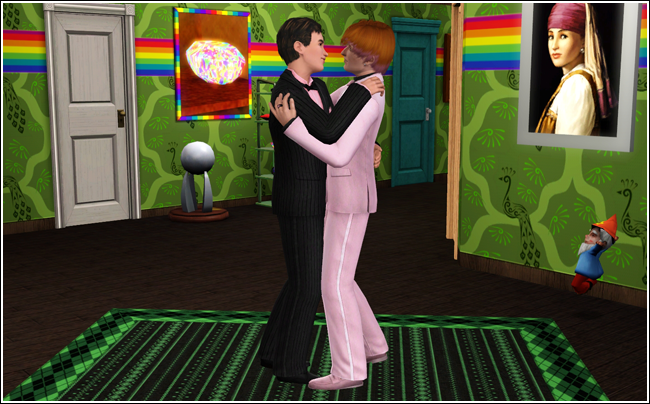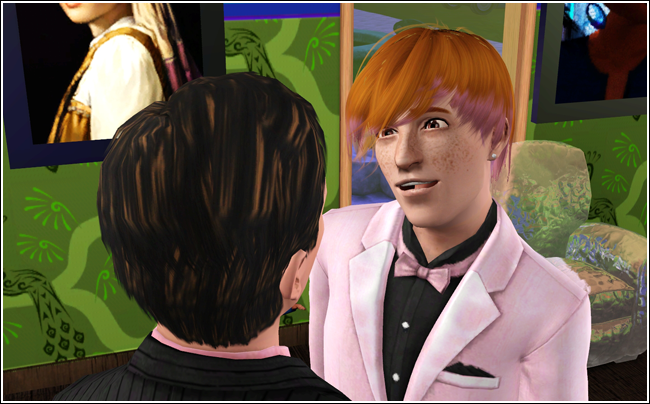 Flamingo is so in love he is cross-eyed.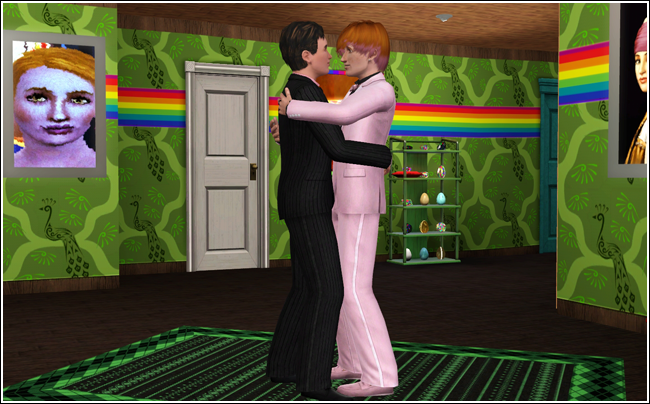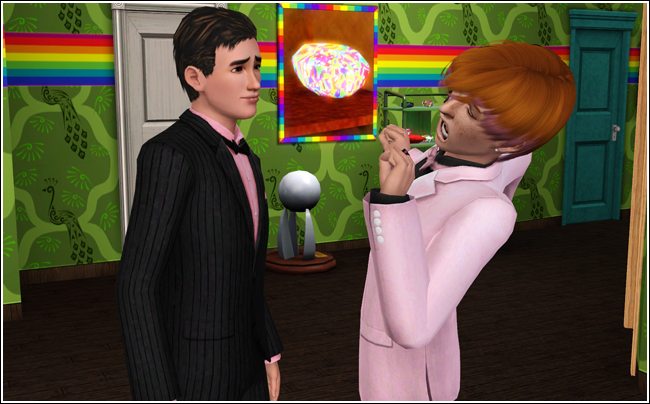 Nick: You're so lovely when you yawn and stretch.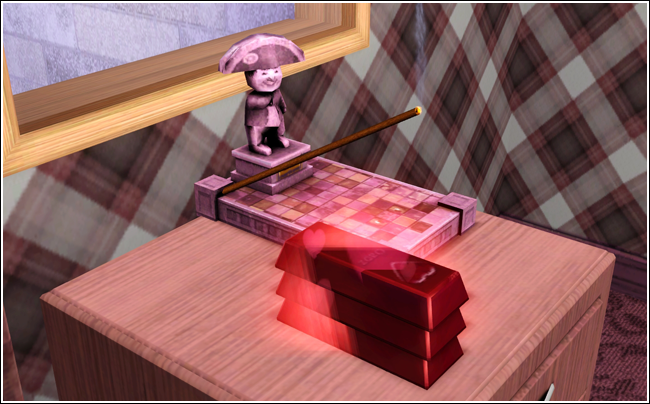 Hey there woohooium. What are you glowing abo-- oh.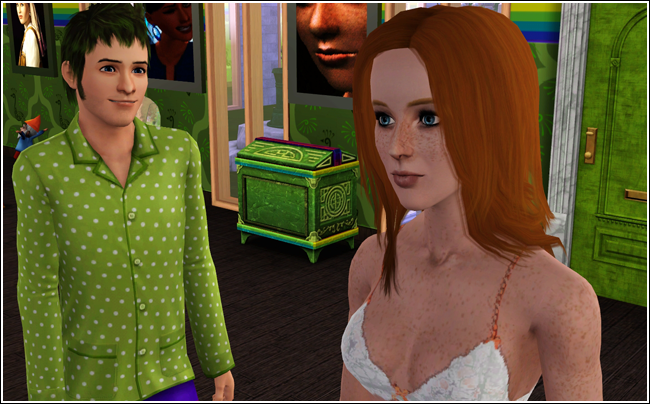 Pie: Hey Jordan.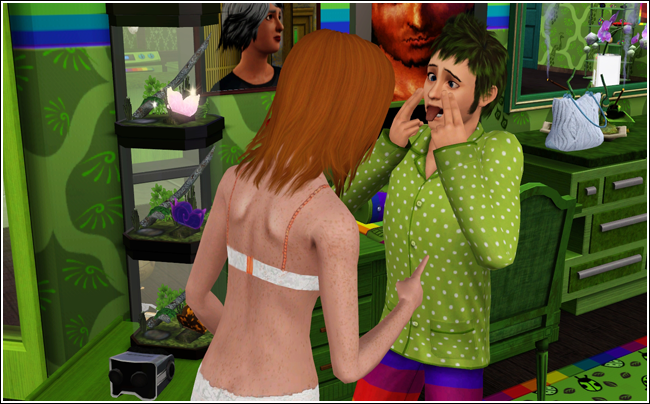 Jordan: Hahaha, you're so funny!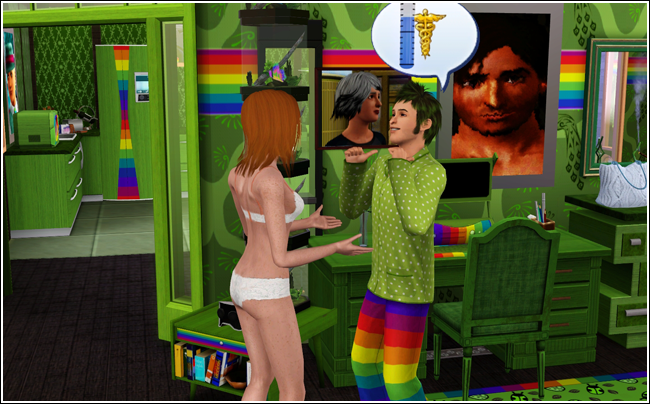 Pie: Btw, I'm a doctor!
Jordan: No way!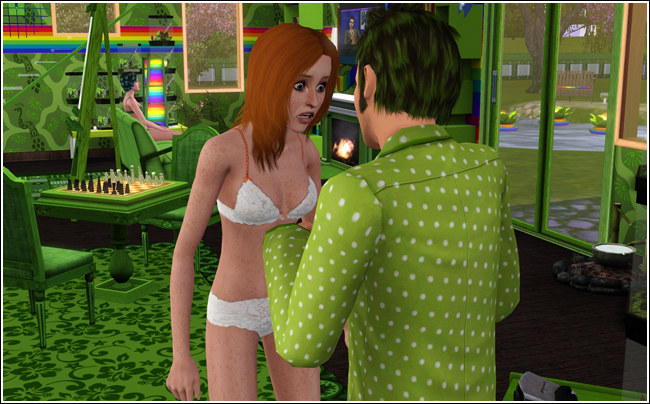 Jordan: Wow, it's HUGE.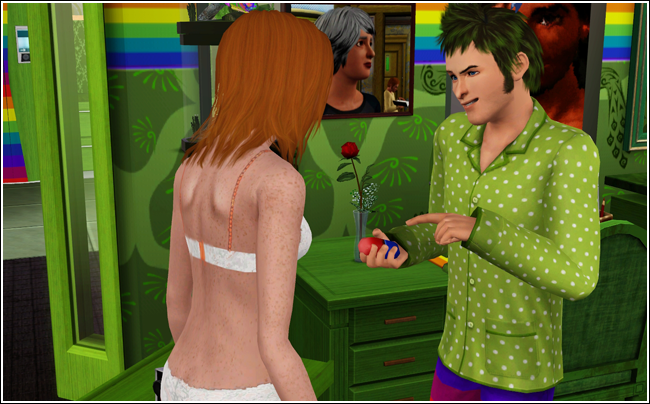 Pie: I dare you to swallow this whole!
Jordan: I don't know..
Pie: Are you chicken?!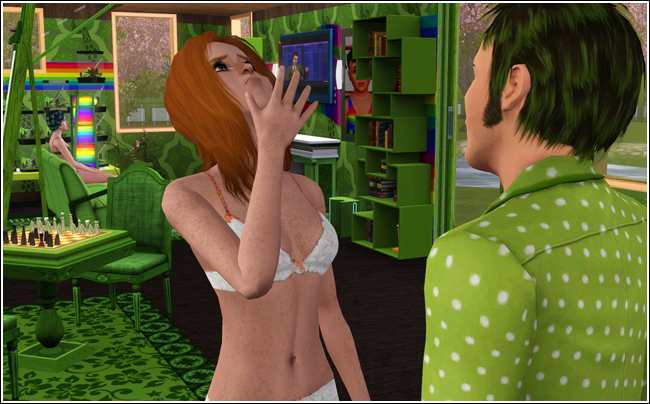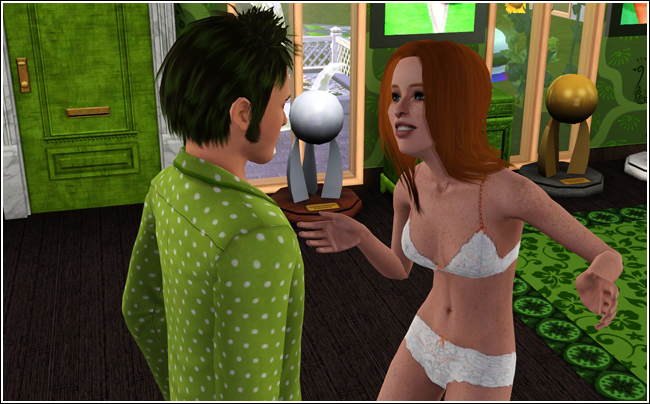 Jordan: Hey that's just what I needed! Thanks KLP!
The Sims 3: Where hanging out with your ancestor's wife, who is half-naked, and making her take experimental drugs is totally normal!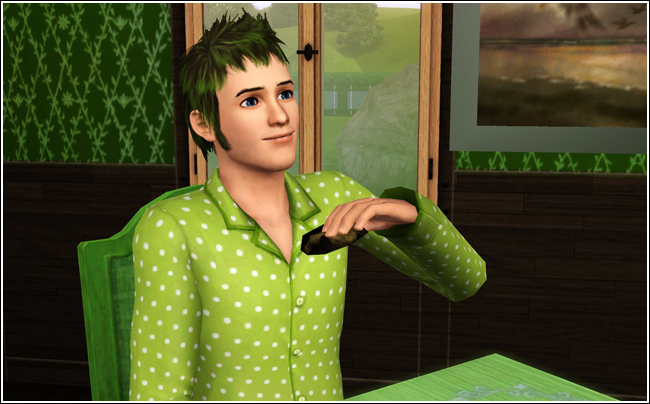 And then he went on to eat a burned-to-crisp sugar cookie that was baked by.. I think himself when he was a child.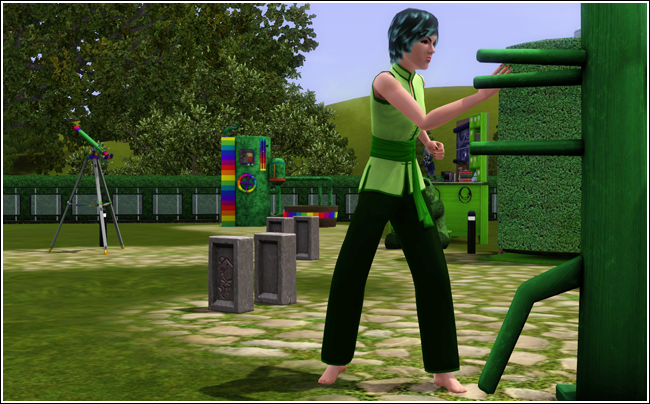 I think.. no I can't remember why I took this one either.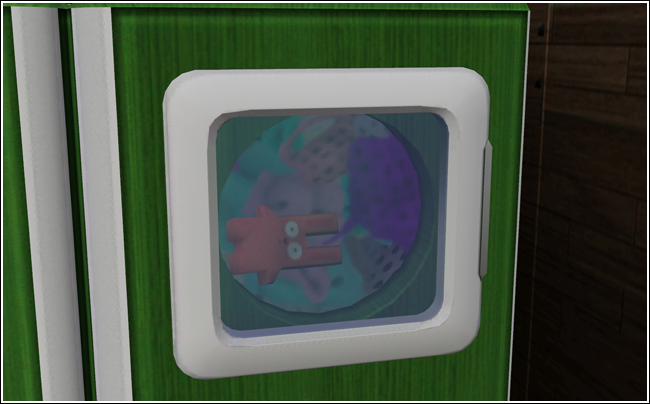 OMG, FREEZER BUNNY! Sadly, my dryer was glitched, it said 0 minutes left for 2 days.. then I sold it D: I will never know if it was another laundry gnome or just an easter-egg.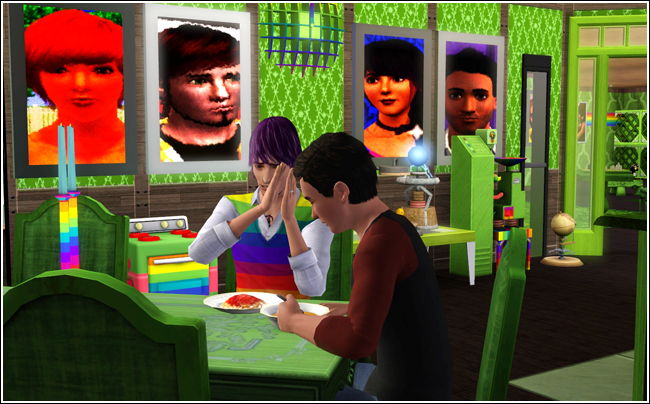 I changed the kitchen again! :D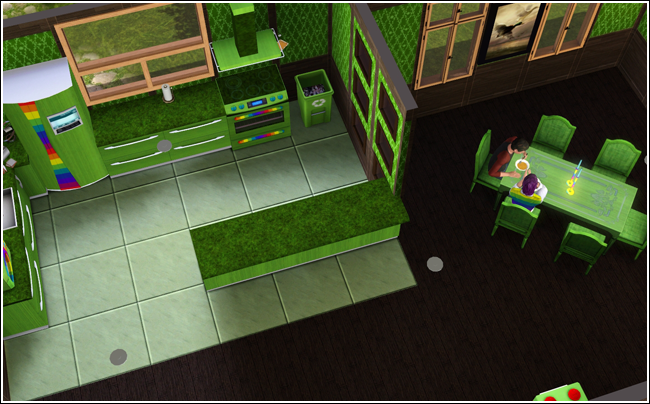 How about that.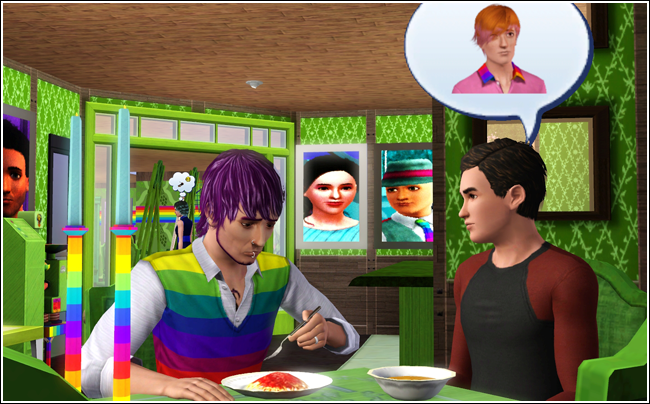 Nick: Now that me and Flamingo are married, sir, we're moving out on our own as soon as Chlorine grows up so we can have a ton of biological babies together.
Coke: Ahw :(
Coke: I like babies *rolls wish for a grandchild and a wish to have a baby with Jordan*
Nice.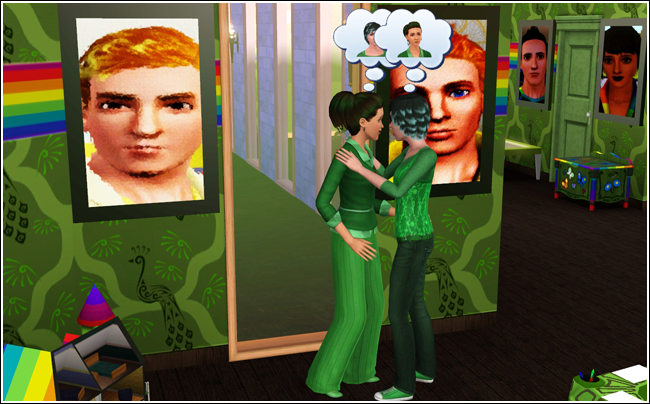 Ahw. Autonomous love!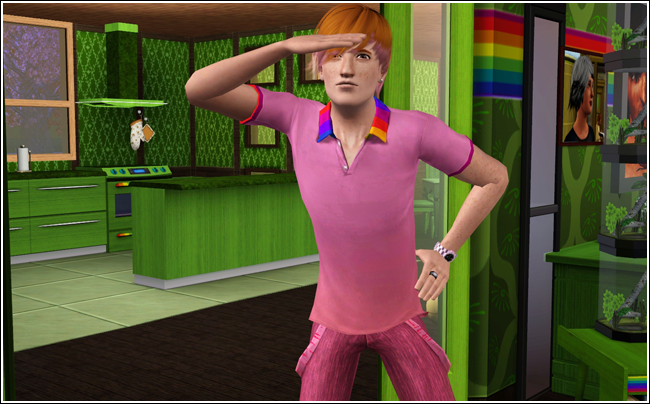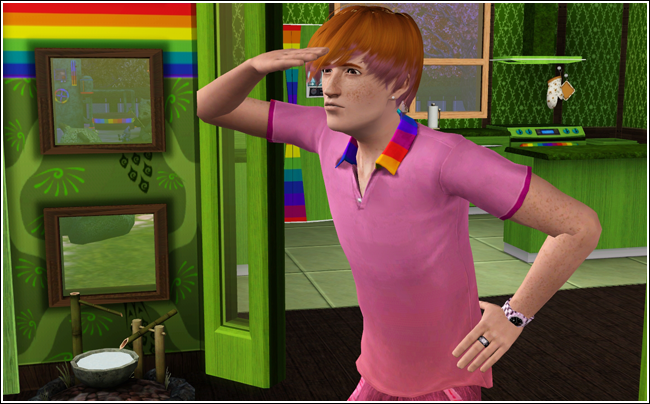 I couldn't figure out what drove him to do that.. and then I remembered he's adventurous.
Maybe some of you who have downloaded him will take him to adventures. I refuse to go travelling.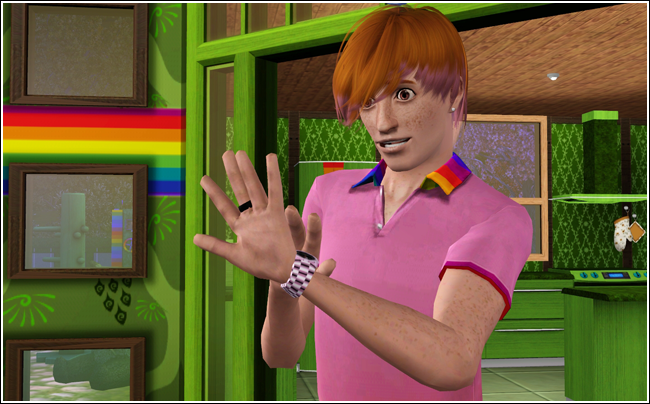 Flamie: I'm MARRIED. FANTASTIC.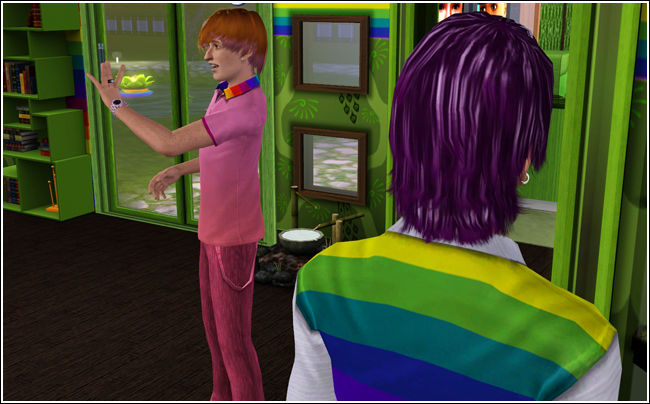 Flamie: Dad. Dad. Dad. I'm married, check it out!
Coke: That's nice son.
Isaac: This can not be!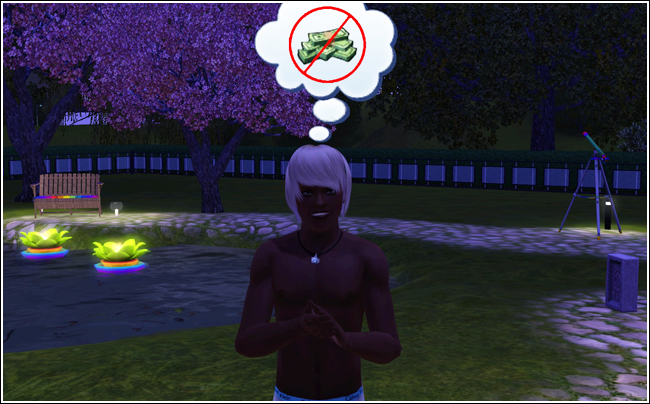 Isaac: We're wasting money having these out-door lights on. Off you go.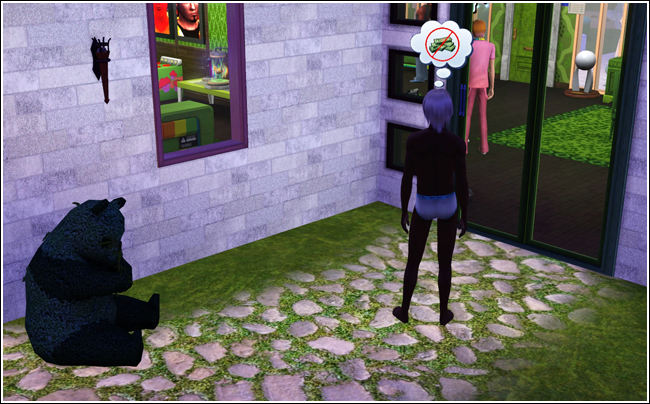 Nothing changed?
Ah, legacy life. Your dad/mum(remember Elphie watching Stanrine?) watching you make out is just another everyday family moment.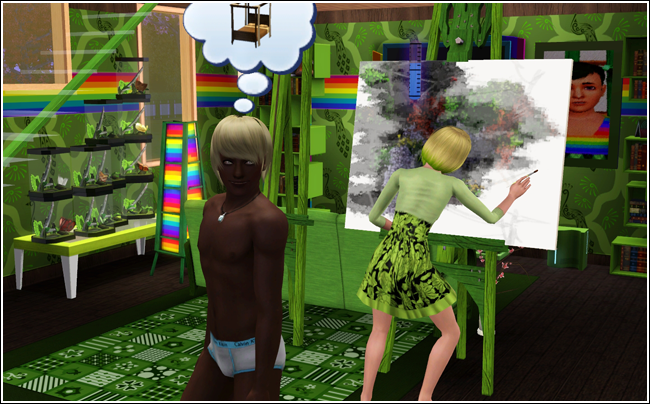 Isaac: I'm going to bed, Vi.
Vireo: Don't talk to me while I'm painting.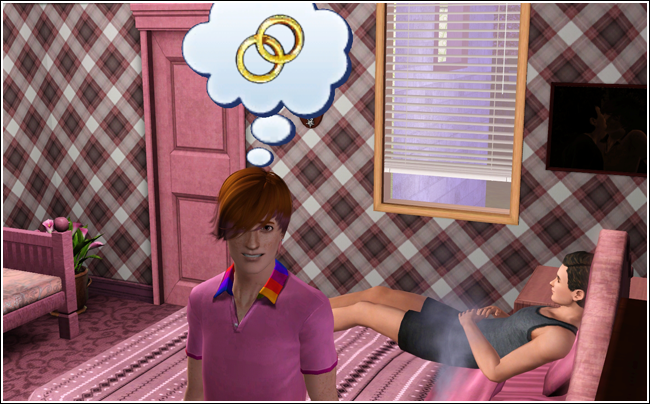 Flamie: Being married is awesome.
I think now he's just rubbing it in people's faces.
Flamie: In fact. It's so awesome, I'm getting a tattoo! *rolls wish for a tattoo*
Well then. We have a tattoo machine upstairs!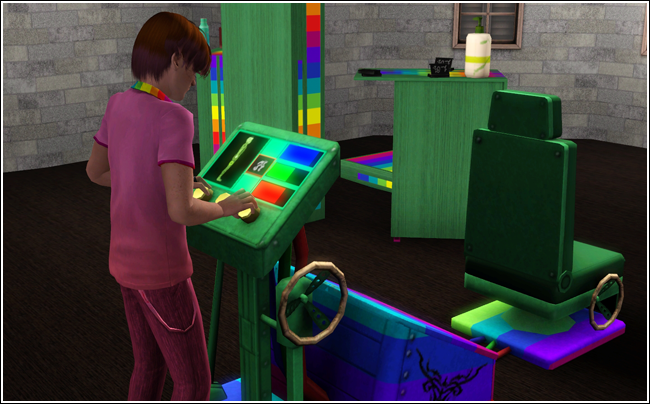 Flamie: Let's see.. in writing "Marriage is Awesome"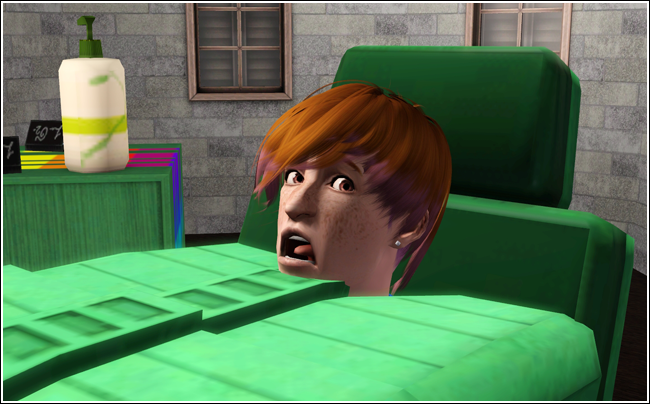 Flamie: AHHHH! THAT IS NOT WHERE I WANTED A TATTOO!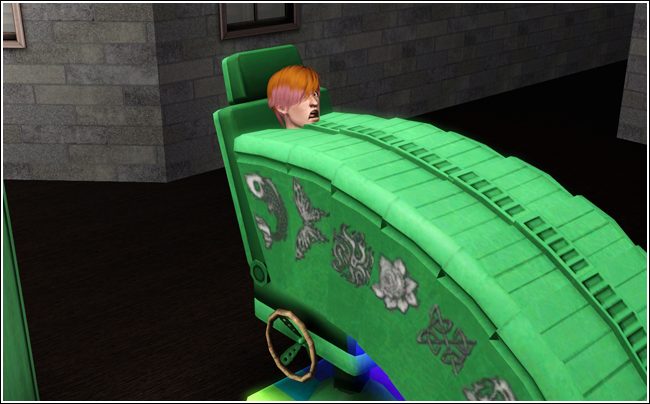 Flamie: HELP ME!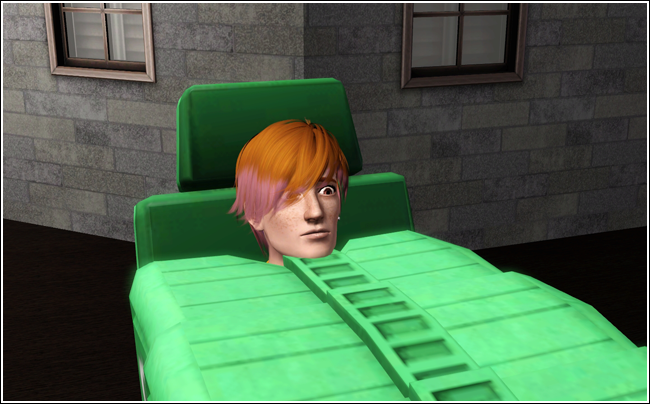 Flamie: Oh, this ain't so bad.

Flamie: I don't know what you're talking about.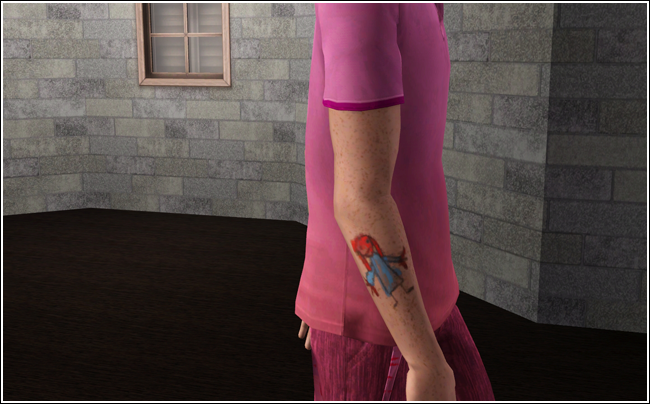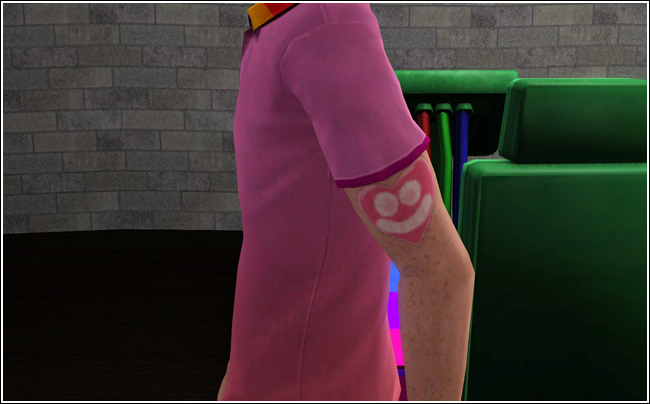 Flamie: This is exactly what I wanted.
Lol. Seriously. I'm keeping these.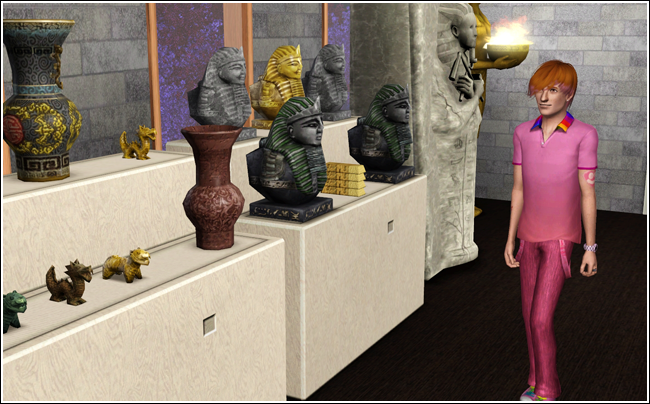 Flamie: Oh, so this is where we keep our treasure.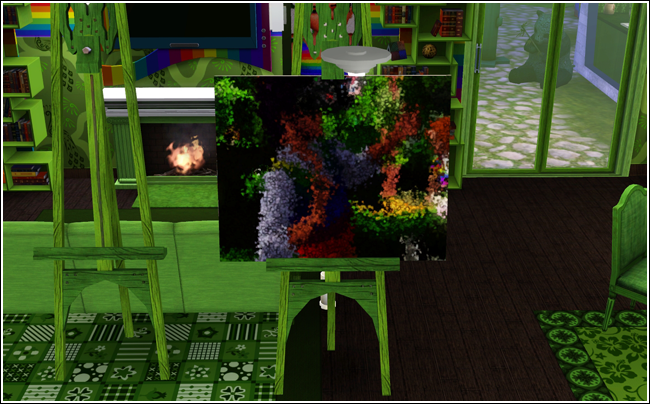 Vireo painted this Coke-having-a-Video-Reality-Adventure.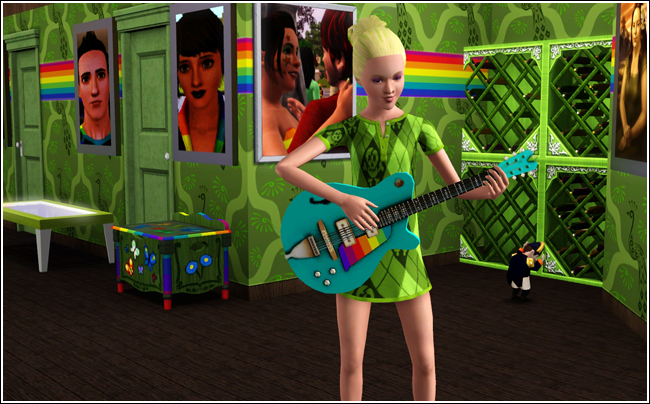 It's finally Chlorine's birthday!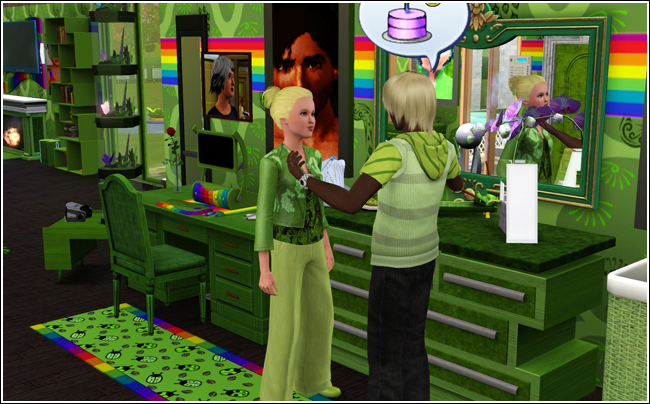 Isaac: Happy birthday!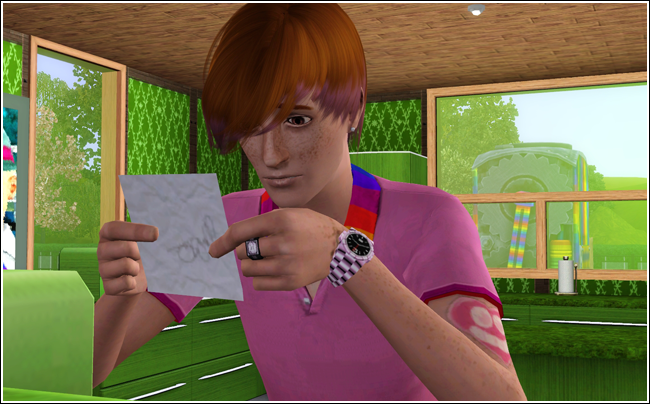 "You will eat a fortune cookie very soon."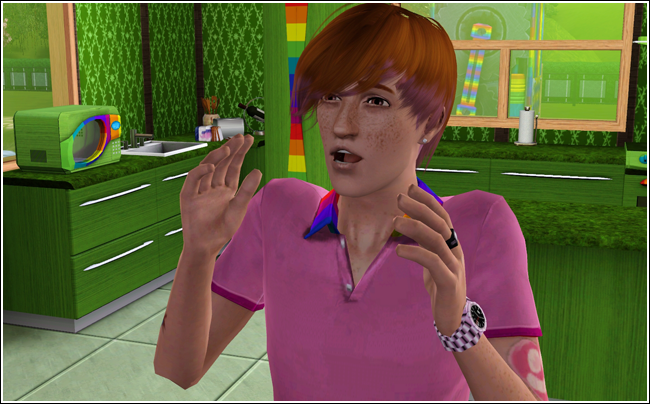 Flamie: Omg, how did it KNOW!?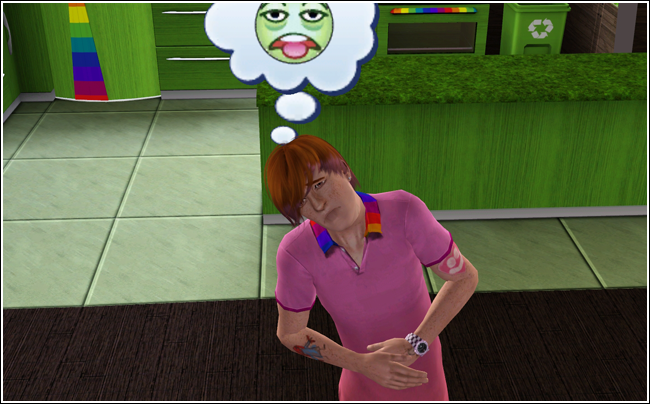 Flamie: Ugh. I think that was a spoiled cookie.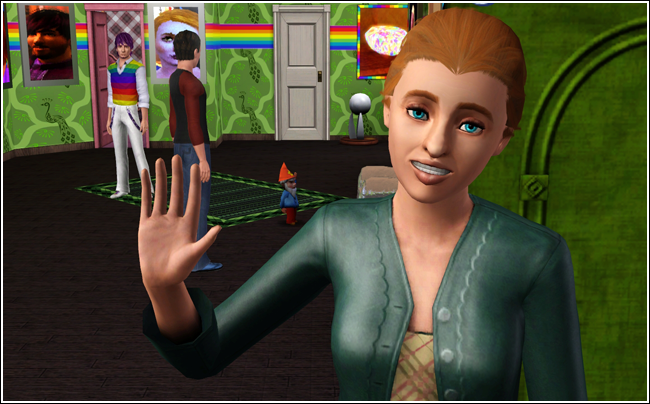 Check it out. Jedranka Huber. Meadow's girlfriend. They're STILL not married and they don't live together. WHY NOT?!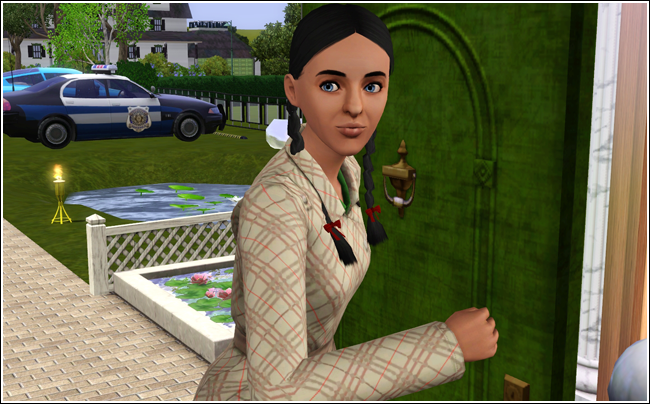 This is Isabel Alvarez. I was thinking of hooking her up with Pie!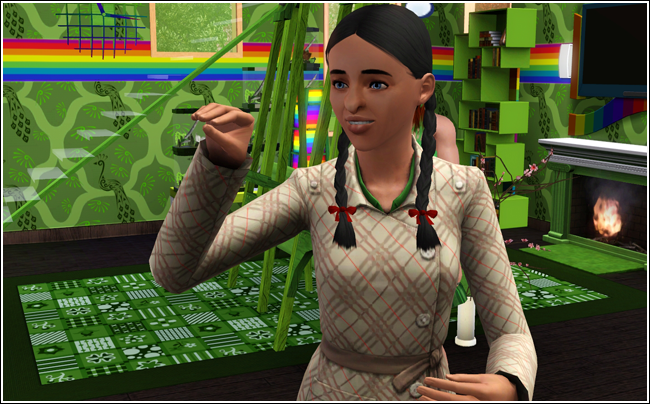 Omg.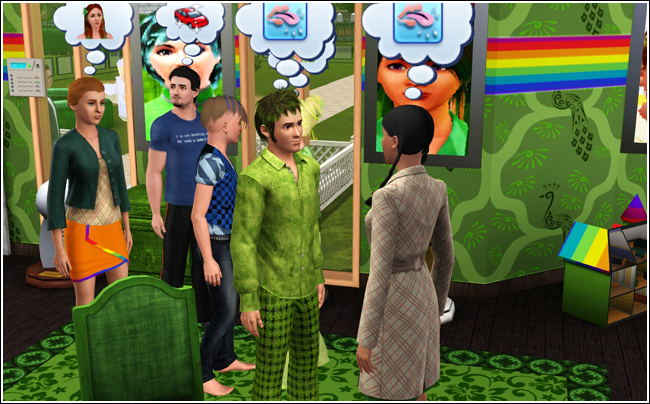 Pie: We're both CHILDISH!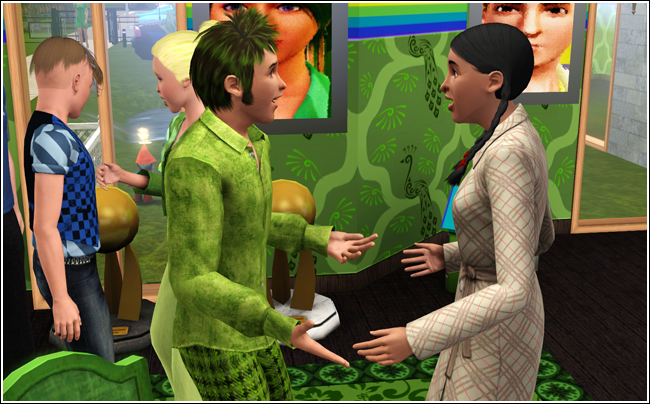 Isabel: That's so cool!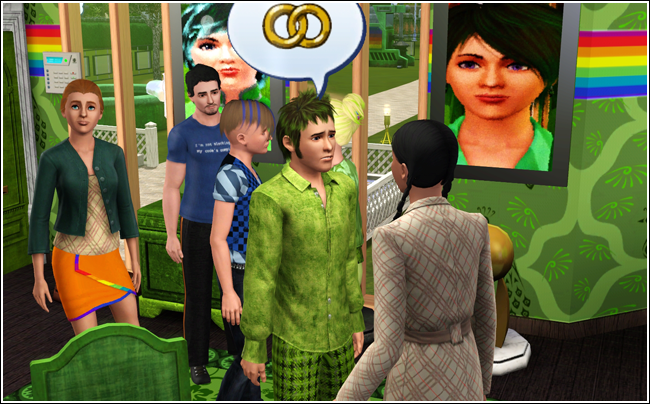 Pie: You're married?
RATS!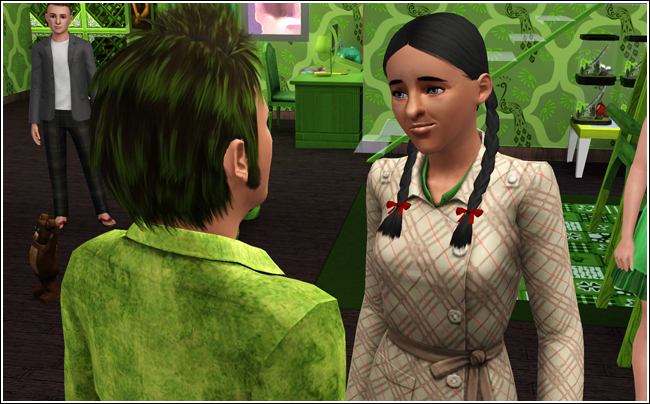 Isabel: Yeah, to Sim!Mariah's great-grandsom Eenraig.
FRAMMIT.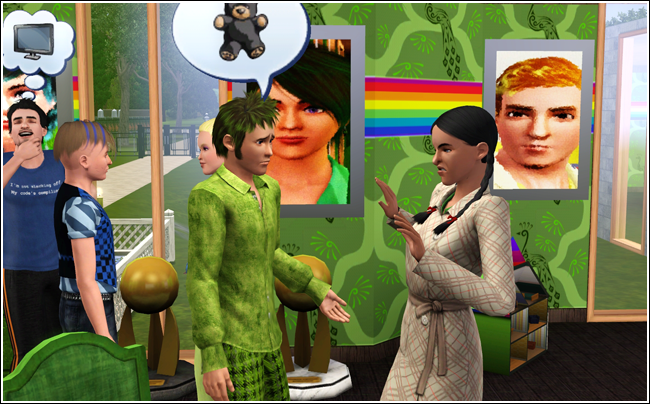 Pie: But I'm as cuddly as a teddy-bear!
Isabel: Ew, no flirting.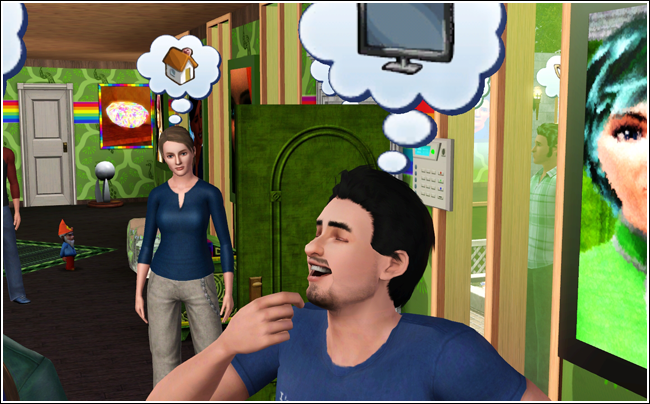 Sim!Marco: Yeah, flat-screen!
That's my boyfriend's simself, you might remember him.
Sim!Mariah: Can we go home now.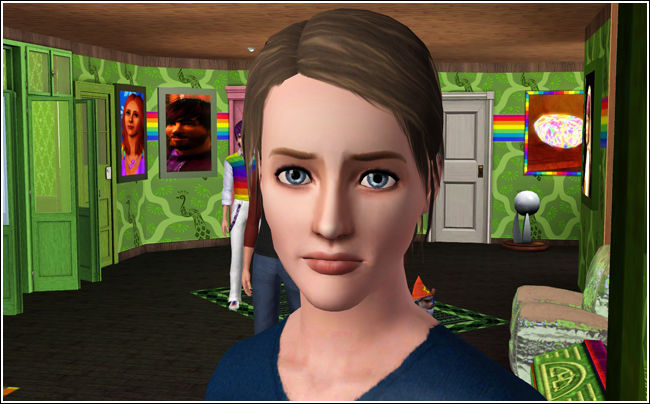 Sim!Mariah: I don't like parties.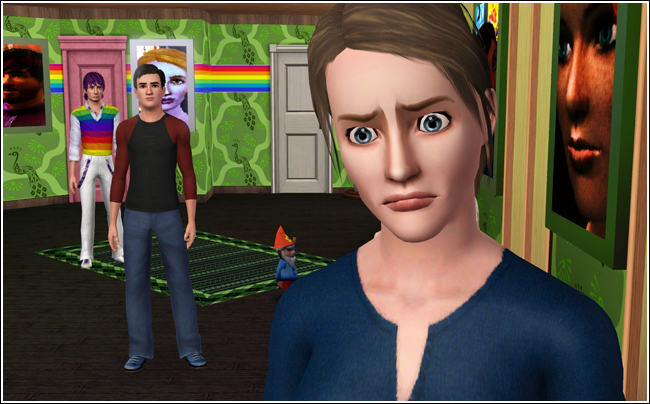 Sim!Mariah: So many people! HALP.
Lol, me. You're so like me. Socially awkward.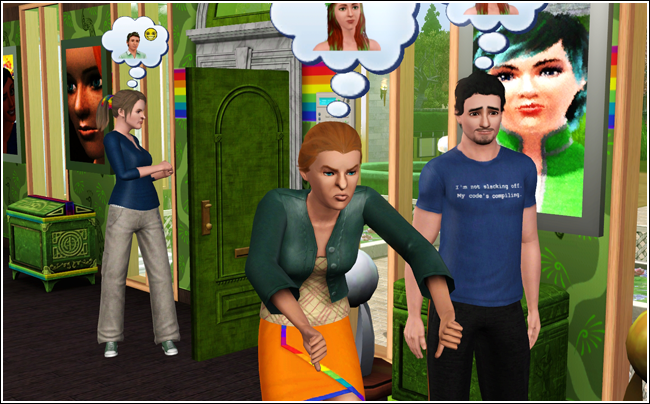 Jedranka: BOOOO, you suck Poison Ivy!
Sim!Marco: I don't know. I think she's nice.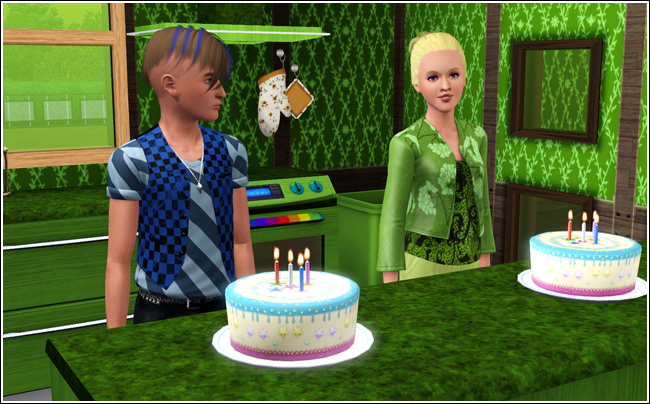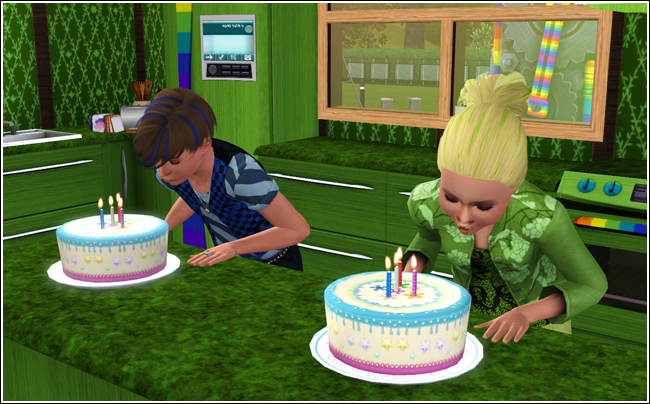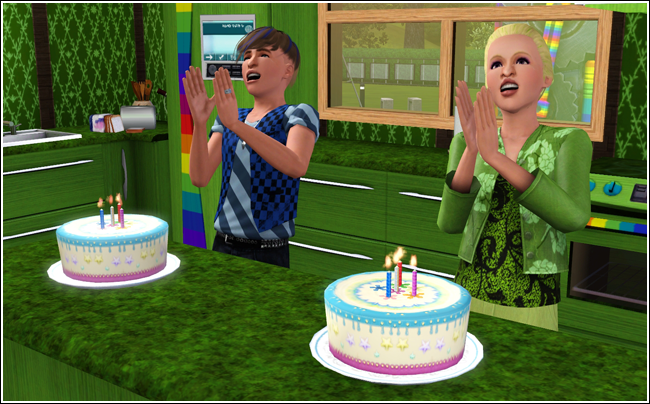 Nearly synced.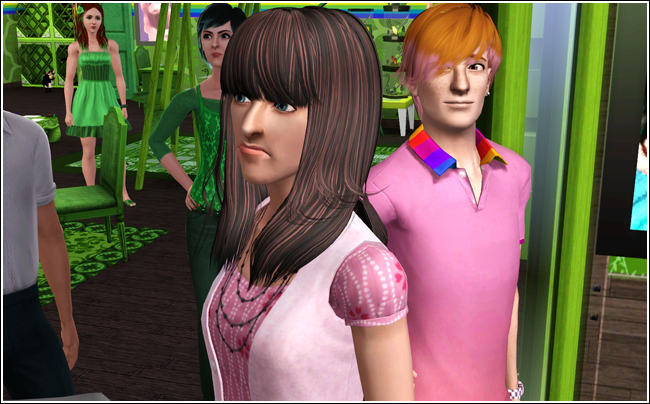 Flamie: Hey sis. I'm still sick with love :)
Cherry: Poor thing :(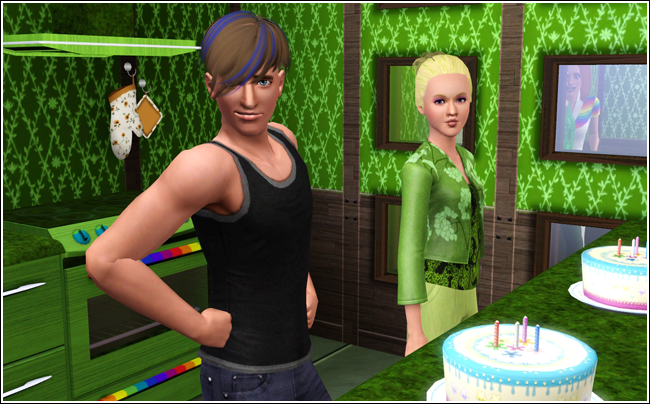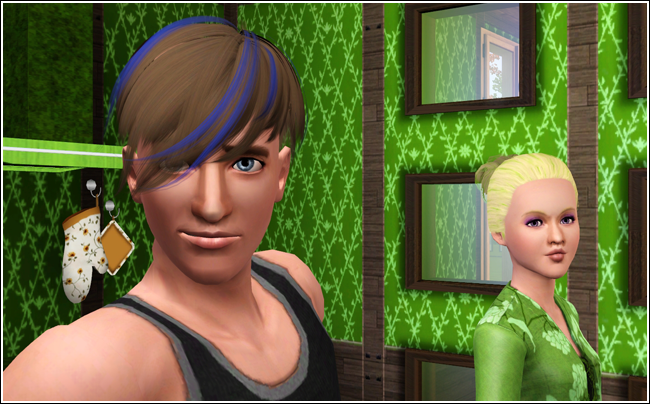 I totally don't remember any of his traits past Good and Brave xD
Jetta: Move Jordan, I can't see a freaking thing!
Jetta: WHOO YEAH, GO DAUGHTER!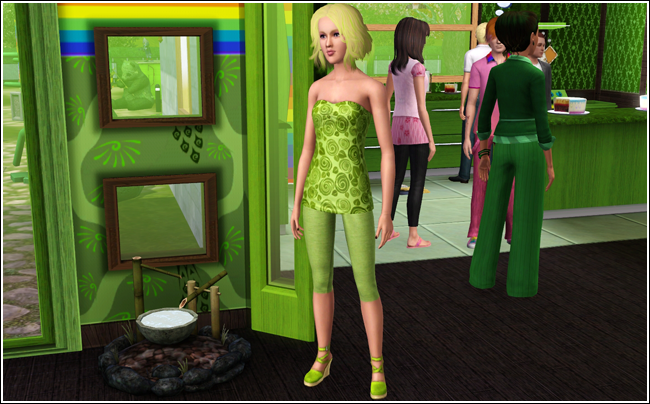 Like it?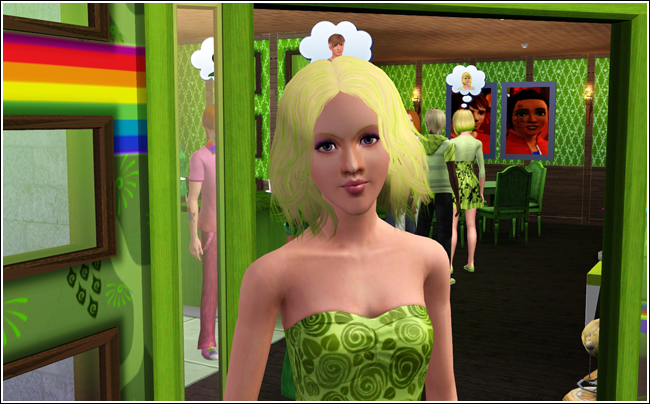 Ahw, she's pretty.
Chlorine grew up Ambitious. She's an Ambitious, Childish, Eccentric, Virtuosos, Vegetarian.
She likes Latin music, Spaghetti and Purple.
I believe her LTW was to become.. either a surgeon or a five-star chef, I can't remember. One of those.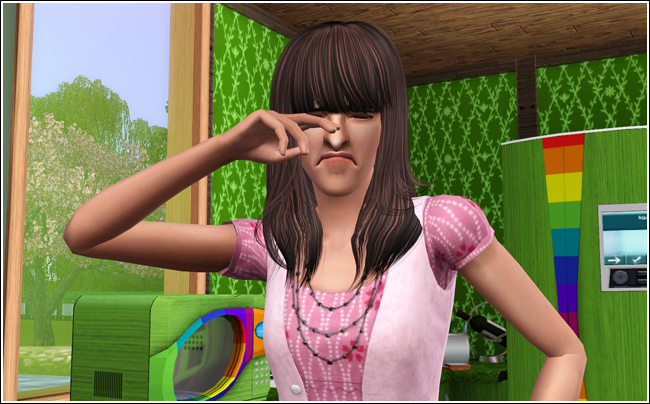 Cherry: The legacy ends here?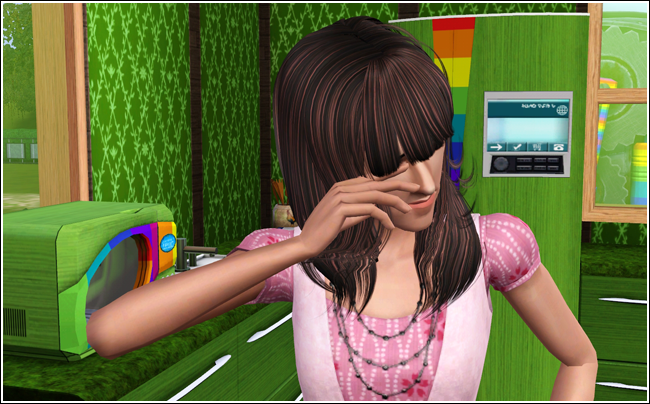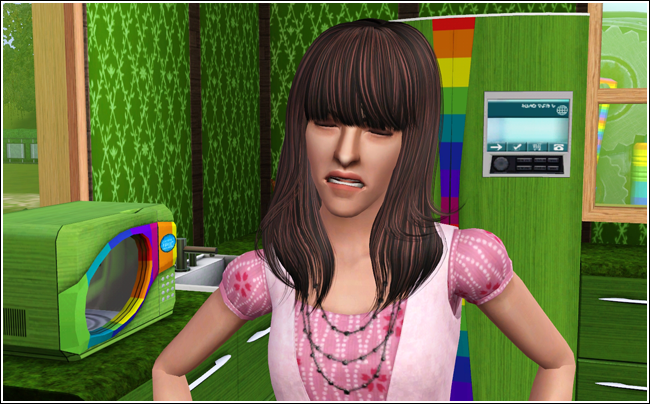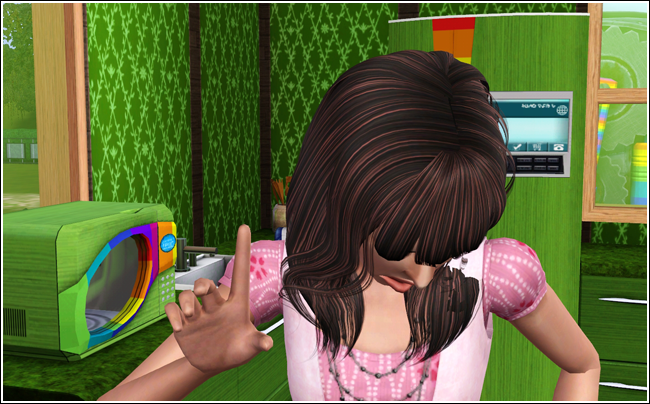 Cherry: ..give me a moment..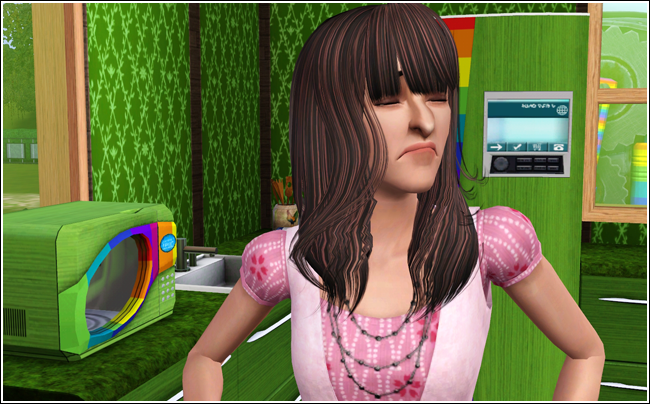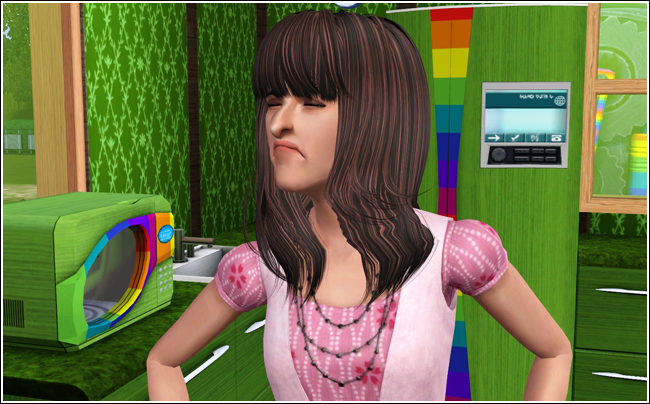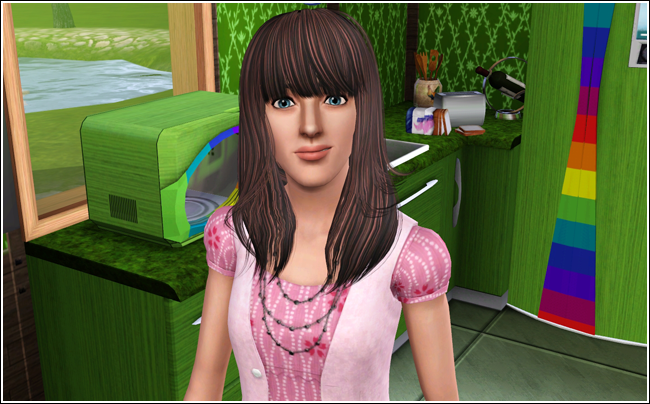 Cherry: Nice work, girl.
Thanks.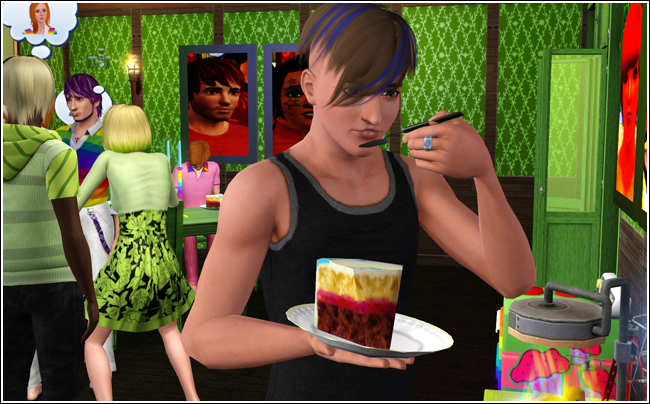 Stan: Some cry, others have cake to celebrate.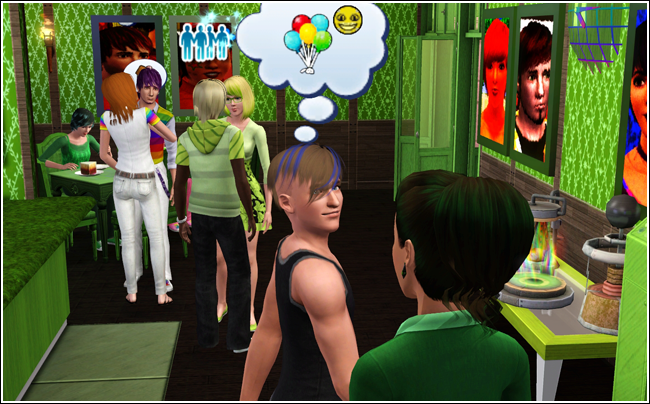 Stan: Anyway, nice party. I'm leaving.
I then promptly moved Chlorine in with Stan.

A day later I got a message saying they tied the knot.
Back to the party!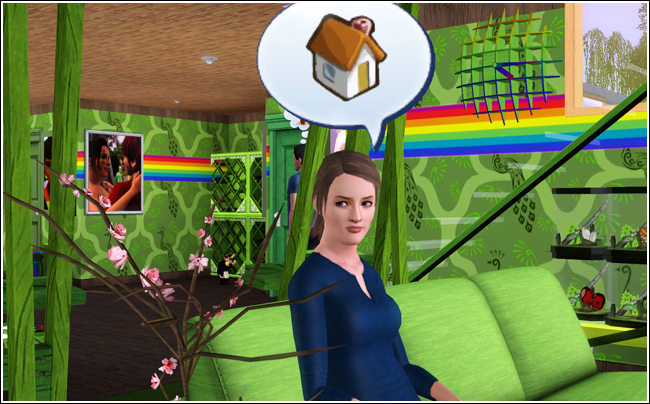 Sim!Mariah: Can we go home now, honey?
Sim!Marco: Poison Ivy...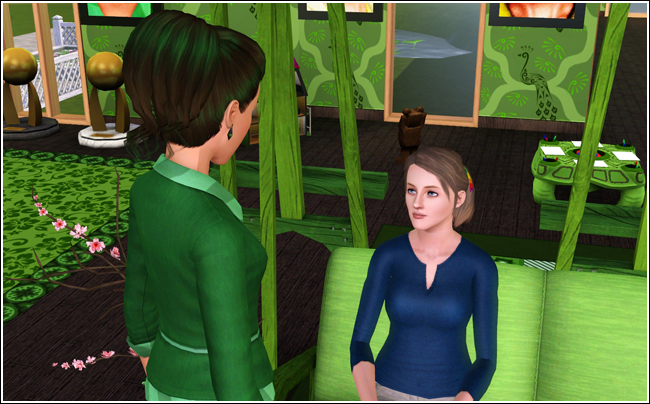 Elphie: Hey Mariah, Mariah. Mariah. Mimi. Mimi. Mimi.
Sim!Mariah: :|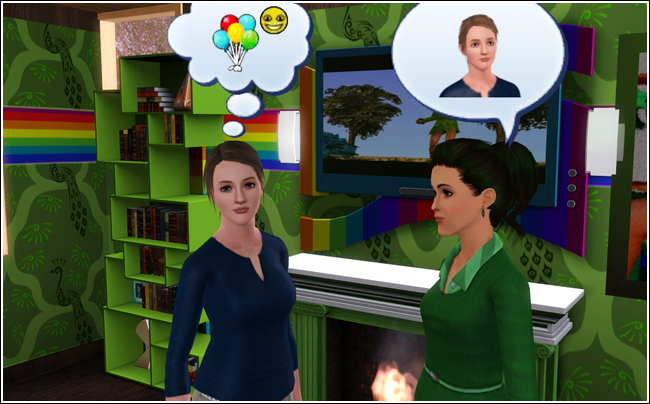 Sim!Mariah: So great party, I'm le--
Elphie: Hey Mariah.
Sim!Mariah: What?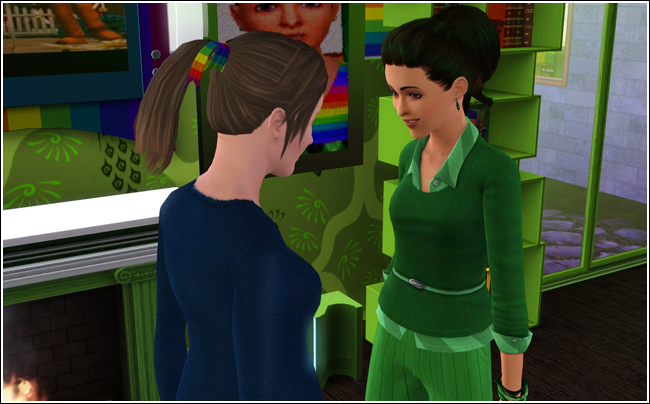 Elphie: Great knockers.
Sim!Mariah: Thanks, the mesh of this shirt makes them look bigger, thanks Gelydh.
Elphie: I wanted to congratulate you for finishing our legacy.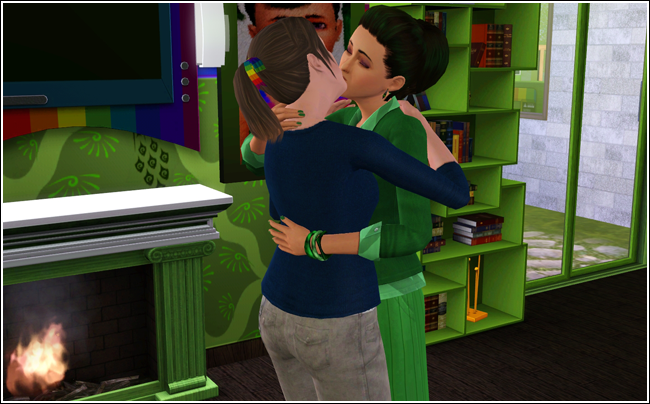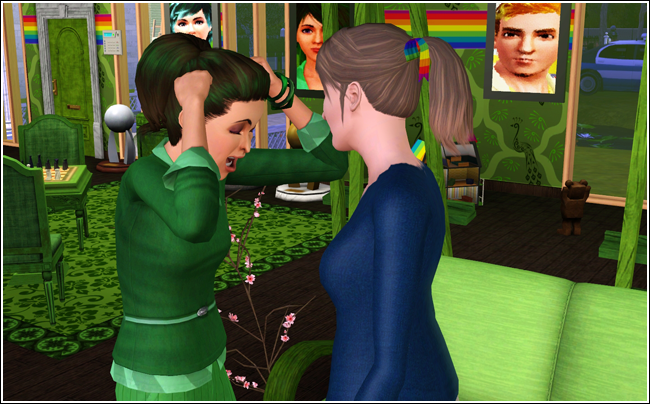 Elphie: Frick yeah. I made out with the creator!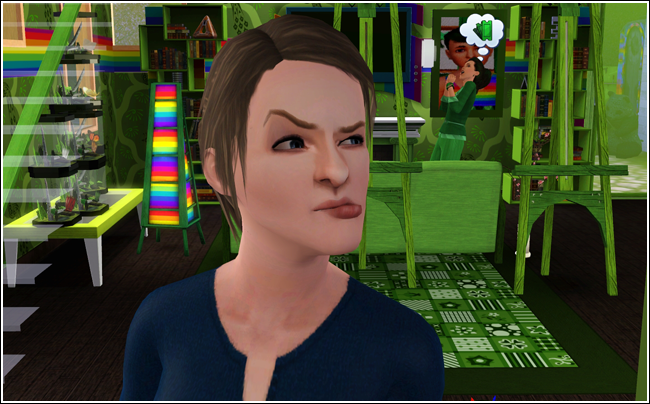 Elphie: I'm the winner!!! YEASH!
Sim!Mariah: What's she so happy about? *has already forgotten*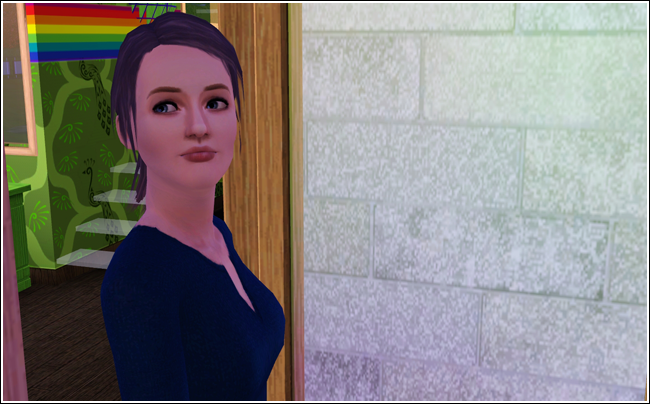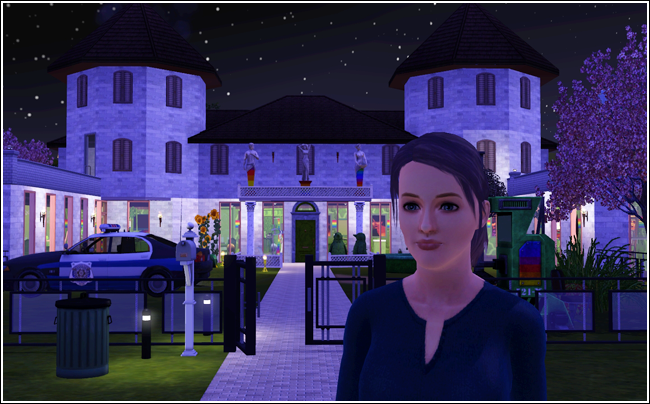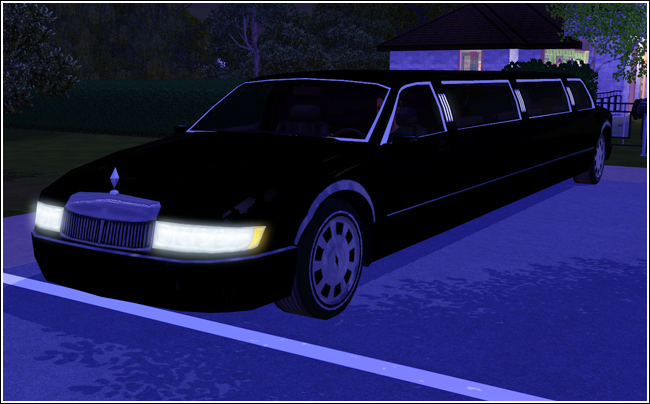 Sim!Mariah: Ah.. another legacy to note down in my portfolio. Sweet.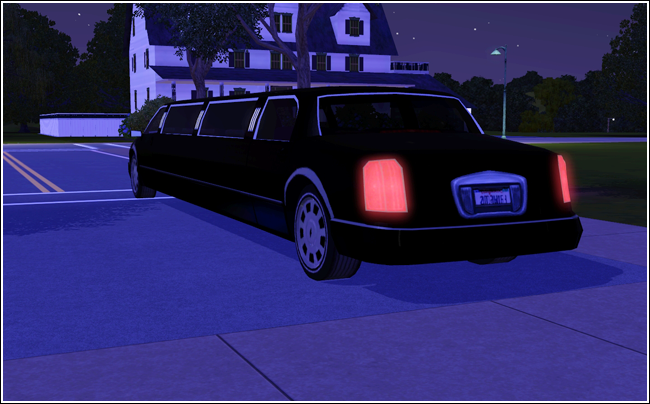 Sim!Mariah: See you later suckers!
Coke had been carrying around this camera for forever..
59 photos and 108 thousand simoleons. Wow.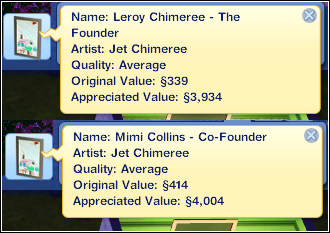 The founders paintings sell for 4k each. It would be more if I didn't have to go back and get them from backups when they disappeared.
The legacy in the end had 1.4 million simoleons in the wallet!
Wowza. I want to thank all of my lovely simmies: Leroy, Mimi, Jet, Tar, Mortimer, Light, Cloud, Cocaine, Tabitha, Myf, Vienna, Jordan, Yellow-Submarine, Daffodil, Sulfur, CherryBlossom, Flamingo, Grozdan, Nick, Clownfish, Jupiter, Honey, Rhys, Eldred, Alex, Passion, Standby, Seona, Ultraviolet, Plasma Sphere, Purple Rain, Dionysus, Amethyst, Garnet, Lavender, Lilac, Erle, Sorrel, Evander, Philomena, Blueberry, Blue Jay, Bleu Celeste, Cornflower, Denim, Jaques, Firouzeh, Squirtle, Inky, Cassidy, Robert, Moss, Elphaba, Meadow, Poison Ivy, Lewis, One, Jetta, Frieda, Anna, Cerise, Vireo, Key Lime Pie, Chlorine, Isaac and Stanley. Also The very first founder of the Chimerees, that being Tobias Chimeree. And my simself.
Thank you everyone who took the time to read this legacy and everyone who commented. It doesn't matter if you did it once, twice or every time, thank you so so much, you always cheered me up and made this whole thing worth it :D
In the near future I will post a poll a la
Quinctia
, to see what your opinion is.
Till then I'll be playing Flamingo, Nick, Vireo and Isaac. I'll probably post baby pictures :D
After the babies and poll and poll results, I'll be starting an ISBI, an I'm Surrounded By Idiots challenge..
but till then..

Love and rainbows!