OKAY.
Since chapter 9.6 would otherwise be freaking HUGE. I'm putting most of the pop-up notice updates here today! :D
So people who don't care about townies, don't have to read this :)

I forgot to mention last time, but the same night that Corny died.. Keefe died too!
And now Phi joined them.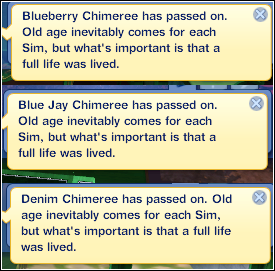 Seriously, I got these updates one immediately after the other in game.
All of Blue gen, except for Bleu is dead...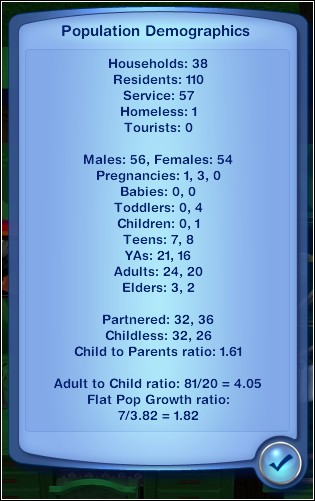 Since changing my age mod a tiny bit by adding a few days to teenage-hood.. I have a nicer population of teenagers in town :D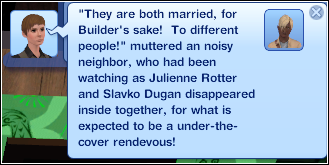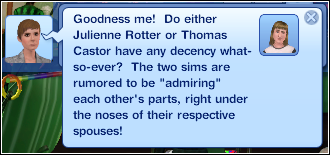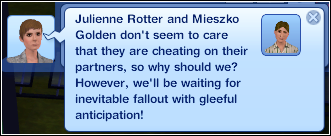 Julienne is such a player!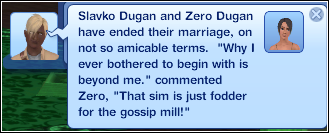 Zero even got divorced from her husband because she found out!

They did try to date again for a while..

But then she got pregnant by some other guy and they got married xD
Sim!Abby(she's a mod n Boolprop) also got pregnant and married THE FIREMAN WHO SAVED THE LEGACY HOUSE LAST TIME.
Awesome.
I think I missed Zero's baby update, but Abby's baby is named Isabel!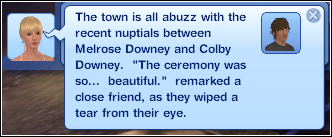 I know someone wanted me to hook up Moss and Melrose, but she got married.

Sim!
annaf94
had a baby girl named Branimira, or Bran as I call her.
Bran. Cute.

Sim!Abby and Sim!Teresa are totally BFFs.
Teresa's also married, cause that's not her original last name.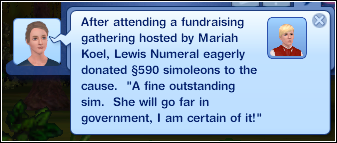 Thanks for the money Sim!
themarinalegacy
.
That's it xP The rest are in the update, cause they have to do with the chapter, so I can't put them here ;)
The chapter will be up tonight sometime.
Till then..

Love and rainbows