A chapter is born!
And a SPOILER in the opening. Yikes!
Last time in Chim-Chim-Cheree: Casstle got married. So did Faye and Connor, but Lewis and One did not. Jordan gave fantastic tattoos. Also Robert (Green) Chimeree was born.
Warning, this update includes a bunch of completely useless, but cute pictures.
We begin with Cass finishing that fantastic painting she started last time.
It goes up in Robert's room!
Hey why'd you stop? Your motives are fine and the painting is far from done.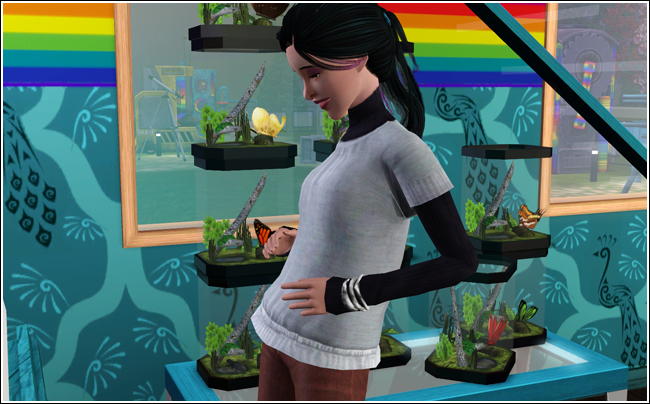 Cass: I'm pregnant!
Again? Your son was born YESTERDAY!
Well good thing you rolled that wish, then.
And now to grow up Robert!
Squirt: Whoo! I know you can do it, son!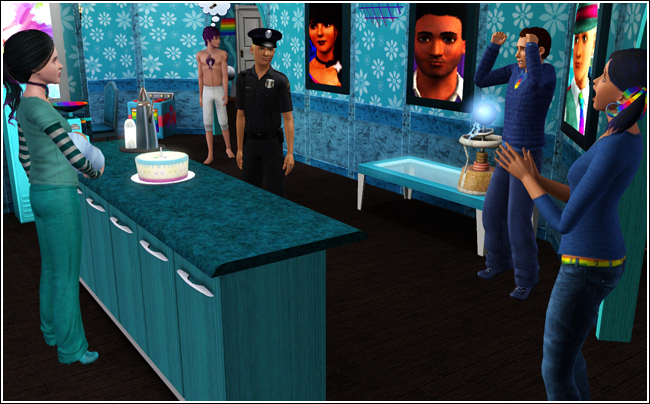 Squirt: Ahw... I have woooork :(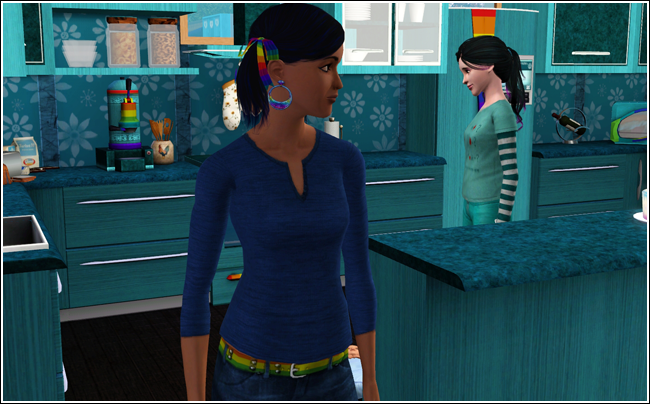 Corny: Welp, I'm leaving.
Cass: One day baby will be growing up just like you Robert.
Robert, who is good and absent-minded is also blonde and has Jacques' violet eyes.
He is also adorable.
He grew up in the monkey shirt, so I let him keep it :D
While grandma put Robbie to the crib to sleep a while, his mum takes a nap.
Wait is everything green.
I changed the layout a little tiny bit.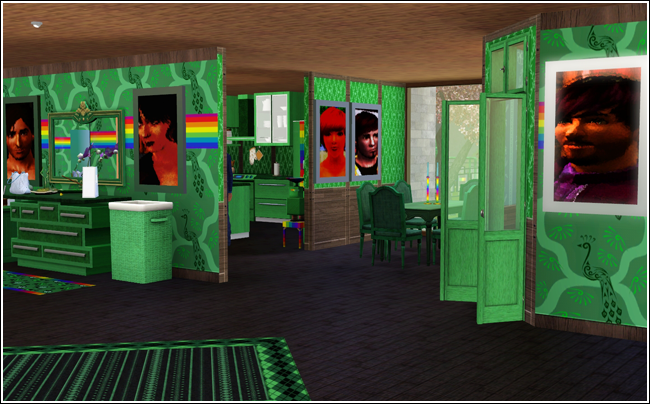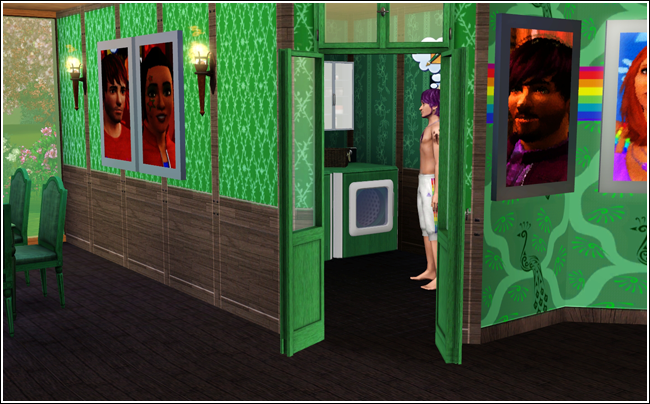 Yay!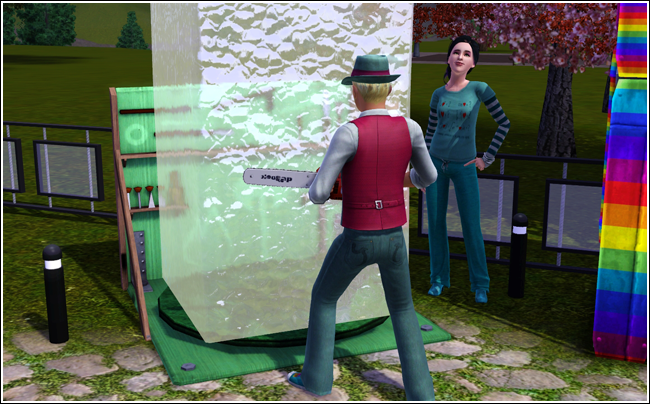 Let's try this sculpting thing again!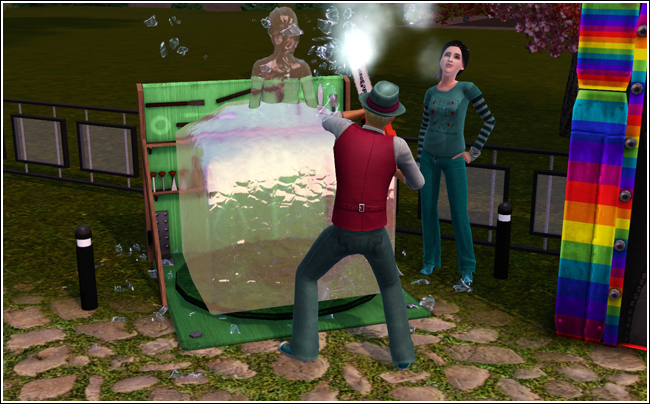 Rats, it didn't take the pose D:
Robbie: Daw-daw, dun leave me!
I turned the living-room around!

Blue Jay got married!
Meanwhile Corny dug a cave thing!
This could have been the opening.
Oh hey! I just needed Palladium!
Corny: Don't look at me, there's nothing to see..
Coke: I have a feeling.. that you're in labour.
Cass: Nonsense, I have till at least I'm done with this painti--
Cass: oh crap..
Coke: Told you so.
Cass: This better be a girl!
Cass: :D
Cass: It's a boy. Oh well. *gives love*
The boy is named Moss and is a virtuoso and a heavy sleeper.
He enjoys Classical music, Tri-tip steak and the colour purple, like his mum.
Oh hey! :D
Corny: Ew, what stinks..
With their dad constantly at work or skilling, grandparents must help out.
Robert: I'm soooo cute.
Corny: I look kind of Egyptian.
Squirtle does find some time to bond with his sons.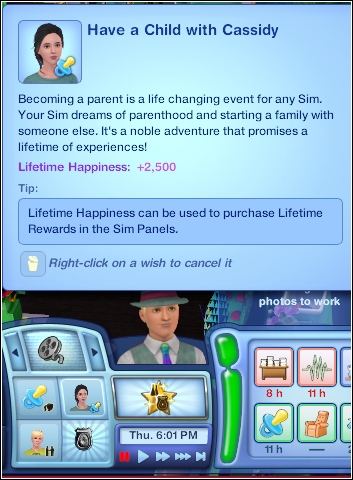 He also finds time to wish for another one.
And to hang out with Lewis x3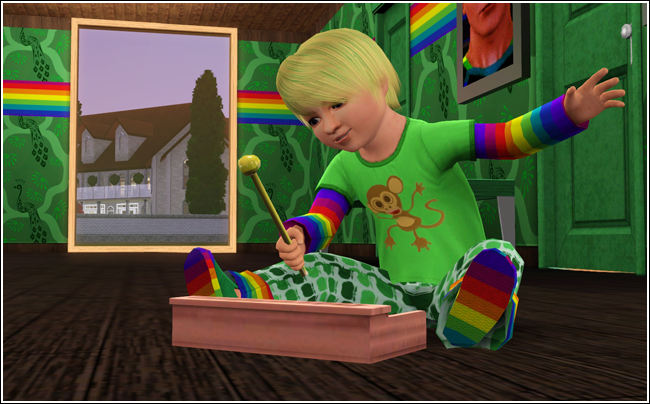 He's so cute!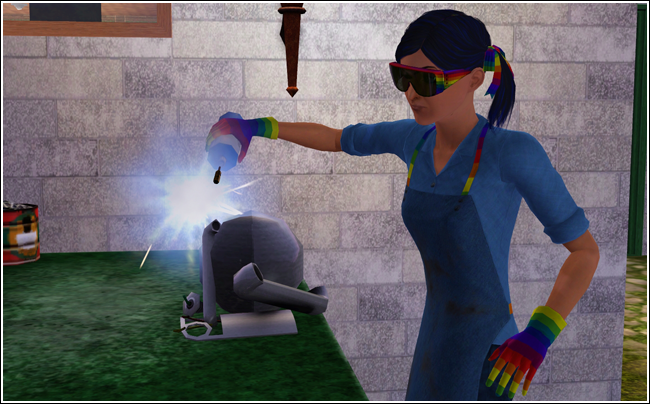 I wonder what this master invention is! O:
Squirtle was too busy eating, so he wouldn't die so Jack has to invite Lewis in.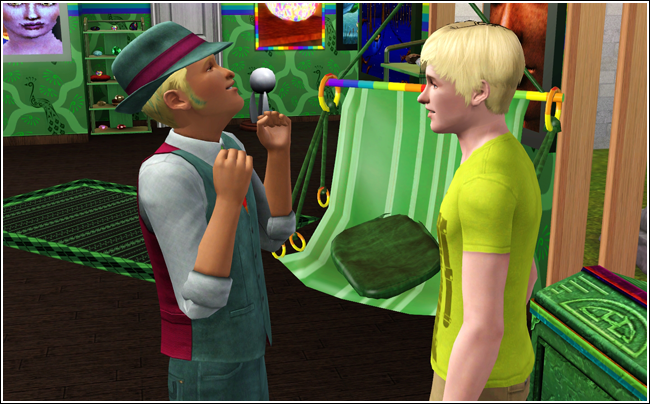 Squirt: We're both clumsy!! :D
Lewis: Yeah, that's GREAT [/sarcasm]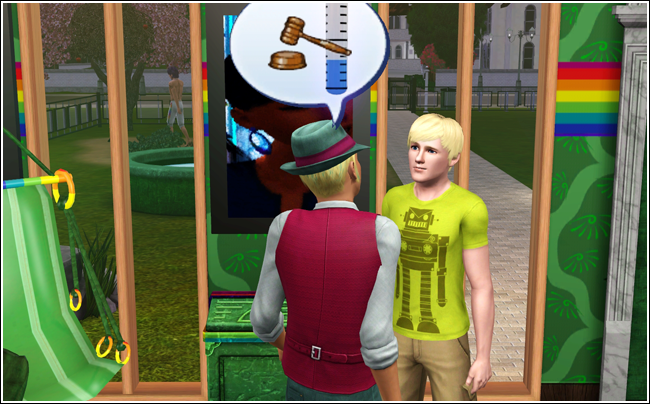 Squirt: Now friend, I have to question you about a crime committed in town.
Lewis: Excuse me?
Lewis: Go ahead, I have nothing to hide!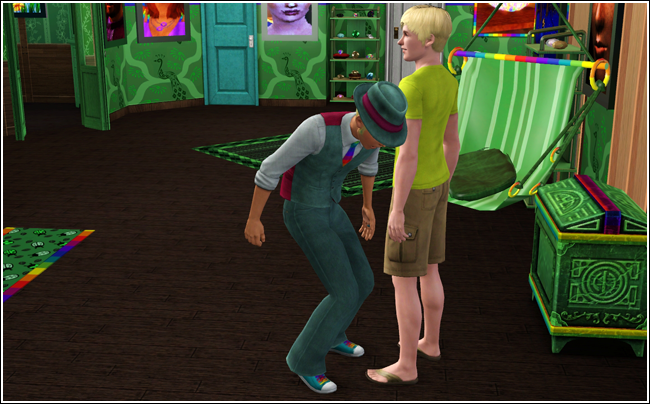 And then Squirtle tripped over his feet. He was not even moving..
Squirtle: Nobody saw that, you can't prove it and I'll never do it again!
Squirt: Now, were you at the scene of the crime?
Lewis: Yes! No! What's the right answer!? I was dead at the time!
Squirtle: How long have you and your girlfriend been together?
Lewis: Oh gosh, we go way back. It's got to be around 15 years now.
Squirtle: And you're not married?
Lewis: It's complicated.
Robert has learned his skills!
"Report on Lewis Williams by Squirtle Chimeree.
He didn't do it.
His motives for not marrying his long time girlfriend are questionable, though."
I did it via Master Controller. Because they just wouldn't get married!
More lesbians, whooo!
Uh oh, someone found her favourite food.
Cass: Cooookies!
Cass: Birthday time for Mossy!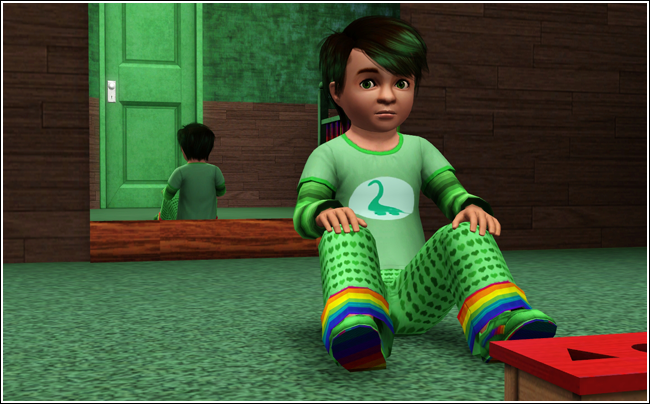 AH MAH GAAAWD.
Moss is so cute!
He has, though you can't see it well, Jack's hair colour and Cassidy's eyes.
Now off to play your little xylophone you go..
or.. eat the little hammer, whatever you want.
Cass: Heck yeah I'm pregnant again BLAARGH!
Hell naw, I have Cocaine, I don't need another family member to live a long time.
Corny: Small ya later whats-your-name.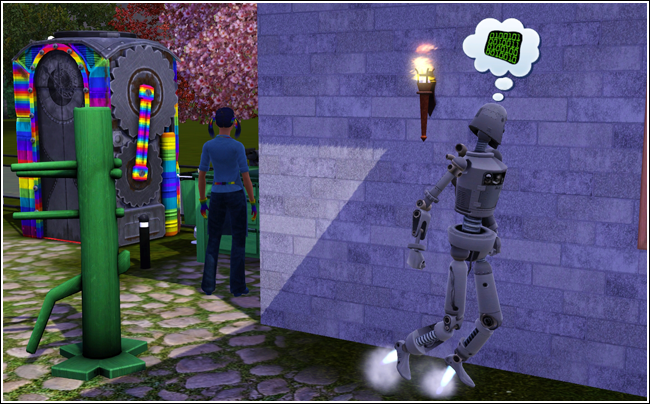 And he floats off thinking of something binary.
Be free!!
Squirt: I got a promotion!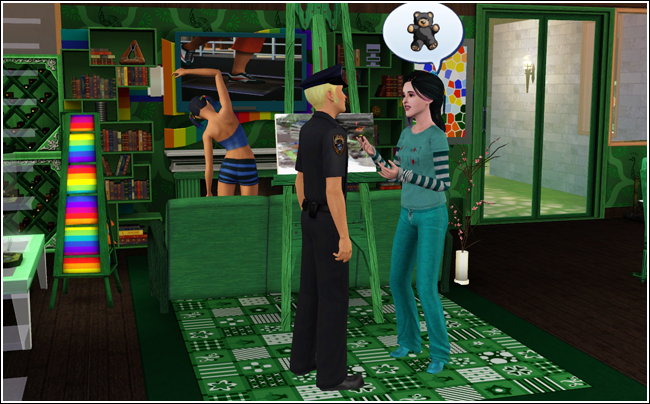 Cass: Oh yeah? I'm pregnant!
Squirt: Whoa! Way to top MY good news!
And then they both go and try to keep their motives stable.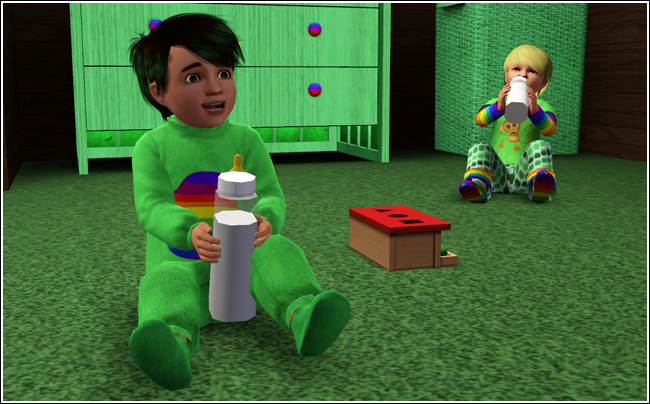 Cute boys!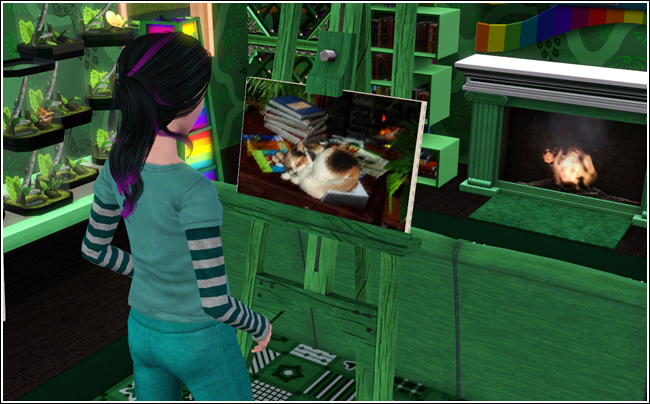 Cute painting!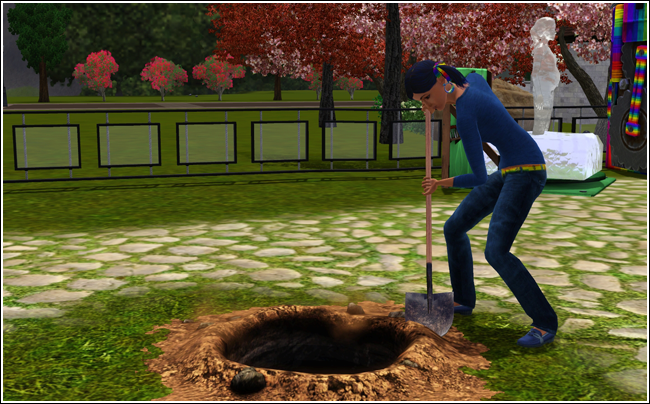 Corny is filling the hole that gave her palladium.. it's an emotional moment.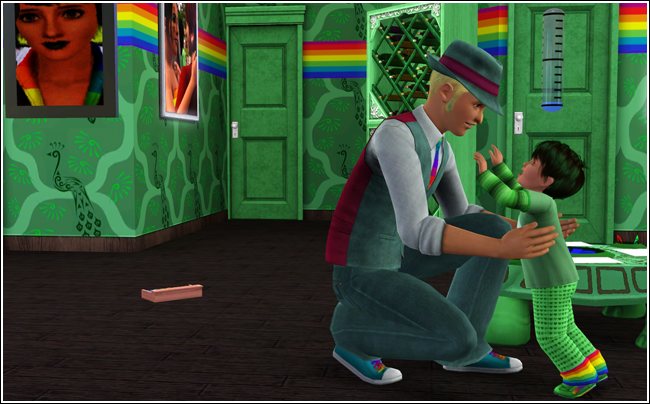 It's amazing Squirtle has time for ANYTHING these days, but the children must have attention!
Robert: This is how it's done, brother!
Moss: Buh?
Robert: Oh he can't talk..
This was another opening I thought of, but I figured it was TOO much of a spoiler.
Moss: Mummy? Daddy?
Robert: They're busy now, now we play!
Robert: But wait! Birthday!!!
Oops! I could have sworn he had a day left!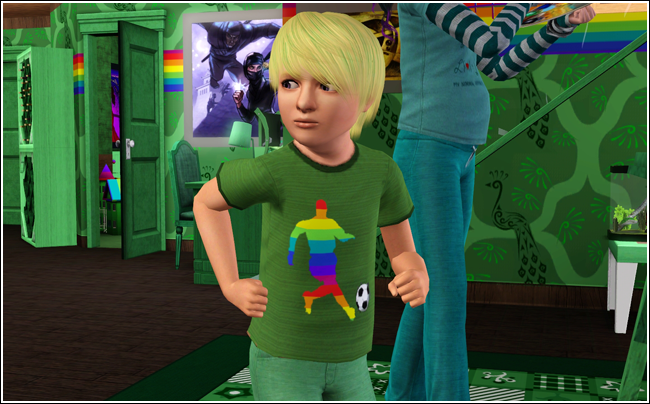 See what I did there?
Robert: I'm going to steal, for justice!
He's a kleptomaniac now.. a good kleptomaniac.
And I think he has his mum's nose! WHOOO, he's not a clone of his dad!
Before he grew up, his mum managed to get a portrait of him as a toddler. Ahw.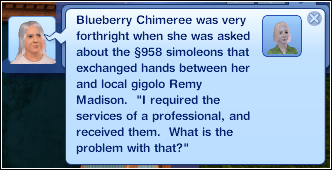 Btw, they're STILL at it.
THE CUTE.
He has Cassidy's eye-shape, which I'm thrilled about, cause is different than the regular. And it's awesome.
Do you dig Robbie's bedding? Simple but nice.
Yeah, you're ABOUT TO in 9 hours.
So.. Corny found a magical gnome, so did Coke(while fishing) so I figured, since we already have one named Spike.. I named these two Buffy and Willow.
Fufufu.
Robbie: Hey, just cause a random guy you've never met or even heard of knows your number doesn't mean he's a creeper! Hello? Hello??
He hasn't been to school yet and he has some contacts.. so I decided to call some xD
Good to know the little one's learning all the right words :)
That's the girl he's talking to.
I was planning to hook them up, but something came up. More about that later.
Now is baby time!
Squirtle: You're doing great honey.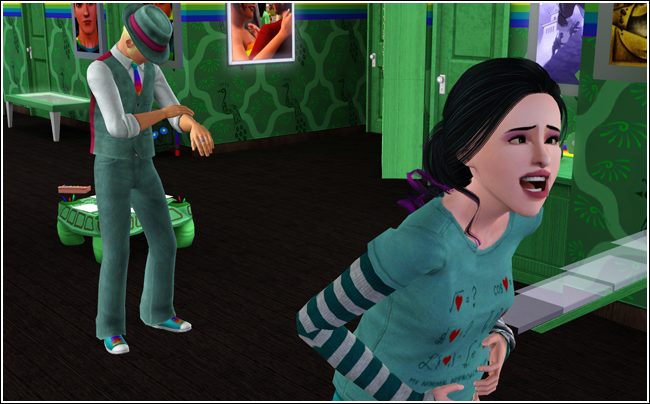 Squirt: Is that baby drool?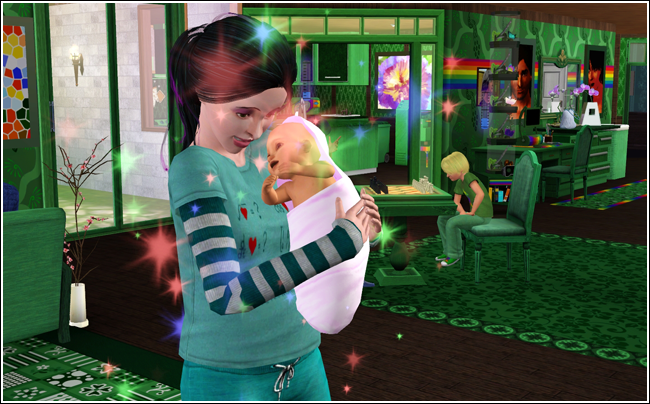 Cass: It's finally a girl!!
TWIN GIRLS!
Whew!
They're called Elphaba and Meadow.
Elphaba is Brave and Excitable, likes Soul, Spaghetti and the colour of Sea Foam.
Meadow is Eccentric and Loves the Outdoors. He enjoys Indie, Fish n' chips and the colour Orange.

The moment I took the above picture, the two lovely ladies who got pregnant accidentally.. had a baby girl named Stevie.
I liked the name so much that when my game crashed and I had to re-play and they named her something else.. I went and renamed her Stevie. Yeah.
Robbie: Screw medicine! *rolls wish to become a surgeon*
You're a liar! A liar and a thief!
Still cute, though.
But wait there's more.
It's Corny's birthday.
NOOOOO.. I like her young :(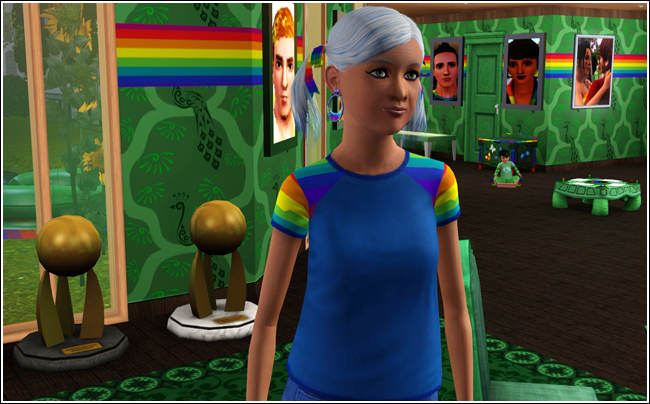 Corny: Thanks for keeping my awesome pigtails of awesome.
SUDDENLY.
A wild Twinbrook appears.
You see, my game was being all glitchy and stuff, so I checked the savegame and it was over 80MB, which is quite a bunch.
So I decided to move the family. I did a very brief poll cause I wasn't sure where to move and Twinbrook got 8 votes, so we move to Twinbrook.
Since we're moving in the morning, we gain a day, so the girls grow up the day after this.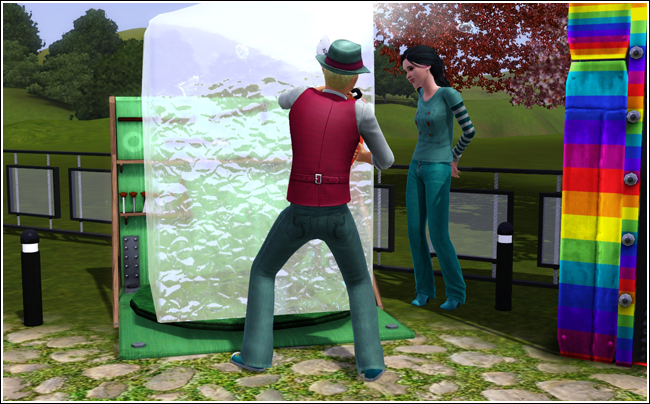 Let's try this..
IT WORKS!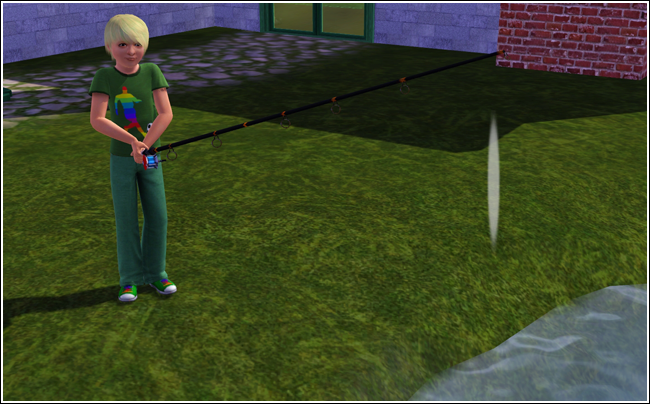 Meanwhile Robert is fishing.
Nothing better to do with kids. Maybe painting and cooking and chess sometimes.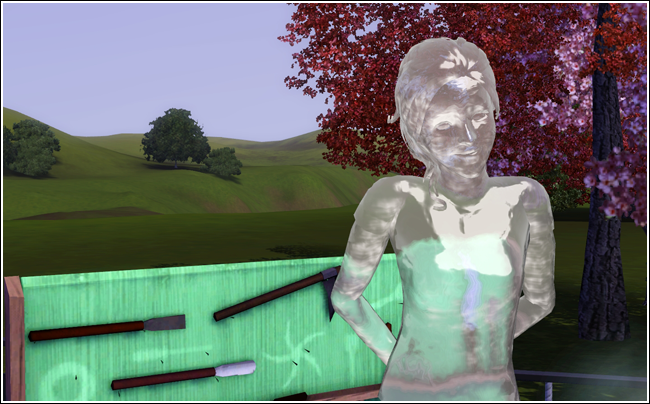 So pretty!
That's where we're located in relation to the city centre.
Squirtle: I did it! I sculpted my beautiful wife!
Too bad it's going to melt.
This is his 15th ice sculpture. 10 to go and he's so busy with work and babies!!
Speaking of babies..
a BOY named Vivian?
This is Bleu's Inappropriateness at work. I just wonder how Lestya let him name the boy that.
Oh yeah, he re-married. I think I forgot to mention that.
Sculpture of Crazybat: That's a lovely painting of your son, Cass.
Cass: why thank you SoC.
Do you really think it's a good idea to talk about that just here?
Robert: DIVORCE.
It's FOUR birthdays! First the girls!
Then Cassidy and Jacques!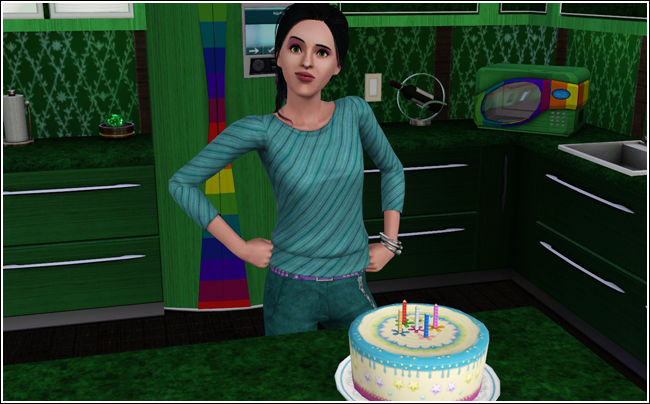 Cass: I look mostly the same! Excellent!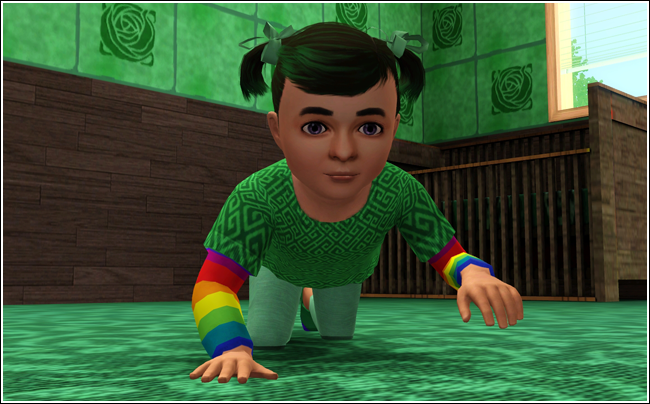 Elphaba got a strange dark dark brown hair tone and Jack's violet eyes.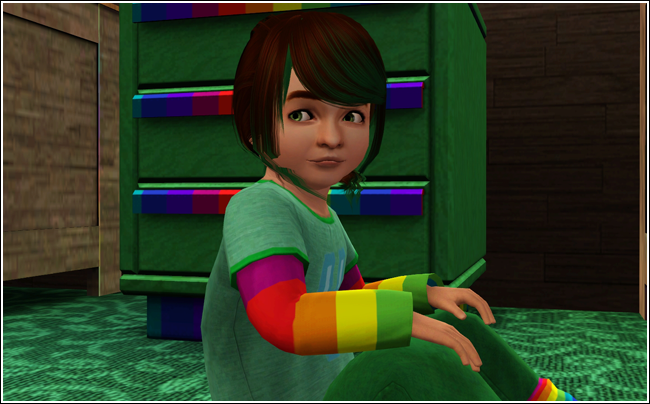 Meadow got Jack's hair colour and Squirtle's eyes.
Cocaine has written 100 novels!
And has earned nearly 1.5 million simoleons!
All titles of his books are in the first post of the Chimerees BoolProp thread.
Btw, Squirtle's in the Forensic path now.
I'm convinced that they live on Saturn. They talk about it a lot.
Meanwhile.. Robert brought a friend over from school.
Robbie: They talk about the globe way too much on tv. I'm sick of it!
Coke: well we have to be a little more eco-friendly or there will be no globe in a billion years or so.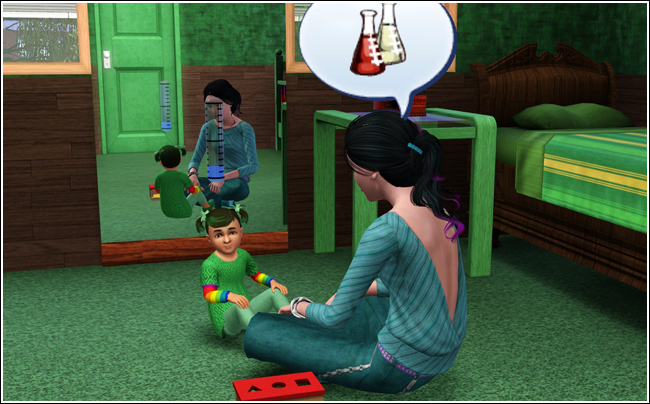 Cass: che-mis-try. Come on Elphie, it's easy!
Elphie: Who do mum think I awe? I can not say dat!

Jay and Mireille had a boy!
The only way I could fit all three toddlers in one picture. They're SO CUTE!!!
Now while I moved, I lost a bunch of sims, among whom Lewis and One and the rest of the gang, so I recreated them and made LewOne engaged straight in CAS. Now they're fighting. I hope it's a one time thing.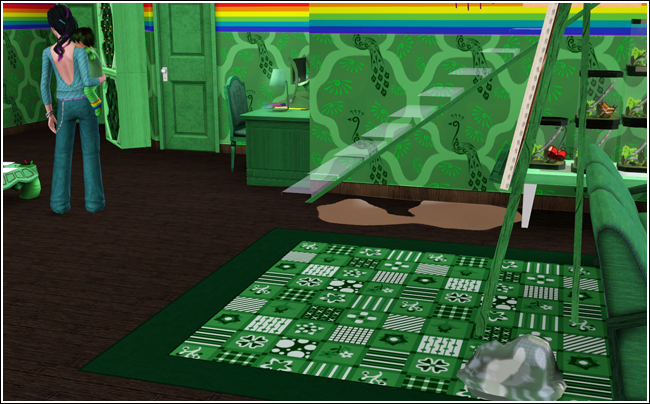 Ahw, SoC melted D: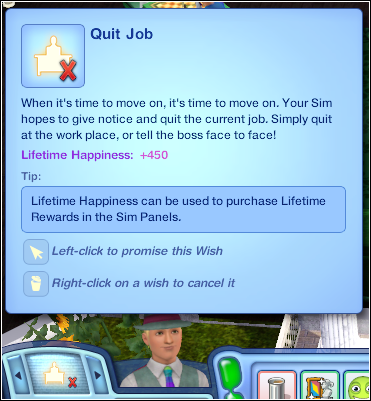 The ENTIRE time this update took place, Squirtle had this wish and I felt so bad for him but I didn't let him quit.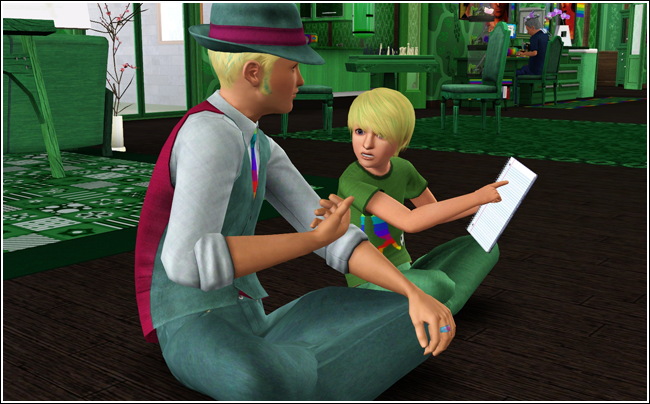 As a child, Robert still gets bonding time. It's a lot more hectic in the house than it seems from the update.
It's pretty awesome.
Funny how in the beginning of this update there were 6 sims in the house and now there's 9. I turned the number upside down :D
And that's it for this time!
Next time: Moss grows up, so do the girls! More things happen, as always!
How is everyone liking these updates on other families that I've been putting in a lot recently, btw?
Also, some people reported that Squirtle made their game crash in CAS when they tried to change Squirtle's looks. So I uploaded a new file and changed the link in the downloads post. If your game went bonkers, try the new file and let me know .__. though I really don't know what could make it crash that way..
!!Anyway!!
Thank you for reading!

Love and rainbows!