Dun dun daaaa!
Double chapter madness is upon us! Again.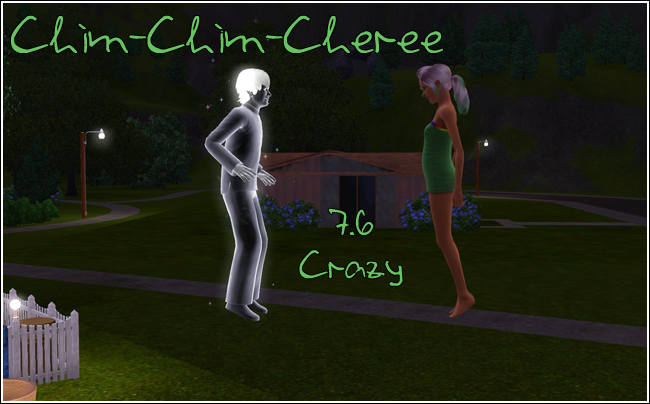 SeeBee get the opening, yay!
Last time... oh who am I kidding?
How are you liking these 80-picture chapters as opposed to 120-picture ones I used to post?
Coke: HYAH!
May the rainbow be with you, Cocaine Chimeree!

Okay so maybe he's bisexual or pansexual. Or he has a good cover..
Platon is a funky name..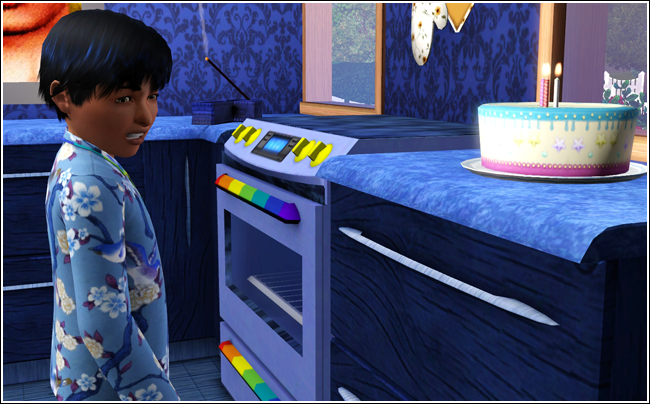 Denim
Jay: Lulz. You thought I was my cousin.
Yeah I almost flipped and was like, wait, did Jay already grow up in the last chapter?
Jay: Check the jammies before you say anything, gosh.
Ah, THERE's Denim.
Denim: OMG I'M SO THRILLED TO HAVE AN AWESOME COUSIN LI
KE BLUE JAY!
Denim: Oh and Crazybat's breakup from her boyfriend is also worth celebrating.
SCORE. I don't think I've ever been so happy over someone's breakup before. Unless you count Moon Unit Creeper and that Face One guy whose name I've ALREADY forgotten.
Denim: I bet she was only dating Csaba to freak you out.
Totally.
Di: I can't talk right now, my son is growing up! Jerk!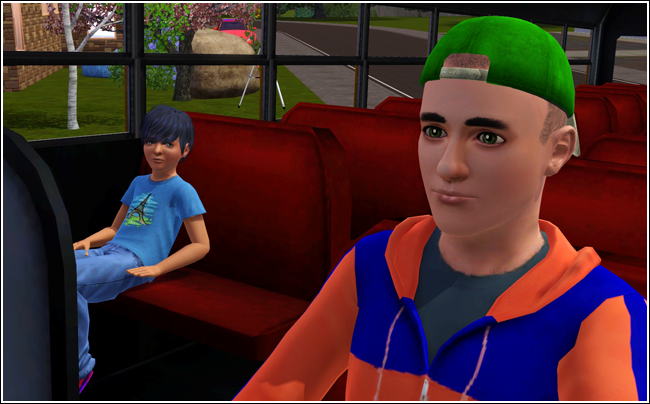 Denim: And now I'm the only one on the little kids bus.
Denim: Along with the bus-driver.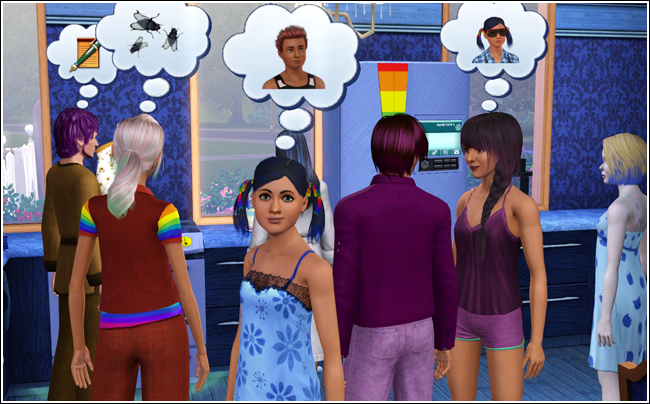 Corny: Oh hey, it's Keefe! I hope he slept well!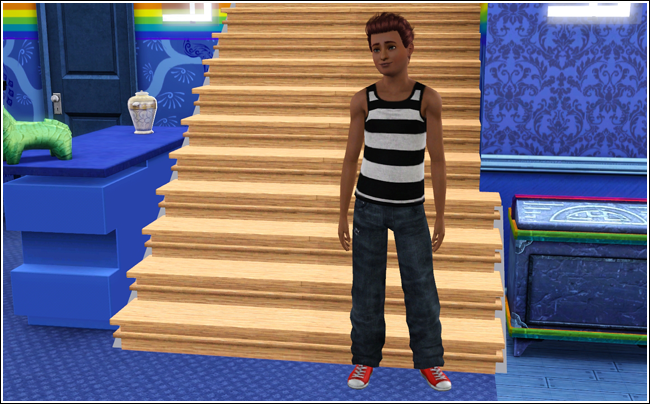 That's the real makeover I gave him.
I like it.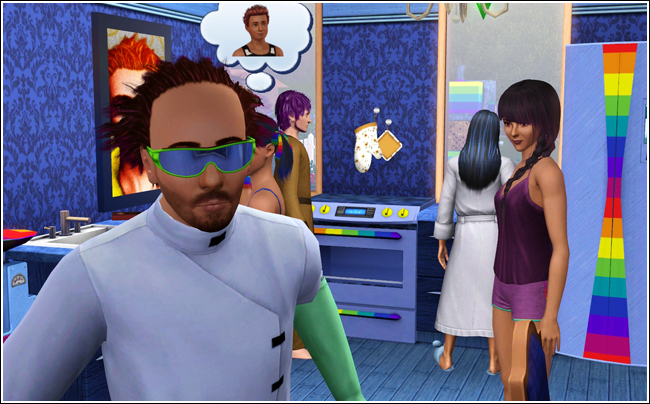 Di: Welp, time for work!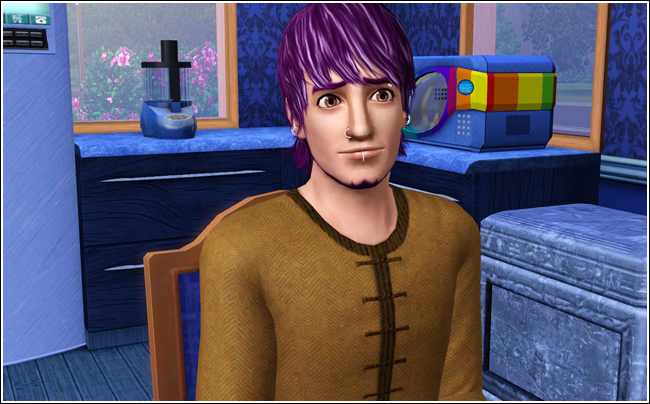 Coke: I think we're all finally over Standby's death! Yay!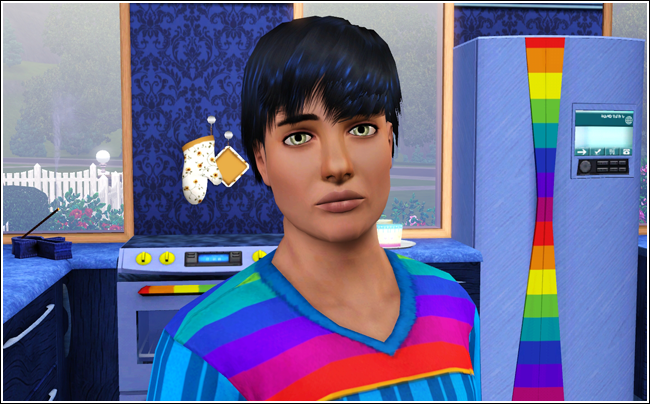 Blue Jay rolled
Friendly
and grew up with Sorrel's lips. Huh, I guess he and Denim aren't that similar-looking after all! YAY!
I really REALLY like his look. He looks manly.
As a man should.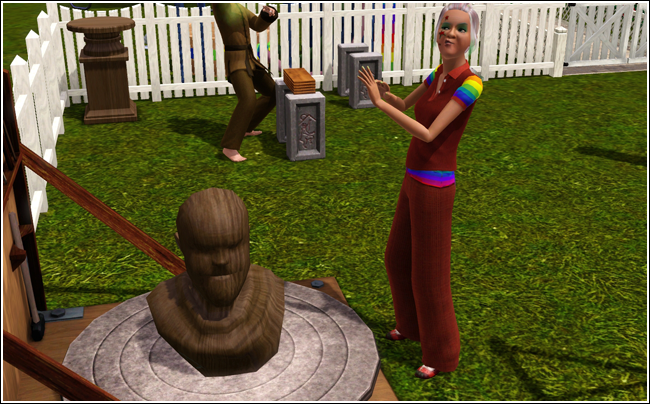 Seona: Ew, I sculpted this? Yuck!
She's a little confused, you might say.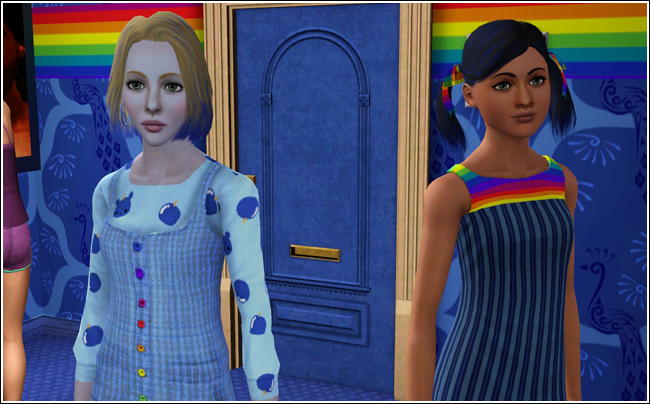 Here's also a good look at the girls who look also completely different.
I actually think Jay looks more like Corny's brother than Berry's xD
STOP! RANDOM FACE-OFF TIME!
Cornflower totally won this.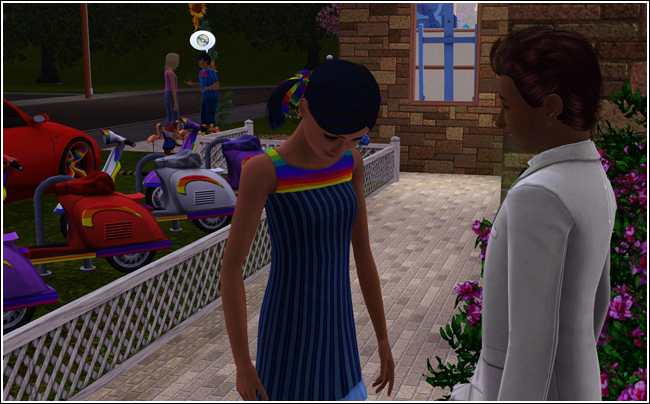 Corny: Sooo...
Jay: CDs! I love CDs!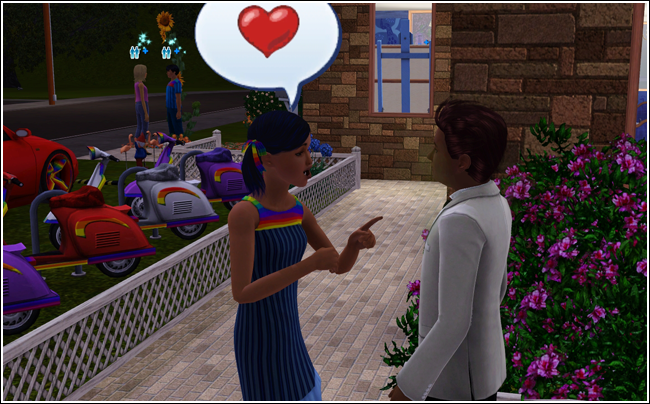 Corny: I love you!
Keefe: I HAVE a GIRLFRIEND!
Corny: Cheese! Calm down boy.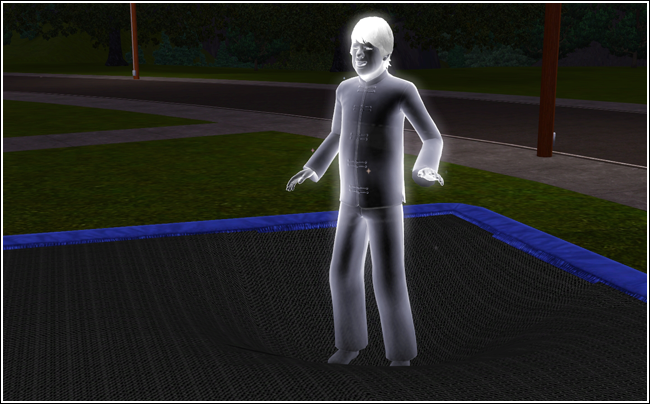 Omg, It's Standby!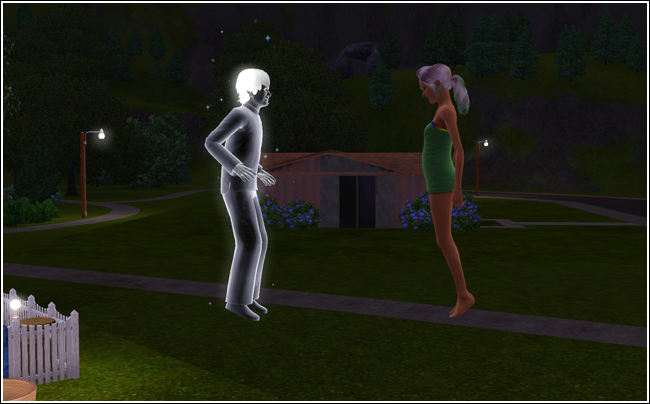 I woke Seona up, just so they could jump on the trampoline together.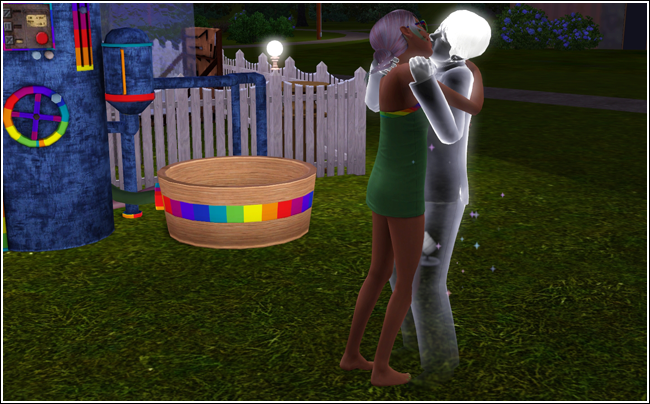 SeeBee!!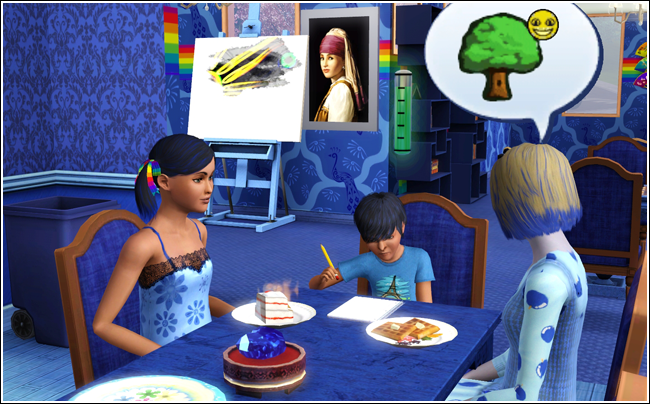 Berry: Too bad you can't go outside before you do your homework, huh cousin?
Denim: I... I hate you.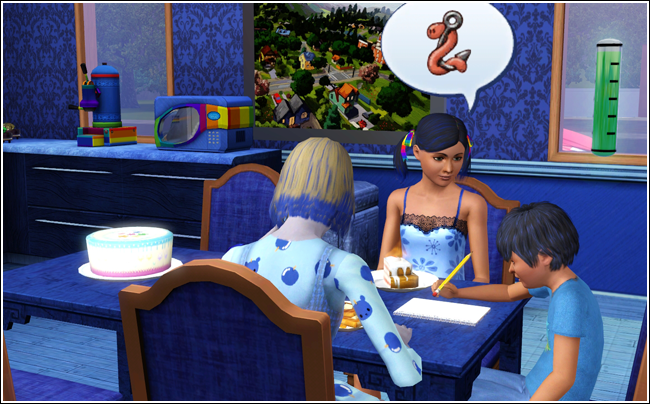 Corny: I bet you'd like to be fishing right now.
Denim: You girls are so mean!
Corny: Yeah well I'd like to be making out with Keefe, but he's still in a relationship with some skank.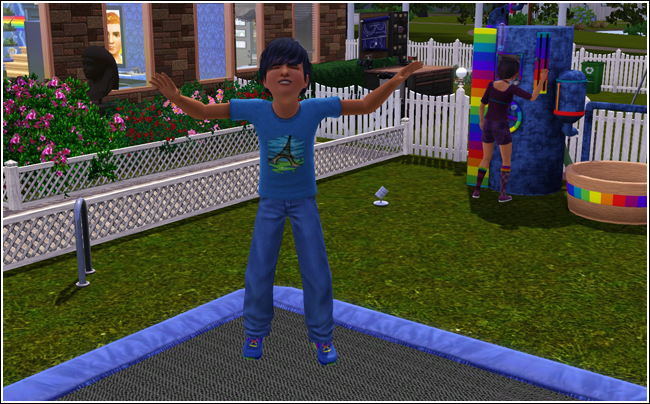 Denim: WHOOOO! Skipping school is so much fun!!
Why am I letting him do that you might ask?
He rolled a wish. PLUS it's his birthday.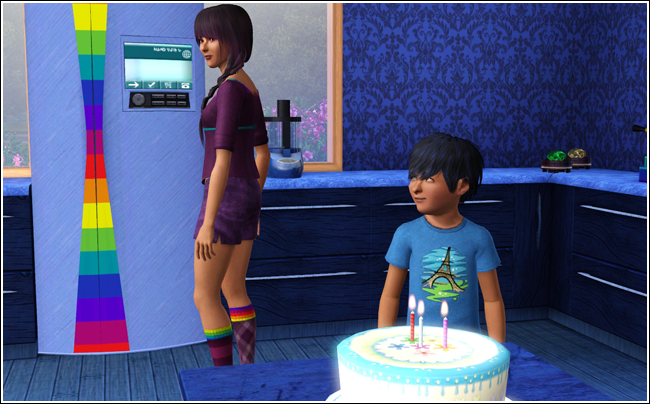 Wow, they look so much alike already.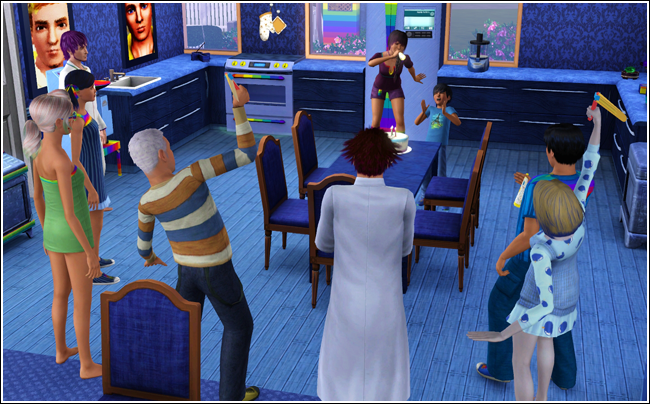 Another half-circle, another birthday sim!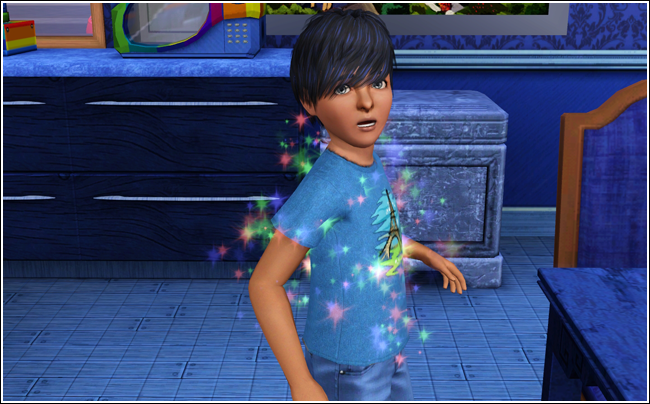 Denim: I hope I grow up unique!
Me too buddy!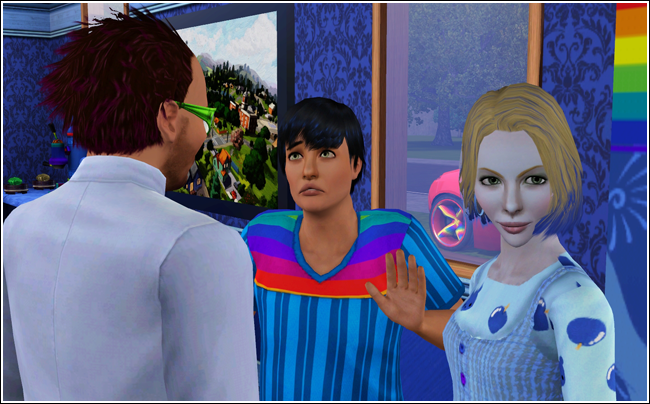 Berry: Fufufu, creating tension is fun.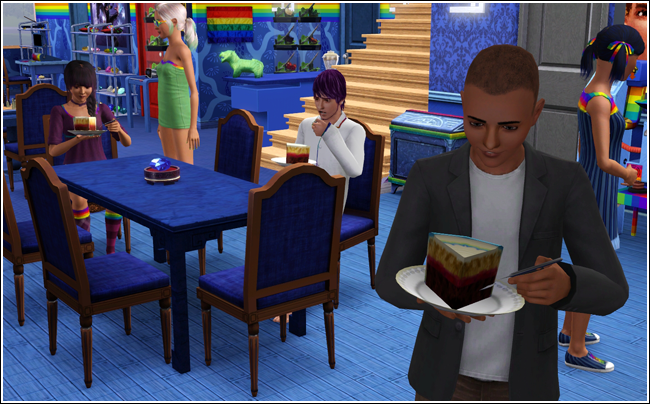 Denim... there are 4 empty chairs. FOUR.
Coke: Cake AGAIN? Feels like we just had cake like 2 days ago.
WAAAAAAAAAAAAH!
He's a face-clone of Lavender. This makes me sad, because he's very good-looking.
I am thus removing you from the heir running. D: I'm sorry! D: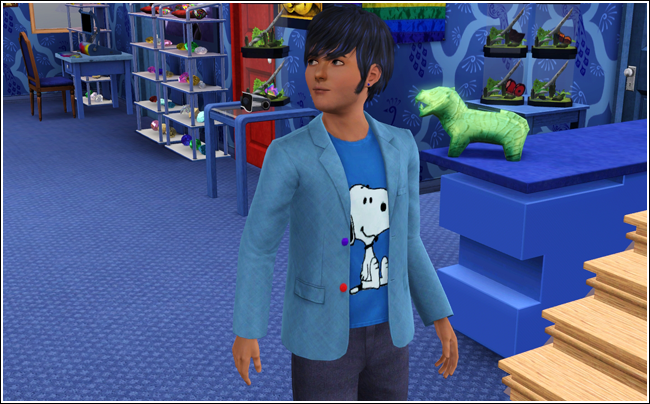 Anyway.. Denim rolled Frugal. I wish I could have a Jay-looking sim with Denim's traits, because jay's are sort of generic. but eh.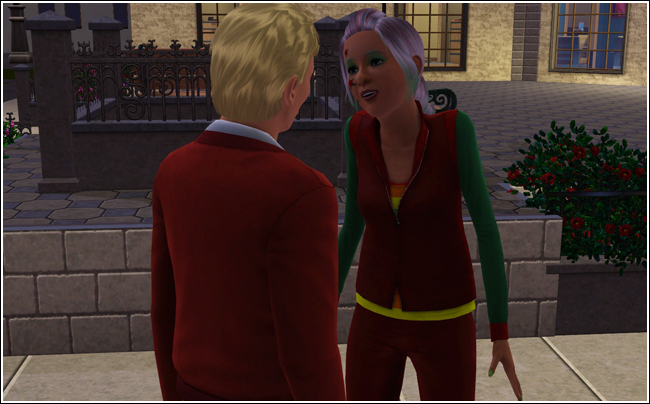 Seona: Hey Aldric. Congrats on your baby, want t give me a tattoo that I suddenly rolled a wish to get?
Aldric: What? I'm not a tattoo artist!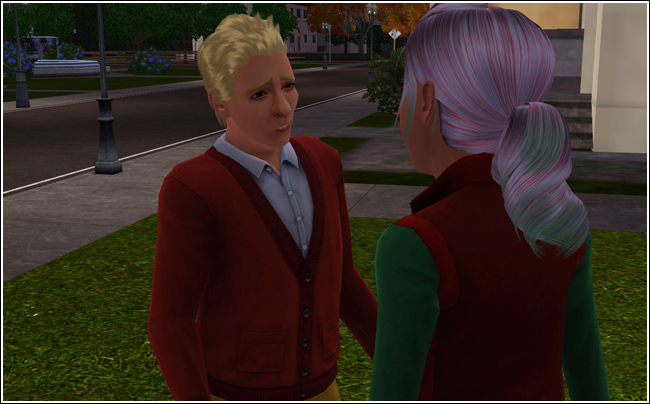 Aldric: But okay, I guess.
Seona: Are you sure you know what you're doing?
Aldric: No..
Seona got a ducky with some stars, a rose and
A zombie-looking girl with red flames.
Too bad her arms are like sticks.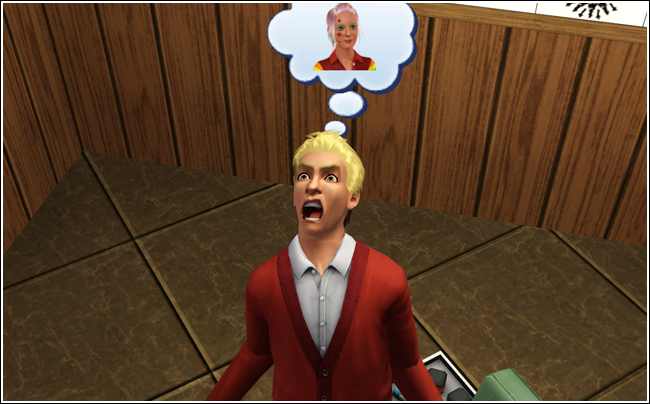 Aldric: That damn Seona Chimeree!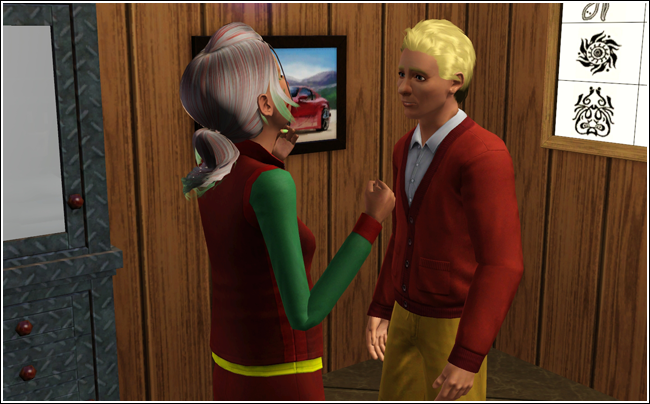 See: hey, thanks for the tat! Turns out we're both Artistic! :D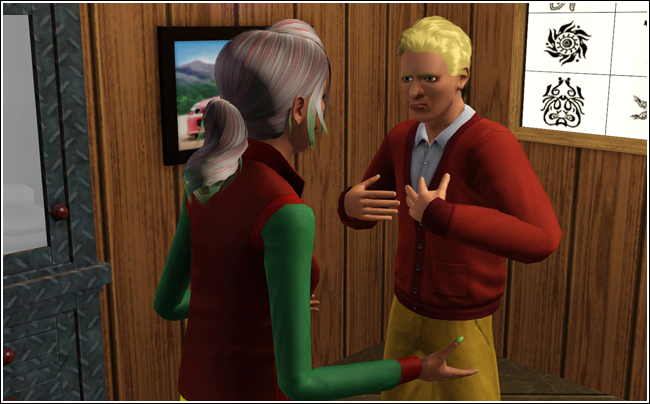 Aldric: But I'm Grumpy and you're Excitable! We'll never get along!
Denim: Go away, I'm still bitter!
Ahw, I'm sorry D: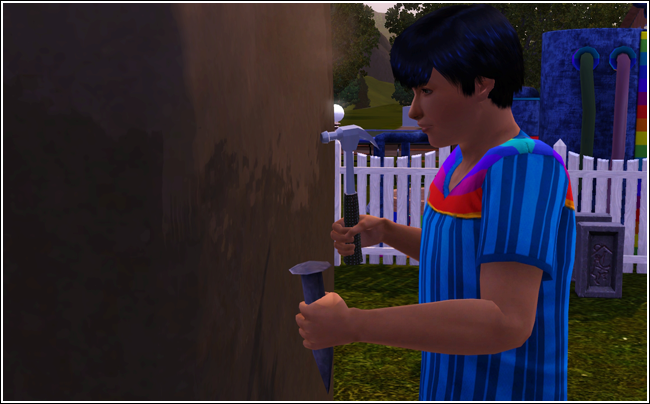 Meanwhile Jay tries out sculpting!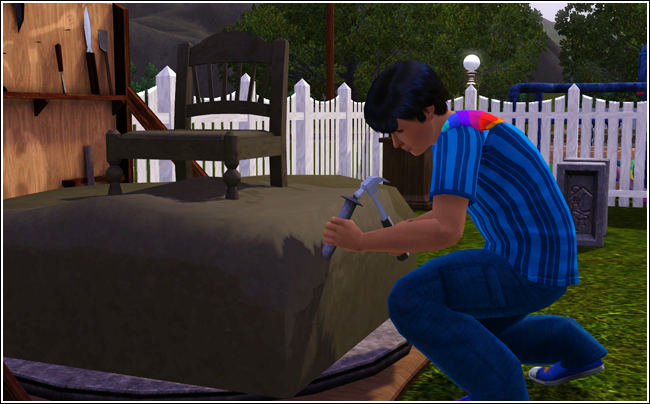 He made a barstool!
Oh hey, it's Madeline.
Di invited her over.
Immediately after calling her he rolled the wish to ask her if she's single.
Last time we checked she was married to Reynaud, the blonde guy
Lav thought was cute
.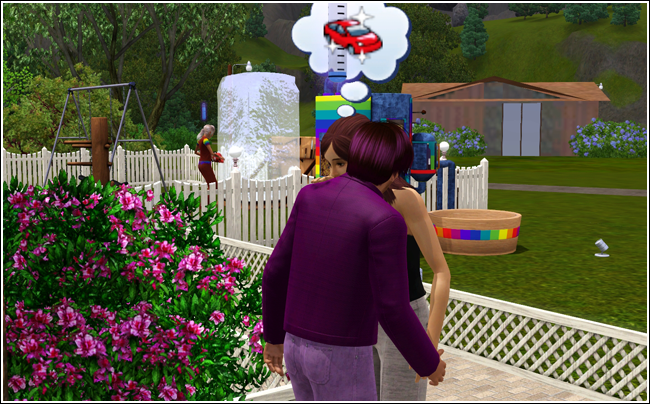 Flirtatious greet!
Madeline: Wow he has a nice car!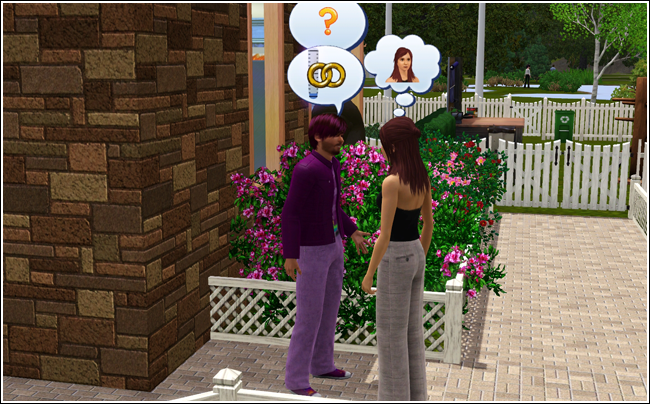 Di: So, are you married?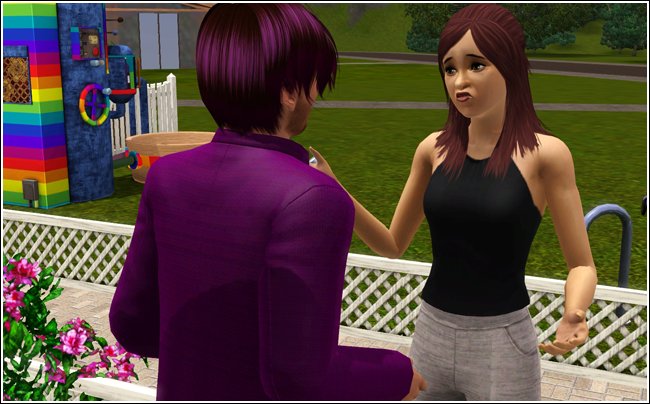 Madeline: Uhm, ya, to Rey, who your sister tried to seduce.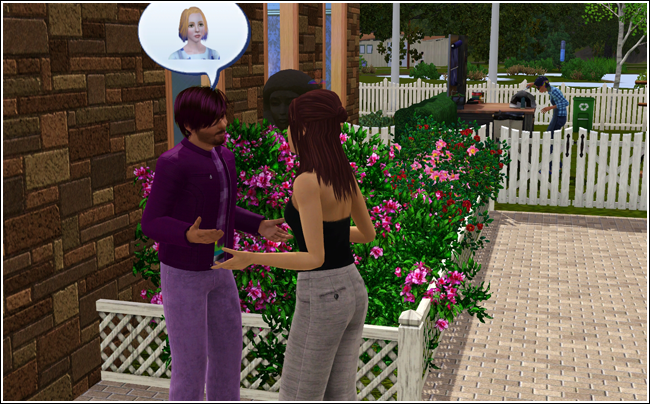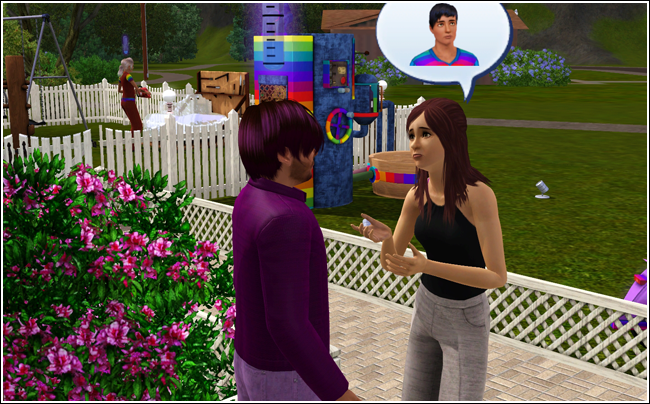 Di did his best to lure her in with talk about his awesome family, but no matter how many times I tried she turned down his flirts :(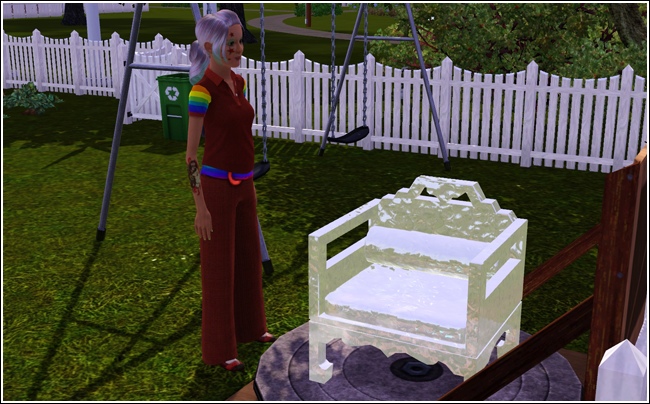 Meanwhile Seona sculpted a nice ice chair!
Di: I'm divorced *giggle-giggle*
Yeah, that's something to brag about.
Madeline: I bet you make nice babies!
Di: Would you like to find out?
Madeline: Ew, no, I'm married.
Coke keeps on building up martial arts skills.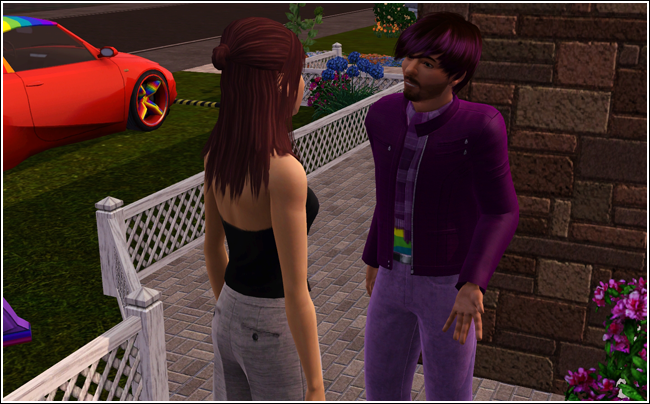 Di: Now that we're best friends, how about you break up with Rey?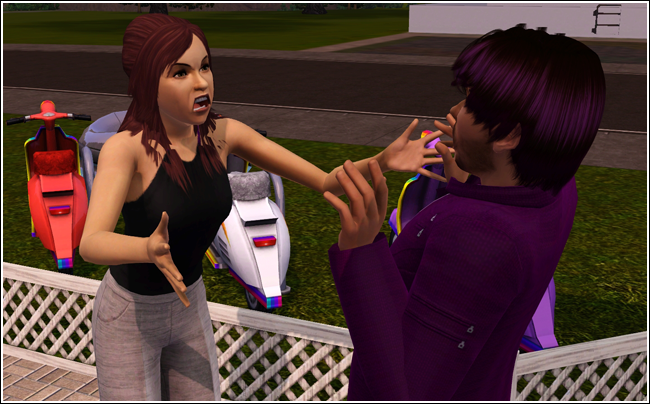 Madeline: What's wrong with this family!?
Di: Yikes!
Di *makes a smooth recovery*
Madeline: Oh I see.. I.. understand..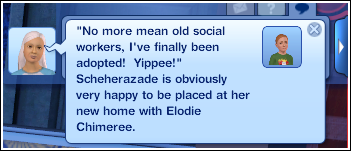 The kid is named WHAT?
Sc...Sche... Scheherazade.
I wonder what Elodie and UV are going to nickname her xD
I see what they did there though. I turned off pregnancies in their house and as soon as Elodie turned Elder they adopted, which was enabled xD
Seona: The kid is named WHAT? Wait no.. that's not why I'm making this face!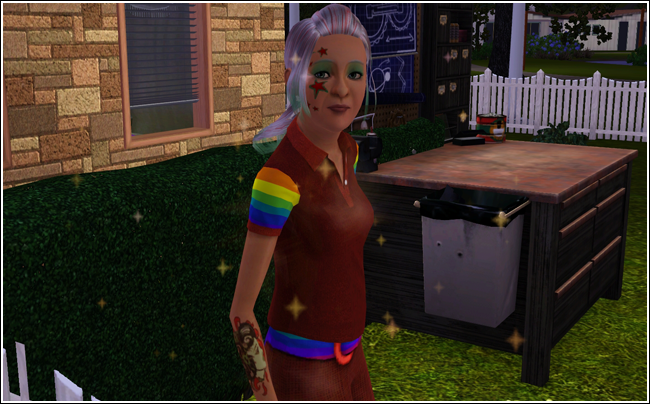 Seona: I think I'm going to die! Eh.. about time.
Ahwww!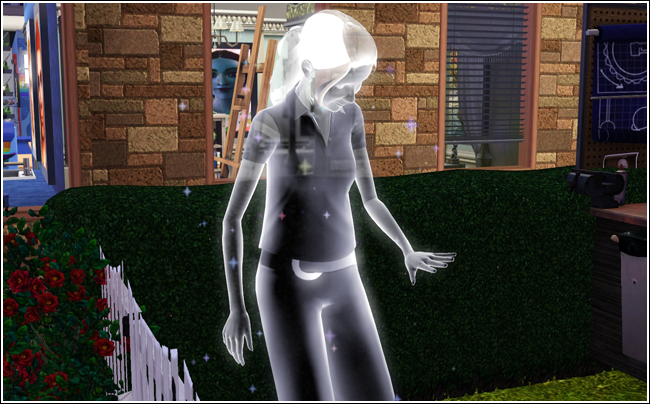 She looks fancy as a ghost!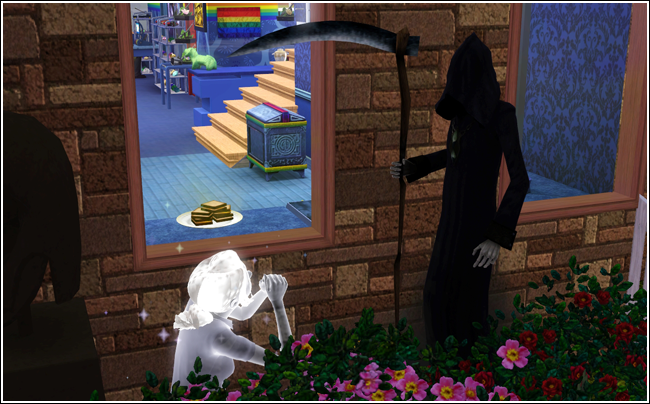 Seona: No, I changed my mind Adam! Please don't make me die!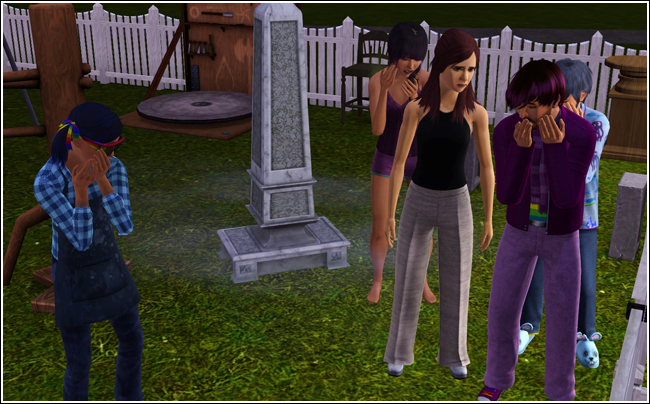 The family is heartbroken once again. Will this soften Adam's heart?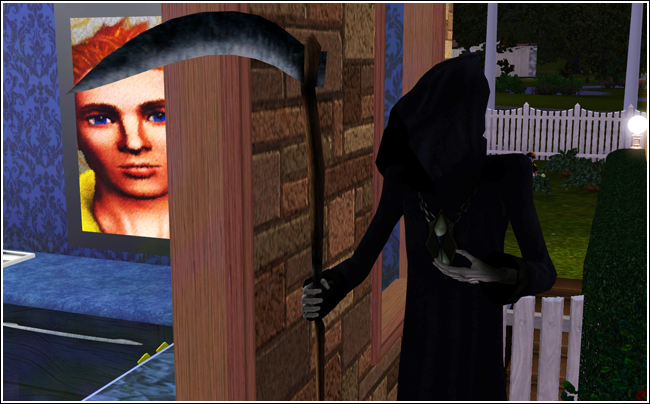 Adam: Come come, Seona, you're 96 and your husband is dead already. It's your time.
Apparently not.
Seona expired 6 days after her husband's death.
SeeBee is together again!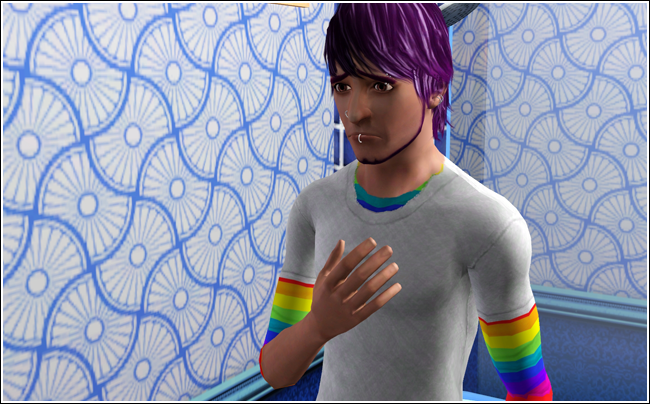 Coke: I feel like a part of me is missing.
Yeah. Your wife. I'm still sorry about that.
Coke: No, it's not that. I haven't written anything for 2 days. I've been busy with martial arts!
Uh oh. He's having writing withdrawal.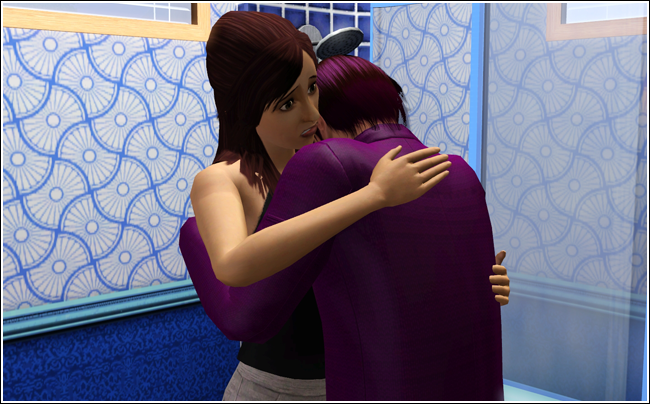 Di: Oh Madeline, how will I go on without my parents! And my girlfriend also left me! Now it's just me and my children. They need a mother.
Di does his best to get Maddie to give in.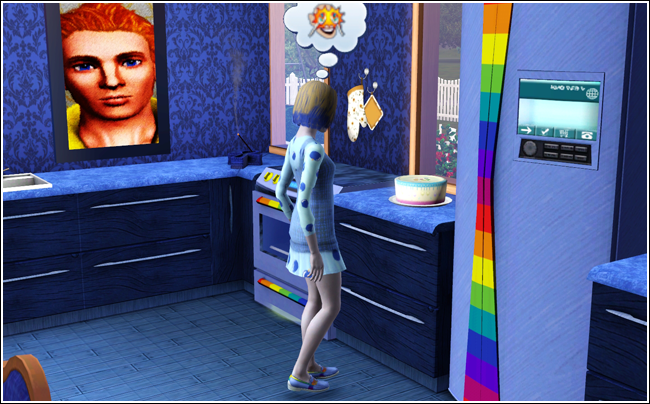 The next morning...
Berry: A cake? For me? Sweet!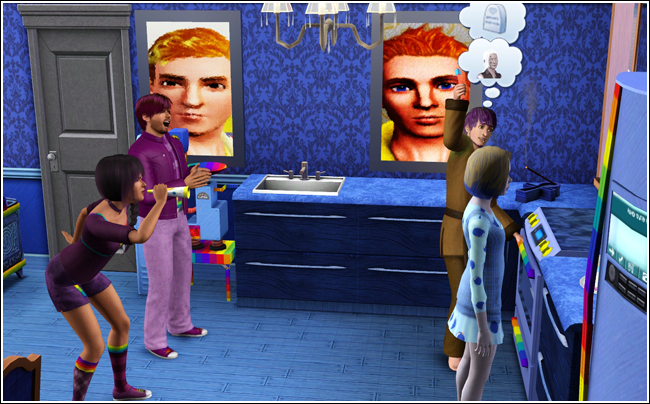 While the rest of the blues were sent off to school, Berry had her birthday!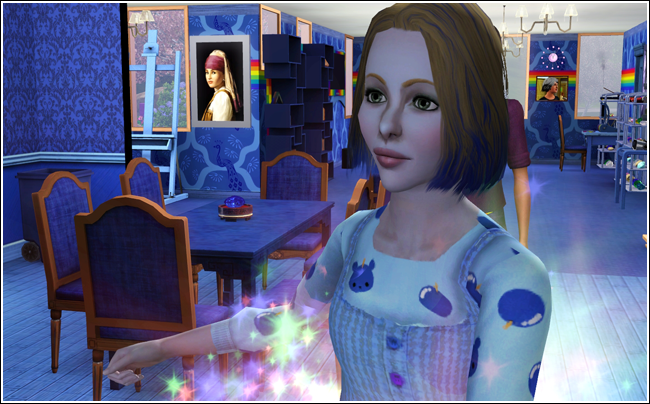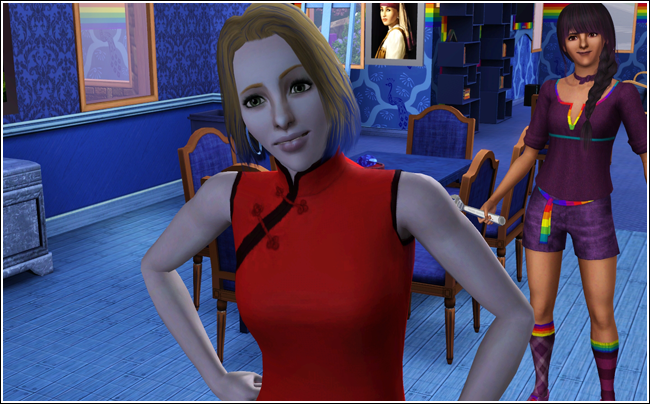 Berry: Check me out!
Lavender: Red? She's not supposed to be red!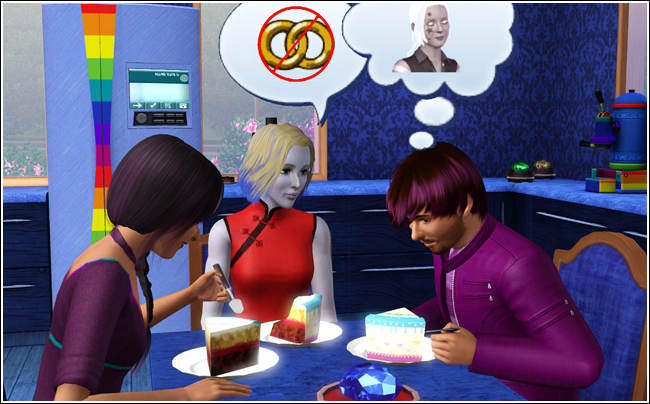 Berry: Mum didn't want to get married, dad, but she still loved you. She wanted to feel free while still being in a committed relationship. You should have respected that.
Di: I wish Seona was here to tell her off, I do not have the heart.
Di: MUM!! WHY!?
Lav: Mum...
Anyway.. This evil doer had Workaholic locked in. So she shares one trait with mum(Commitment Issues) and one with dad(Workaholic)
Berry's final traits are Commitment Issues, Vegetarian, Virtuoso, Workaholic and Evil.
Her lifetime wish is to be The Emperor of Evil.
She won't be the heiress... so she found a job in Criminal and was moved out.
That leaves us with 3 Blues.
Who will be the heir/ess, that brings Turquoise into the house?
That and much more next time in Chim-Chim-Cheree!
Thank you for reading!