Another chapter for you today! Whoop!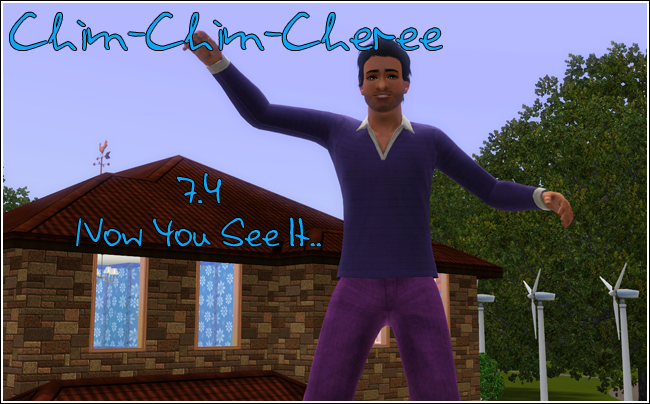 Now You See It.. Now You Don't was too long of a chapter name..
Last time: Blueberry grew up, Di and Sorrel broke up and Cornflower liked inventing.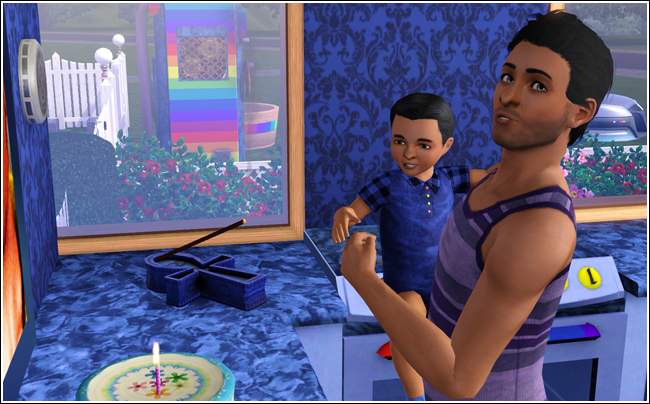 We begin this chapter with a very proud daddy, Evan bringing Denim to his cake.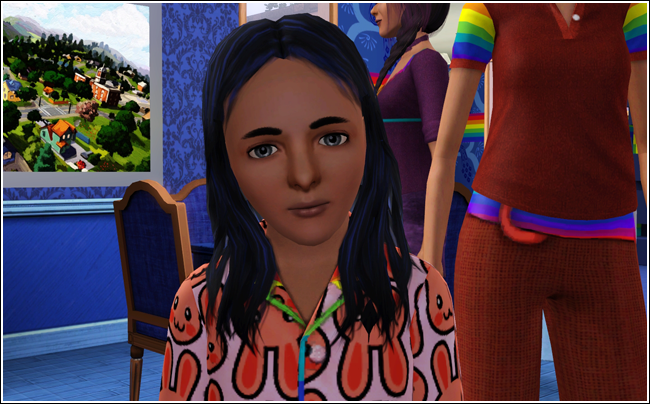 Did you just... grow up with girl hair?
SeeBee are still in love and I still love them.
They're so pretty in pi-- uh red.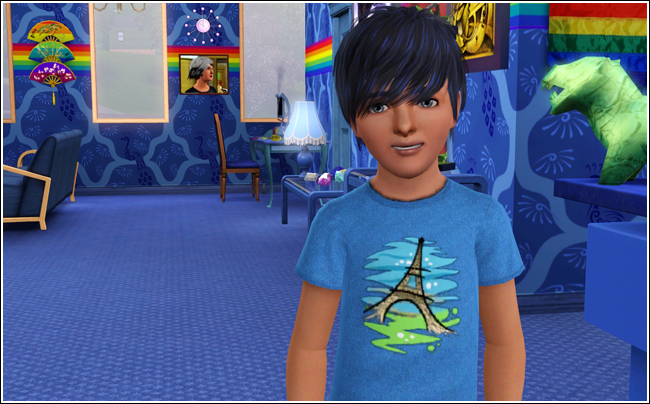 Denim Chimeree!
ADORABLE!
Though I think he looks a lot like her mum Lavender.
Still adorable though.
Denim grew up with the Angler trait! Haven't had that in a while!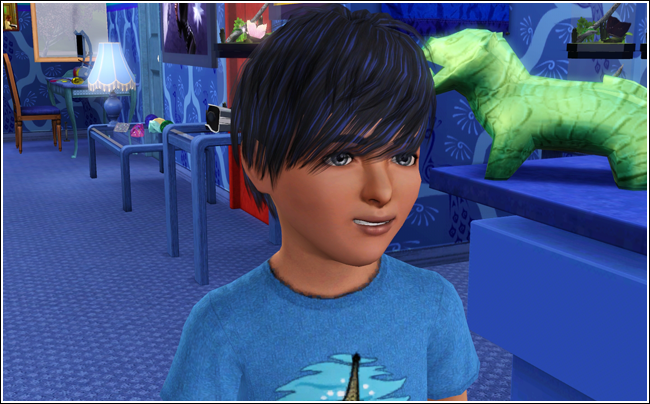 Denim: I like all kinds of fish!
He also has.. the nose!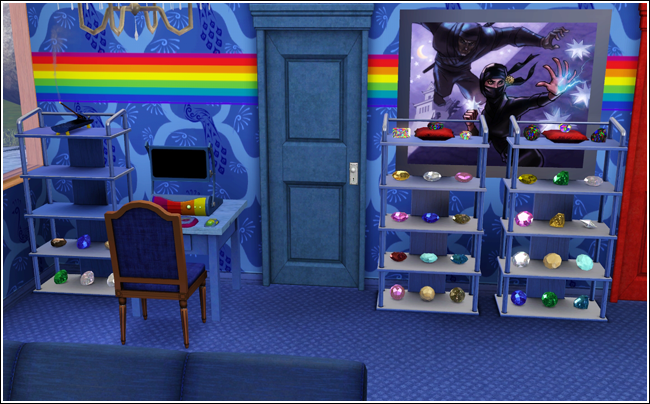 I got those emptied shelves from MTS and put all our precious stones on them!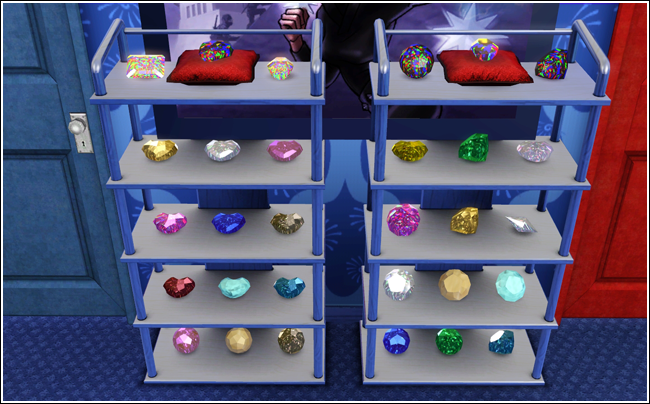 SHINY.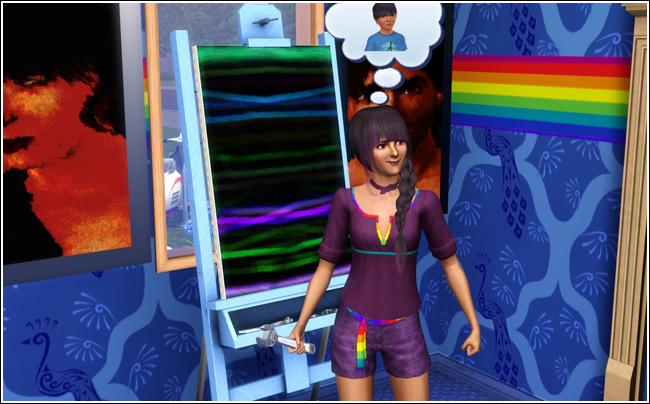 Lav: Where is that son of mine? I want to teach him handiness!
Oh Lavender!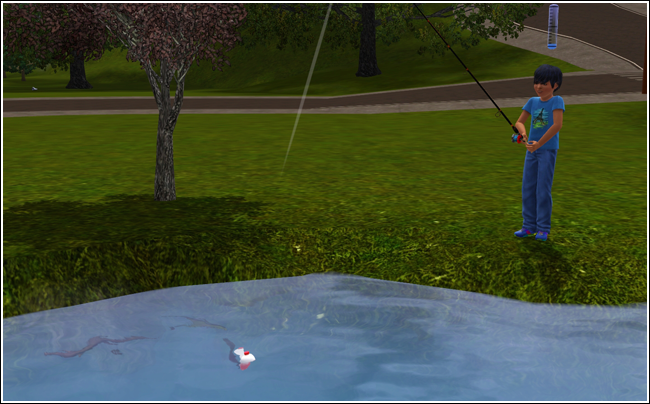 he is fishing in the pond I dug for Di, of course!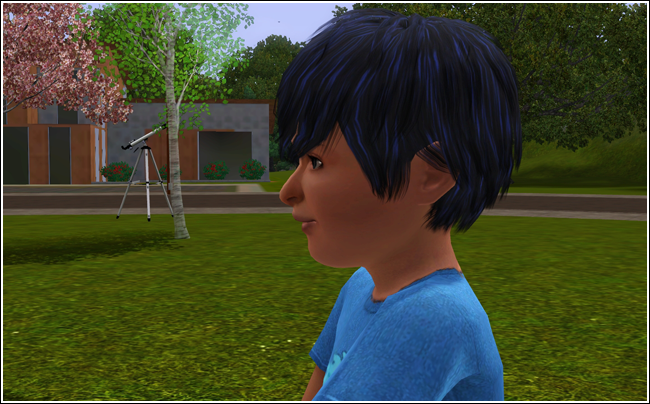 See the nose!
I kind of really like it xD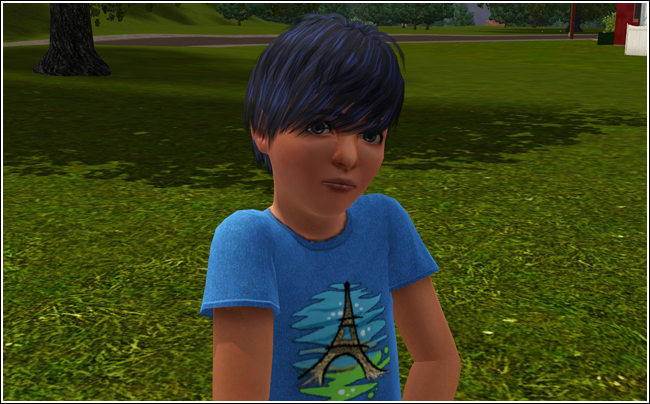 Denim: I couldn't help but notice that you're kind of spamming me.
Appreciate the camera! APPRECIATE IT!
Meanwhile, everyone else was in school.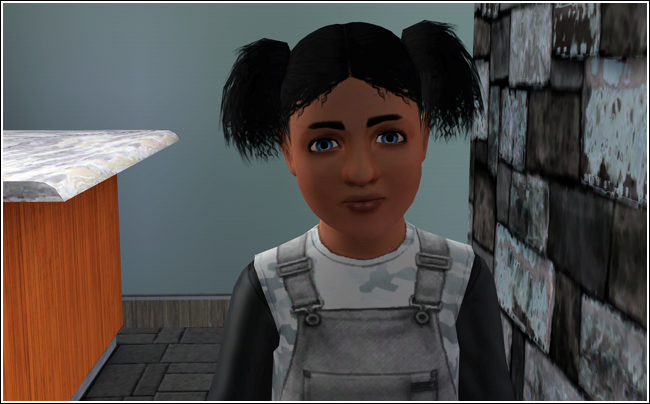 This here is Solveig Something-or-other. She's Chad Creeper's granddaughter.
She invited Jay over to her house after school.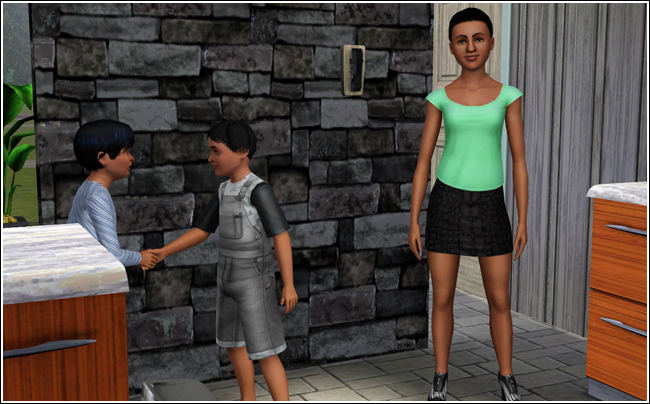 Jay: Nice to meet you!
That's her older sister.
Notice how they both totally have Chad's nose!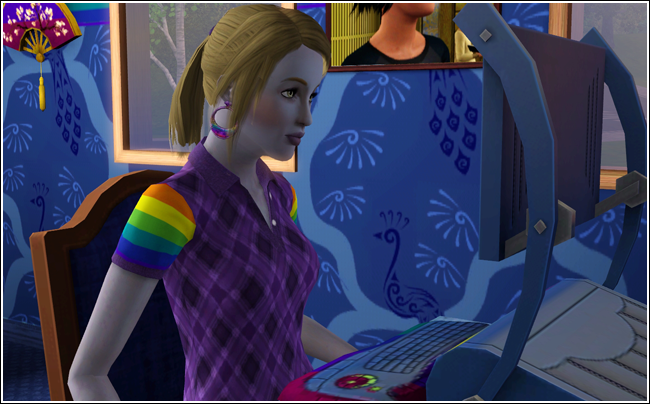 Can you move out yet?
Sorrel: Nope, it gets stuck in the processing screen and you end up having to Ctrl+Alt+Del the game. Good thing you're smart enough to save the game before another attempt.
Gosh darnit!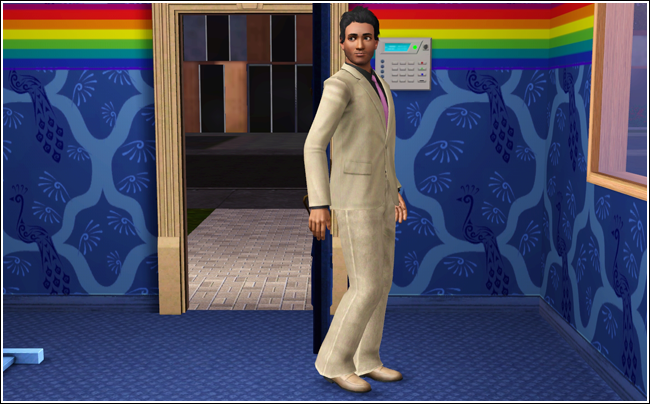 Evan looks good in beige.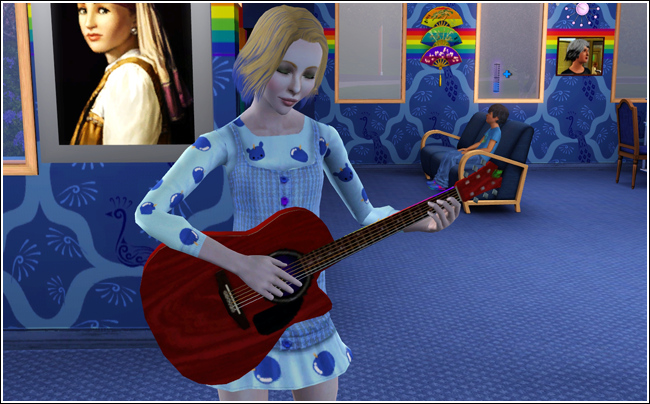 Berry's still good at guitar.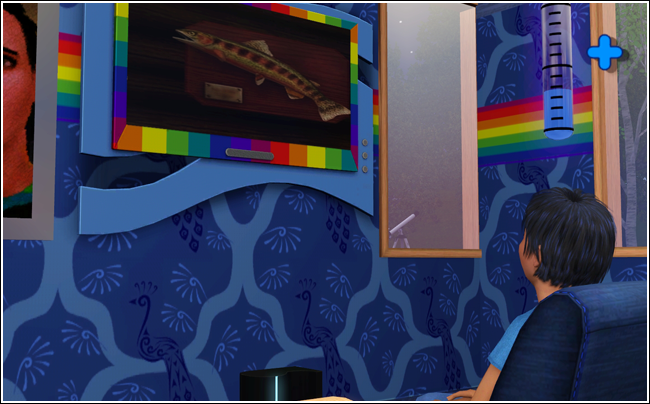 Denim, the couch-potato found that watching the fishing show is just as good as actually fishing.. except you get to park your butt on the sofa and not move a muscle.
Denim: Score.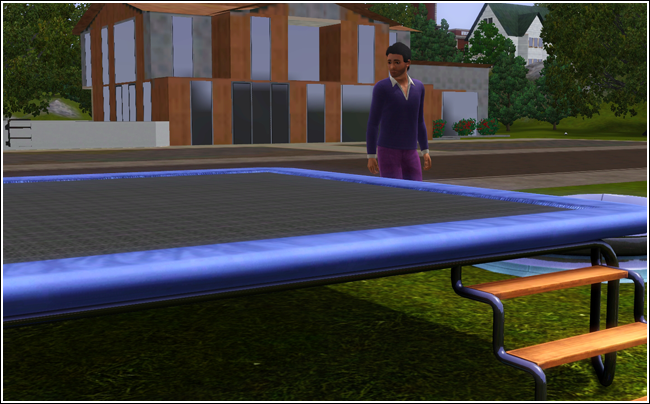 Evan: Hey, this is new.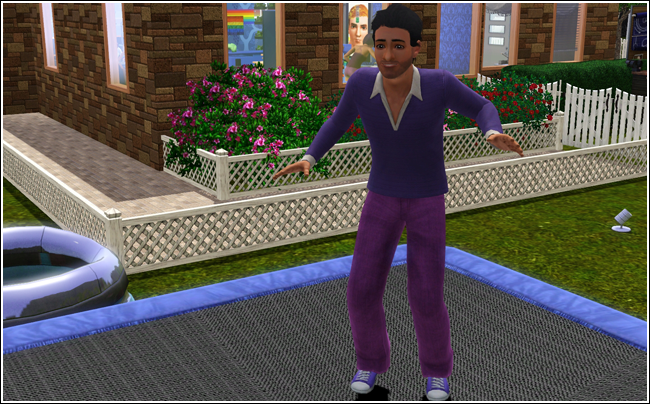 Evan: AWESOME!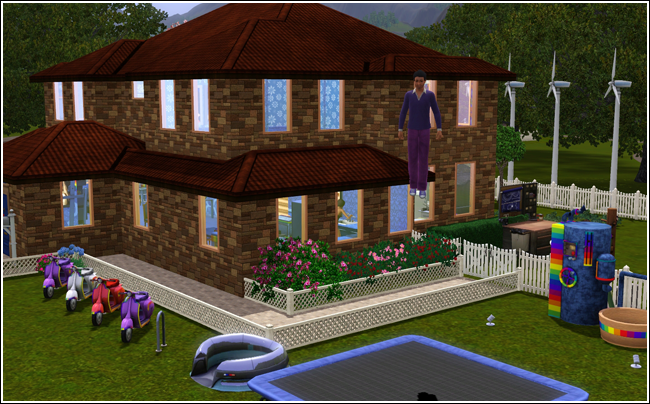 Omg. Dude. You're really high up!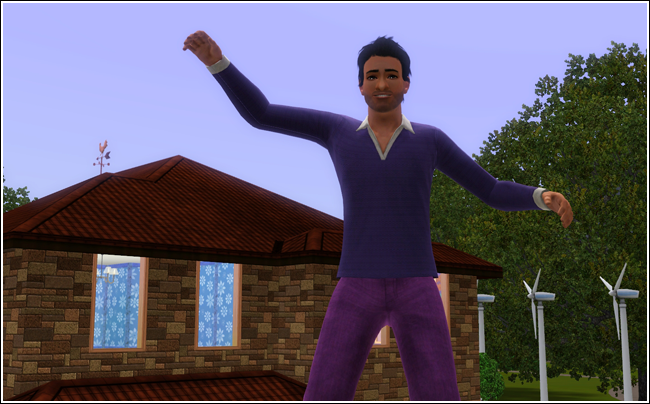 Evan: I'm the king of the WOOOOORLD!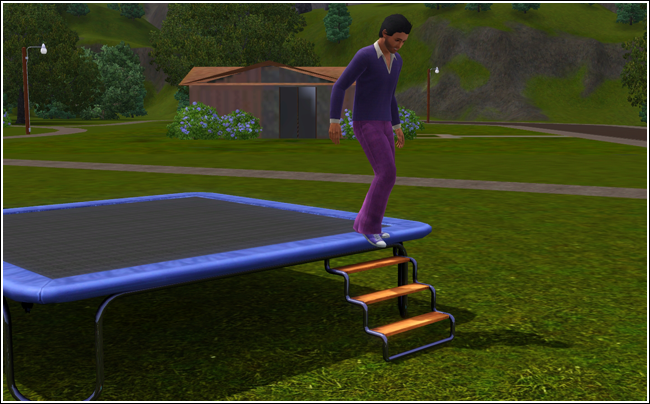 Evan: well that's going to be fun for the kids.
The kids.. of course.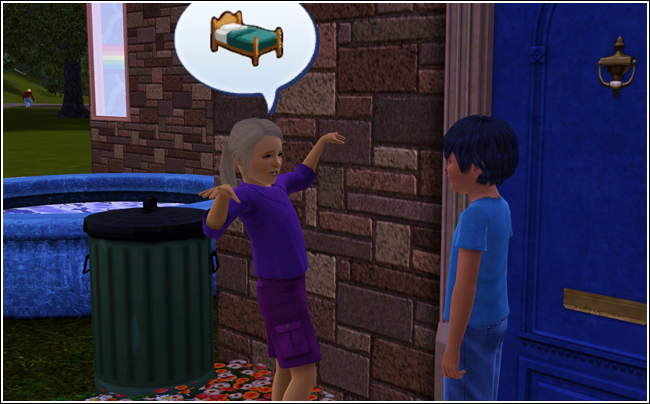 Some chick came home with Denim on his first day. Too bad she's the daughter of a Face 1(and Antonia, if you remember her).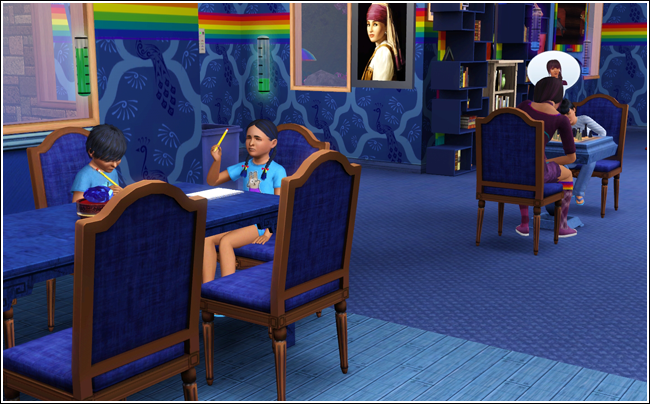 So much homework! I feel like it's ALL the kids ever do! Go to school, go home, do homework.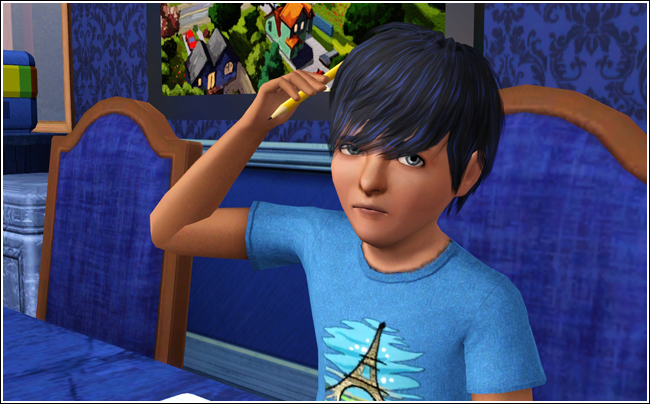 I can't decide if he looks too much like his mum or not! We shall see when he grows up!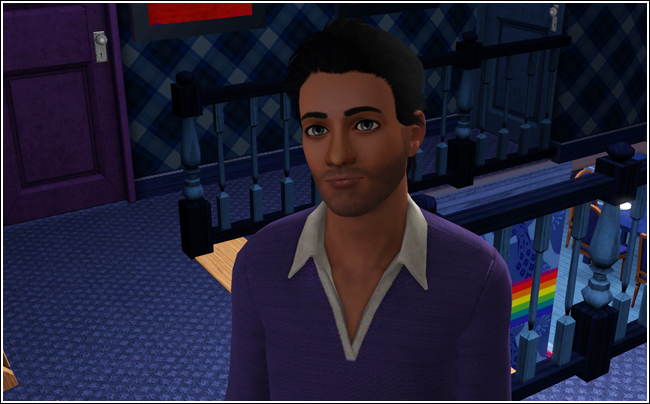 SUDDENLY!
Evan: What?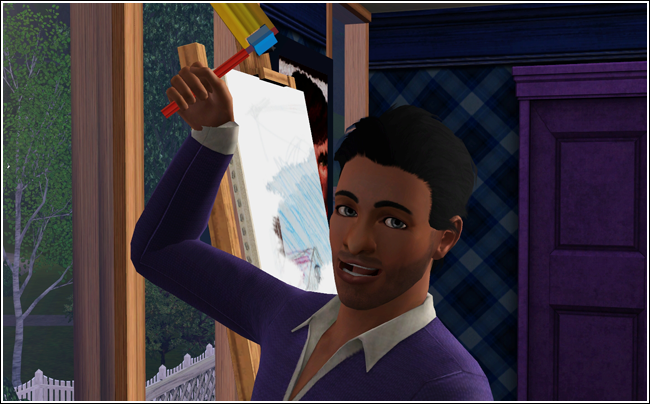 Evan: BIRTHDAAAAAY!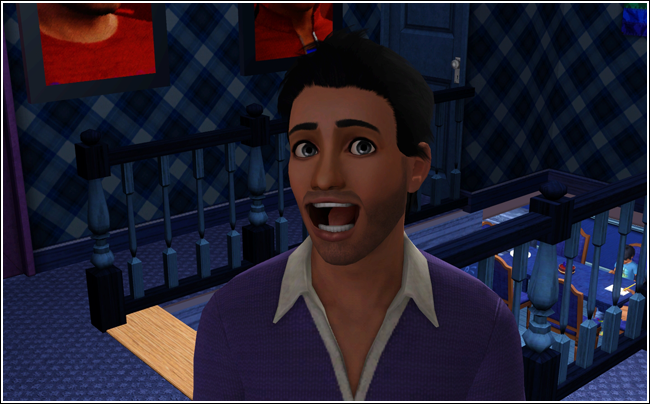 Evan: FRICK YEAH I'M SO EXCITED!
OMG.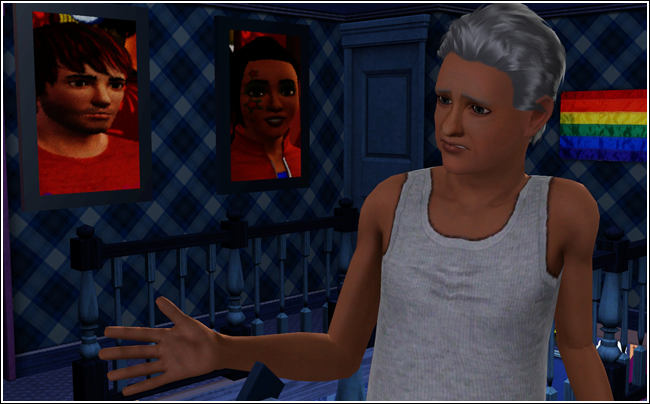 Evan: Ew, I'm old!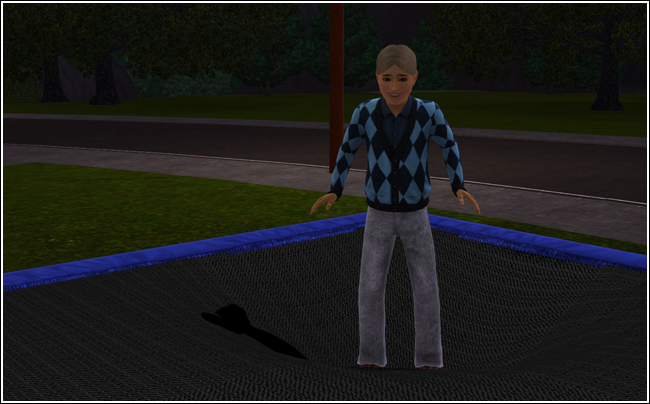 Meanwhile, I forgot to mention but Frederick, Evan's first son came to visit.
Freddy likes the new trampoline.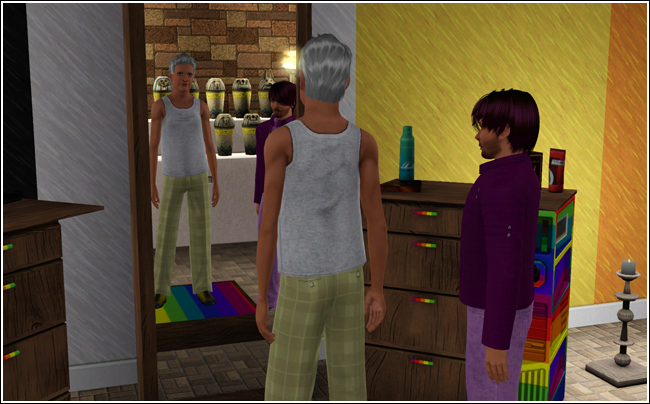 Evan: I need a makeover, brother-in-law. what do you think.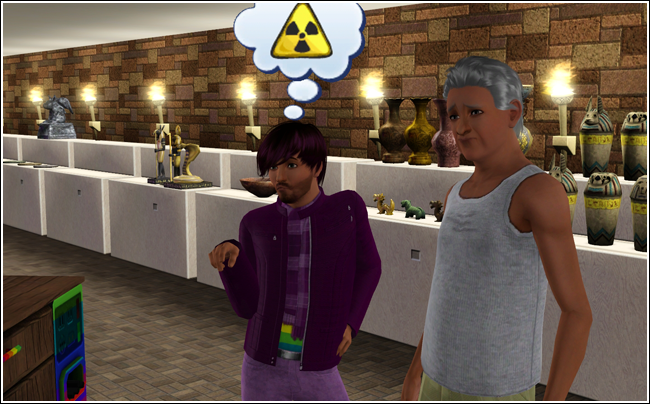 Di: I'd rather live in nuclear winter than see you out and about dressed like that, girlfriend.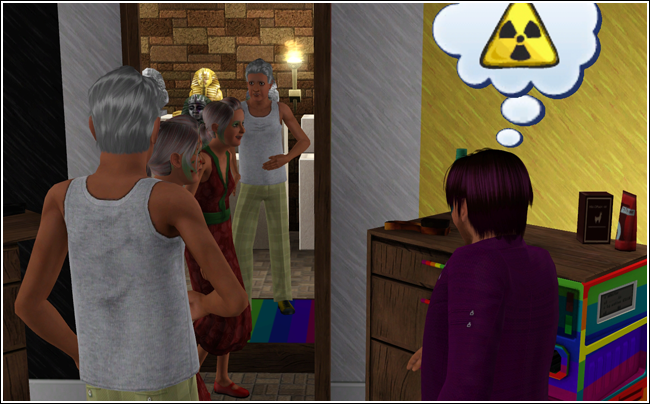 Evan: Nuclear winter, oh my goodness!
See: hey boys, I just came here to check out the new object and be generally in the way. Hey is that a hairbrush?
Di: one word, Evan, darling. Heels!
Evan: Yaaaaay!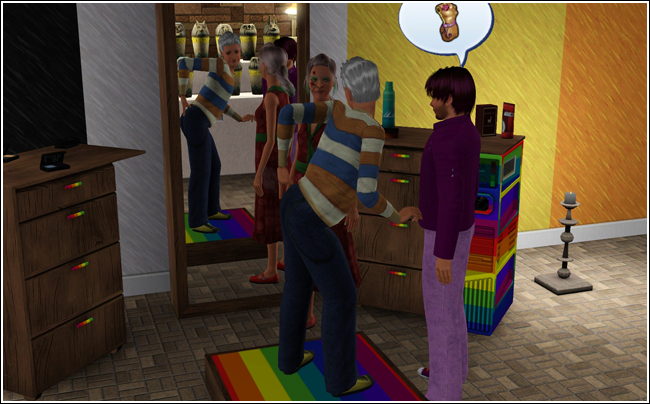 Di: Ta da. You look like a doll, darling!
Evan: Oh yeah! You can't touch this *tsss*
Omg. Can you see the little puff of steam? Yeah. EA totally went there.
BTW. I didn't get the screen or anything. Di gave him that outfit himself. And I like it. So it stays!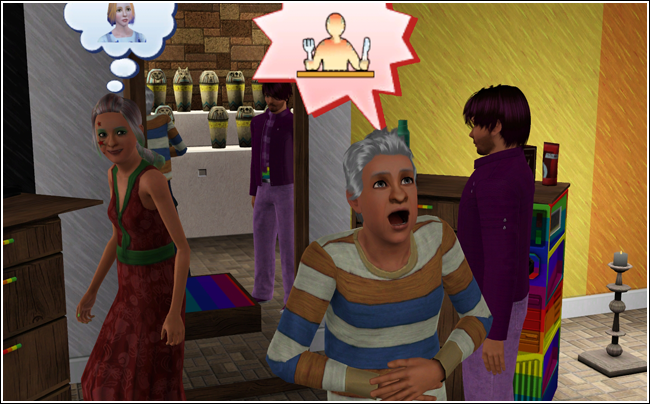 Evan: Damn. I'm hungry now!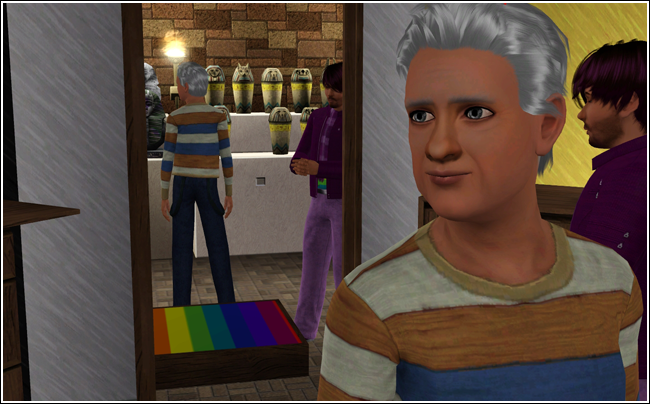 Evan: I look damn good.
Di: Next?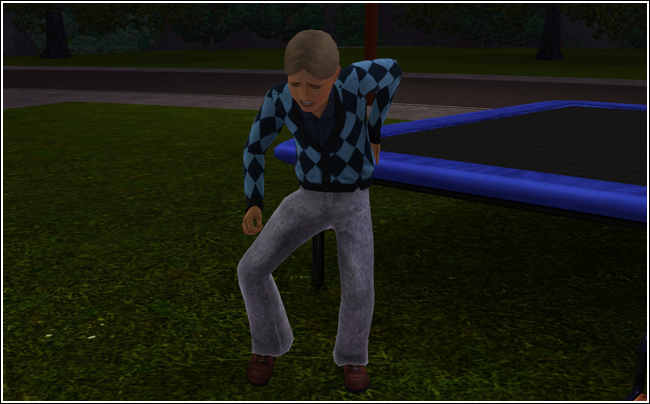 Freddy hurt himself! Awww..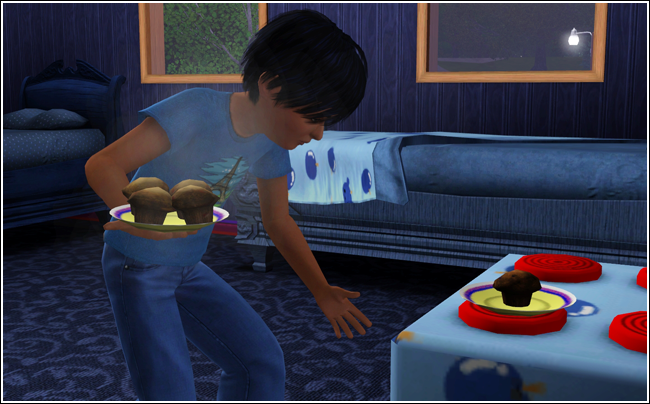 Denim: That random girl who came home with me baked that burnt muffin. I totally showed her!
He so did.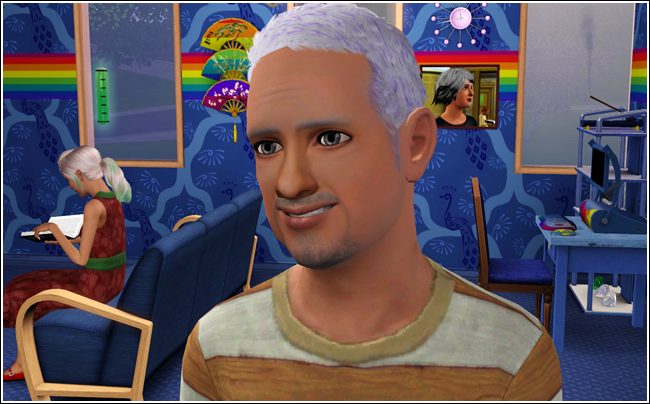 Dig Evan's new hair?
I like it.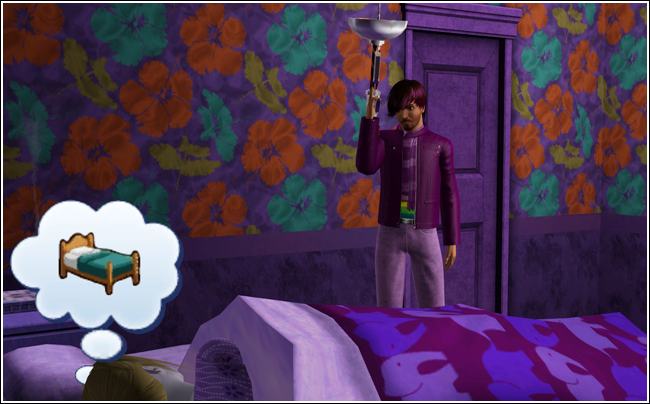 Di: I'll show her how to move out of the house!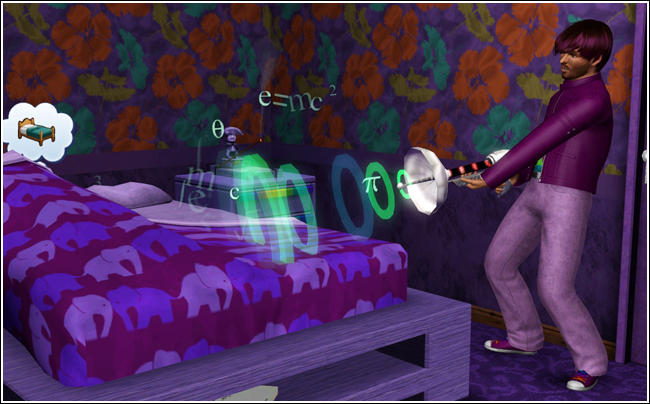 Di: MWAHAHAHA!
Unfortunately.. it made the bed more awesome, and didn't touch Sorrel.
It's 3:30 in the morning. What's Coke up to?
He's singing to himself in SimChinese.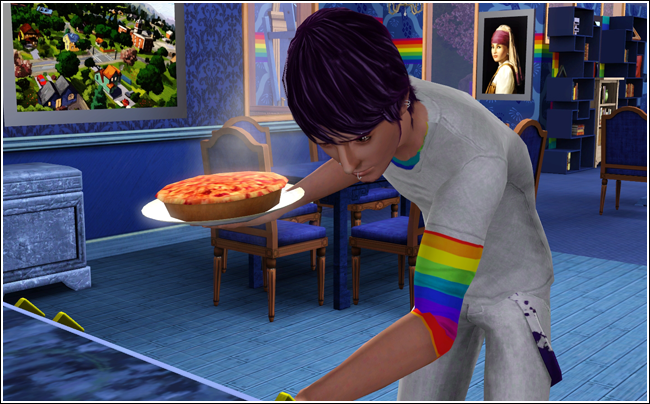 While baking cobbler.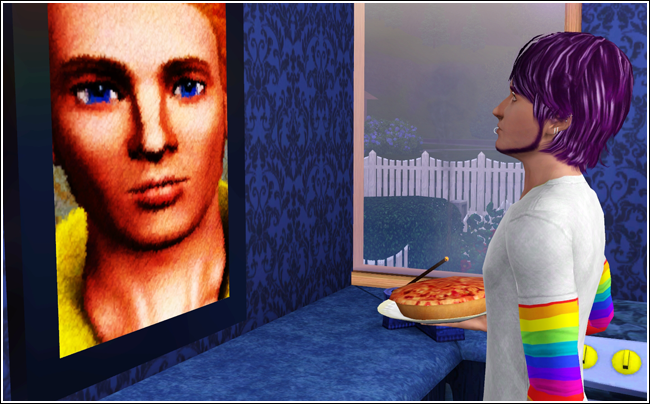 Coke: Hey, that's the guy who married my son. He was a good man.
A good man, who lived insanely long, but a good man none the less.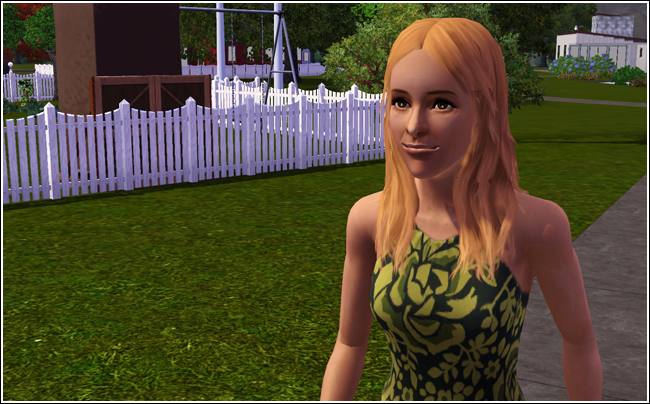 Oh hey, it's Seona's half-sister Vlasta! She's strolling by the legacy house. Quickly! To the Chimereemobile!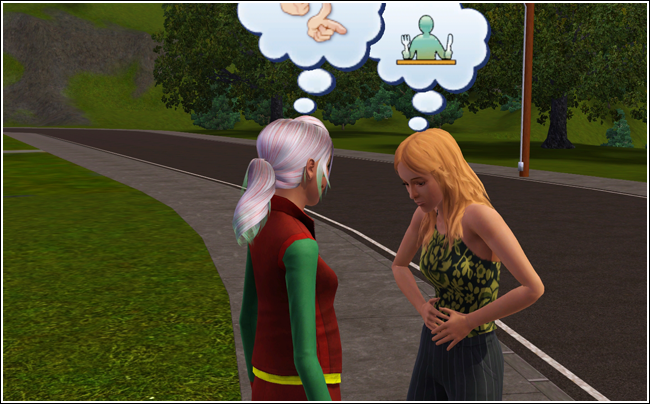 Vlasta: I'm so hungry...
See: I should say hello..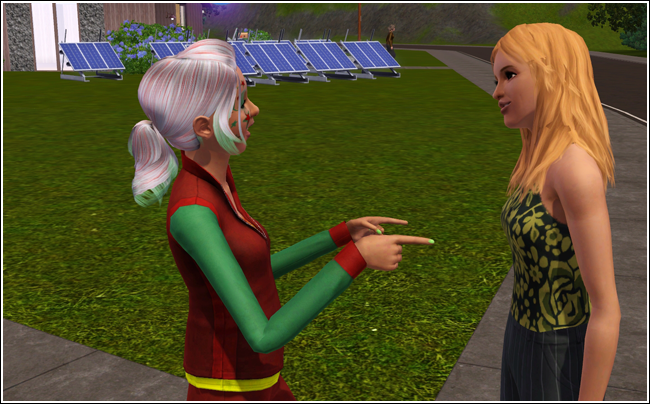 See: Hey sister!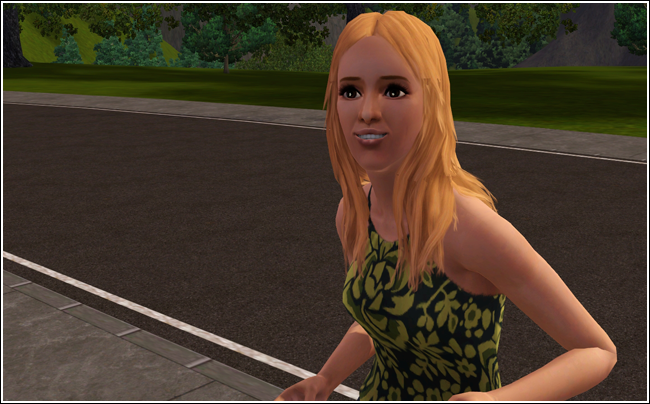 Vlasta: Heeeeey!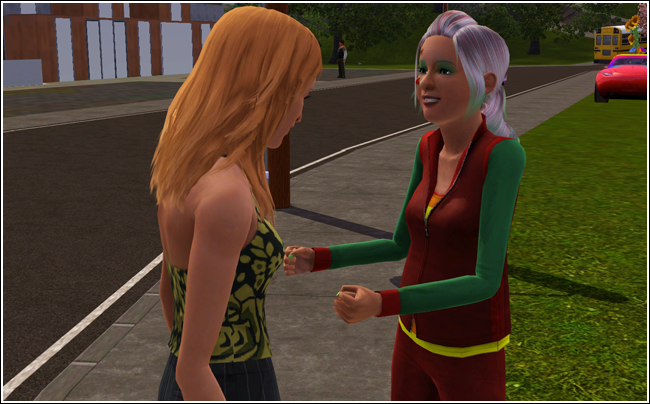 See: hey, we share a trait! No way!
Vlasta: who'd have thought insanity was a family trait, huh!?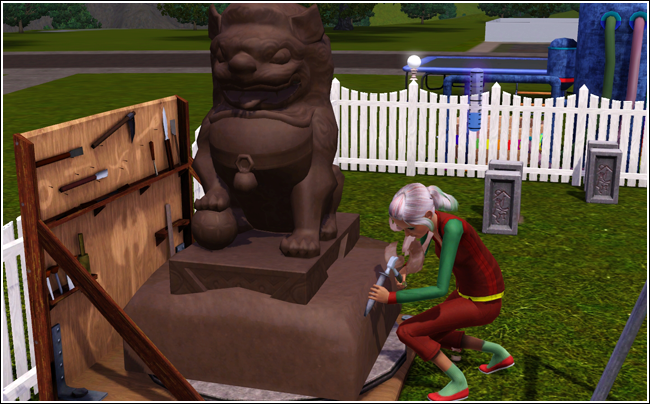 And then Seona went on to sculpt this puppy. Her first sculpture too!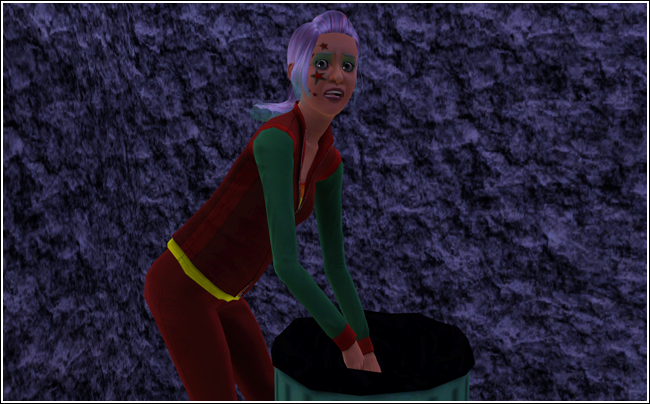 SEONA!
See: What what!?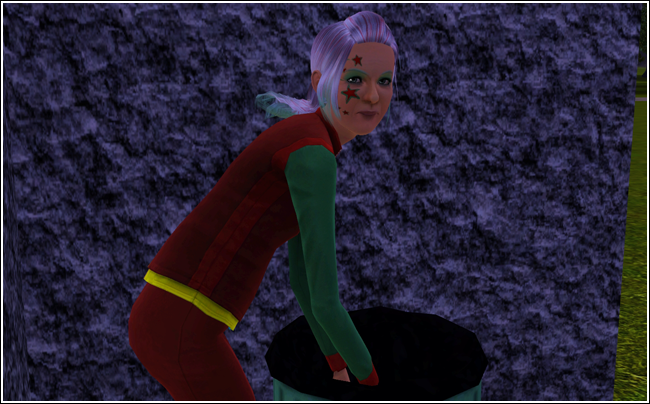 See: Oh it's you. This sim is up to no good!
That's my simself's trashcan!
See: Exactly!
Meanwhile studying ensues inside.
Boys together!
Exhibit A.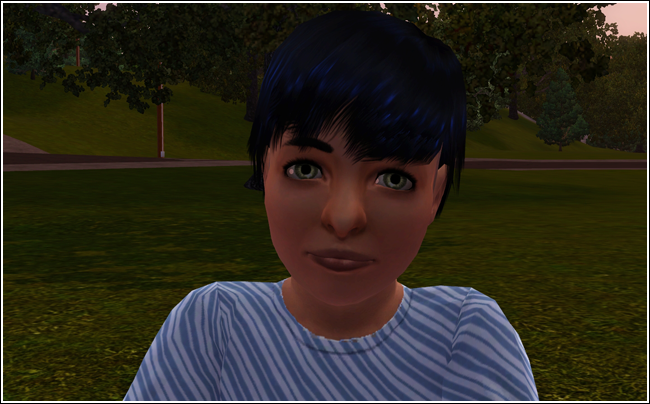 Exhibit B.
Same noses and I THINK eyes.
Are their lips the same? I can't tell, since I was stupid and took Jay's picture up closer than Denim's.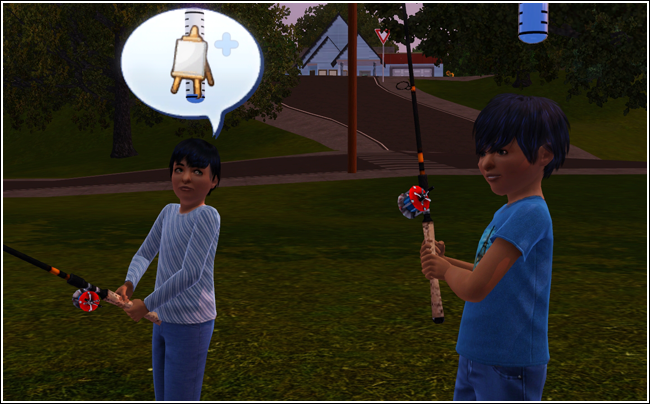 Jay: So what were you saying about painting earlier? Mariah didn't give that picture an actual caption.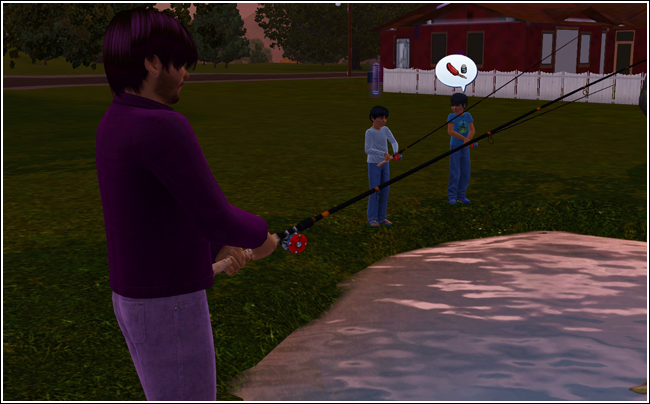 Denim: I wonder if we're ever going to have another writer in the family, since uncle Coke does all the writing, you know?
Di joined them autonomously. How cute.
The water in this game.. gosh. Gorgeous.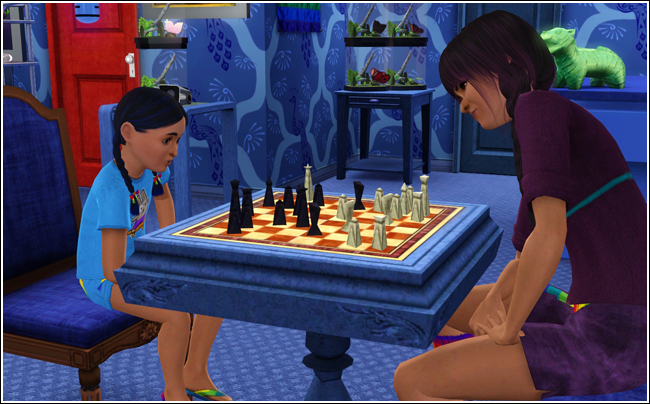 Another sim who needs a logic point and Lav is all too happy to oblige!
She mastered her handiness sometime during this chapter, but I kind of missed the shot.
So now she only has logic to master and she's done with her LTW.
Sorrel: YAY! GOOOO!
Lav: Is she STILL here?
I'm sorry! It's a EAxian glitch!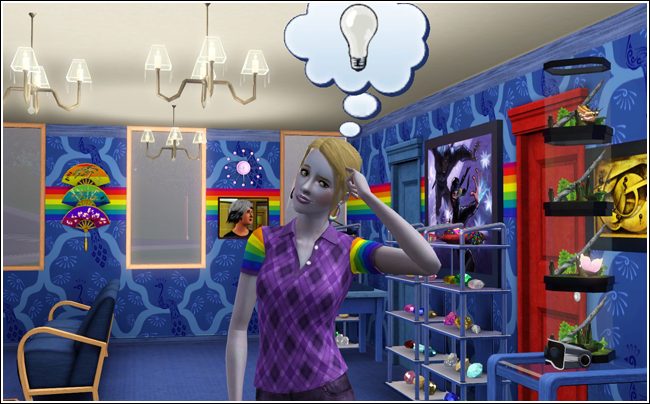 Sorrel: well.. take advice of that person who commented on your post about that glitch...
*clicks on another house and Makes it Active via Super Computer. Add Sim > Sorrel Friday. Done. Clicks back on the legacy house and Makes them Active. Sorrel is no longer a member of the household*
Lesson to be learned: Twallan is really frickin awesome.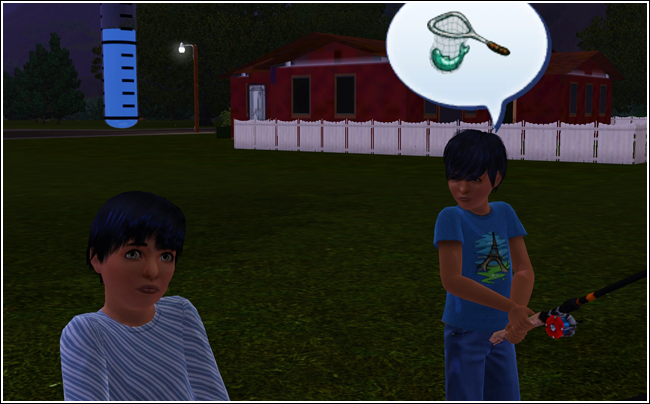 Jay: I sense my mother no longer living with us.
Denim: I can't believe you've caught more fish that I have!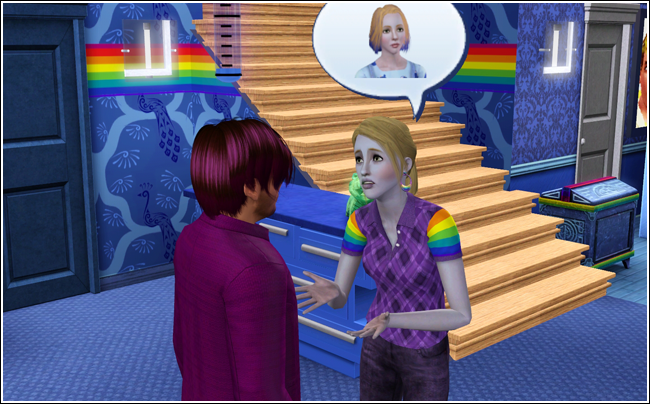 Sorrel: Take care of our daughter, will you? She troubles me!
Di: Of course I'll take care of her.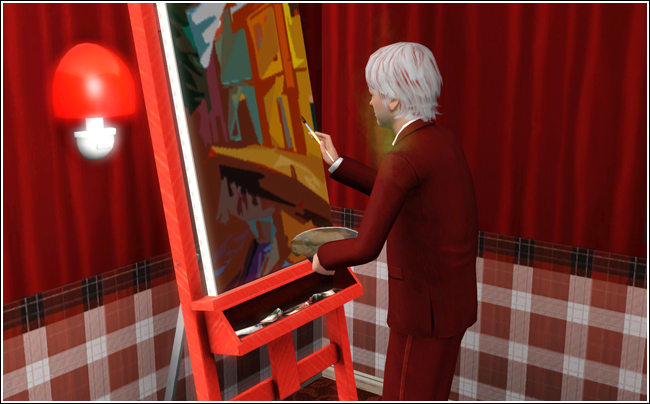 Bee: Done and DONE. Now I can go take a nice bubble bath.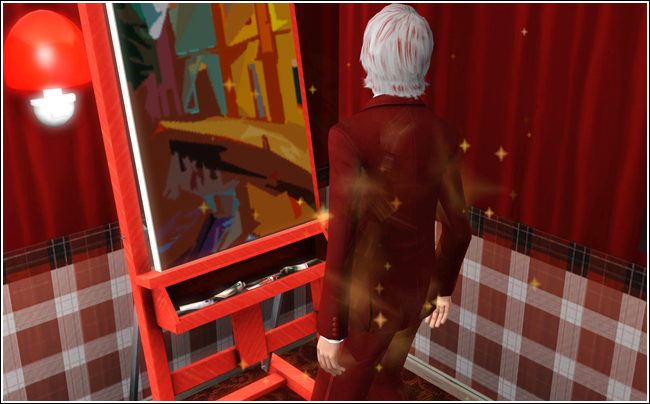 Bee: Wait a minute..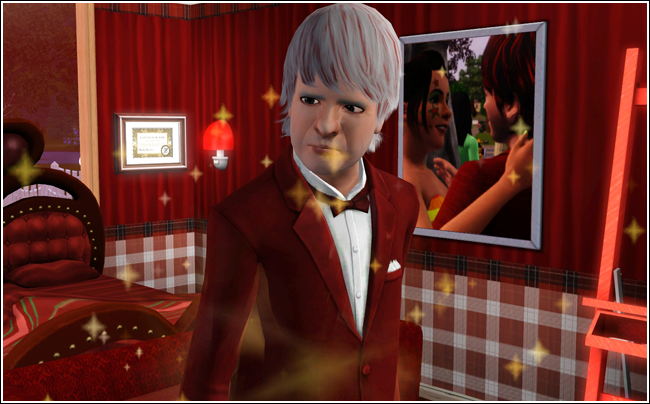 Bee: Yellow sparkles that make me go cross-eyed? That can't be good!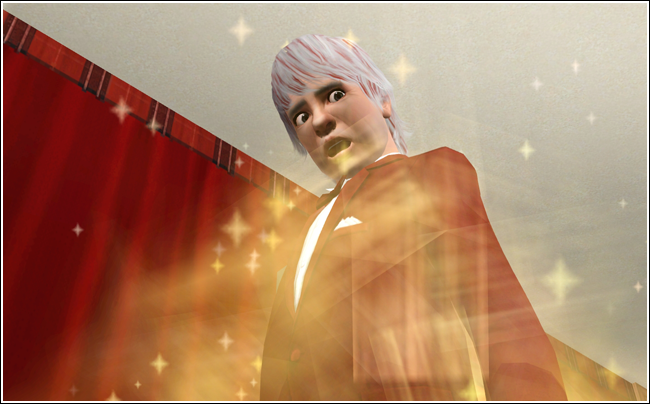 Bee: HELP. THEY'RE EATING ME!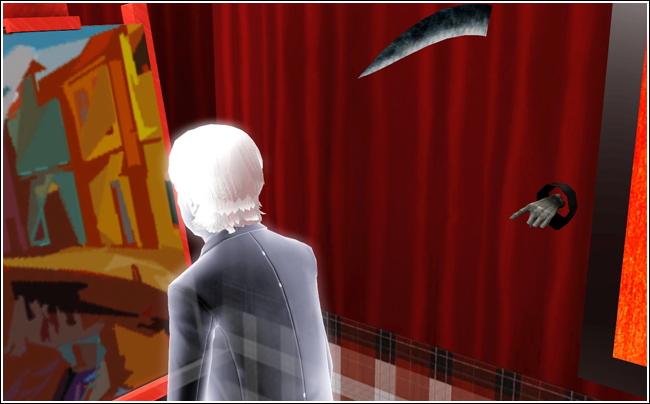 Adam: HA HA. You're dead.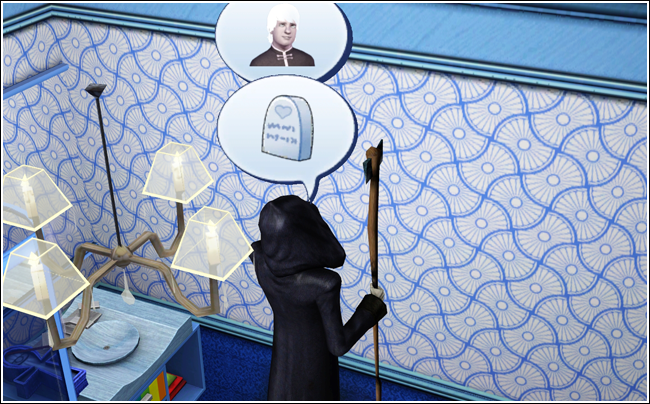 HA HA. Your hand is stuck in the wall!
Loser.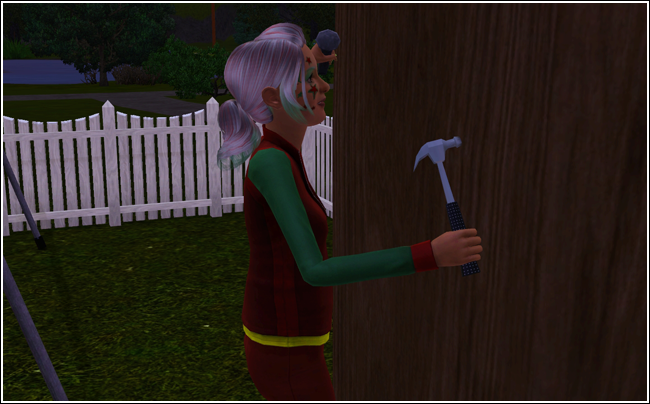 Quick Seona, in the house!!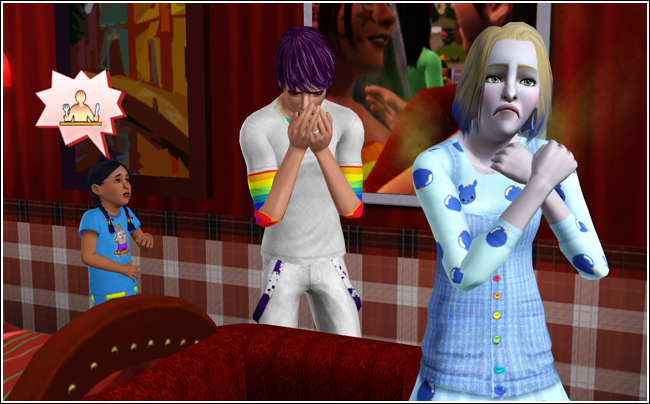 The rest of the family was already mourning Bee's death.
Corny: I'm STARVING.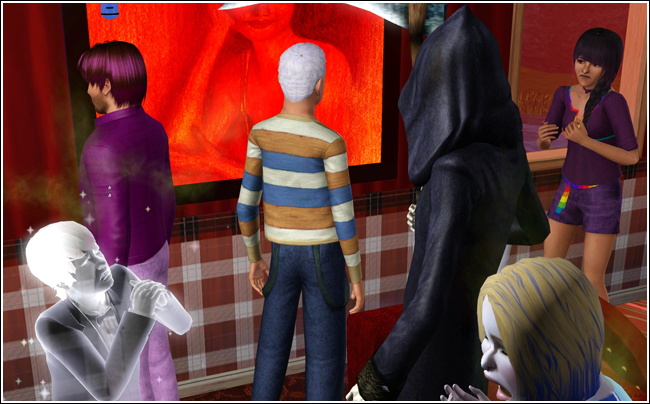 Standby does not go out without a fight.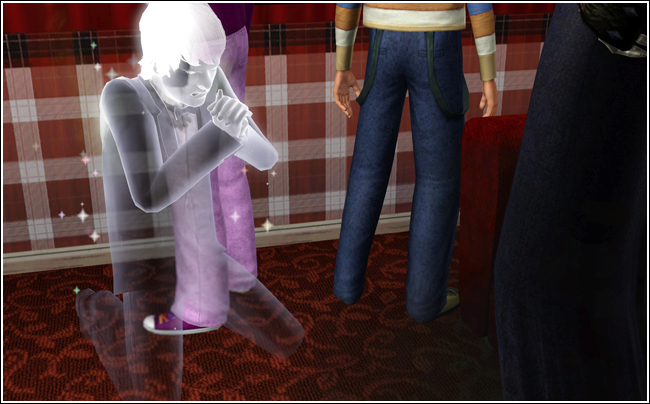 Bee: Please! I can't leave my wife yet! I'm not even one day after 90!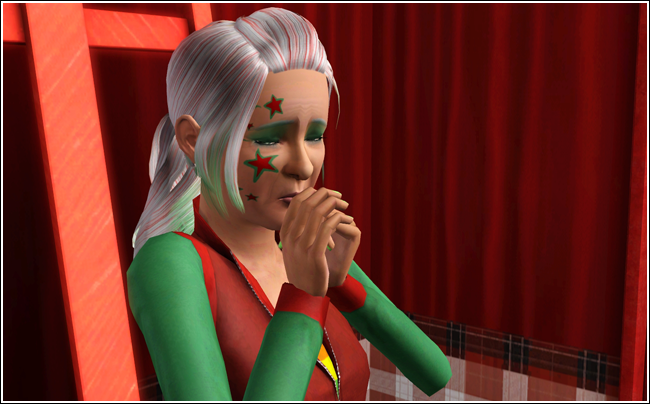 See: Please, Adam! We're begging for mercy!
But Adam was relentless!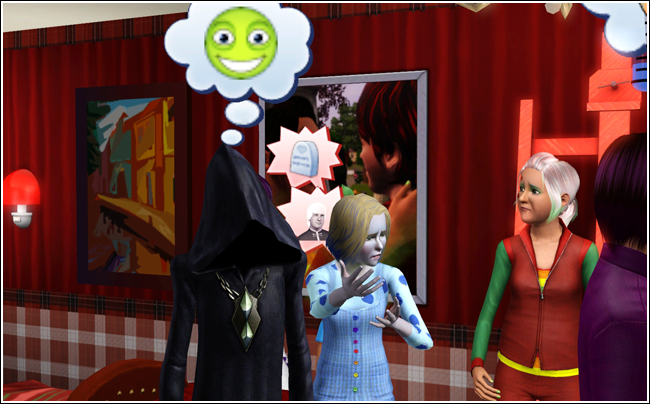 Adam: It's so nice to have the whole family in one room together, isn't it?
Seona: You're heartless!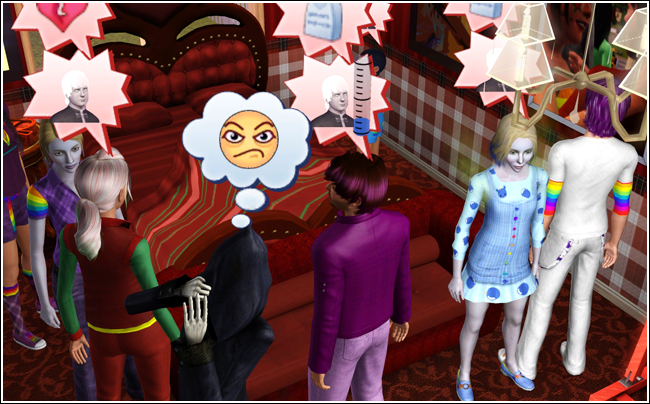 Everyone: STANDBY! <3333
Adam: Ew, who stinks!?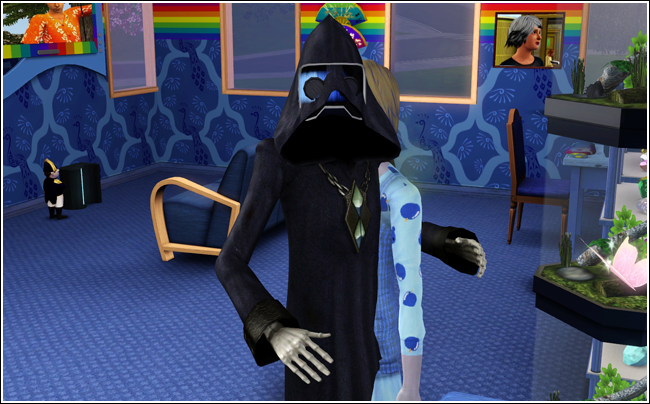 Adam: Oh awesome! I've always wanted to try these!!
ADAM!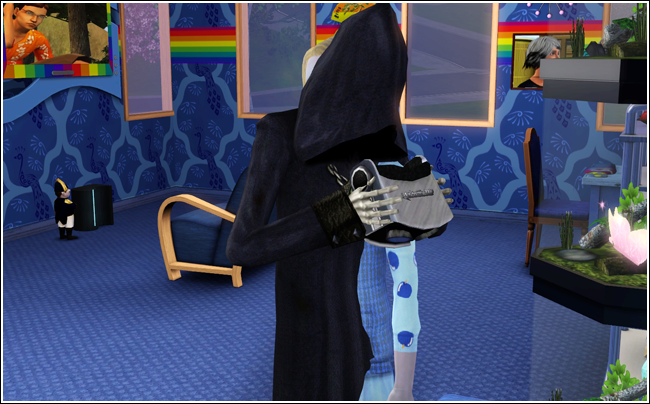 Adam: Hehe.. okay okay. I'm leaving.
Before he left Di wanted to go autonomously yell at him, but he managed to disappear before he did.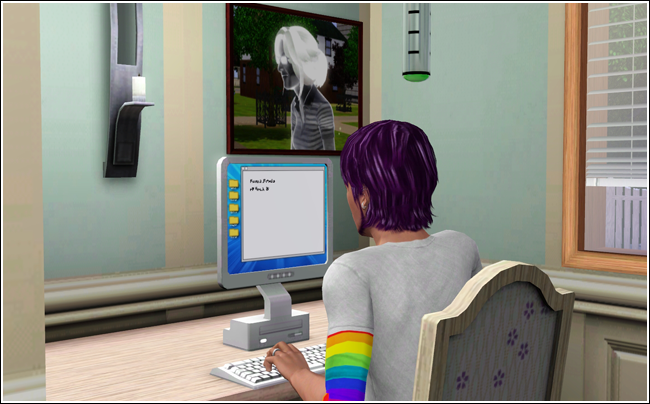 Coke went straight to his room and begun work on his 89th novel titled Standing By.. a Masterpiece.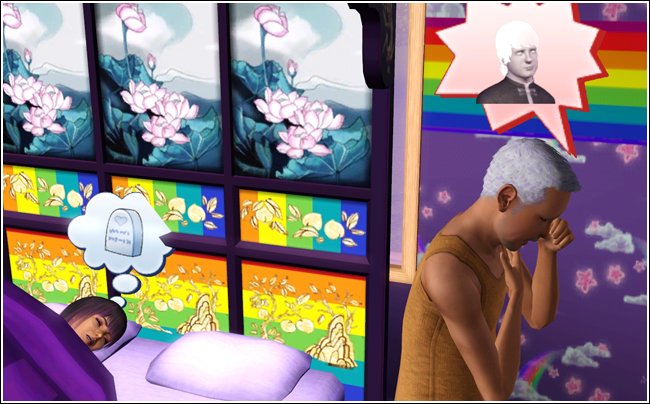 *sigh*
I hate death. It brings with it the endless moaning and crying. Ugh.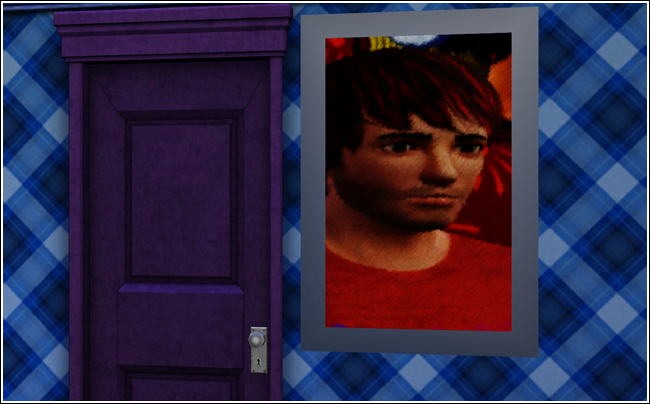 Standby Chimeree. Expired at age 90, after completing a painting that now sits on the wall in Seona's bedroom.
Everyone loved you Standby and they always will I'm sure.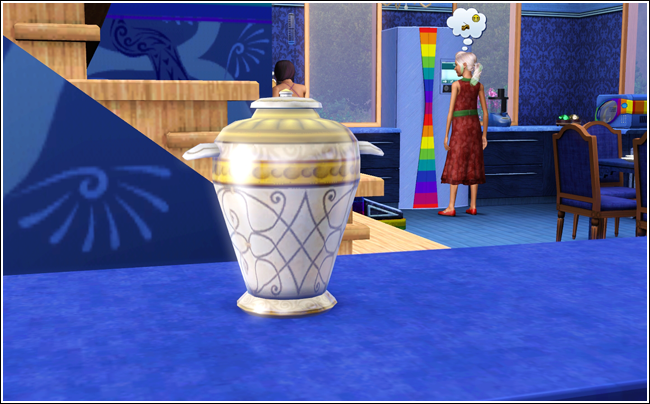 His urn remains in the house until the death of his wife Seona.
I can't think of a way I could possibly go on with this chapter, so let's end it here with the death of a beloved heir.
Thank you very much and I'll see you next time!