WAITWAIT. It's 7.0! Yessss...
Lavender: I escaped him!
You see, last time Sorrel's brother Tony was about to run her over.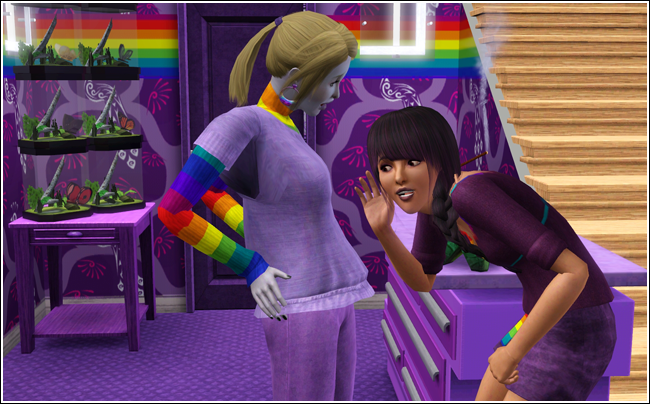 Lavender gets home and finds Sorrel pregnant!
Lav: Hello-o-o?
Lav: Is it mine? :D I mean we DID do it, you know? And my great-grandpas had three kids together so it MUST be possible!
Sorrel: Uhm, I'm sorry Lavvie, I'm pretty sure it's Di's.
Lav: Oh.. I mean that's nice. Congratulations..
Sorrel: This should cheer you up.
Lav: :)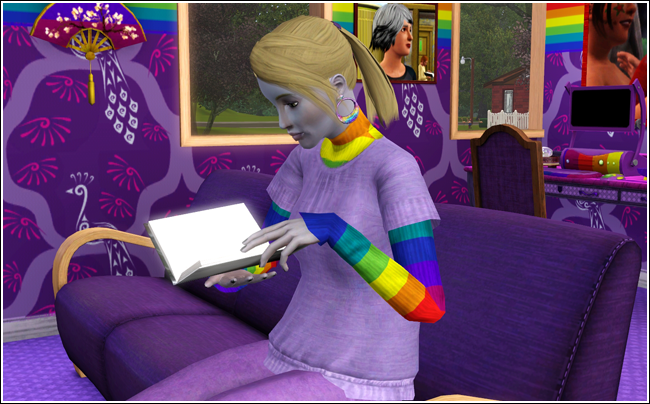 Back to studying!
Di rolled a very appropriate wish to read the pregnancy book, yay for good men!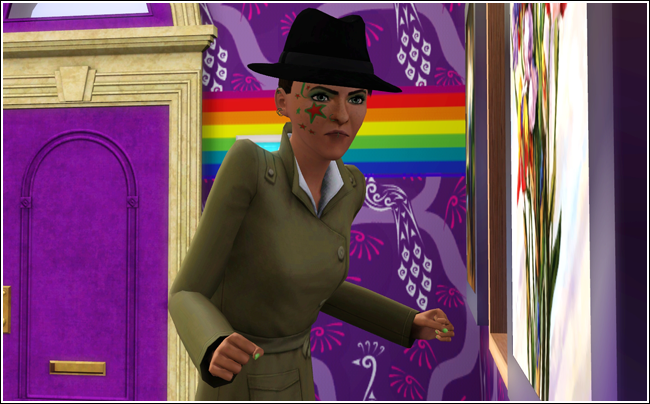 Seona: I will not give up on my dream! I am so close! only one more level to climb!
That's right! Seona is now the Editor in Chief!
And boy is she fierce!
Wait, what?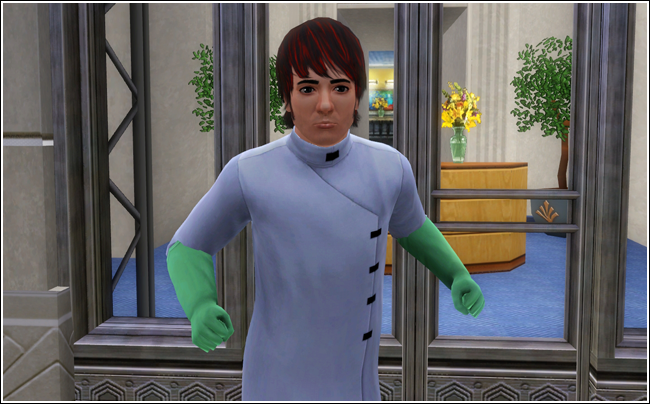 Standby: This looks like a job for... ME. I am awesome!
Bee: But first I must ask my wife for permission!
Bee: Hooooneeee, can I replace my heart with an artificial one? Pleeeeeease?
HI PASSION!
Bee: Don't worry, our son UV will perform the surgery, he IS a trauma surgeon after all!
See: That sounds reasonable, call me if you're gonna be late for dinner! Love you!
Yeah, THAT sounds doable!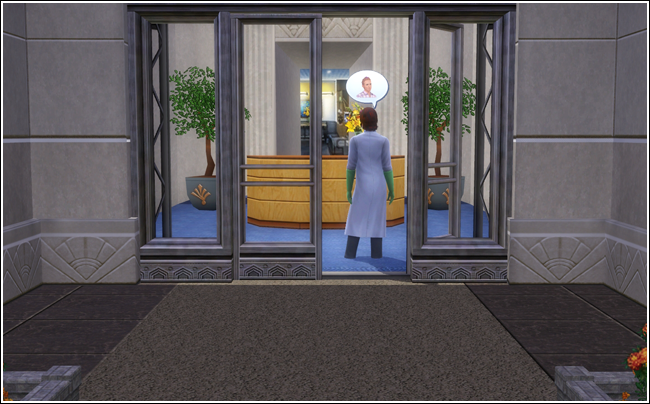 Bee: Don't worry.. Ultraviolet will perform the surgery!
Who's he trying to convince?
See: Ahw look a wittle baby-waby!
See: Waaaay, it's my favourite creator!
Mariah: Seona! My favourite spouse to date!
Eww it's my simself.
See: I'm here because Bee is getting his heart replaced with an artificial one, isn't he dreamy?
Mariah: WHAT!?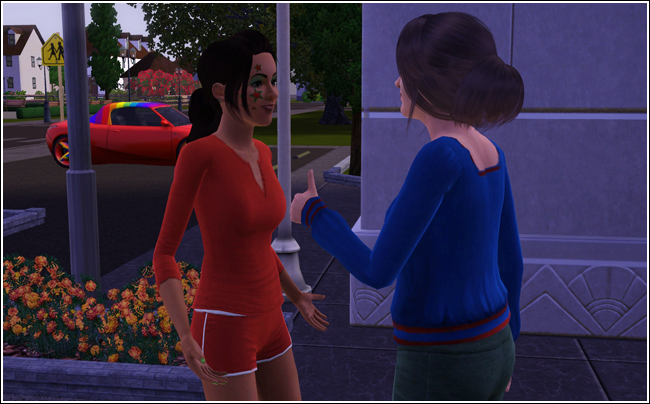 Mariah: Congrats!
Wait, what?
See: So how's writing working out for you?
Mariah: Well, this is the 40th chapter of this legacy I think and people are STILL reading, so it can't be complete crap.
Bee: Okay ladies, I'm done.
See: ......AND?
Bee: Huh? Oh yeah, I'll go for a check-up at work tomorrow to see if it's working properly.
Mariah: :D
SeeBee *are still in love*
Boyfriend's simself *stares creepily*
Bee: So since I'm a doctor and all, I can tell you if your baby is a boy or a girl with MIND POWERS. Want to know yours?
Sorrel: Yeah!
Bee: I'm getting very female vibes from this one. It's a girl!
Sorrel: Yay, a girl! That means I don't have to have 5 boys before a baby girl!
Di: Guess what, sis? I finally got promoted to level 6!
Lav: And what's that?
Di: Aquatic Ecosystem Tweaker!
Lav: Lovely..
I don't think she gets how LITTLE she cares across to her brother.
Bee: My new TAHU makes me feel STRONG!!
Later that night..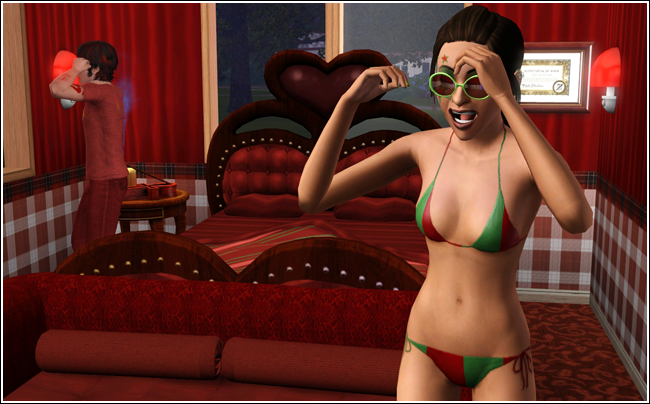 Bee: ARGH I'm worried!
See: You'll be fine, just go get it checked out! I'm sure you're fine, since UV did the surgery!
Bee: You're right! I have nothing to worry about!
See: You're probably doomed.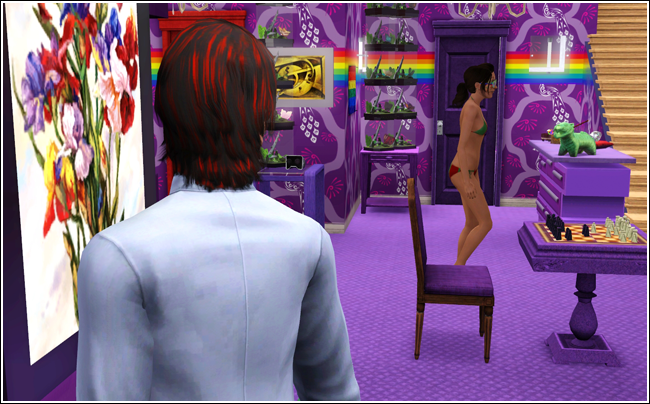 See: Oh you're home already?
Bee: TAHU is working fine. I'm as healthy as ever.
See: Now to hope your cookie-eating-habit hasn't crippled your gut.
Ahw what's wrooong?
Sorrel: I'm going to give birth today but my man just left for work! He's going to miss it!
Ahw, what a loser!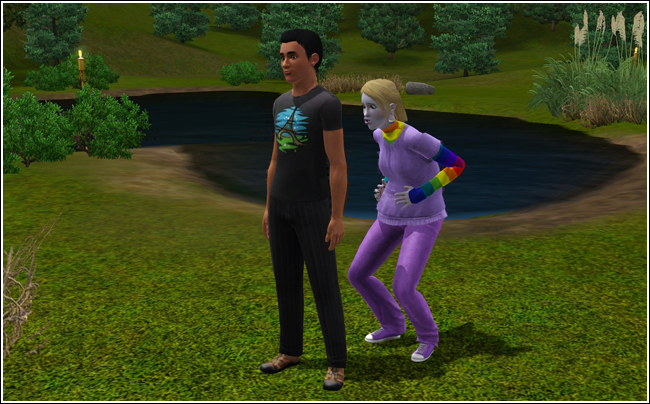 Clifford: o_o
Sorrel: Oooouu...
Sorrel: Cliff.. please.. drive me home?
Clifford: o_o
I think he's in shock.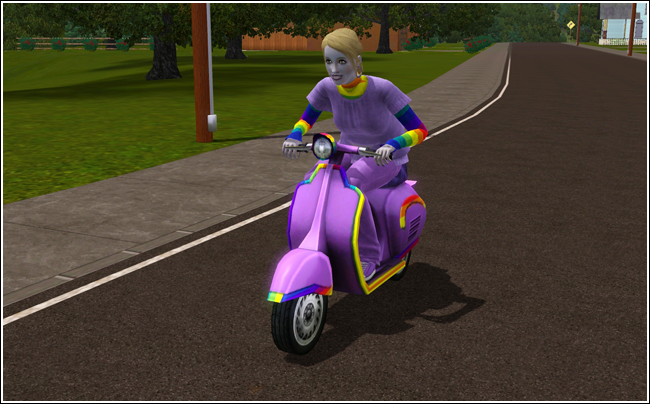 Sorrel: Fine. I like the breeze anyway :D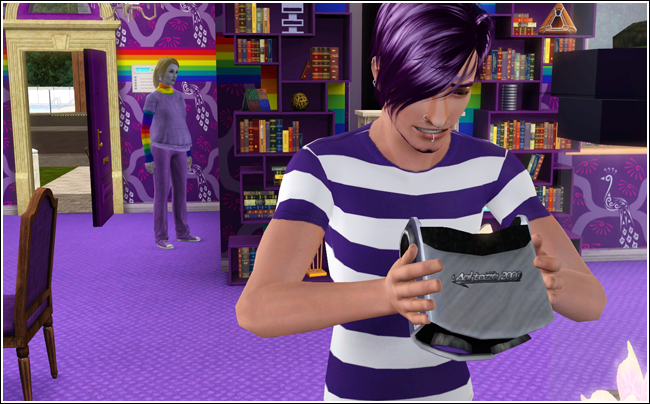 Sorrel: Cocaine! I'm in labour..
Coke: Okay, let me just set down this device so I can..
Coke: PANIC and be generally unhelpful!! AAAAAH!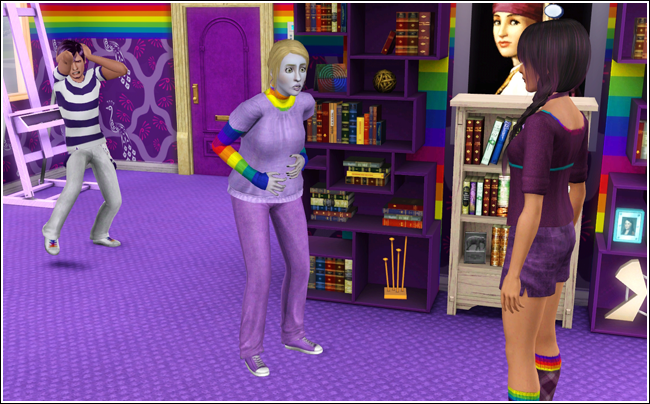 Lav: What's going on?
Coke: She's in PAIN! What should I do?
SeeBee *joins the chaos*
Lav: Well.. I'm hungry, so I'm leaving.
Sorrel: Lavender?
Sorrel: LAVVIE!!
Di *has perfect timing*: Hey everyone! What's going on?
Seona: Oh nothing. There was a moment of panic but I forgot what that was about.
Bee: Typical, a woman giving birth! Pff..
Sorrel: It IS a girl!!!
Di: How appropriate is it that the first blue-gen baby is blue?
Her name is Blueberry(yummy!) she's an Evil Virtuoso!
Welcome blue generation! YAY!
Bee: Don't you want to meet your niece?
Lav: don't you want to meet your granddaughter?
Bee: good point..
Lav: Being single is RUBBISH :D:D
Seona: heck yeah!. I'm having a birthday!
Seona: PINK? Why am I covered in pink?
Lav: Mummy?
But wait, there's more!
Bee: MEEEE!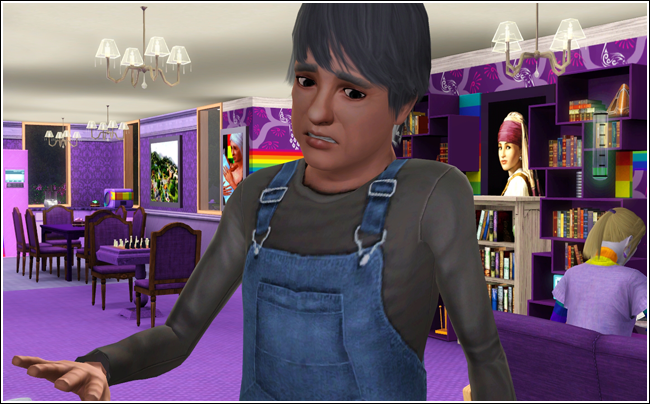 Bee: Ewww.. overalls!
My sentiments exactly.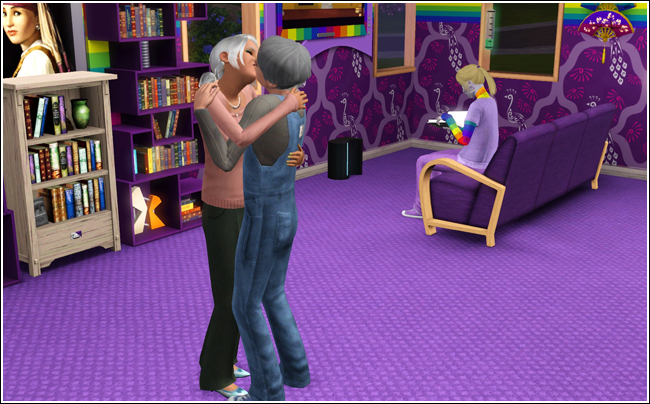 Well.. it's still cute.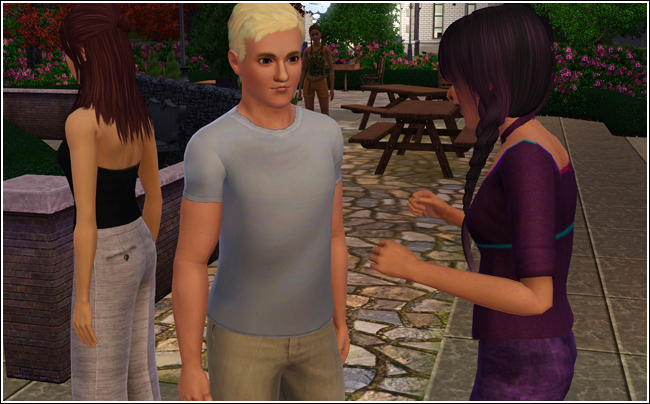 Lavender: Oh my goodness! I FOUND A CUTE!
Madeline: Why is that chick checking out my husband?
I DO NOT CARE ANY MORE.
Reynaud: You like hot dogs?! They're my favourite!!!
Lav: I see..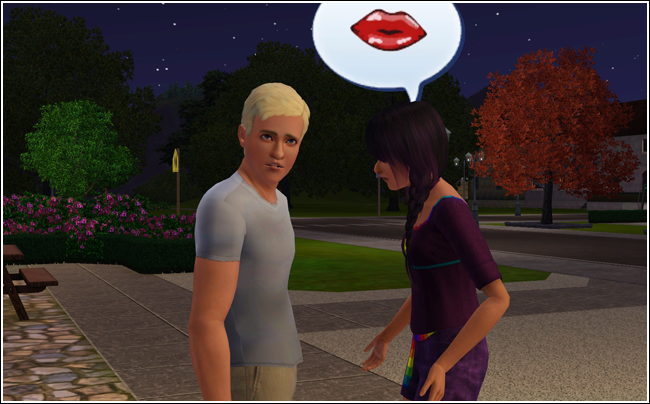 Lav: We both like hot dogs, wanna make out?
Rey: Uhm, what? I have a wife and she's like.. standing right behind me.
Lav: Okay, then how about you leave her for me?
Rey: That sounds reasona--
Rey: wait, no it does NOT. What's wrong with you!?
Lav: Ahw you look upset..
Rey: Really? I wonder why..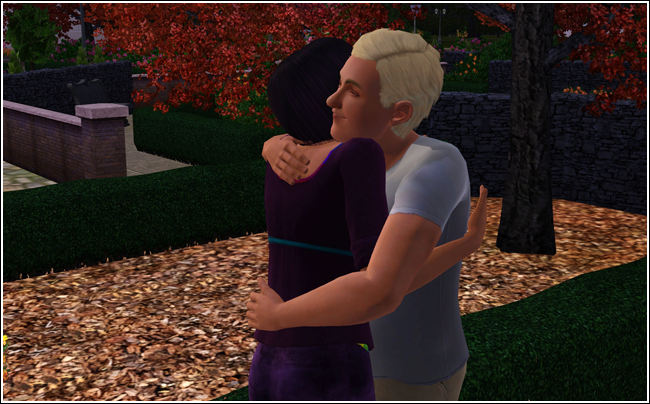 Lav: A hug always makes ME feel better!
Lav: Now how about some action on that bench over there?
Rey: Did you not just hear me say I choose my wife over you?
Lav: Why? I bet she makes you do housework!
Rey: Dude, you have to share responsibilities!
SUDDENLY!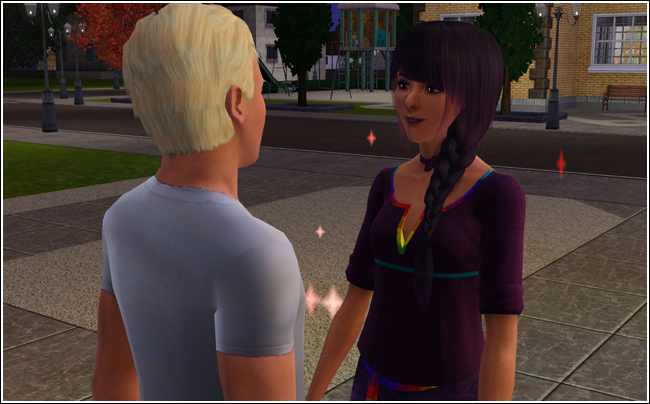 Lav *sparkles*: How about now?
Lav: Okay I'm going to take it slow this time and have a regular chat, okay?
Rey: and then I said to her, I said "I'm the man, so I deserve the big piece of chicken!"
Lav: Uh huh, I understand..
Lav: I would ALWAYS let you have the big piece of chicken.. leave your wife for me?
Rey: What part of NO do you not understand!?
Lav: Yikes..
Rey: We can still be friends though!
Lav: Yay!
Lav: I still have a chance with him!
Uhm, hate to break it to ya, kid..
While their daughter was out, Bee and
See got their makeovers!
Aww!
Lav: rise and shine Sorrel.
Sorrel: Hey, what are you doing here?
Lav: We need to talk.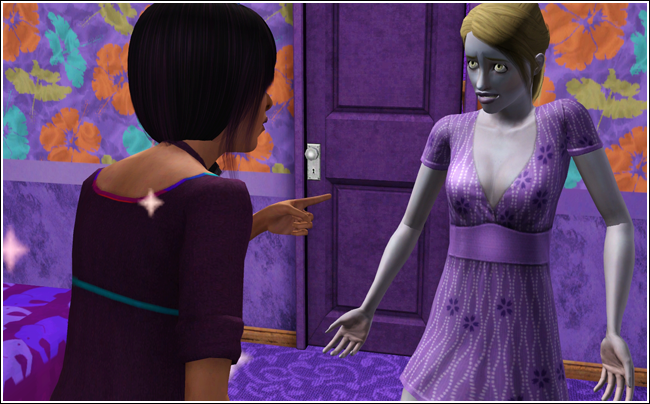 Lav: I'm goinna be an old maid thanks to you! We were so happy and then you had to go and make a baby with my brother!
Sorrel: What? Wasn't a triad your--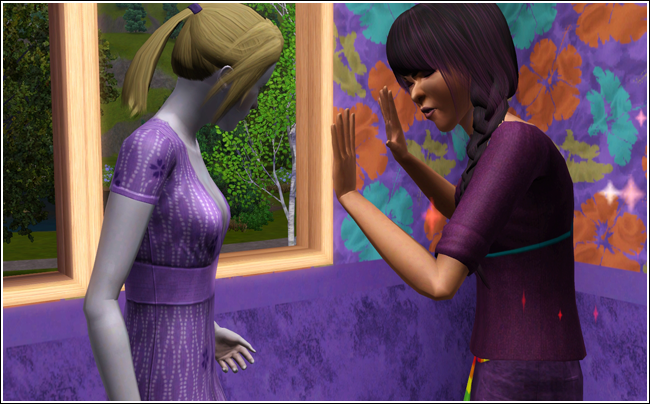 Lav: My idea? Yeah, but we aren't in one, are we? I don't want to hear another word from you right now.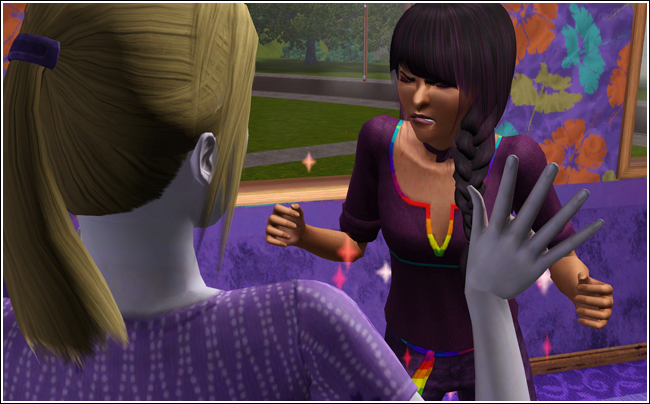 Lav: You broke my heart!!
Sorrel: Oh dear...
Sorrel: It's not my fault! My heart beats stronger for your brother and you both made it clear I had to choose ONE.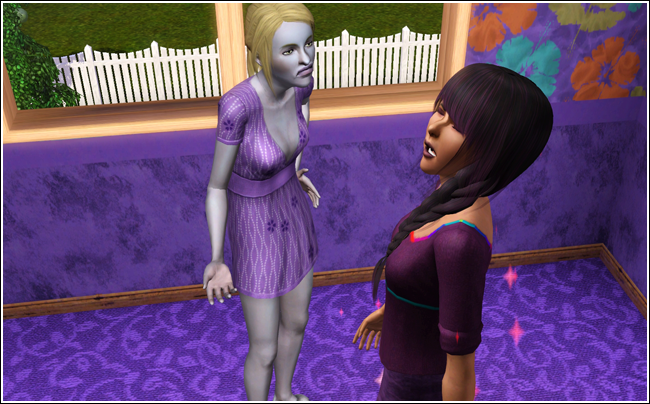 Sorrel: I'm SORRY!
Lav: I can't hear you, lalala!
Lav: For my brother's sake, I will now go back to ignorance-is-bliss mode, but stay away from me, okay?
Sorrel: Stay in Di's arms? My pleasure.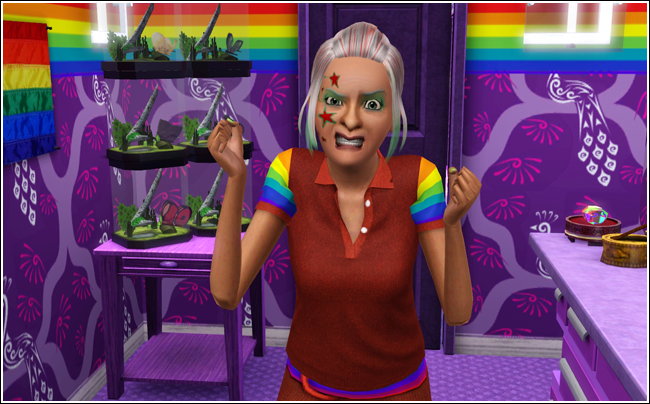 See: I. DEMAND. MORE. GRANDCHILDREN!
Serious Seona is serious.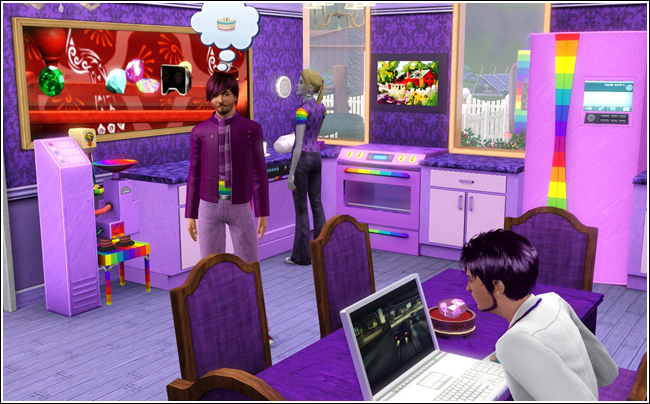 Speaking of grandchildren..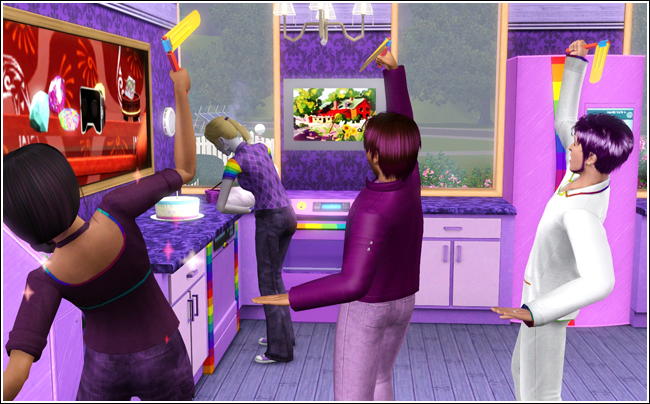 Blueberry is growing up! :D:D
Here she is after dressing her in a little blue dress.
She has Di's eyes and Sorrel's hair and skin.. so far that's all I can tell..
Lav: So you see governor Bateman, being pansexual doesn't mean I like frying pans, or pandas.. or anything that starts with pan, it means I like people.
Evander: I think I read about this somewhere..
Lav: I support marriage. I want to be married some day.. that'd be awesome.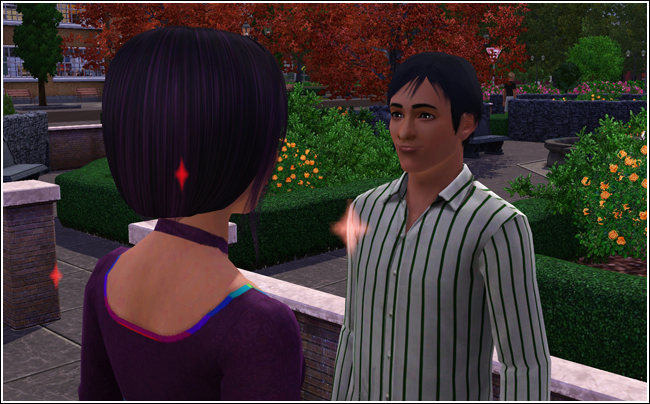 Evander: yeah marriage is pretty great. I'd know since I'm married and a father of two.
Evander Bateman, governor of Neverglade and an all-around nice guy.
Lav: We're both schmoozers..
Evan: This could turn into something interesting..
Okay Aldric Veltran? He's TOTALLY listening in on their conversation.
Before Lavender came and talked to him, Aldric was dancing with mister Bateman.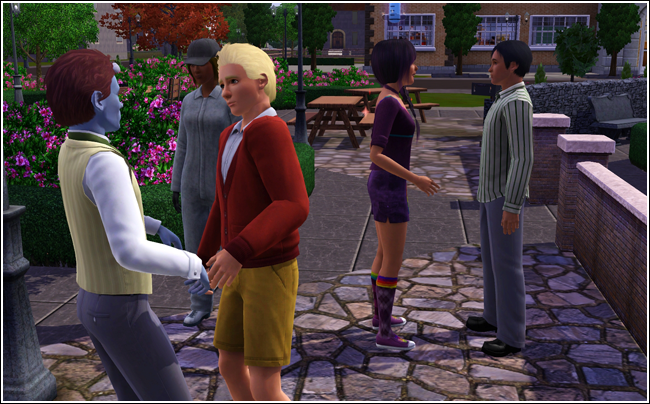 I think he's secretly gay. How will we tell his wife that she's a beard?
Lav: I like you governor. I like you a lot.
Lav: Is leaving your wife and children for me something you might consider doing?
Evan: Why sure! You're young, beautiful, rich and powerful! Having such a wife will surely aid me next time elections come along.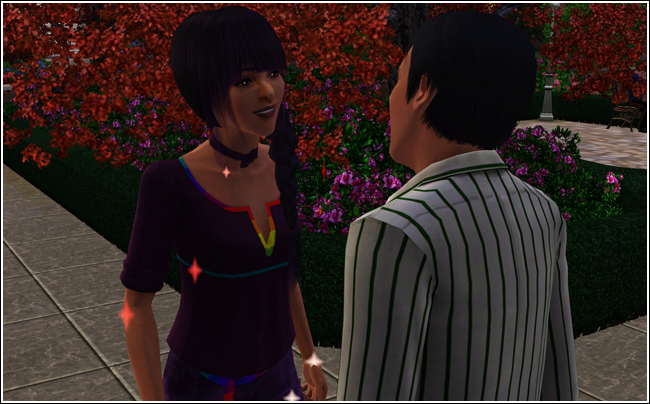 Lav: Really? You're divorced now?
Evan: Yup. It's as simple as thinking it!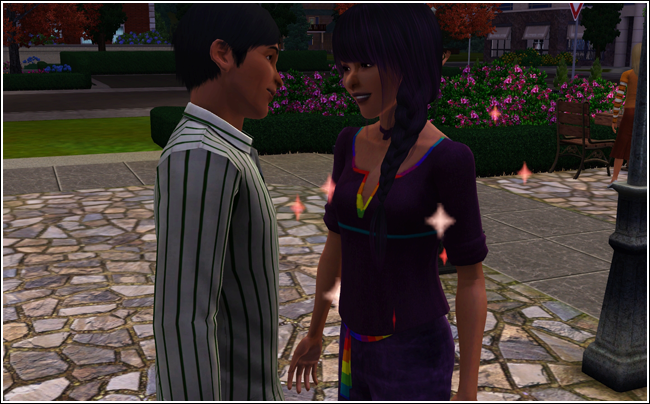 Lav: That means we're free to flirt without your wife getting all fussy!
Evan: You're telling me!
And just like that, our heiress has a romantic interest!
Evan: My precious...
Lavender HAS A CUTE.
Lav: I'm so glad I found you here in the park, dancing with a closet-case.
Evan: Me too Lavender. Me too.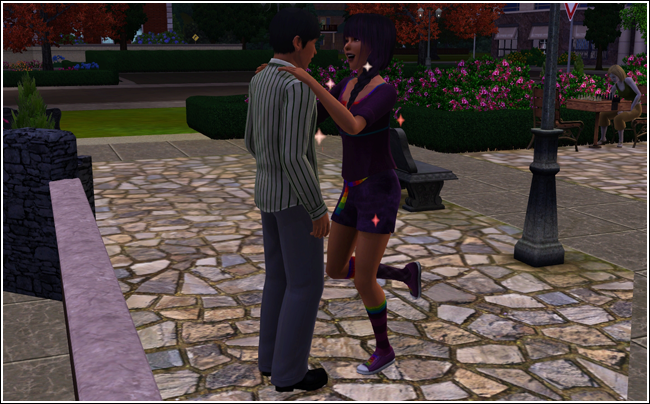 Lav: Oh I can't wait to tell my family!! You're meeting them tomorrow!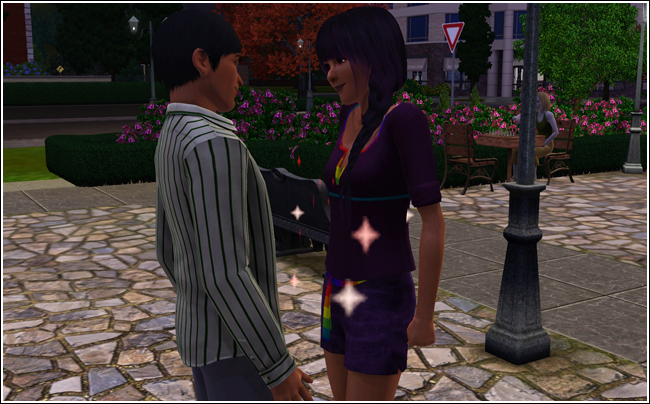 Lav: Good night Evander.
Evan: Good night Lavender.
wait.. so both their names end in -nder? Huh..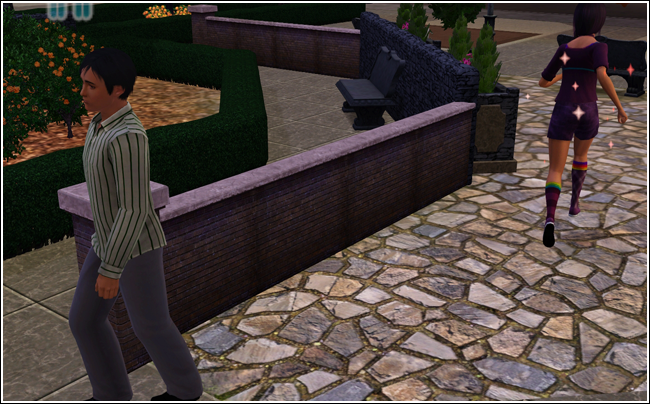 And so the couple parts in the night!
Di: I was just downstairs and Lav told me she's finally found someone! You know what that means?
Sorrel: Yeah, it means she can finally get off my case! Thank goodness! Now we can focus on raising our daughter, who nobody's seen for a long line of slides.
Di: Actually I thought it'd be a great idea to get married!
Sorrel: Married? Honey, I'm a commitment-phobe!
REJECTION!
Sorrel: I can't even commit to a job never mind settle DOWN.
Sorrel: Don't give me the cold shoulder-stand! It's not like I don't love you!
Sorrel: I adore you and our daughter. Blueberry is the best thing that happened to me after YOU. I just don't want you to put a ring on it, okay?
Di: It's not like wedding-bands even show up in this game..
Sorrel: Exactly!
Di: I love you so much Sor-Sor.
Sorrel: I love you too, Di.
Blueberry: DADDY, THIS IS THE BEST DRINK EVER, YUMMY!
She's obviously not very evil yet.
Sorrel attempts to teach the kid to talk, but she's taking AGES to train.
BRUSH BRUSH BRUSH
What's the special occasion?
Lav: Overalls? Evan.. what have you got to say for yourself!?
Evan: Uhm.. uhm.. EA DID IT!
Curse them!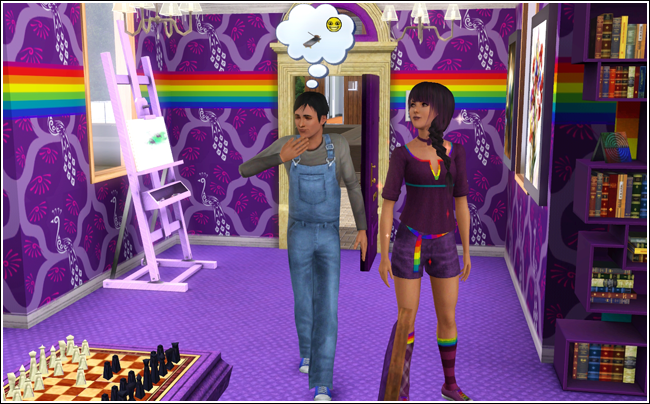 Lav: SO, this is my home!
Evan: Wow, it smells nice in here!
Lav: I know!!
Sorrel: A douche in overalls is as good as she can do? Pffff..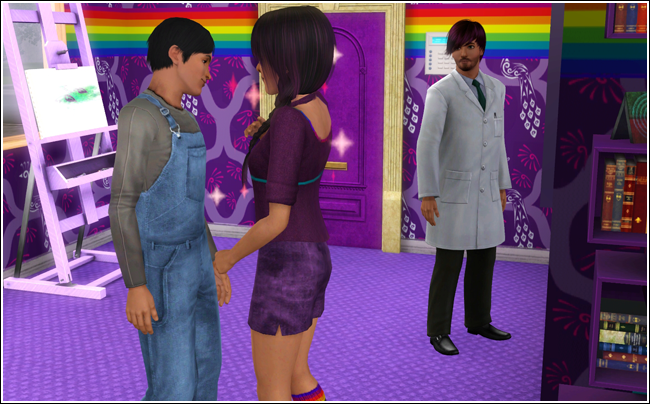 Di: oh, that must be governor Bateman, Lav's boyfriend! He looks like a nice enough guy.
Di: Wait, wait, what's going on?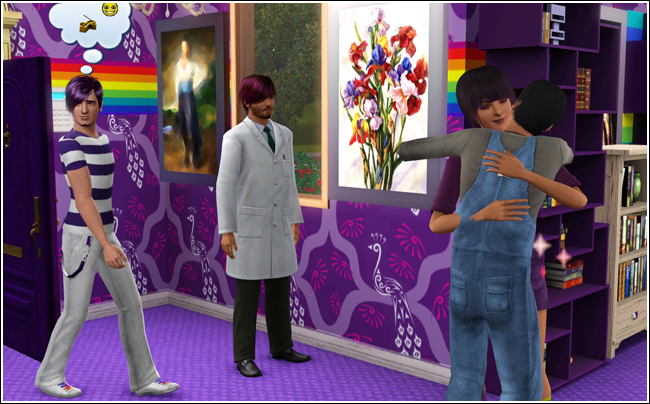 Di: But.. that's not fair! It's not even fair AT ALL!
Coke: I smell you there incense burner! Don't think I don't!
Lav: You see governor guy over there? We're getting married!!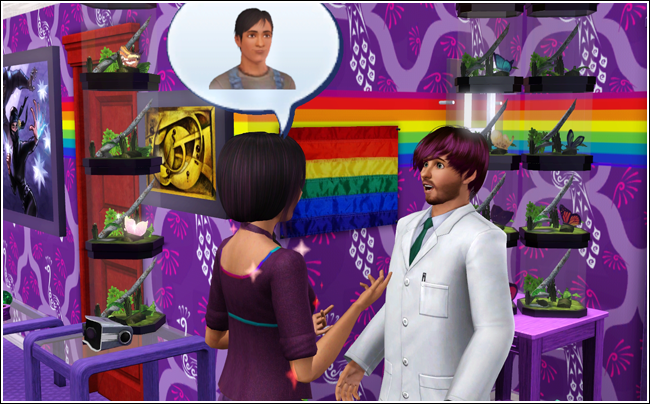 Di *gasp*: That's great news sis!
Evander is compatible with children! I moved him in and within 5 minutes he wanted to feed and read with little Blueberry. Aww.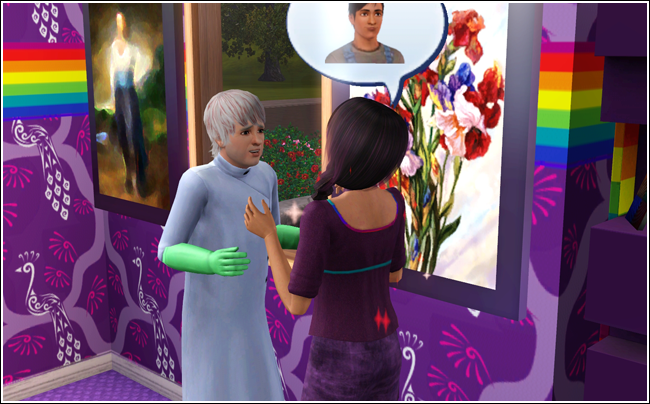 Lav: Daddy! I'm getting married!
Bee: Marriage! Gosh!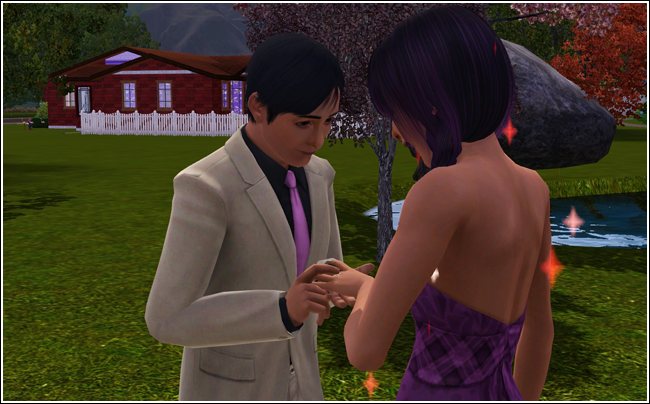 Lavender and Evander waste no time exchanging rings.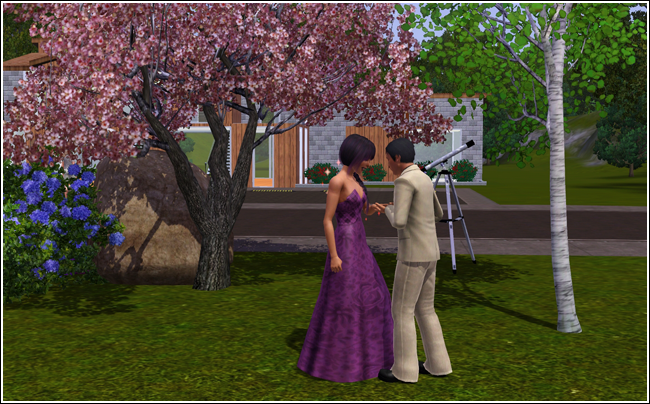 Yay!
See: Congratulations Evan and welcome to the family. Where's the cake?
Evan: Thank you so much mrs.Chimeree. I'd like to know where the cake is too! I was promised cake!
Well in your face mister politician!
Di: Congratulations on leaving your two children.. I mean your marrying my sister. I'm happy for you.
Evan: I can tell your feelings are sincere, young man. thank you so much.
In the night.. Di rolls a want to be mean to Evan. WTH?
The Di in game feels the same as the Di I imagine in my mind.
Oh yeah he's hot-headed. I forgot xD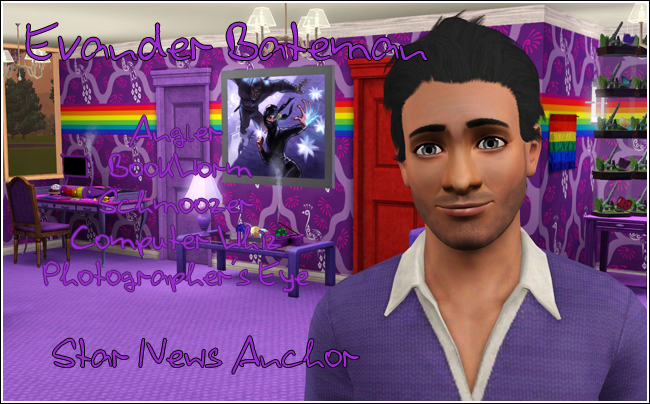 Anyway. Here are Evander's stats!
He's the governor and yet his LTW hasn't got a thing to do with it. Hmm..
Oh wait, that's the same LTW as Seona's.... oh well. Whatever makes him happy. He already has 8 charisma points, whew! No to train him to write!
Next time: Babies probably!
Thanks for reading! :)