I'm re-making this post as one, instead of posting all the Chimerees one by one. Because that's silly and I'm sure I will have more requests for sims because my sims are so incredibly AWESOME.
And I'm modest too! Who knew?




She's not a part of the legacy but here's Vienna Apple, as seen in the first few chapters. She's are-make of a TS2 sim I had :)
Vienna
She has alien contacts, that can be found
here
at GoS, but she can just as well be played without them :)
She used to have blue eyes, but I changed them to a very dark grey. I thought it was more appropriate.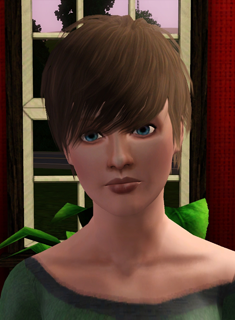 Mariah's Simself
Hair is NewSea's Soledad
retextured by the gentleman at beaverhausenx
.
(Last updated: 16th August '12)
Second up we have the founders: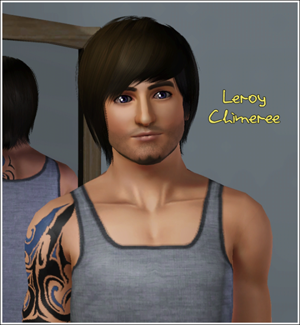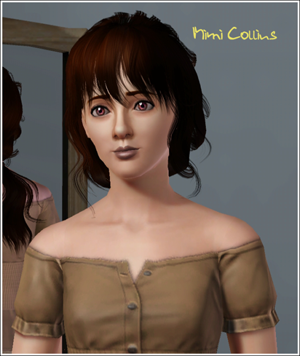 Leroy
and
Mimi
!
Leroy's facial hair and tattoo are both by
KittyKlan
and his hair is by
Peggy
.
Mimi's hair is also by
Peggy
.
Both are Young Adults! Yay!
Black Generation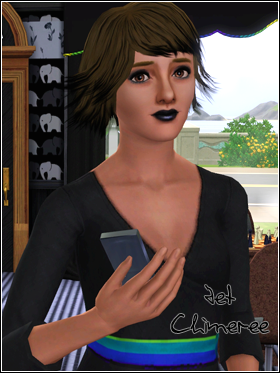 Jet
(if you want her ex-husband/boyfriend Mortimer go to Sunset Valley and grow him up)
Jet lost her hair colour when I aged her down to upload her, so I re-created it, I think it's pretty accurate to the picture here.
She's wearing Store hair, an outfit by
Kate
(the first one) and shoes by
Playful
.
And she's a YA.
(Not wearing the clothes pictured.)
White Generation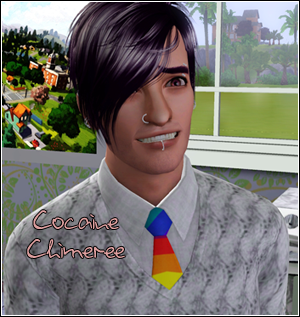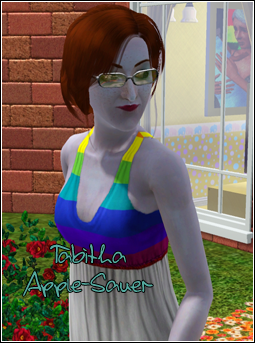 Cocaine and
Tabitha
Coke's piercings are by Aikea and hair by Bosie or you can get the Peggy version(Number 92) if you want, but you have to put it on him, he doesn't appear with it I believe.
Tabitha's hair is by Peggy and top by Oepu.
Both are Young Adults.
(They're not wearing the clothes pictured here.)

I can not upload Jordan, because she's a simself and isn't mine, so get her from Jordan.
Her skin is here. She doesn't come with this skin, I put it on her later on because me and Jordan both liked it better.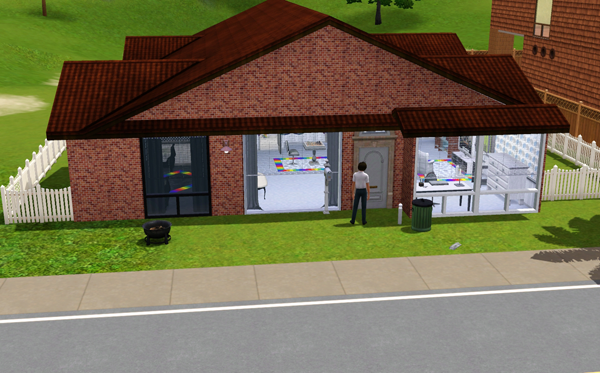 THE FIRST LEGACY HOUSE!
Install via launcher.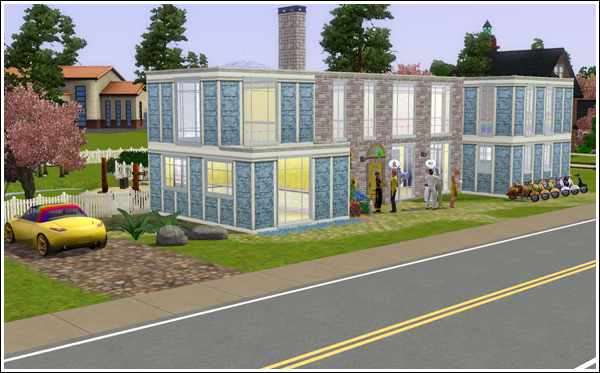 THE SECOND LEGACY HOUSE!
There are some store items and downloaded patters that will revert to random EA if you don't have them.
I removed all paintings of the legacy sims because they turned black anyway, but the urns in the basement should still be there, as well as the sarcophagus and Canopic Jars! I sold the Car, because it only added 50k to the price of the house, but kept the scooters for your pleasure. There's also a crocodile and a frog in 2 bowls and there should be some of Cocaine's novels in the bookcase on the ground floor. Oh and there are plenty of plants in the back yard :)
I'm pretty sure it does not work without WA, the launcher will probably tell you that.
It costs something around 180,000 on a 40x40 lot.
(Since the topic seems to have been removed from MATY I've uploaded the
Pride Flag
I have on the walls in nearly every room xD put it in your mods folder before you install the house)
Install via launcher.
Yellow Generation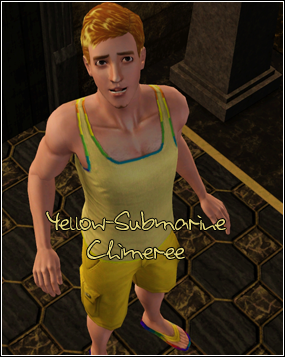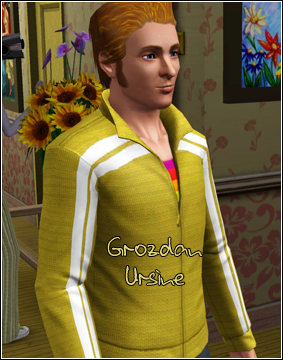 Yellow-Submarine
and
Grozdan
Regarding Submarine.. his name is too long, so you may change it to Submarine, to make it fit.
Sub is wearing Store hair and the cool sports jacket.
Grozdan's jacket is by
Missims
.
Again, both are YA.
Orange Generation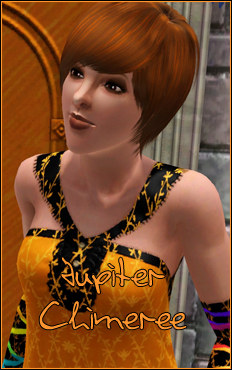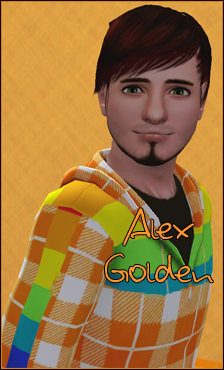 Jupiter
and
Alex
Jupiter has the same hair as Leroy above and her dress you can download as a free gift from the EA Store in-game :)
Alex's hair is here and he has the same default facial hair replacement as Leroy.
YAs!

Red Generation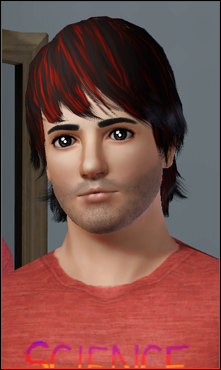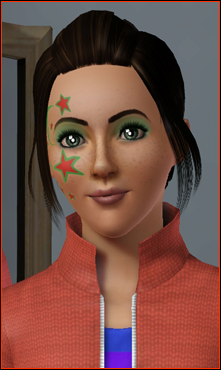 Standby

and
Seona
Standby's hair is from the EA Store, Seona's is by Anubis360.
Seona's clothes are from World Adventures(the athletic wear shirt that you saw in 5.6 is by gelydh) and Standby is wearing jeans by Aikea Guinea, also two shirts by her. Oh and as usual the facial hair replacements and tattoos by KittyKlan, that have links up under Leroy :)


Violet Generation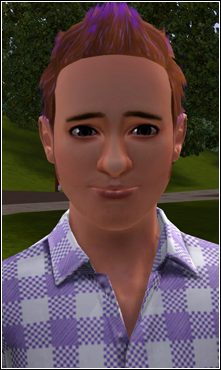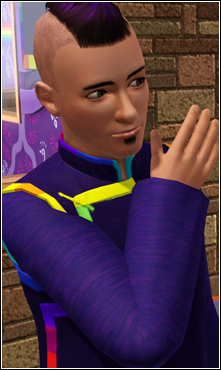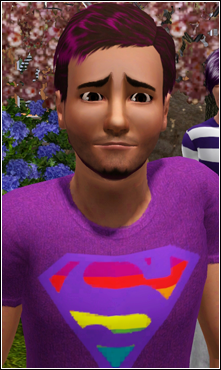 Ultraviolet

Plasma Sphere

Purple Rain


UV's hair is from the Store. Plasma's hair is by Aikea and Rain's hair is also a Store item.
Rain's socks are from KittyKlan. I can't remember where I got his t-shirt.. sorry. Rest is EA, I think.
As always, their facial hair is modified, so if you want them to look like on the pictures, get the default replacements from KittyKlan. Link is under Leroy.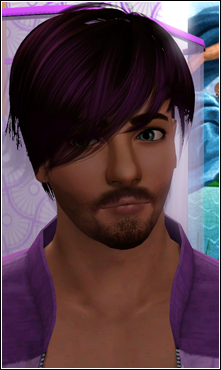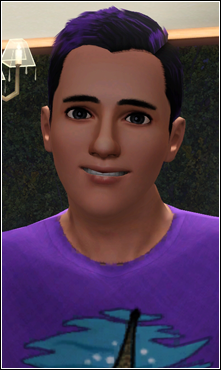 Dionysus

Amethyst


Di's hair is TumTum's conversion of Anto's hair. Amethyst's hair is a Store item.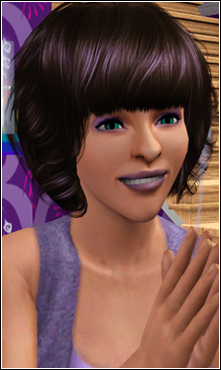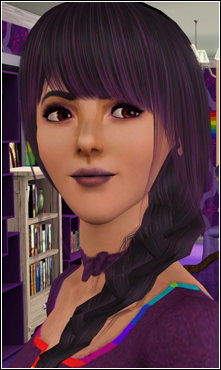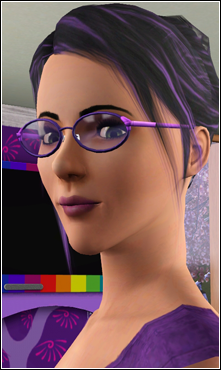 Garnet
Lavender
Lilac
Garnet's hair is
Peggy
's, Lavender's hair is a recolour by
Anubis
and Lilac's hair is the maid hair without the headband
by some TSR punk who thinks it's appropriate to ask money for removing a headband
it's the one called
Elegance
.
Garnet's top is by
All About Style
. It's the one called Loose Vested Top.
Lilac's glasses are smaller Oval glasses by
Grimma
.
Violet Generation Spouses
Sorrel
Erle
Evander
Erle's hair is by
Wojtek
.
All of them are Young Adults as Usual.
I even aged down Evan to YA for you all :)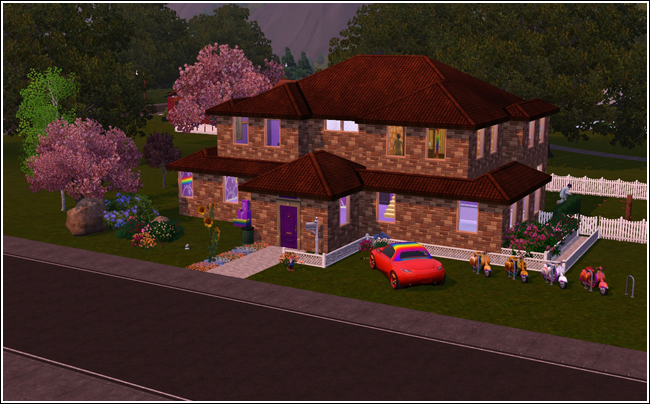 THE FOURTH LEGACY HOUSE
What you need:
The
Oslo living set
by Holy Simoly
The
Simple Desk
by Awesims
Mid/Mod Bathroom
(I'm only using the mirror in the house but the whole set is awesome) by Awesims
Yasashi Bedroom Set
by Simcredible Designs (I think it's just the bed)
Bumper Crop - Garden Guarder
by QBUILDERZ
Fitted Blinds
by The Ninth Wave
Simple Table
by plasticbox
The
Loveseat
from the Bedroom set by Around the Sims3
ModernLine Window Set
by HugeLunatic (I'm not using any of the modular ones)
Simple Kitchen set
by plasticbox
Patterns:
The
Peacocks and LimeOrange
Imperial and Elegant
Blumis-Seide
Rainbow
, yay!
Aloha and Polkadot
Elephants
Bunnies
Applebears
Clouds
Plaid 04
That's pretty much what I use in this house, if you don't download them they'll revert to Eaxis(or disappear, one or the other) and you'll have to re-CASt them.
INFO: I sold the car again because it makes the house [even more]expensive, but kept the Kenspas as well as martial arts stuff, the sarcophagus, a nectar maker, a fortune-cookie baker and a dive-well(and relics and stuff, exciting stuff!). It's fully furnished :)
Costs a few bucks over 200000. Yikes.



You need WA and HELS. If you don't have them, stuff should just revert to base game things.
Blue Generation
Blueberry
Cornflower
Berry's hair is by Wojtek
and Corny's wearing a top by Gelydh.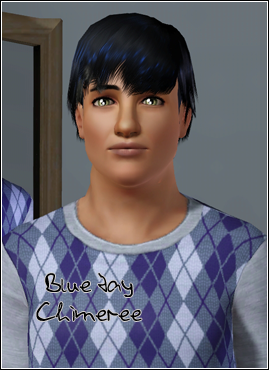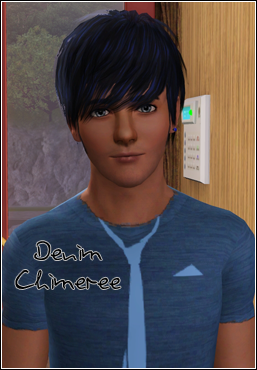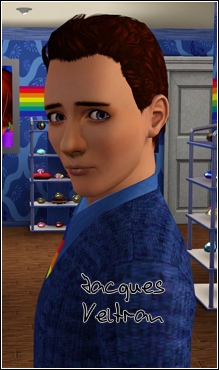 Blue Jay
Denim
Jacques
Jay's hair is by Kiara24. Denim's needs AMB and Jack's hair is by collin2.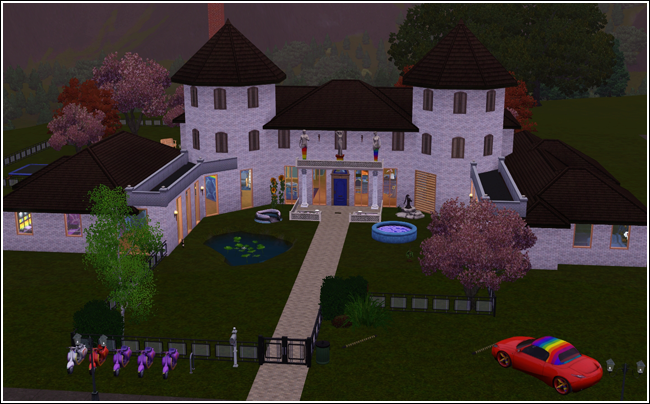 THE FIFTH LEGACY HOUSE

Check under the fourth house what you need, as I tend to re-use everything.
In addition, the kitchen cabinets are from Desdren.
And the hammock chair is from Lit Sims Stuff.
Also it has some clutter I got from wherever, so sorry about that, it will revert or disappear D:

ALSO: The front lawn doesn't look like it does on the picture, because the legacy lives on a 60x60 lot, but this house is on a 50x40 lot, so it's smaller.

Costs a few over 200000, again.
This house does not have the extra stuff in it(exploring stuff etc.+there are no bookcases xP) like past times, because this is the house the way it was before the Chimerees moved in.

Turquoise Generation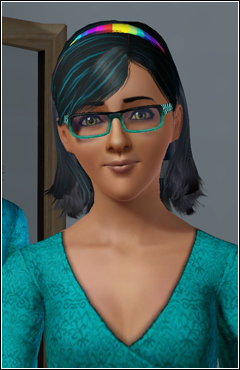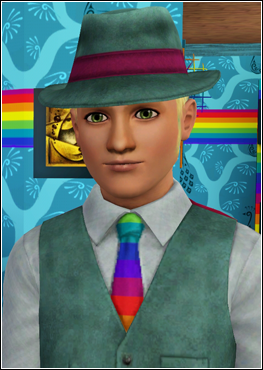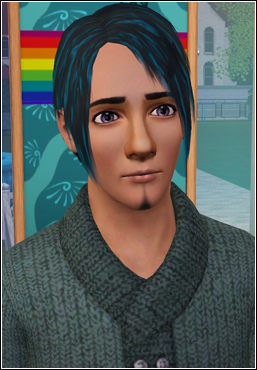 Firouzeh
Squirtle
Inky
Faye's top is by Shep and her glasses are from KittyKlan
.
Squirtle's tongue piercing is by Anubis.
Inky's hair is a conversion from the female hair by Nekonyami.
!!NOTICE!! I've received reports of Squirtle crashing CAS, but not everyone has this problem. I don't know what the problem is D:
Download at your own risk.

Green Generation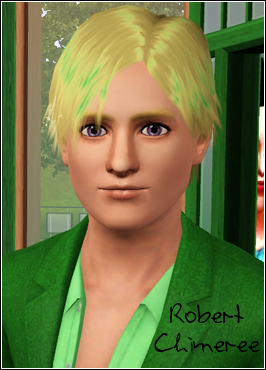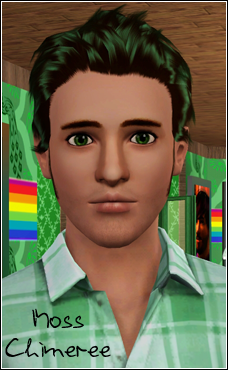 Robert
Moss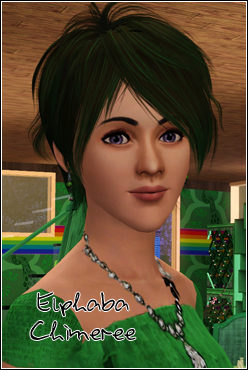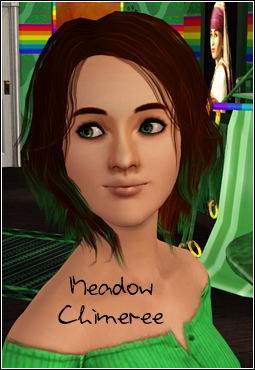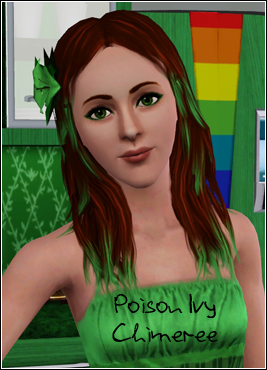 Elphaba
Meadow
Poison Ivy
Elphie's hair is by Anubis and her top by Liana.
Poison Ivy's dress is by All About Style(Dress With/Without Embroidery).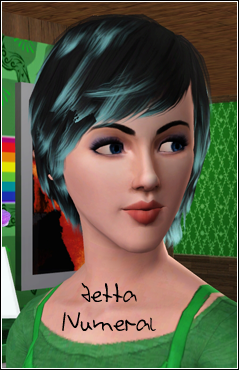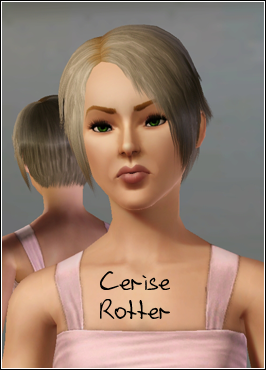 Jetta
Cerise
Jetta's hair is Wojtek's conversion from the male Store hair. Her top is by Oepu.



Lime and Pink Generation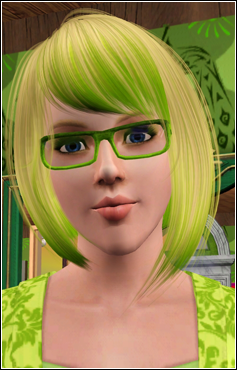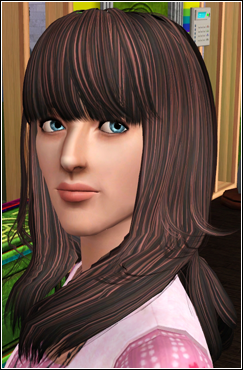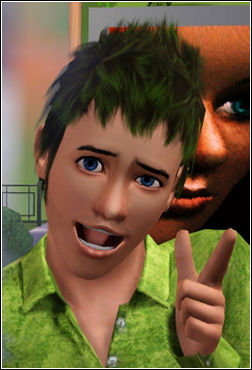 Vireo CherryBlossom Key Lime Pie

Cherry's hair is Peggy retextured by Anubis. Vireo's hair was also retextured by Anubis, but.. the link seems to not work, I don;t know why it was removed.. but here's the original by Cazy.
Vireo's glasses are the same as Faye's.
Pie's shirt is by Aikea.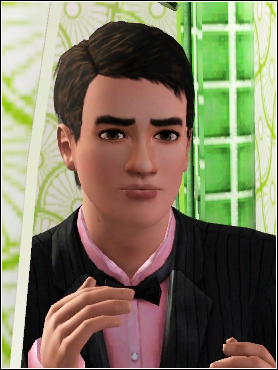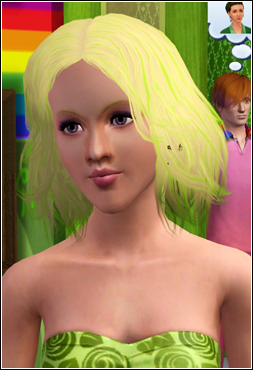 Flamingo Nick Chlorine

Flamingo's hair is the same as Dionysus' and polo shirt by Myos, skin by Miss Skitty.
Nick's shirt is by Aikea.
Chlorine's outfit is by Poppy Sims, it's the lilac tubetop+leggings outfit and her shoes are by Lilisims. her lipstick is by Channy & Vivin (Search for the word "megaupload" to quickly find the download link!).

I totally forgot to add their named to their pictures, but I think you won't be too lost.





Tobias

and Lyra
Tobias' jumper and jeans are both by Aikea Guinea. Lyra's hair is from the Store.

!

They're all .sim files so just paste them in your savedsims folder

!
*except houses of course*

That's all for now.

PS. For the last time, the rainbow pattern is here.