Nothing will ever compare to You!
This is a 80-picture update, so no baby yet, but it WILL be here next time!
Shortly after Grozdan's moving in, Sulfur, who still lives here(as well as Daffodil) got a wish to be friends with her brother's boyfriend. And vice versa!
They're both evil, so they shared their mastermind plots and were soon friends. Good times!
Mort and some other ghosts have been rather active lately. Going as far as trying to scare Jet to finally die. In this picture she's probably around 115. At the end of this update she reached 121, which is 21 days over her limit. She IS insane after all, maybe she just doesn't realize it's her time to go?
Mort: BLEH!
Jet: OH! MY HEART!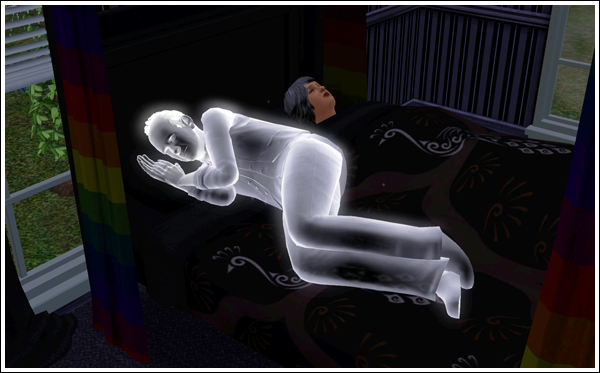 To make her wife feel better, Mort took a ghostly nap next to her.
How sweet!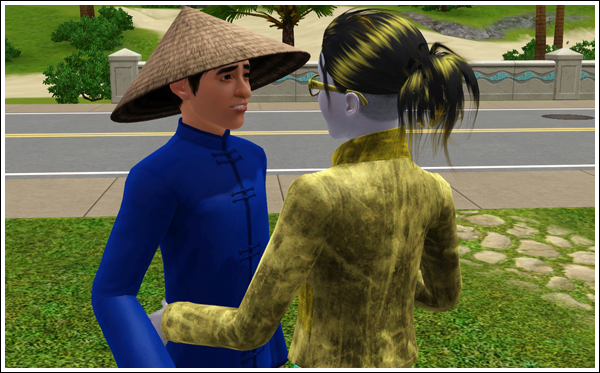 I decided to call Xiu Yi, and turned out he was actually here in Sunset Valley as a tourist at the moment! Nice!
Oh I see, they're both commitment phobics.
Groz: wait.. doesn't she have a boyfriend?
Turned out that Tycho is actually Grozdan's cousin. It's a small town xD
Daff: MY HERO!
Daff: Yeah, yeah, Groz, I have a boyfriend. How's that any of your business anyway!?
Groz: I'm just concerned is all.
Daff: Don't you have the Evil trait? Show it! Gosh. Tycho's a teen anyway, not like I can go and kiss him!
Someone's being moody. And she's supposed to be the nice one.
GROZMARINE!
They're too cute, rubbing noses!
Wait wait..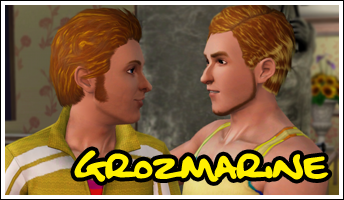 Pff. Lame. I'm no good at making banners.
I just realized they have the exact same hair colour! So much for genetic variety.
But then again, True love > genetic variety, yes?
Sub: Gotta go! Time for work!
Groz: I'm so proud! Working hard for his money, he is!
He's a THUG! Whatever floats your boat.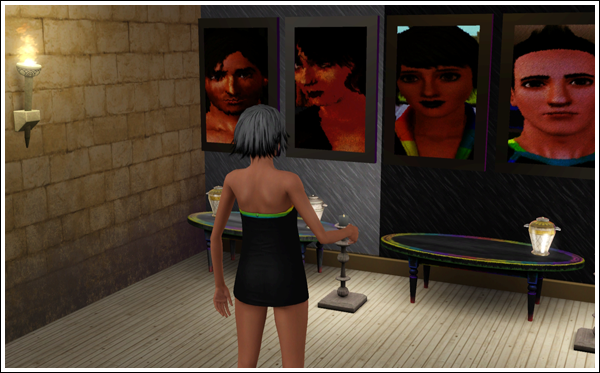 Jet: Hey, I remember when I was that young!
But do you remember when your husband died? It was before your father died! And even that was a while back.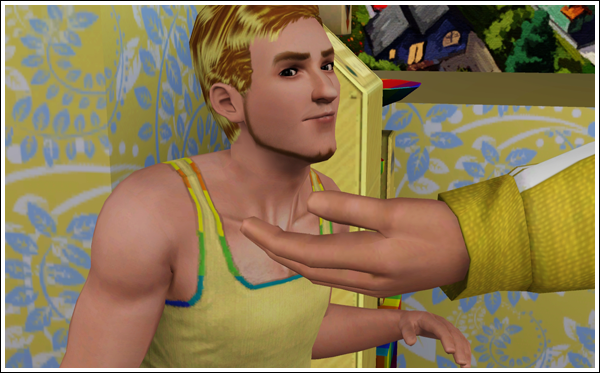 Sub: Groz. I say you're missing something from your left hand.
Groz: What's that?
Sub: This!
Groz: Oh my goodness!
Groz: what do you know! It fits perfectly!
Sub: If it fits perfectly, maybe it's meant to be there..
Groz: Dude, I like love you.
Sub: I love you too.
Sub: You know how I was able to afford the ring?
Groz: Thanks to your family's vast fortune?
Sub: Well that and.. I got a promotion to Getaway Driver!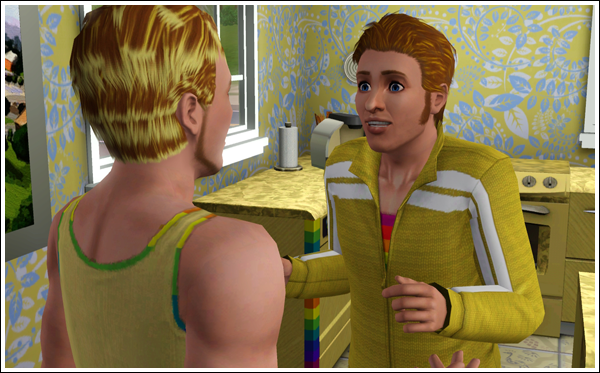 Groz: No freaking way! That's awesome!
Sub: Hello? Can you come to my wedding please?
Groz: :)
Sub: Hey sexy reader. Thanks for making me the heir.
Sub: But I don't want to wear a suit!!
Yeah, okay. It's only your wedding. Gosh.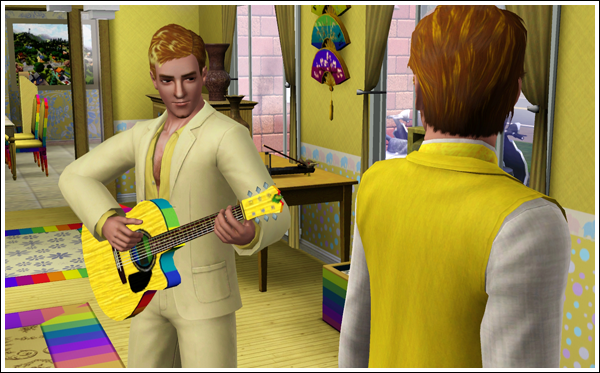 Groz gets a different yellow, so we won't get confused.
First to arrive is cousin Orpha!
She's looking lovely.
Next up is the evil cook, Cloud.
No uncle Darrell and cousin Orpha, Sulfur and Darren are not the main attraction today!
Grozdan and Submarine are married at one of the nicest locations of the legacy lot: the used-to-be-bridge.
Coke: I'm hungry, where's the cake?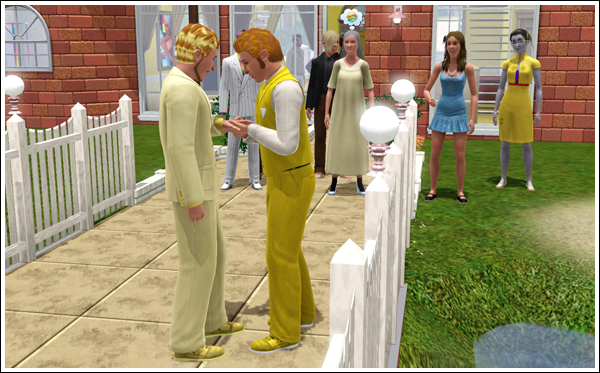 Cue a sweet love song.
Because I can't for the life of me stand the wedding march. I just can't Ugh.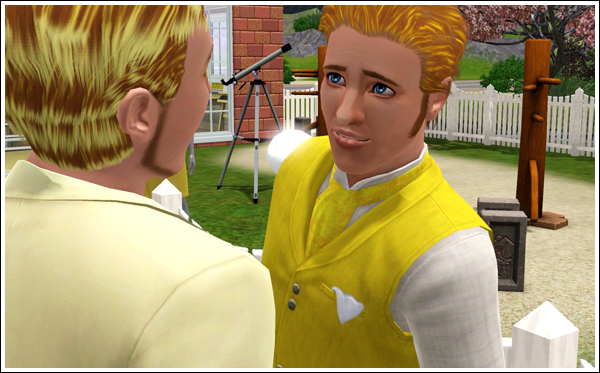 The old lady in the ugly dress and mismatched shoes is my simself. Yuck. I'm most seriously displeased.
SimMariah and Orpha: AWWWW!!!
Coke: I'm a man. I am unable to show human emotions.
Uncle Darrell: Awwww! That is just the sweetest thing!
Many didn't make it to the back yard as only one door leads there.
Whoops!
HELLO!
He's kinda cute too.
How come everyone in my hood has blue eyes lately?
Sulfur: Great party! Where's the cake?
Groz: Kitchen, little sister-in-law.
I changed my default eyes back to Aikea's first set, they're gorgeous.
Sulfur: Thanks.
She's still gorgeous. I will surely to miss her when she's gone.
As a memory, she will paint Submarine's portrait. Nice work.
Groz: ZzzzZ Being in love makes me happy.
D'awww!
Groz: Remember when we went to that No One Cares About Your Blog concert? It was awesome.
Sub: I know the mood at the theatre was totally mellow.
Sub: Wait a minute, you're EVIL. You son of a mother duck!
Groz: Oh well, we're married now. There's no going back.
Sub: Lol. You're so right.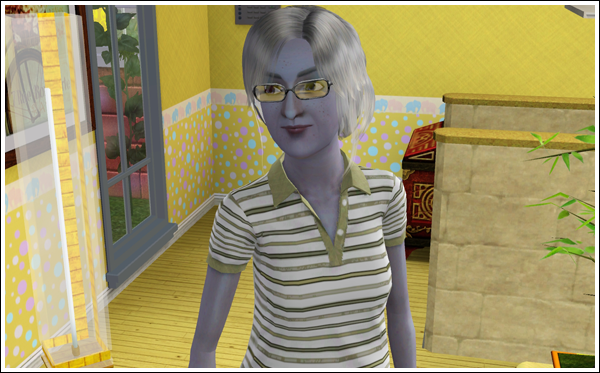 Tabitha reached the top of medicine and is now a World Renowned Surgeon.
And then she promptly retired :P
Sub better not use THIS car as the getaway car. It's just way too flashy.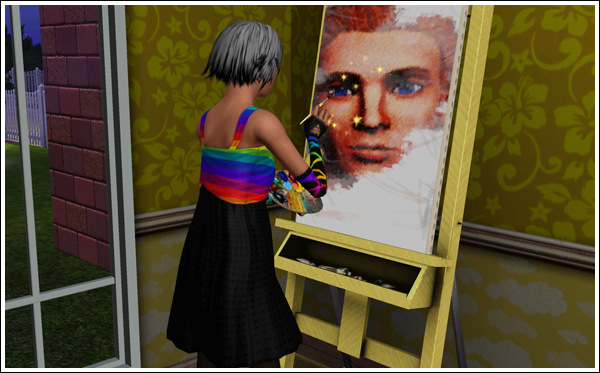 While it only took one try to get Submarine's portrait. I had 6 or 7 of Groz painted and they kept coming up dark or blurry. Finally, Jet delivers one that even shows off his blue eyes. Nice work!
The Rainbow Wall so far. I love it. 8 Paintings 3 urns.
Sulfur: Watch me eat this mummy snack.
But you're not a mummy!
Sulfur: Watch me, biatch! OMNOMNOM.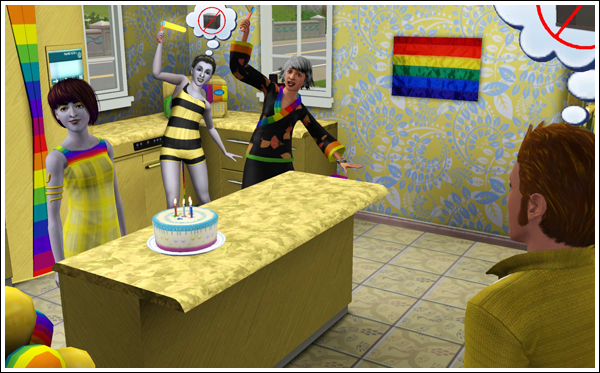 The next day it's Sulfur's birthday and also the day that Daff And Sulfur will move out. Sadface!
She's had that bowl stuck to her hand for a while now. Hilarious.
Sulfur: Green? EW.
And the bowl stays. Time to resetsim!
Sulfur rolled Perfectionist! Interesting!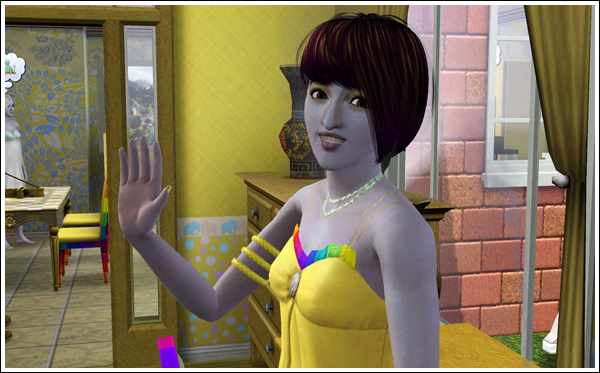 Sulfur: Well, thanks everyone who voted for me and Daff. We will never forget your support.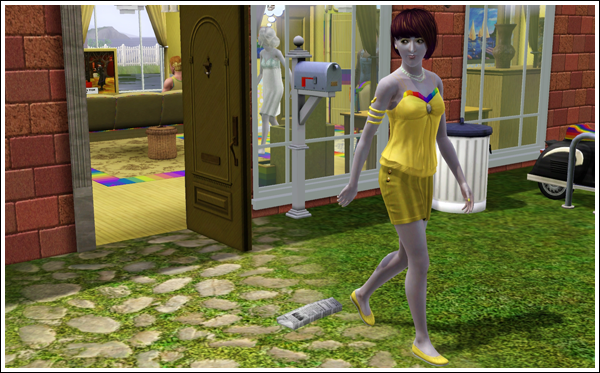 I made her look nice :)
Evil Store top.. it looks nice on her.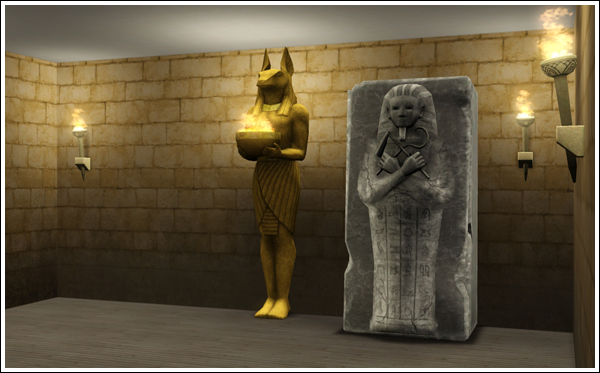 All this time I've been looking for a proper place to put the Sarcophagus and yet I have this basement just sitting there waiting to be filled.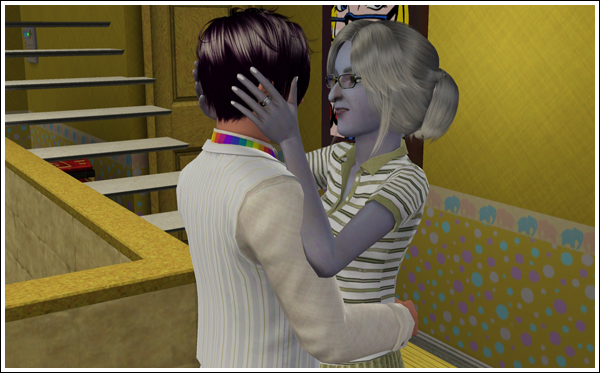 Coke: Soon, my love, I will be growing old. It was my older brother's birthday today as well.
To all of you who love Coke, sorry that he hasn't been around. He just keeps on writing.
Our tradition of eating favourite foods is keeping up :)
Groz's is mac and cheese. EASY. His fave colour is lilac and he loves indie music just like
me
Sub.
The couple that works out together--
Sub: I'm only doing this because I get a nice view from here.
Oh. Well then, moving on.
Sub: You ok? You've been sick a lot lately.
Groz: it's probably just something I ate.
Sub: K.
Sub: I'm much more athletic than some actual athletic sims! Man I'm awesome.
Groz: You've got such a strong personality.
Groz: I don't know if I've mentioned this before but...
Groz: The amount of art in this house is driving me ca-raaazy!
Sub: You meant me right? Cause I'm like a piece of art? Right?
Sub: Honey, you're so cute, the way you eat mac and cheese.
Sub: WAIT! Why do you have different clothes on!? >:(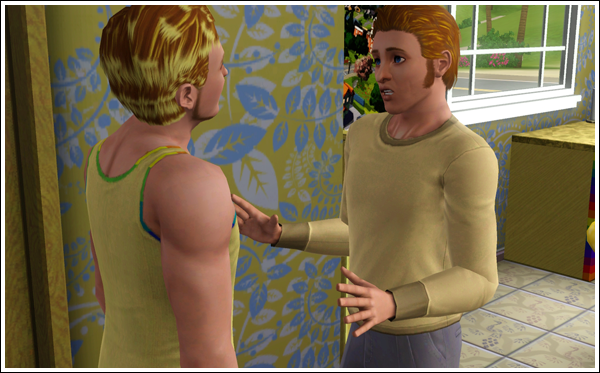 Groz: Yeah about that...
Groz: There's something you should know.
Sub: Hmm?
Groz: I don't know how to tell you this..
Jet: Mmm.. food!
Groz: I think I'm pregnant.
Jet: What to get, what to get..
Sub: Whaaaat?
Sub: Babe, I know my parents are messed up but they still managed to tell me the right version of the birds and the bees. What did your parents tell you, exactly? Because that's impossible.
Groz: Call me crazy, but how else did I manage to gain weight while eating healthy and exercising every day?
A few hours later.
Sub: Hmm.. it does look bigger already. Maybe you should go to the doctor. I don't want you to die from a fast growing tumour or anything.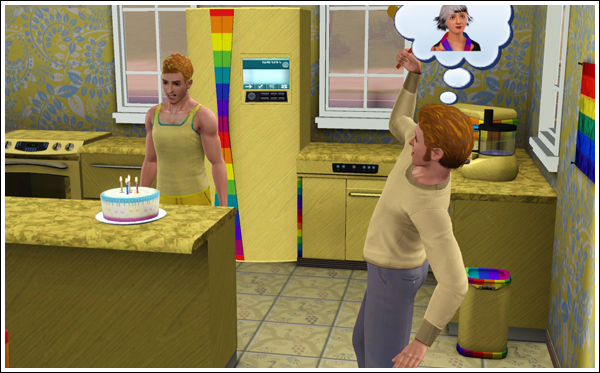 But first Sub's birthday to adulthood. No after-picture because he didn't change at all.
Sub: I'll just wait here and think about kissing you.
Groz: Sure. I'm still pretty sure I'm pregnant..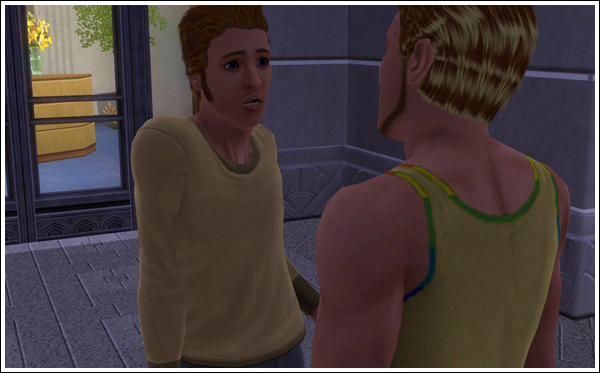 Sub: Well?
Groz: Your sister sure was surprised to see me and she has no idea how it happened, but yeah, I'm pregnant.
Sub: Baby?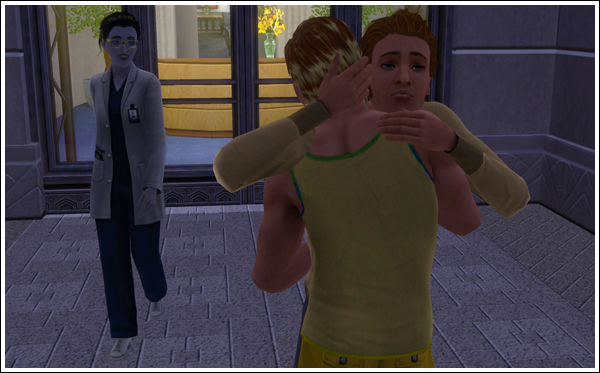 Sub: Well, however it happened, we're going to be parents!
Groz: I hope this "Mariah" has orange names standing by!
Daff: Hey boys! Congrats!
Daffodil has, since moving out, been promoted to Resident and gotten married to Tycho(in the picture, doh), who grew up recently!
Sulfur and Darren however broke up!! :(
That's exactly the opposite of what I thought would happen!
Grozmarine celebrated by having dinner outside the house :)
I rather enjoy taking them out. I am so changing Sub's hate for the outdoors to something else when he gets enough points for mid-life crisis!
Next time: Babies of orange colour for sure!
Thank you and please come again!
Love you long time!