OH HAI!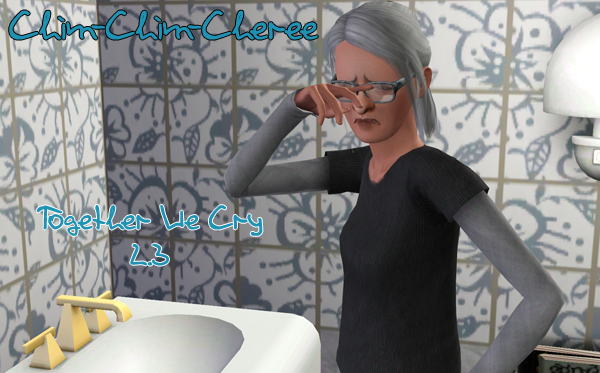 I didn't want to wait like a week or two till I'm able to get PhotoBucket Pro and update again, you guys and gals have waited long enough, so I uploaded these to my second account, well technically this was the first one and ... nevermind.. ON WITH THE CHAPTER! Everyone cries in this one I think, hence the title. Bunch of crybabies.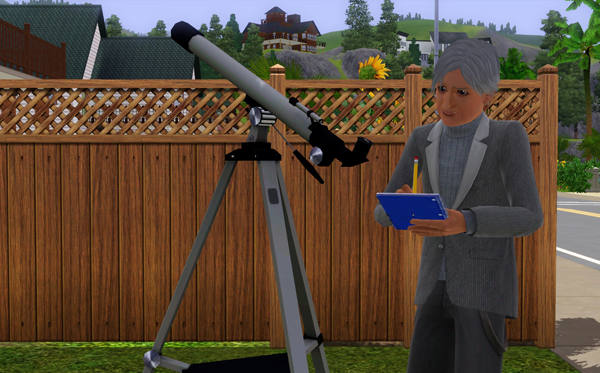 Leroy: Another satellite the government has not let us know about! I swear, they are all spying on our daily lives.. it's a conspiracy!!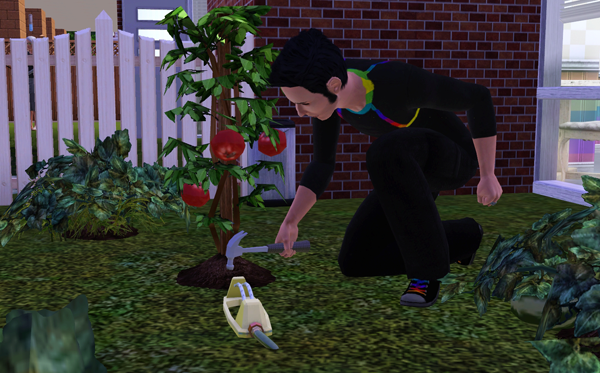 This man has nothing to do on his spare time, other than garden, play the guitar and try to get his charisma skill up.
Mort: Which isn't working very well, since nobody likes me any more :(
And whose fault is that?
Mort: Uh--
NOT A QUESTION.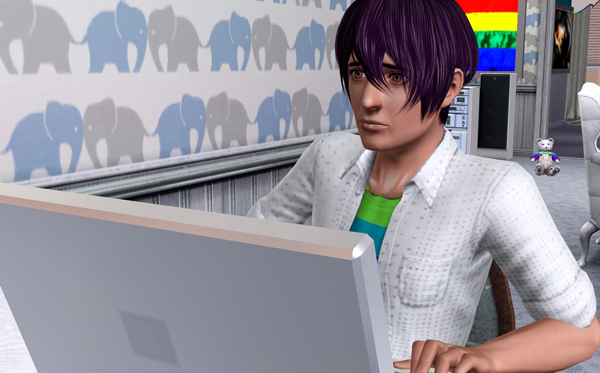 Cocaine: I'll call this one.. I don't know what to call this one.. I had a good idea just before.
I know how that feels my friend. I guess we're both absent-minded.
Cocaine: I had it written down and everything.. I can't find the paper!
Now that's just unlucky.
Cocaine: Okay.. I'll call it "Tea for Three" it's a romance novel about a guy who had an affair with his mother-in-law!
Where have I heard that before?
Mort: I am so heartbroken! I've lost my wife.. I've lost.. well.. just my wife, really.
JUST your wife? Jet is not JUST anything!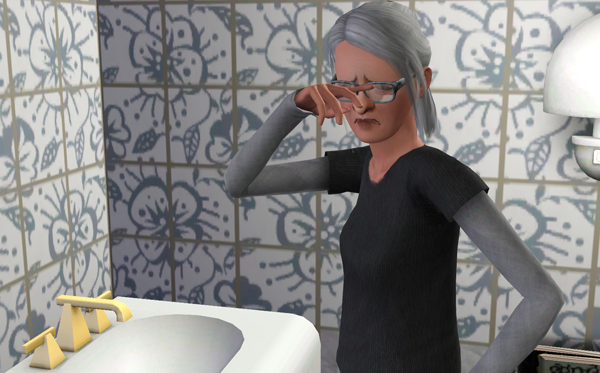 Mimi: I'm so embarrassed! I can't believe I let my flirtiness ruin my daughter's marriage!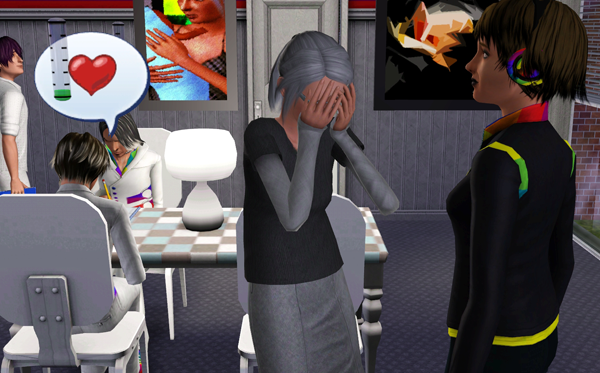 Mimi: I am sorry!! I feel horrible for my actions!
Jet: Hmm..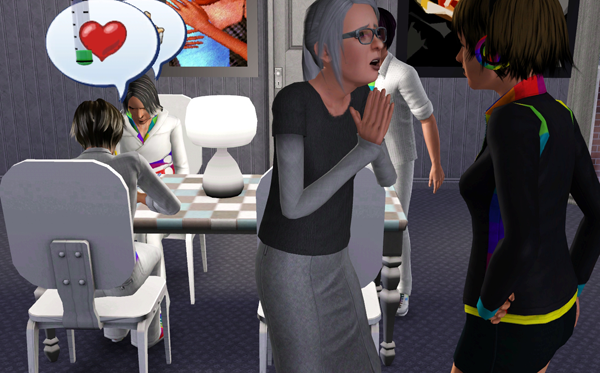 Mimi: Please forgive me!
Light: Are they talking about, like, love, man?
Cloud: Not sure, my talk-bubble is hidden behind yours, bro.
Light: I had a potential girlfriend but she blew me off for having big shoes..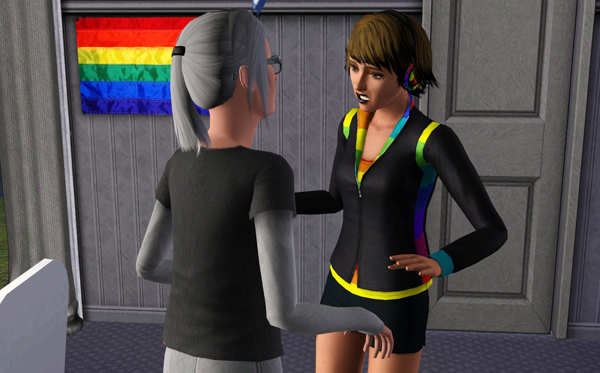 Jet: It's okay, mum. I'll forgive you. If he didn't flirt with you, he would have gone somewhere else to flirt and that would have been just as bad, so.. it doesn't matter, really.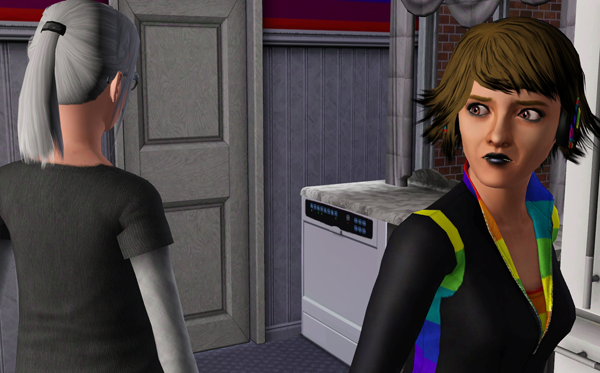 Jet: How dare she say sorry!? How am I supposed to hate her if she says she's sorry!? Damn you woman!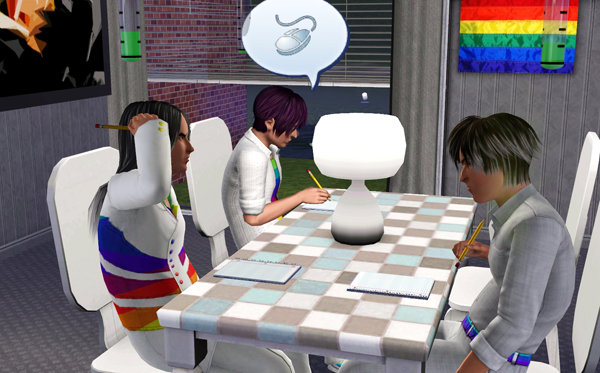 Light: Math sucks!
Cloud: If I do not finish this exercise, I will never live up to my evil!
Cocaine: Can't we just go online and find answers to these questions?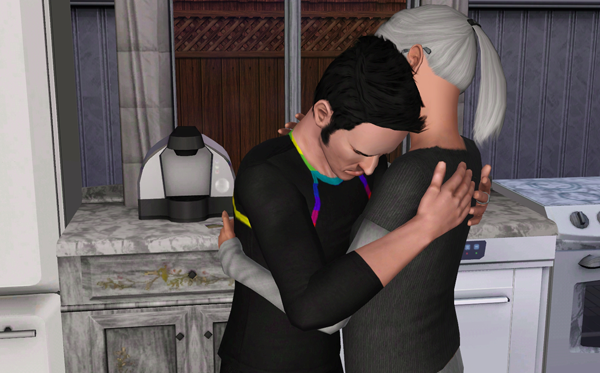 Mort: I AM UNHAPPY! I am so very unhappy with my situation!
Mimi: There there..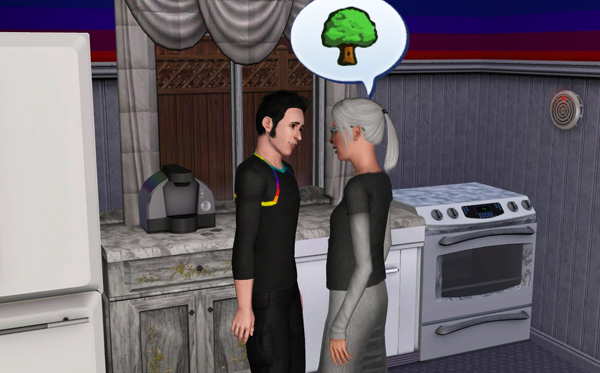 Mimi: It's perfectly natural to be attracted to me, I'm one of nature's masterpieces..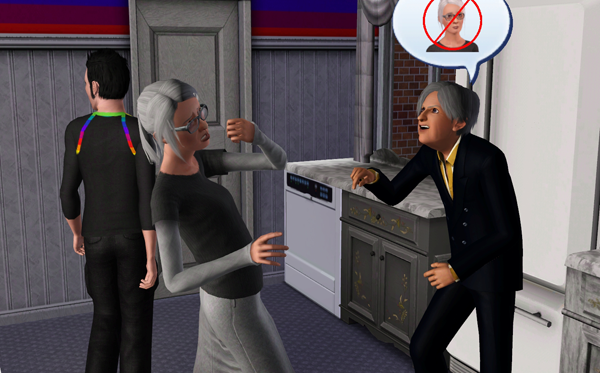 Leroy: Okay woman, what do you want? Is breaking our daughter's marriage not enough for you?
Mort: I'm outta here!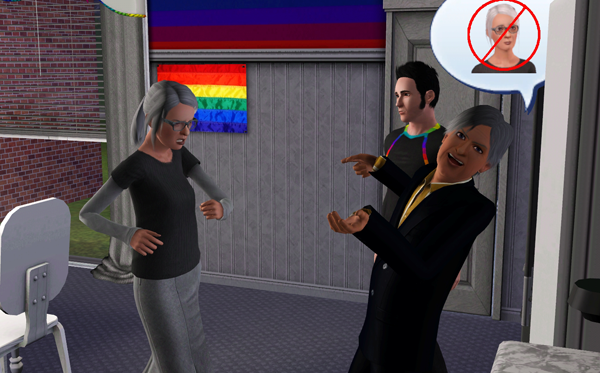 Leroy: What do you say, readers? Should I divorce this woman?! EH!?
Mimi: Nooo..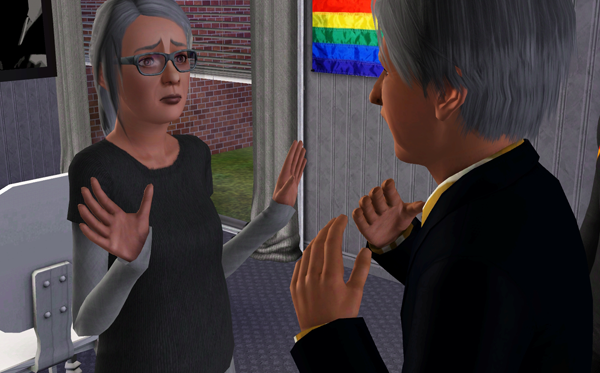 Mimi: I can't help it, my dear. You must understand, I love you so much and we've come so far already. I don't want to die alone and I'm sure you don't either.
Mort: WAAAAA. JEE-EEE-EEET.
Mimi and Leroy: Person person plus <3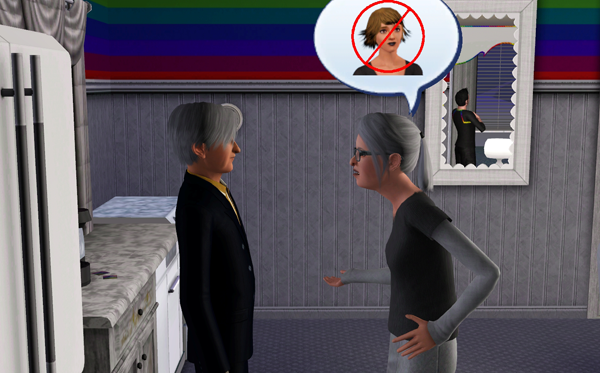 Mimi: What's with Jet anyway, she totally damned me behind my back when I apologized yesterday! Has she no respect for her parents?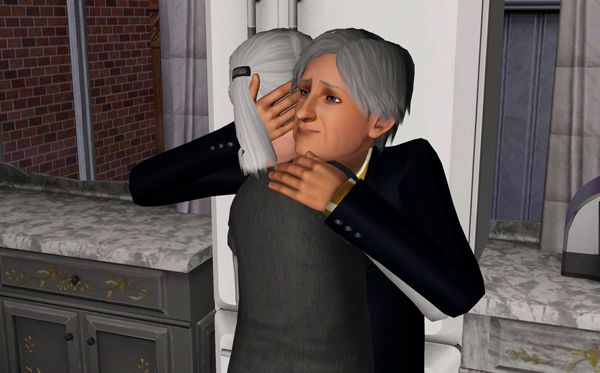 Leroy: Oh, I love you, my little weirdo..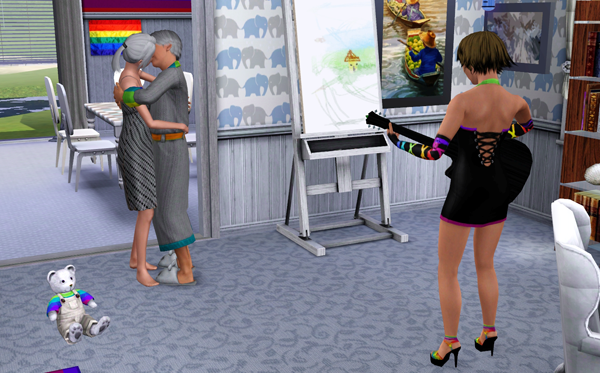 Jet: ...So I wrote you this song
In the hopes that you'd forgive me
Even though it was wrong
Being so careless with a thing so great..
*Bonus points if you know that song*
Mimi and Leroy *are totally in love again*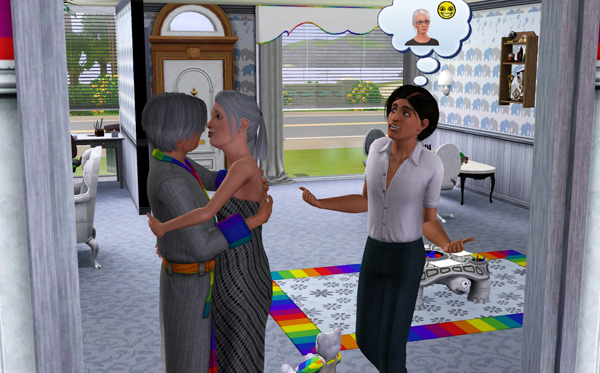 Maid: OH YEAH, GIVE ME SOME OF THAT!
And here I thought my legacy sims were a bunch of weirdos.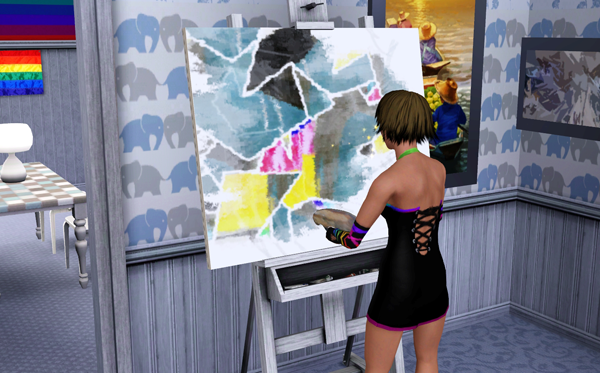 What.. is that?
Jet: It's a painting of my mother, duh! Can't you see?
No.. I mean.. really!?
Jet: You took a screenshot and made me paint it so I am, if you don't like it, it's your own fault.
It looks nothing like it!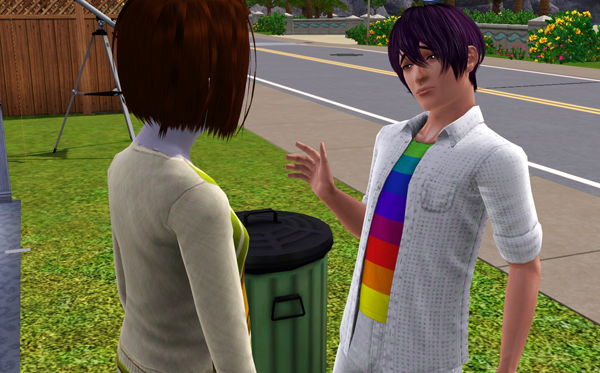 Cocaine: Hey, Tabitha, right? I heard from my brother that you're a loner, like me.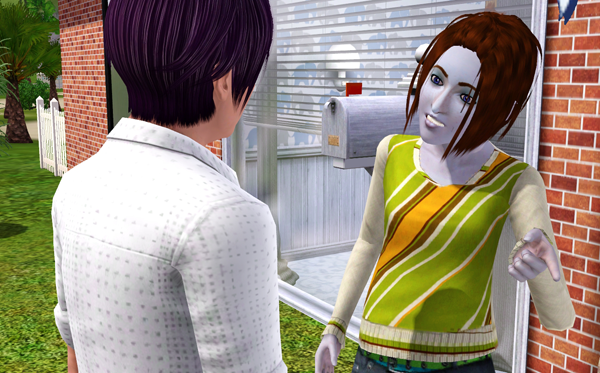 Tabitha: If we start dating, you'll protect me from your older brother, right? He creeps me out!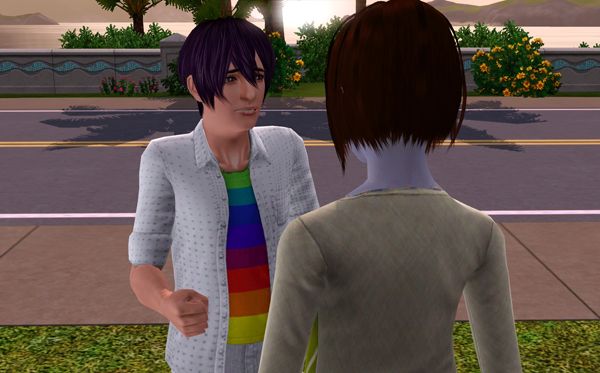 Cocaine: Light? He's harmless, Cloud is the one you need to worry about! He's my evil twin brother.. literally!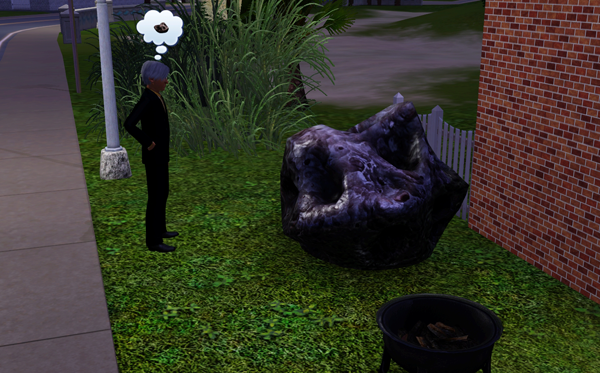 YES. I have something to remember you by once you're dead! I can keep it till the last generation of Chimerees is born and show them this.. it's amazing!
Leroy: I'm not dead YET woman!
Tabitha's sister Ustiya has cool bone structure!
Cloud: I'm gonna kill you.
I did that joke last chapter, Cloud.
Cloud: Why do i have to be the ignored one?
Someone's gotta do it!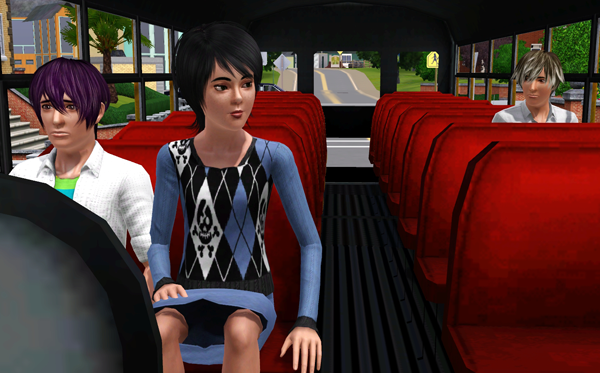 Light: Why's she sitting with Cocaine when I am the one bringing her home?
Myf: If I make him jealous, he will want me more, right?
Cocaine: Not sure, he threatened to kill the last girl that rejected him.
And yet..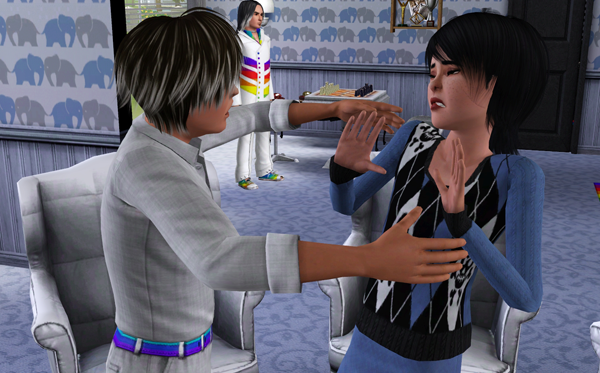 Myf: I have a boyfriend, don't touch me!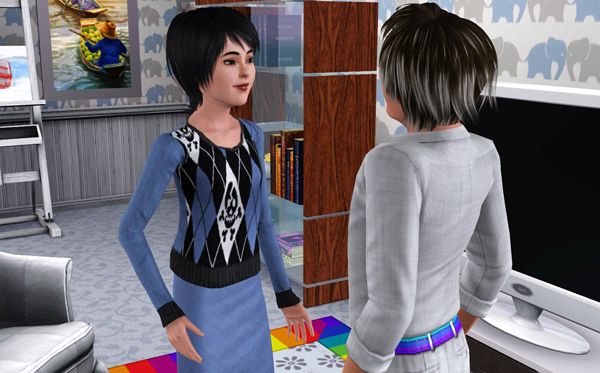 Myf: You're a nice guy and I like you as a person.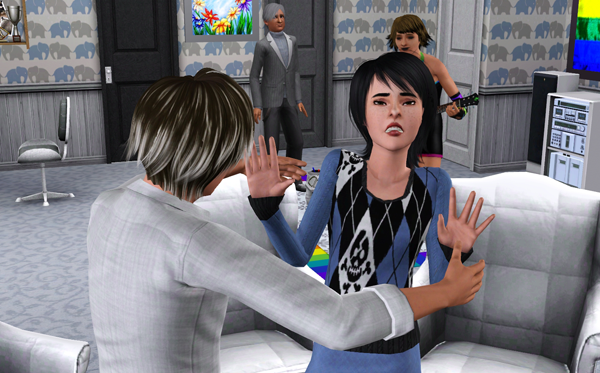 Myf: PERSONAL SPACE! And I told you, I have a boyfriend!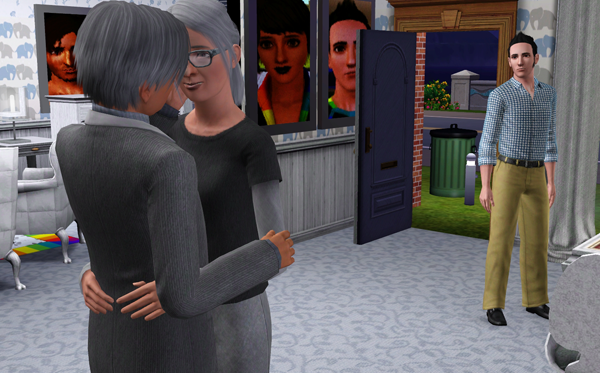 Mort: *sigh*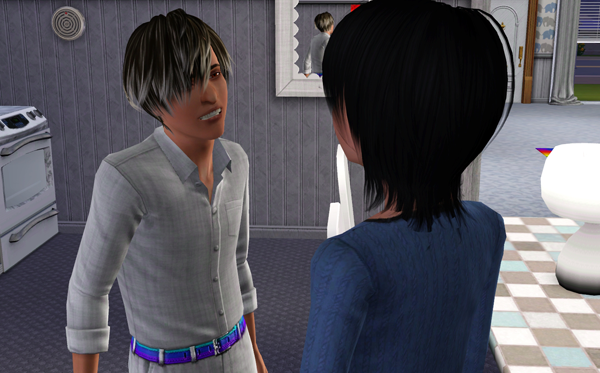 Light: I was thinking since we've become good friends, how about you break up with Mack and get it on with me instead?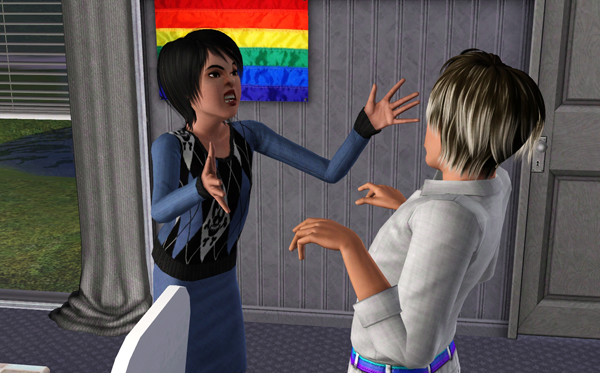 Myf: You want me to choose between you and Mack!? I choose Mack! Now leave me alone!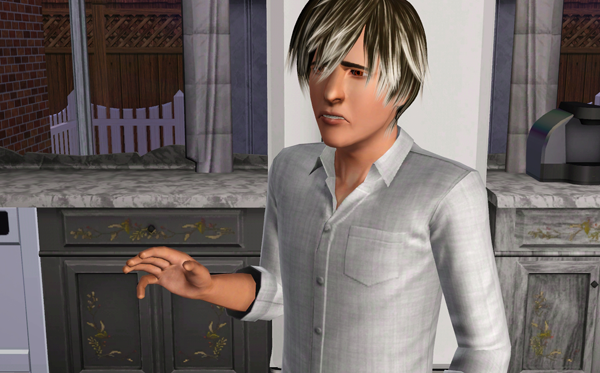 Light: Oh.. I was sure that would work...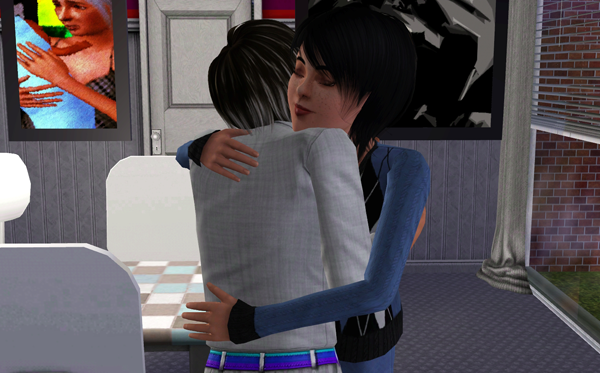 Myf: Here, have a friendly hug. I've gotta go now though, I promised I'd call Mack <3
That same night I got a message from Story Progression saying Myf and Mack had broken up. Guess she changed her mind!
There, now both Leroy and Mimi have gotten electrocuted. It's all good now.
This was BTW
annaf94
's simself's stereo she wanted fixed.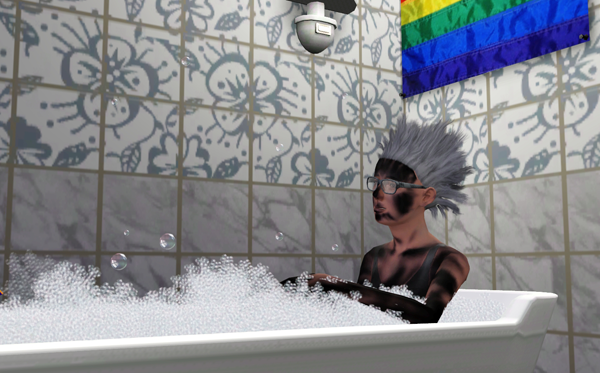 ....oh.. moments like these. Funny.
Mimi: I like bubbles. Hello little bubble friends.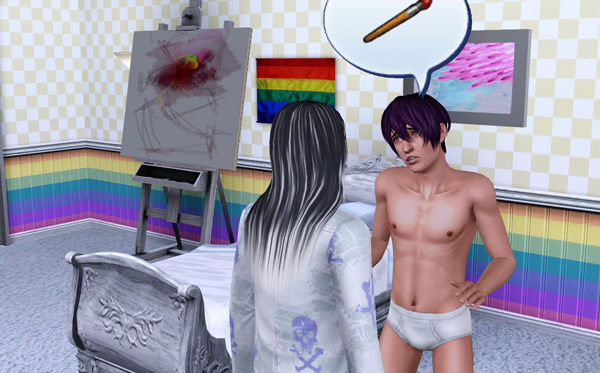 Cocaine: I really like your paintings, brother. It's like we two are the artistic brothers. We're a package.
Cloud: Thanks for trying to make me feel better, but I'm still the ignored one. But not to worry! I have a plan to take over the world using my evil paintings! KEKEKEKE..
Speaking of evil..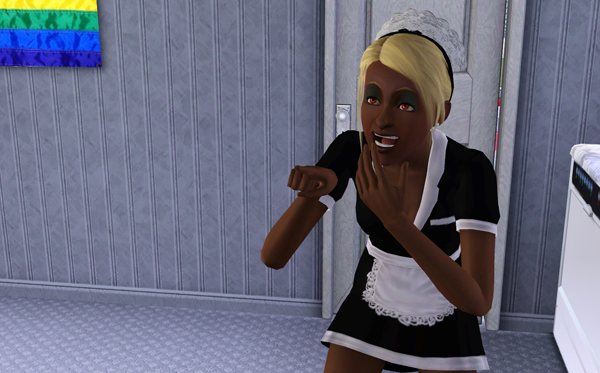 Maid#2: YOU PEOPLE SUCK!!! HAHAHA YOU ARE SUCH LOSERS.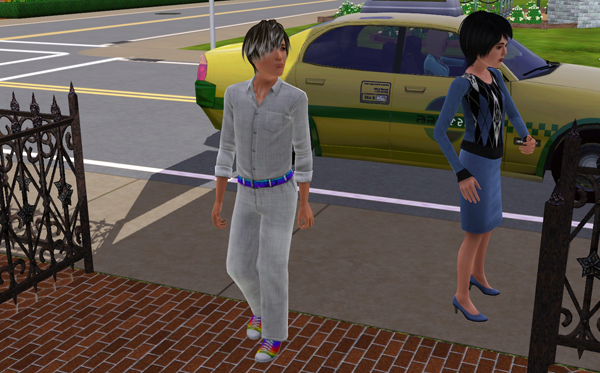 Light: Thanks for coming on this date with me. You made the right choice, picking me.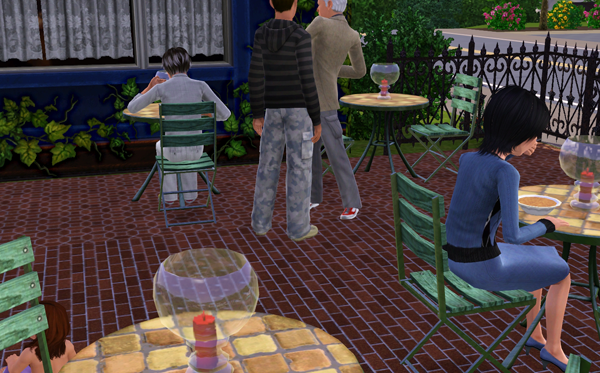 They obviously have not been on a date before ever.
You're supposed to be sitting by the same table!
Myf: Your eyes are so captivating.. red. So mysterious.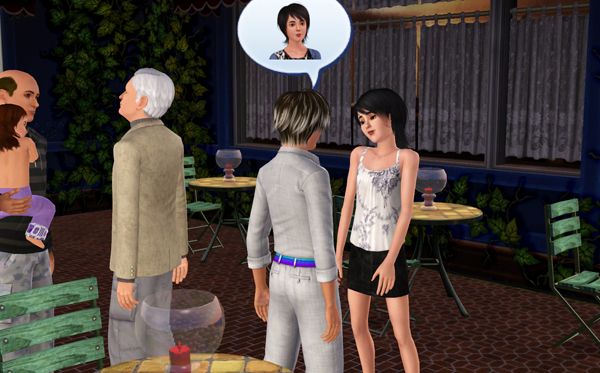 Light: I like this outfit better than that blue one, it has a shorter skirt.. hehe..
Myf: Oh, Light!
Light: So.. uh..
Myf: So..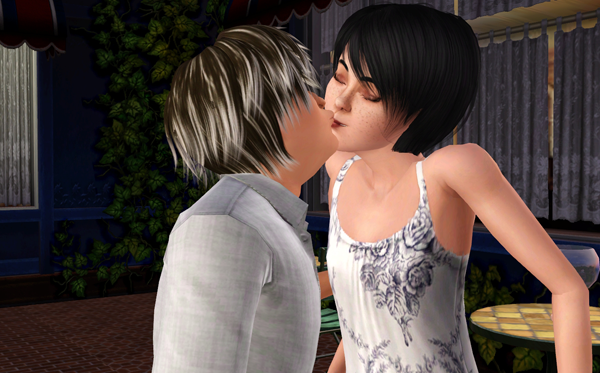 *Cue cheesy romantic music*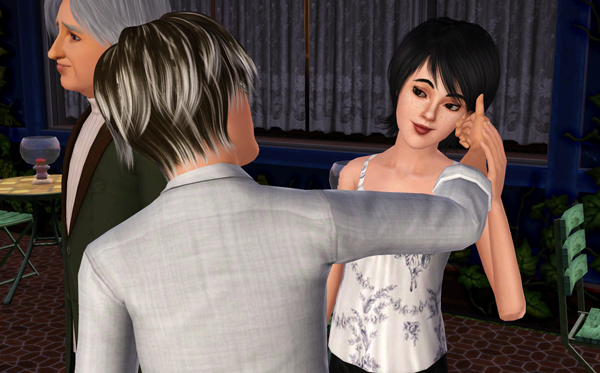 Light: Your skin is so soft and pale and beautiful..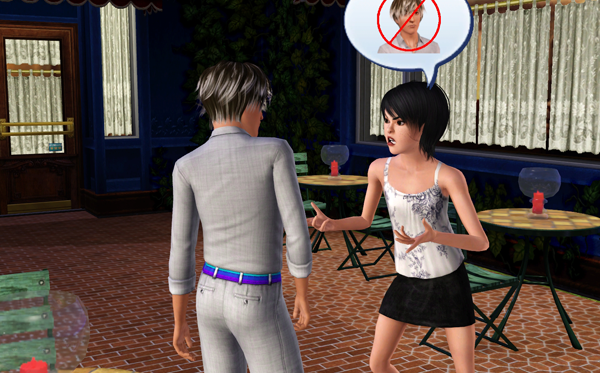 Myf: I can't believe you made us sit in different tables! That is so lame, Light! How could you treat me this way!?
Light: What in the world..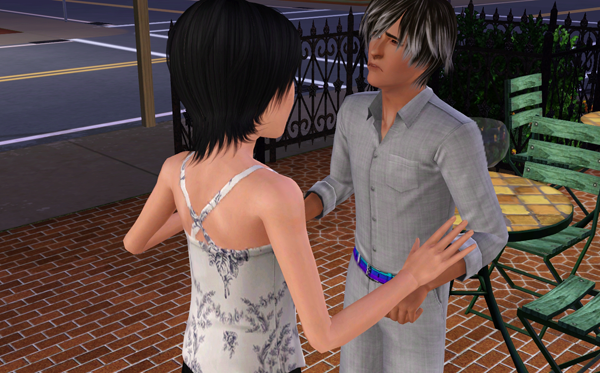 Light: I'll do better next time, I promise! Just say we're steady and I'll be happy!
Myf: Okay okay..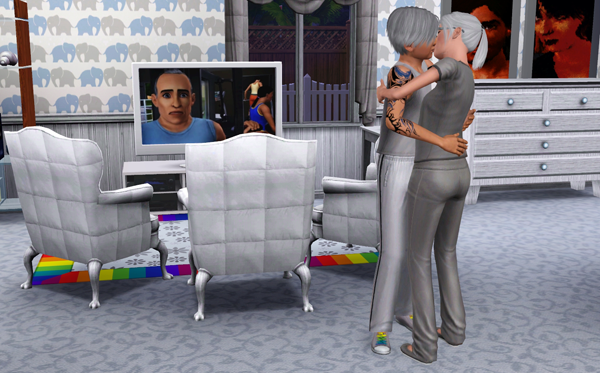 Mimi and Leroy *are at it again*
And they're so skinny! Leroy used to have some meat on his body but now he's just skin and bones, too much cardio workouts!!
No athletic sims in next gen! I hope..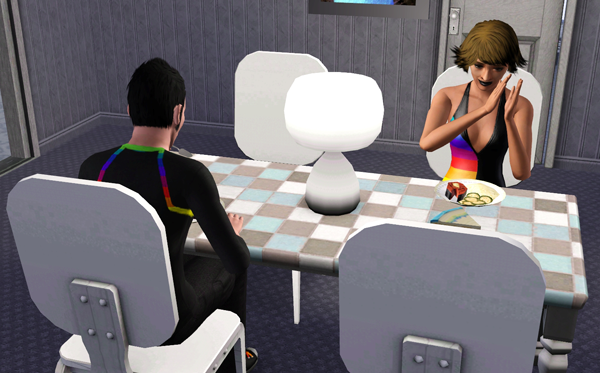 Jet: Ooo! Grilled Salmon! My favourite!! Too bad I'm the only one who can make YOUR favourite food, eh? You'll never have French toast AGAIN.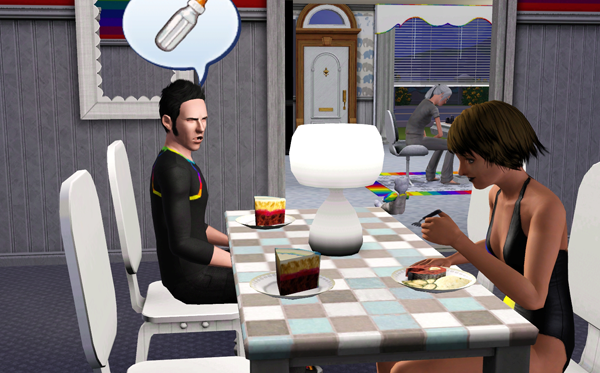 Mort: I'd rather eat baby food than anything prepared by you.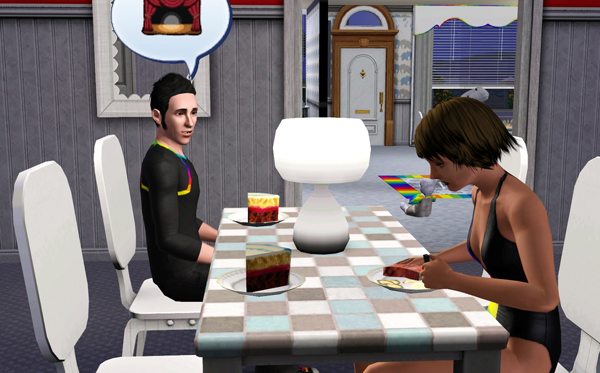 Mort: I'm kidding you know that right?... Jet?... I love you?
Jet: OMNOMNOM.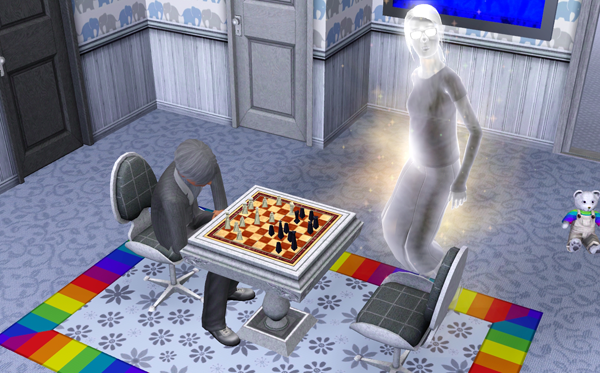 Mimi: Ah man! I was gonna win the next time he moved!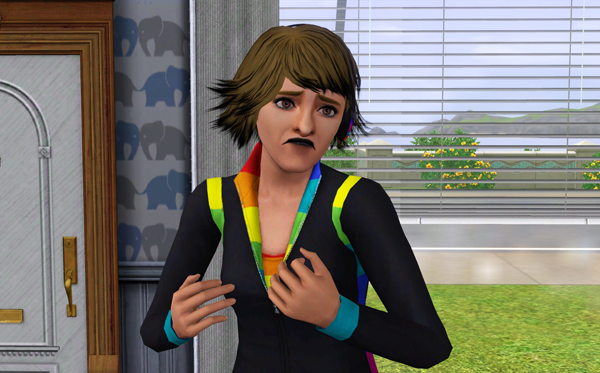 Jet: Mother?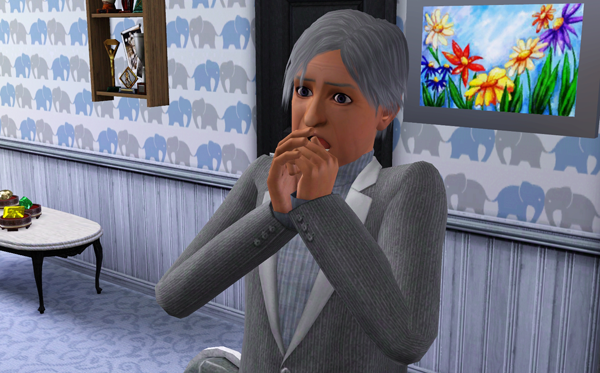 Leroy: GASP!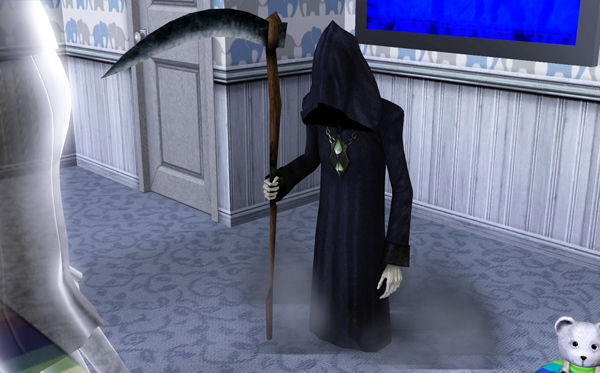 ........Adam, have you lost weight?
Adam the Grim Reaper: Nobody's called me by that name in a long while, Mariah, dear. And yes I believe I have!
Yeah I figured, it's a legacy, we'll be seeing you around quite a number of times, might as well get to first name basis.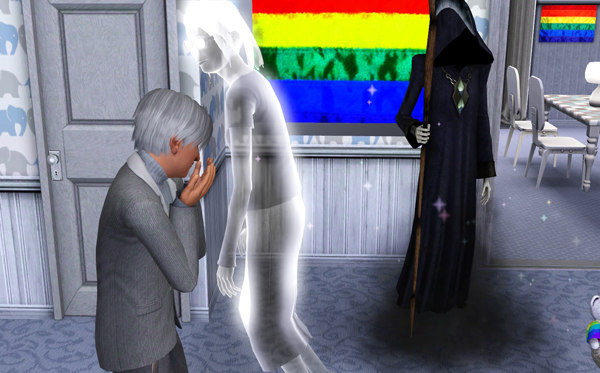 Mimi: Be strong, my dear.
Leroy: WAAAAAAA!! I shouldn't have married an older woman!!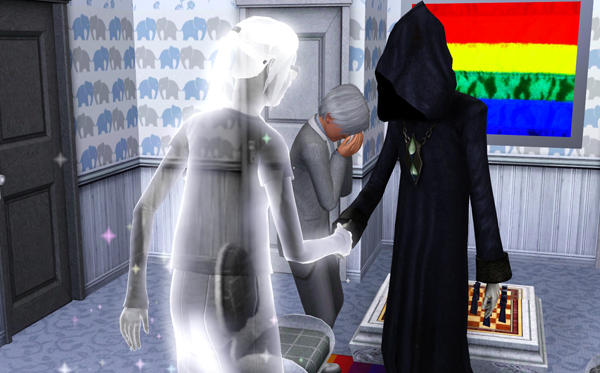 Adam: Nice to meet you, Mimi. The gym is next to the poolhouse and mirrors on every wall in case you need to check yourself out.
Mimi: Very nice. Very nice indeed!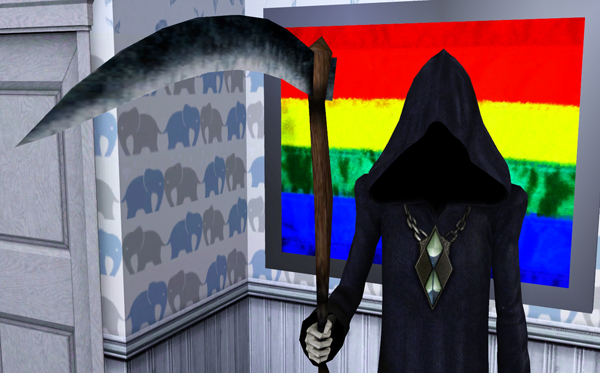 Adam: See you once your founder passes, M.
See you around. And be kind to Mimi.
Mimi Collins, the founder's wife. She was a strange woman but a kind one. She was addicted to chess, checking herself out in the mirror, working out and kissing her husband. She gave birth to daughter Jet and son Tar and has been a wonderful grandmother to Light, Cloud and Cocaine, all boys. Although she did flirt with her son-in-law and helped ruin her daughter's marriage I could never be mad at her.. there was something about her that prevented me for doing so. Thank you for co-founding, Mimi.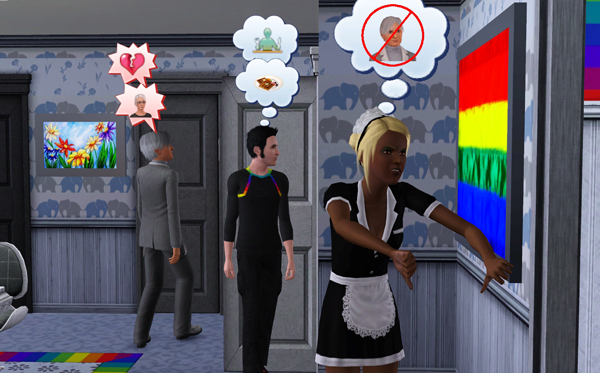 Maid#2: BOOOO. Leroy SUCKS.
His WIFE, who he loved dearly, just DIED. Do you enjoy being un-employed!?
Leroy: I'll be in my room crying my heart out if anyone needs me.
Mort: I'm hungry for some waffles.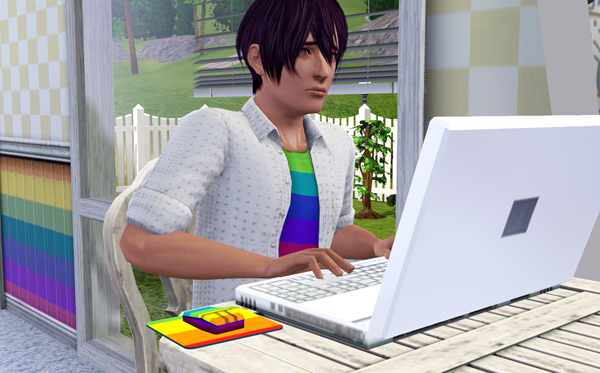 Cocaine wills surely find a way to add this plot to his novel.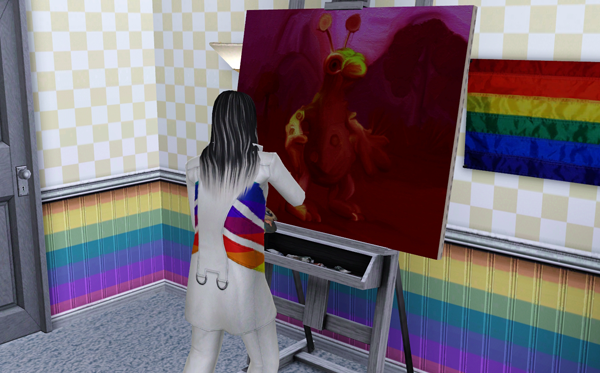 Cloud... hmh.. nicw work, RED generation will surely like this painting.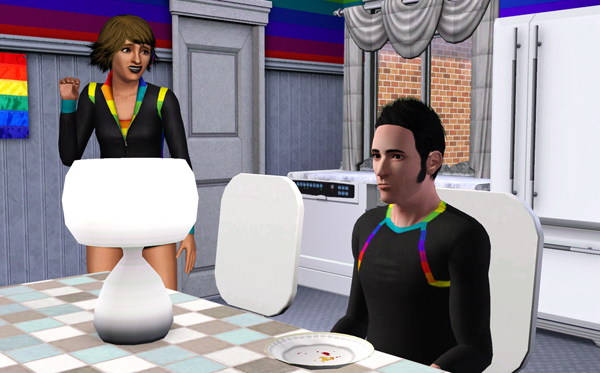 Jet: Hi, I'm Mortimer "doo-doo-head" Chimeree and my lover just died and I'm so sad.. waa waa waa.
Mort: This is not funny any more.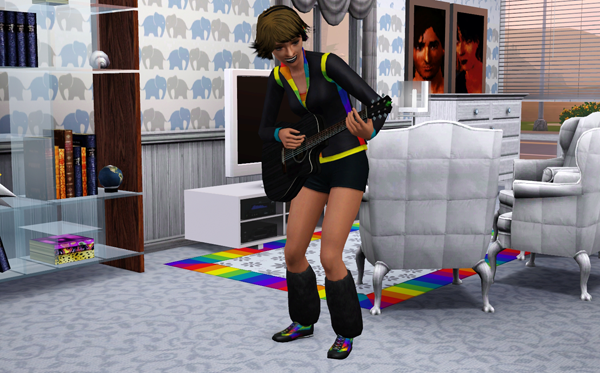 Jet: And when she passed away
I cried and cried all day
Alone again, naturally..
*More bonus points if you know THIS song*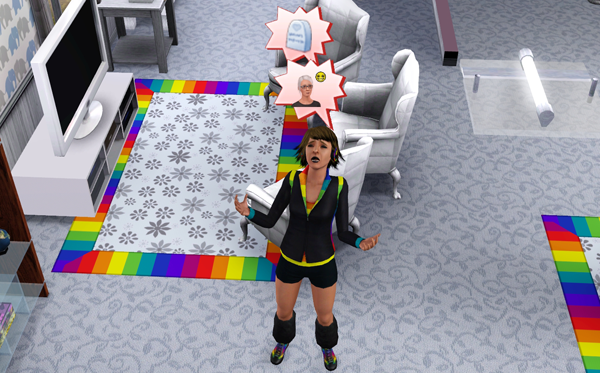 Jet: Why did you DIE? D: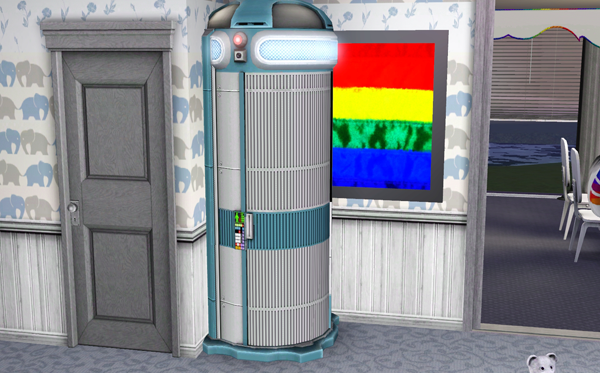 That last picture of Jet playing the guitar was actually meant for her maxing the guitar skill.
For that we got this.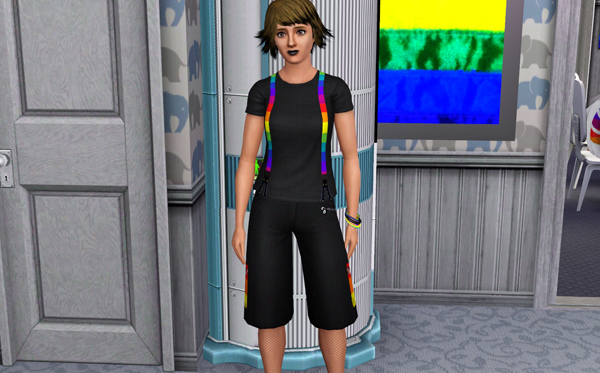 I used it to add some meat to Jet's bones.. not all too noticeable, but anyway..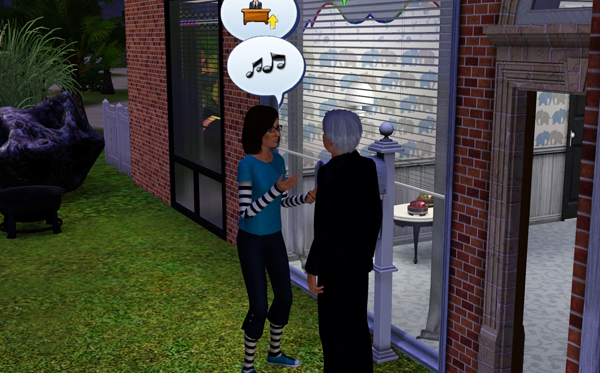 Francie: I got PROMOTED!! YAY!
Leroy: That's great! I've got news too!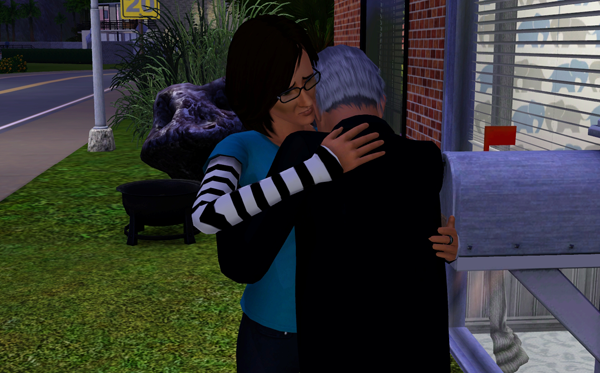 Leroy: MY WIFE DIED!!
Francie: Oh my god.. I had no idea! I'm so sorry, Leroy! Say.. does that mean I'm never gonna be able to get my stereo back?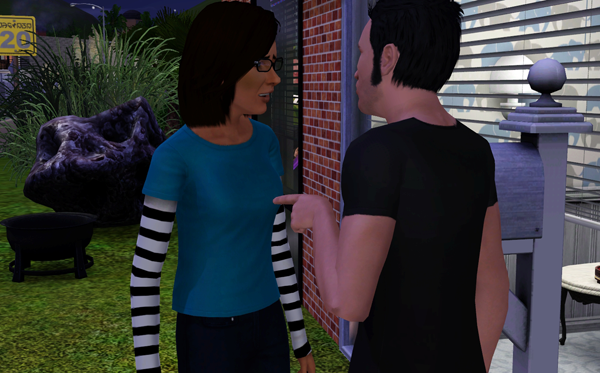 Mort: So.. hey pretty lady, nice rack.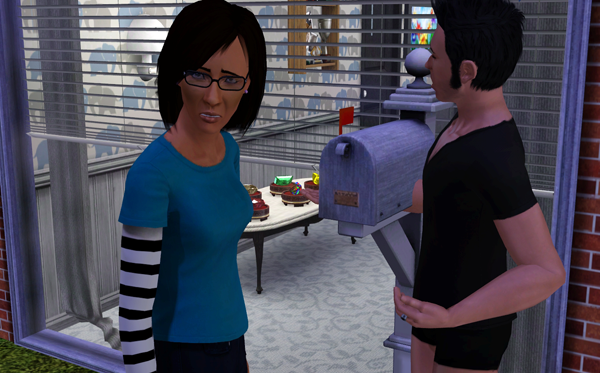 Francie: If he thinks he's going to get with me, he's CRAZY!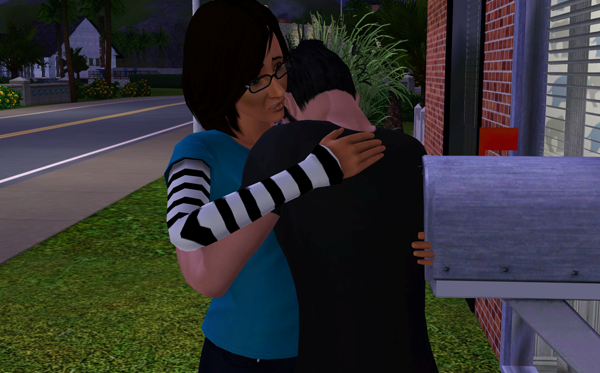 Mort: MIMI JUST DIED!! WAAAAA...
Francie: Yeah.. uh.. okay.. there there..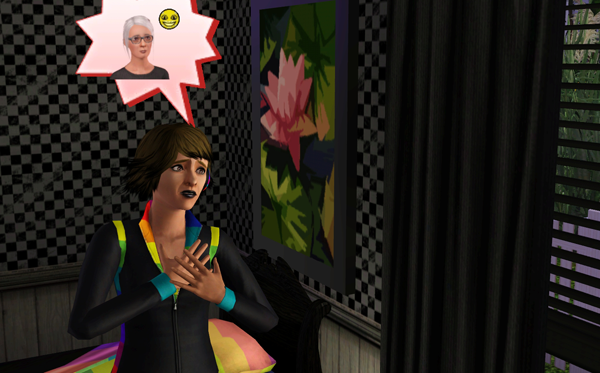 Jet: Mother... it breaks my heart that you're gone..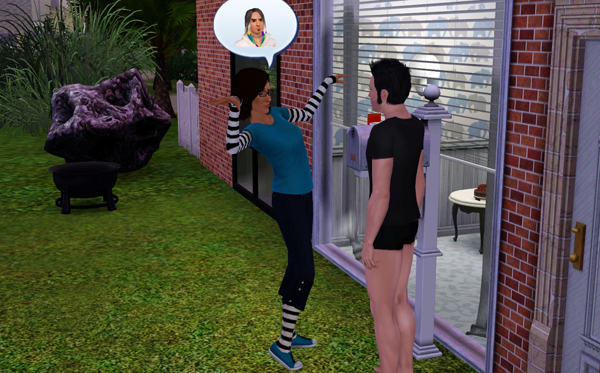 Francie: So I heard Cloud is evil or something? Is it true?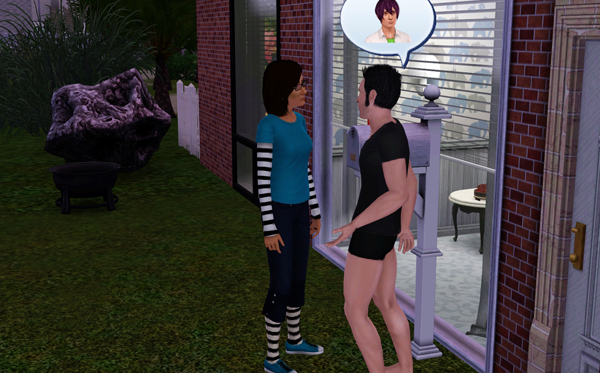 Mort: Yup, but Cocaine seems to be more popular among the readers. He's our little writer.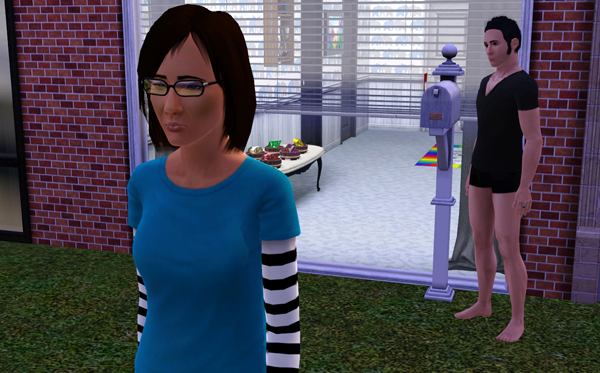 Francie: Gotta go, I have a husband ans son to get home to.
Mort: Wait! I was going to hit on you some more!!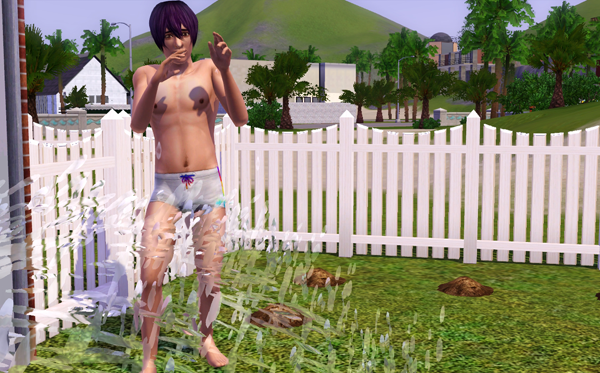 mm.. Cocaine, playing with sprinklers.
Cocaine: Writer's block has got a grip on me. I am looking for a muse.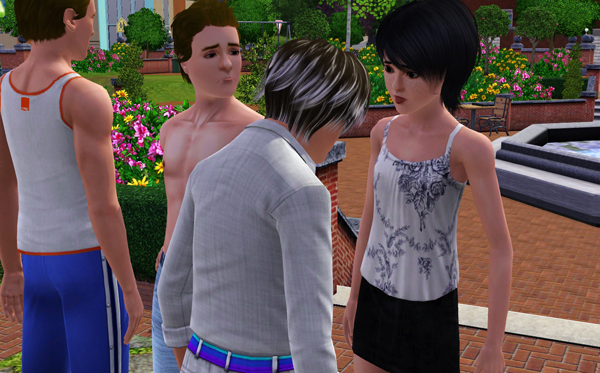 Myf's brother.. can't remember the name: So he's the one seducing my sister, eh?
Light: I.. I'm so unhappy right now, Myf.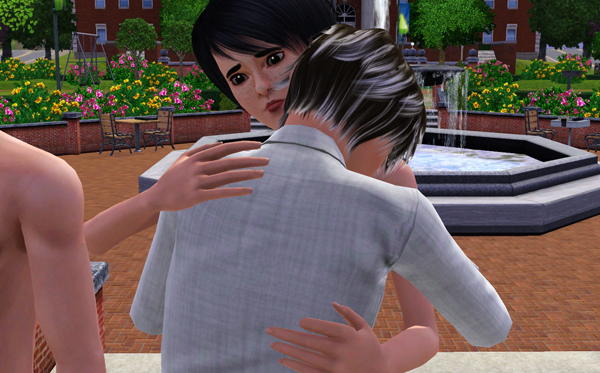 Light: Grandma died!!
Myf: Oh my..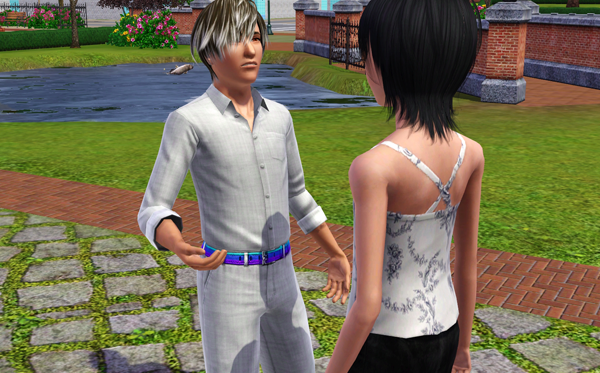 Light: And you'll be growing up soon.. which isn't making it any better.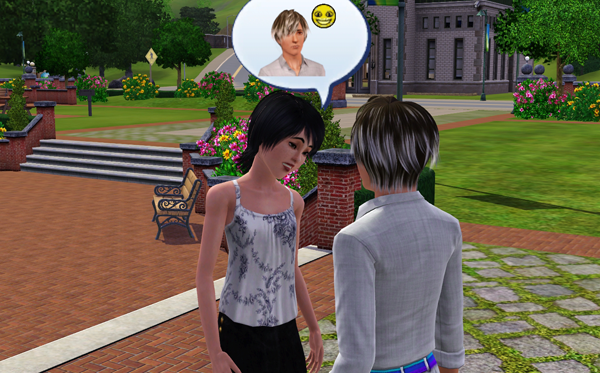 Myf: And I'll be waiting for you to grow up and sweep me off my feet as a handsome Young Adult a few days after I do.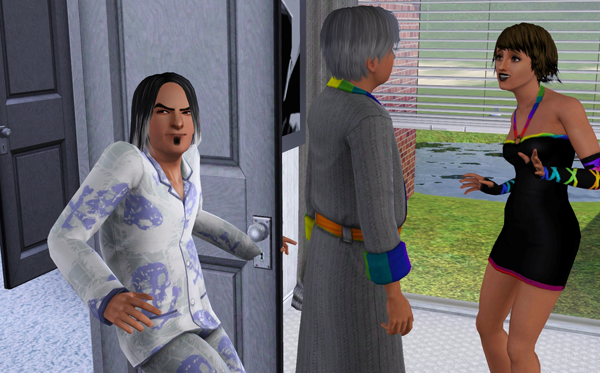 Cloud: Hehehe..
Jet: And I told her, I said, get away from me hussy, go back to where you came from!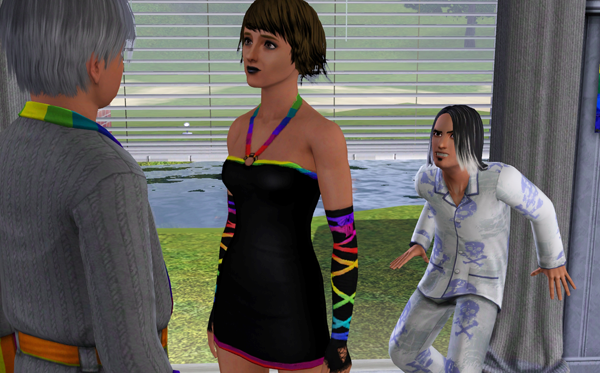 Jet: I feel like this is the calm before the storm or something.
Cloud: Hehehe...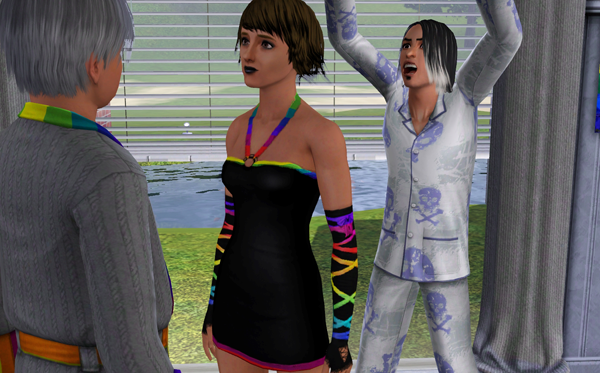 Cloud: BOOGABOOGABOOGA!!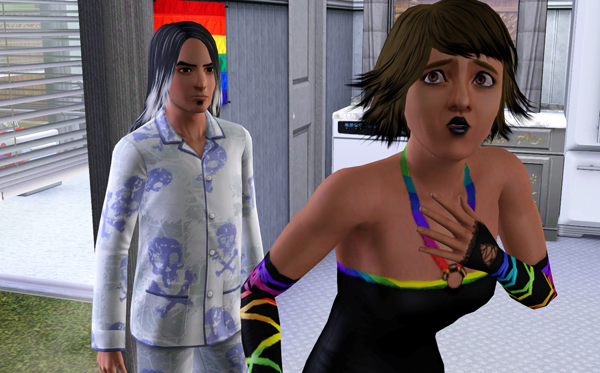 Jet: Oh my goodness.. I was not expecting this..
Cloud: How anti-climatic.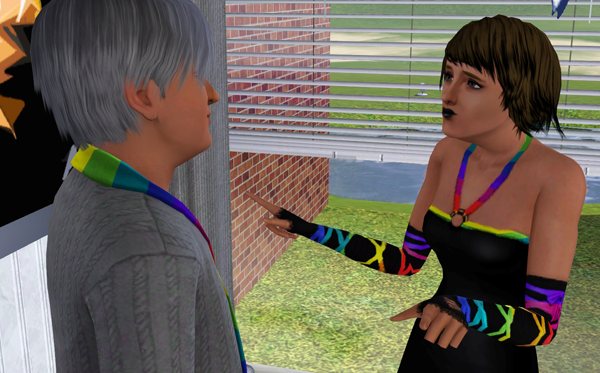 Jet: So I was saying.. she was all slapping me in the face, that hussy!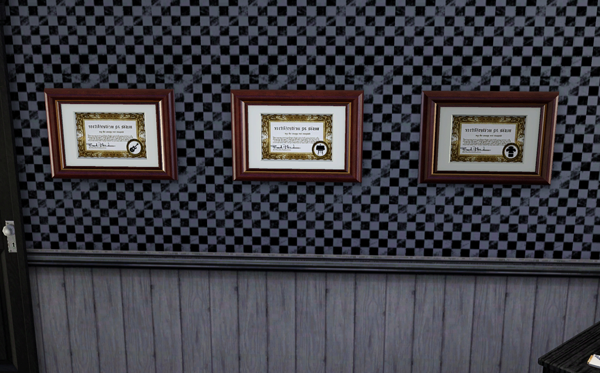 Jet's three certificates looking rather cozy in the wall.
Cloud paints more red paintings.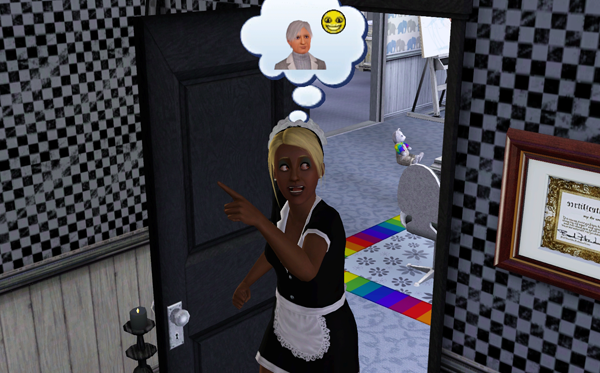 Maid#2: YEAH LEROY ROCKS!!
I guess threatening to fire her worked.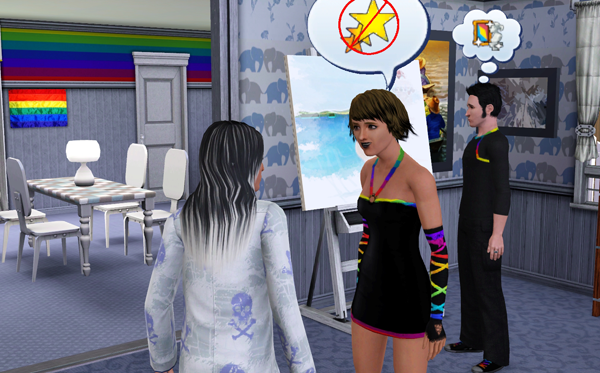 Jet: Pfff... you're ambitious huh?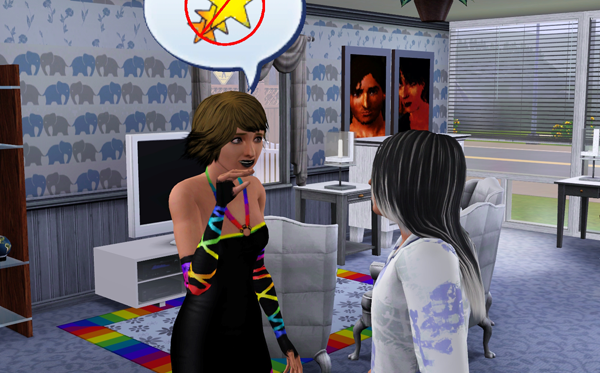 Jet: Look at me, I'm Cloud "I can do art" Chimeree and I will go nuts if I don't gain a skill point every 40 seconds.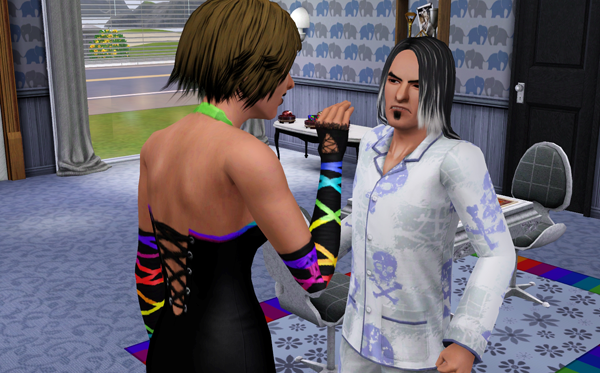 Cloud: Mother.. this is not amusing at all!
Jet: Oh god I just remembered, my mother died...
Cloud: Ahw, mum. You poor girl.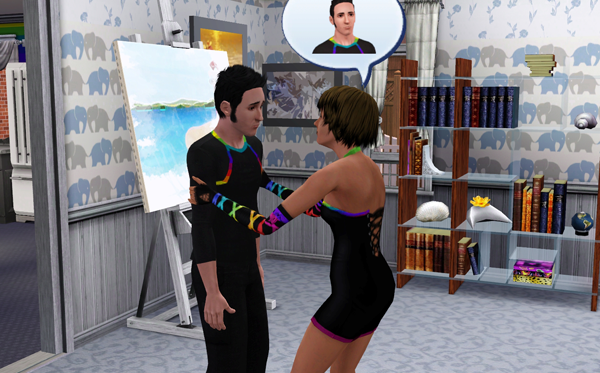 Jet: So, I've noticed Mimi's death has brought you down a lot.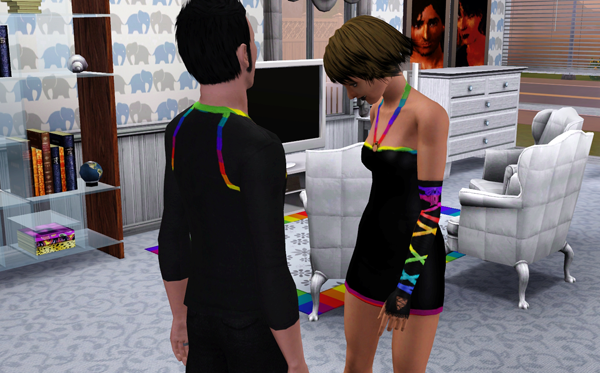 Jet: I thought.. maybe..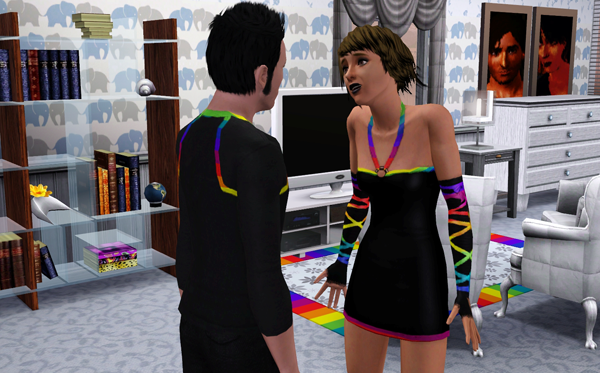 Jet: We could be friends again, I'm hating having to call you my EX-HUSBAND, you know.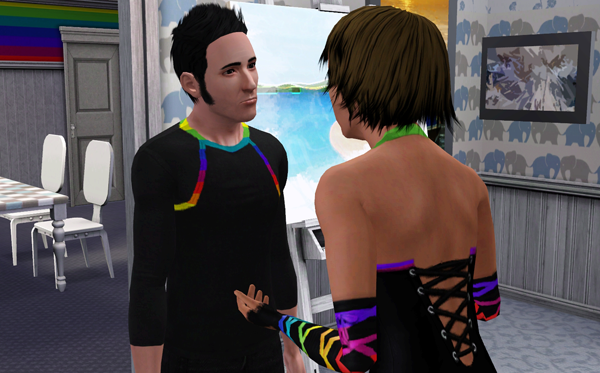 Mort: Friends?... Friends?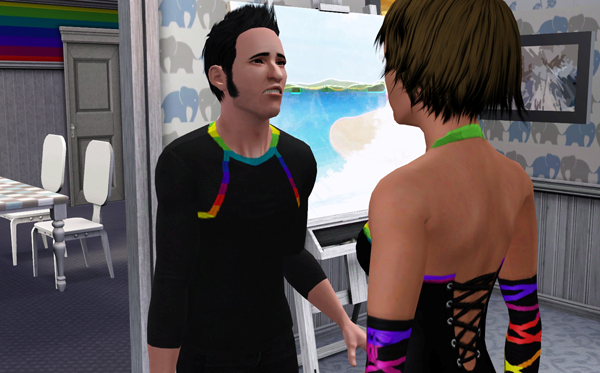 Mort: Nuuuuurgh.... okay.. fine then.
Mort: Let's put Mimi's death behind us and try to resolve our differences.
Painting of Mimi cuddling Light: Yes.. yes.. my masterplan is going into action.
I didn't really like Cloud's appearance, so I changed it. And I like it.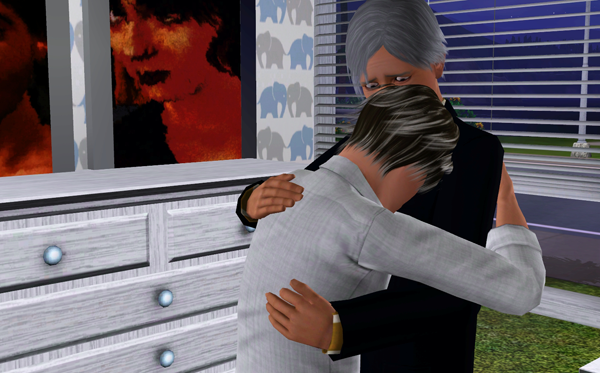 Light: WAAAA. I can't believe the last picture this chapter is of me being an emotional wreck! I should grow up and get over it... BUT I MISS MIMI WAAAAH!
Leroy: Grilled Cheesus, this kid is messed up.. I got over the death ages ago.
Mimi's painting: I like this one, he loved me.
Did you notice Cocaine was the only one who did not cry over Mimi?
Next time: Light, Cloud and Cocaine grow up.
Cloud and Cocaine still have a week left as teens while Light has one day. Should I wait till the twins are YA too to make an heir poll or should I just post a poll now, even though you nor I know their fifth trait?
Thanks for reading and happy simming!