Welcome back!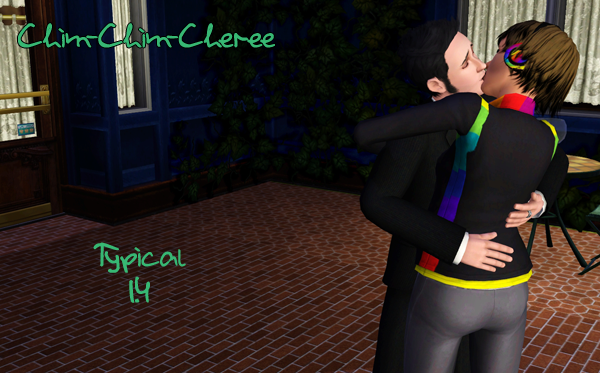 Jet: What you looking at blue-girl?
Blue-girl then got up and left. Jet has influence.
Jet: WHY am I at the POOL?! I HATE the OUTDOORS!
You crazy sim, you need some fresh air.
Jet: That's what we have windows for!
Yeah.. but you insist on keeping them closed!
Jet: TO KEEP THE OUTDOORS.. OUT OF DOORS!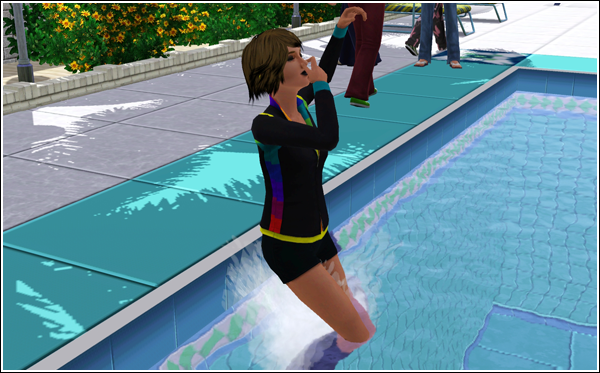 Jet loves her swimwear.. and yet when it's time to swim, she uses her athletic clothes.
Jet: Swimming IS athletic.
Can't disagree with you there.
Jet: HI MUM!
Mimi *stares blankly into the distance*
Jet: Is that, like, her signature look?
I think so.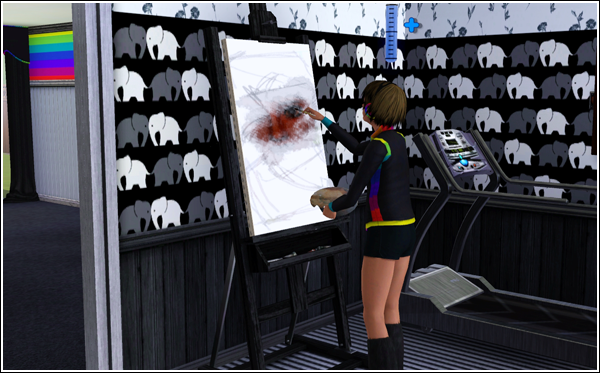 Portrait painting time!!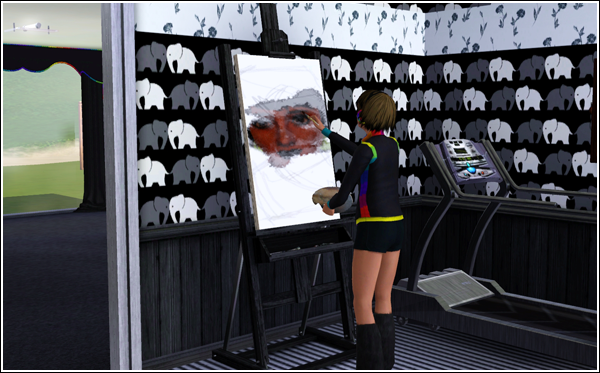 Oh look! No more skill bar! That means Jet finished her first skill!
Two more to go, since she wants 3 maxed skills!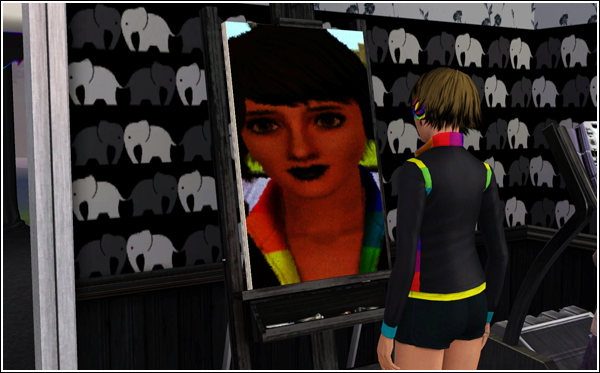 All my paintings come out dark. I am not amused. But it looks good otherwise.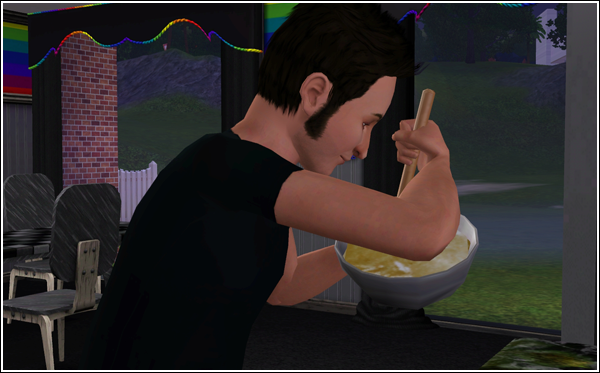 Tar..
Tar: Yes?
We have tons of leftovers and you are starving.. yet you decide to make your own food?
Tar: I am independent!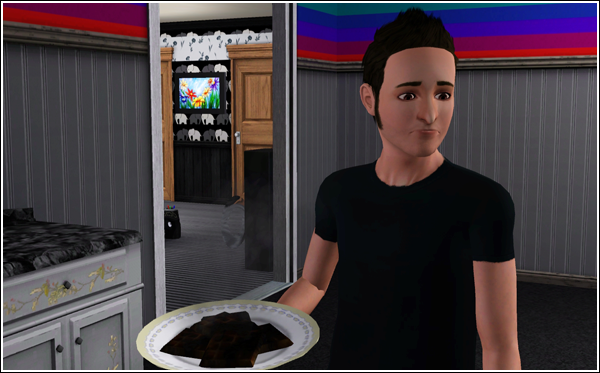 Tar: :(
We all saw this coming Tar.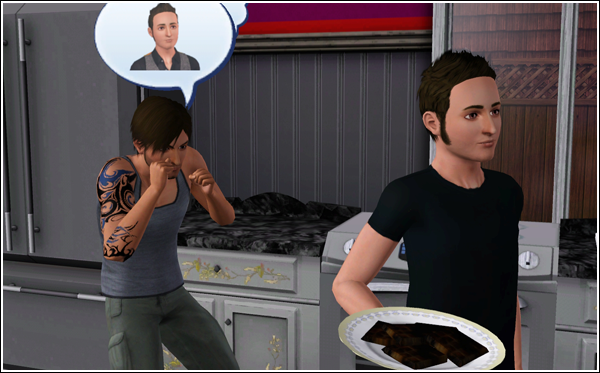 Leroy: My son is such a loser, he burned the waffles!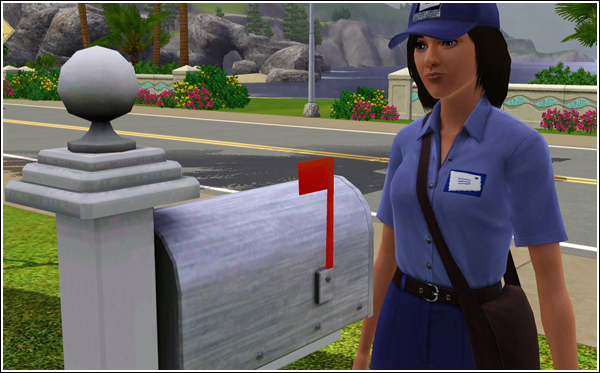 Remember angry mail lady from the last update?
She quit! This lady came to replace her. And she's cute!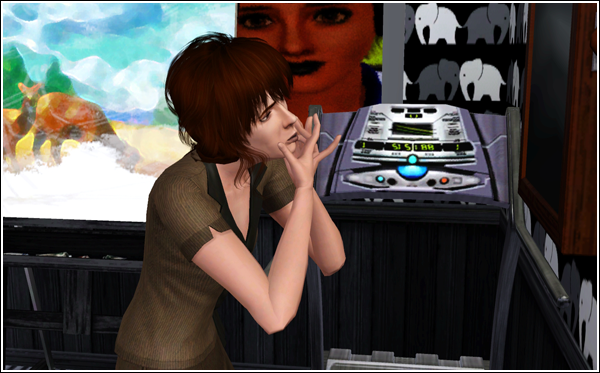 Besides doing blank stares, Mimi checks herself out AT LEAST TWICE EVERY DAY.
Mimi: You do it too.
That is beside the point.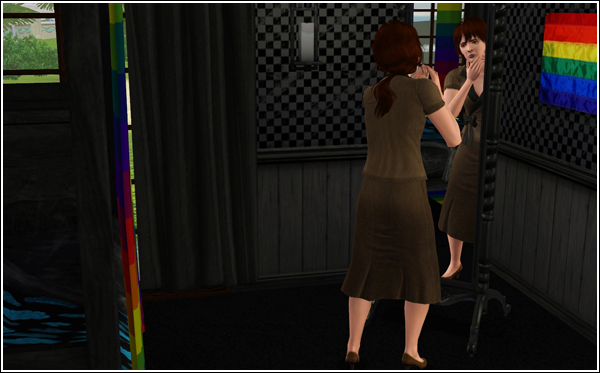 She also uses Jet's room for that.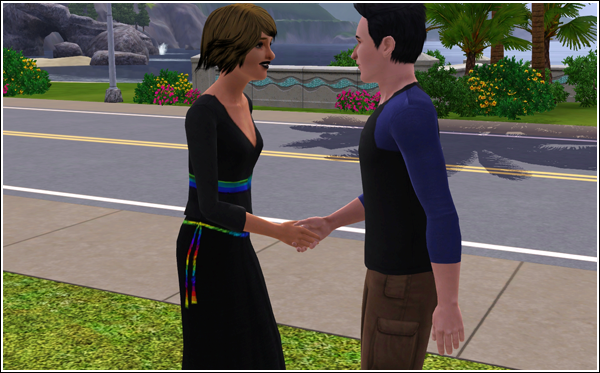 Jet: We're dating. We make out all the time and yet here's a cool-polite handshake for you as I invite you indoors.
Mortimer: How very polite of you indeed, girlfriend.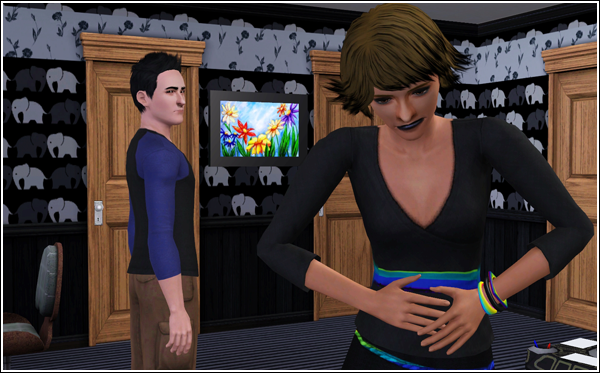 Jet: BUTTERFLIES!!
Mort: Don't tell me she's pregnant already *stare*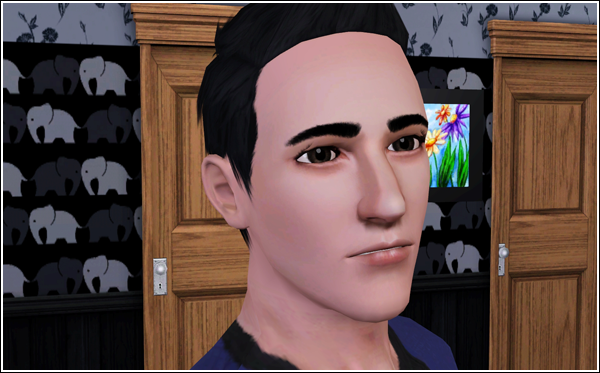 LOOK! His eyelashes go into his eye-socket! UNACCEPTABLE.
I give myself the liberty to give him minor surgery.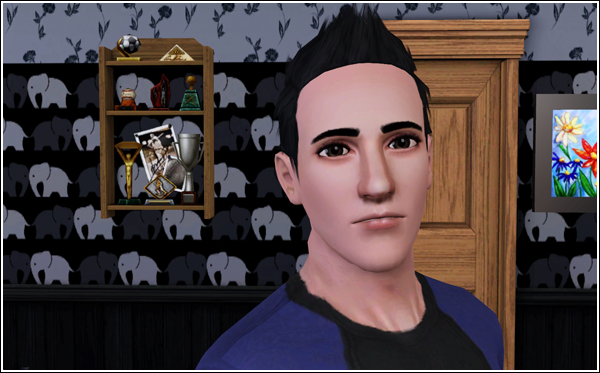 I only lifted it as little as possible and it looks so much better.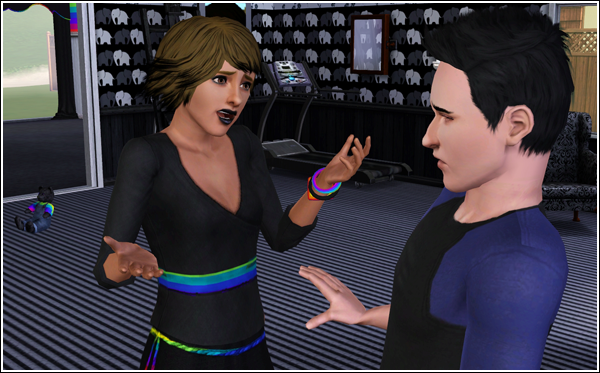 Mort: EW~! No hugging till we're married.
Jet: Uhm.. what?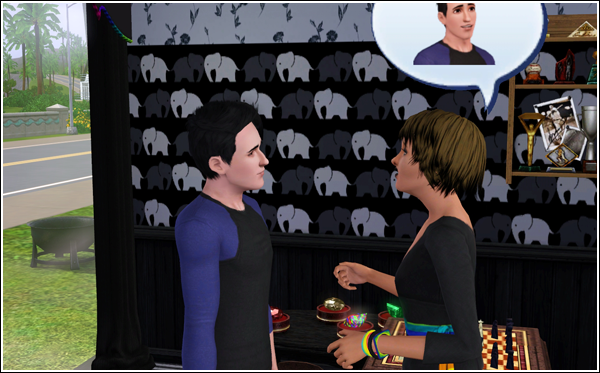 Jet: Turn that frown upside down, love.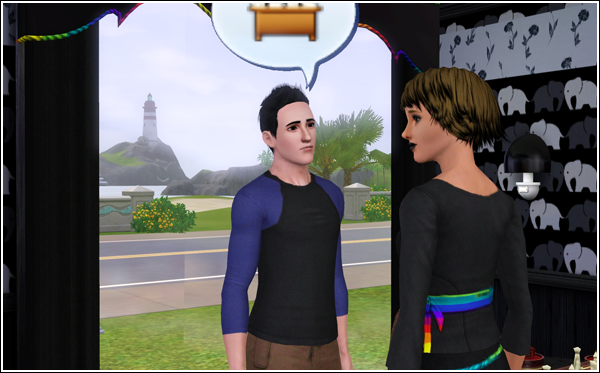 Mort: No. I've had like so much work lately.. all this stress.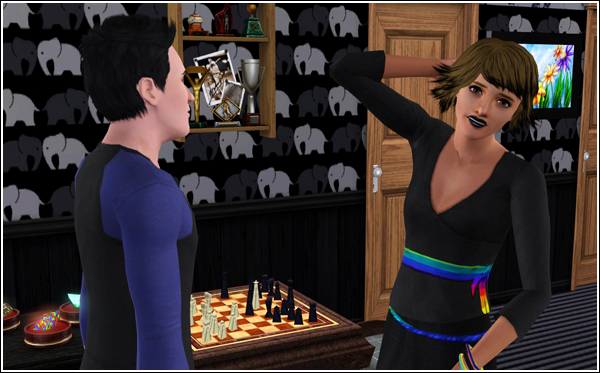 Jet: But.. a hug would cheer you up!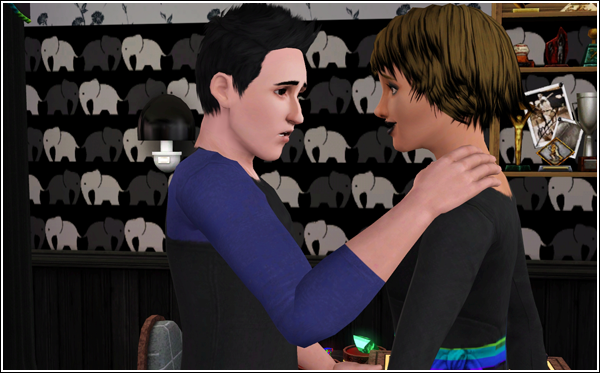 Mort: Okay.. maybe just a little..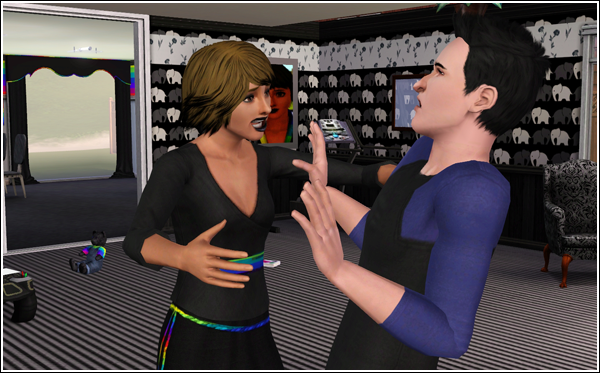 Mort: NO I CHANGED MY MIND, GET YOUR HANDS OFF OF ME!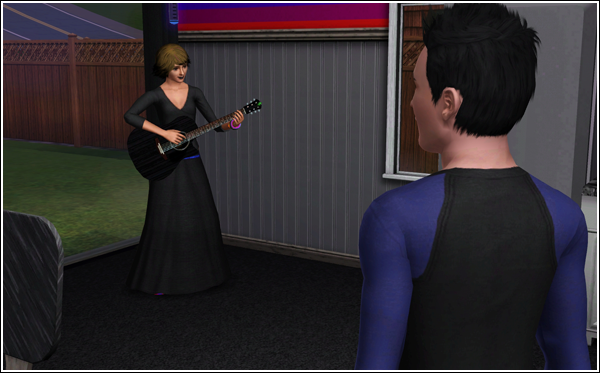 Jet: A little guitar music will cheer you up!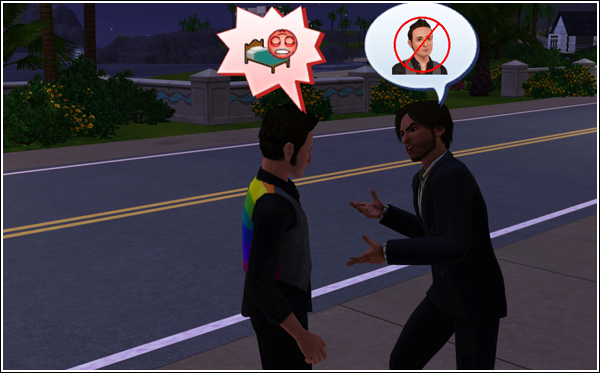 Leroy: YOU STAYED OUT FOR TOO LONG!
Tar: I'm tired.. can I just go straight to my room and think of what I've done as I sleep?
Despite his bad mood, he stayed the night.. they just slept, is all. I didn't want to risk their relationship just to get Jet laid xD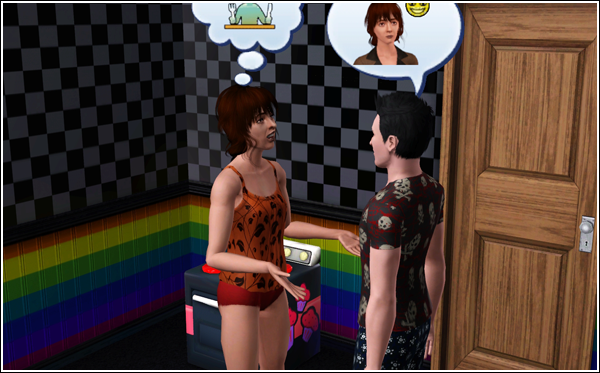 Mimi: I am SO HUNGRY.
Mort: You're funny.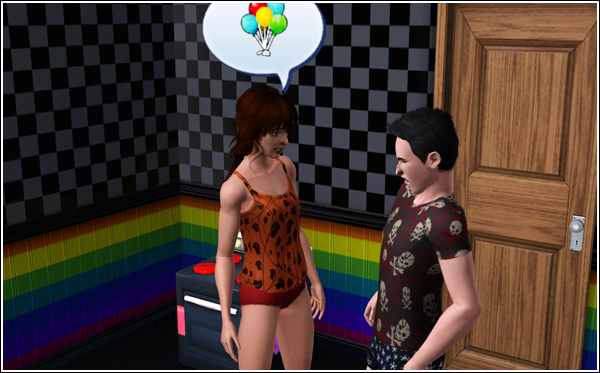 Mimi: Wanna have a party in my pants?
Mort: INAPPROPRIATE!!
I forgot Mimi was flirty.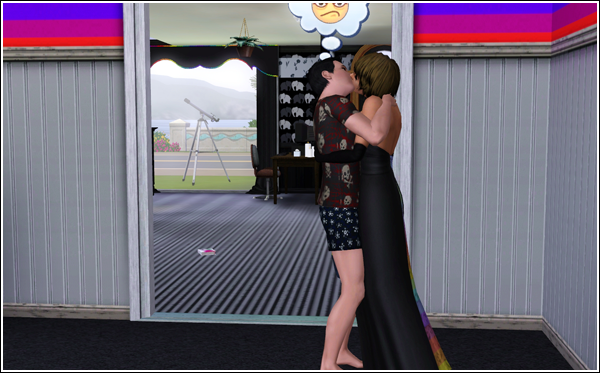 After a night of sleep Mortimer is feeling much better.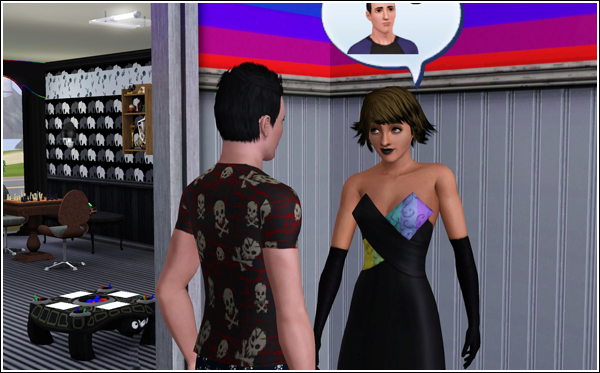 Jet: You make me think of yellow smiley faces.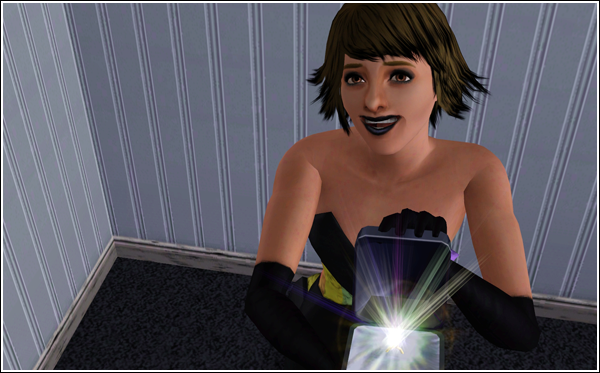 Jet: It also make me think of giving you a lens-flare ring. How 'bout it?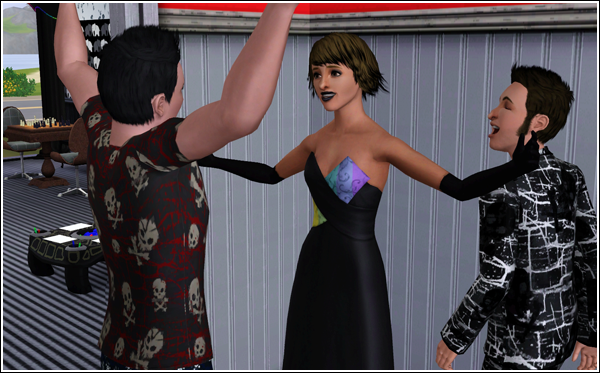 Mort: OMGOMGOMGOGMYES!
Jet: Yay, I now get a hug!
Tar: THIS PLEASES ME.
Leroy: I can't believe she went for that wimp. He needs more muscle!
Mimi: Be quiet, they haven't told us they're getting married yet.
Jet: And I want golden bells and ribbons and yellow smiley faces!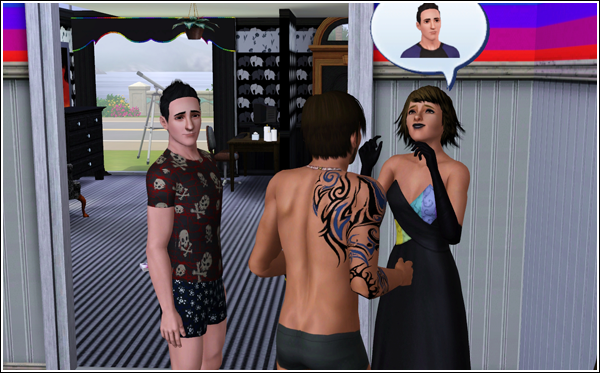 Jet: me and my boyfriend Mortimer have decided to get married!
Leroy: OH! REALLY?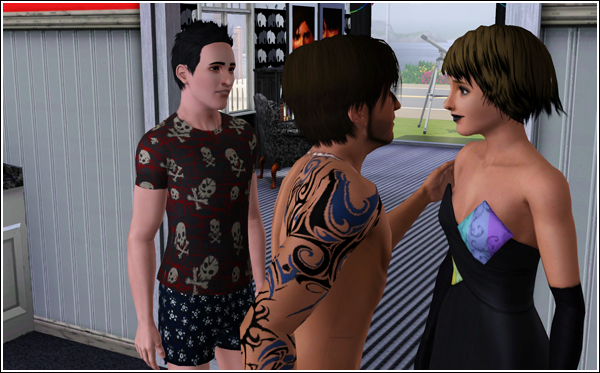 Leroy: Congratulations! He's a fine man for you.
!!Time for presentation shots!!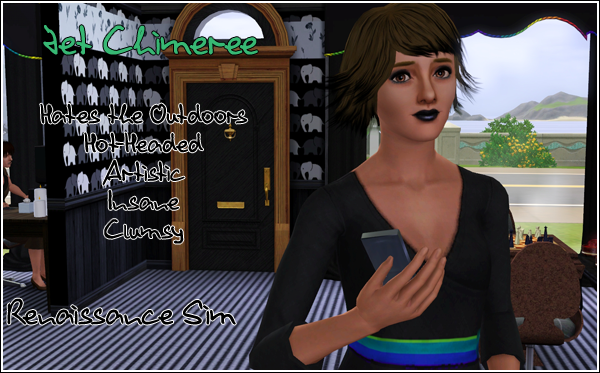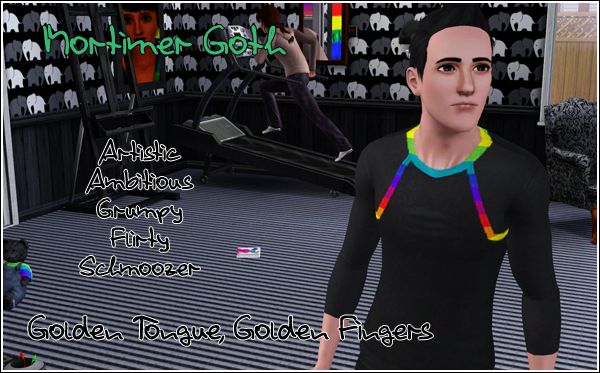 They two strange sims. Love em.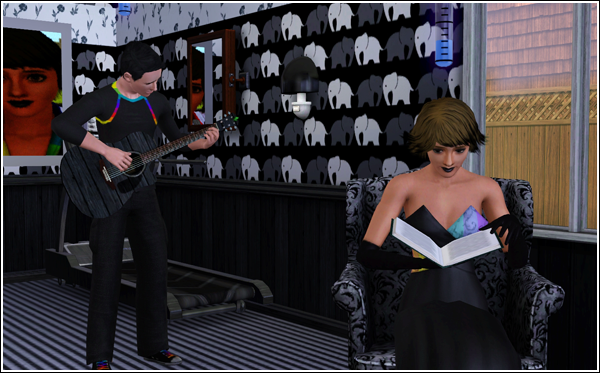 Ahw, they already look like an old married couple. How sweet.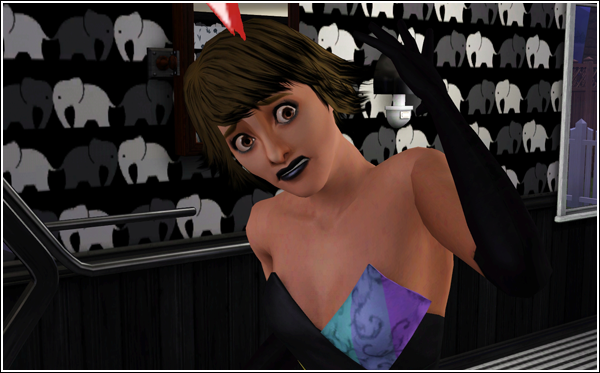 Jet: MISTER LEFTY DOES NOT WANT ME TO GET MARRIED!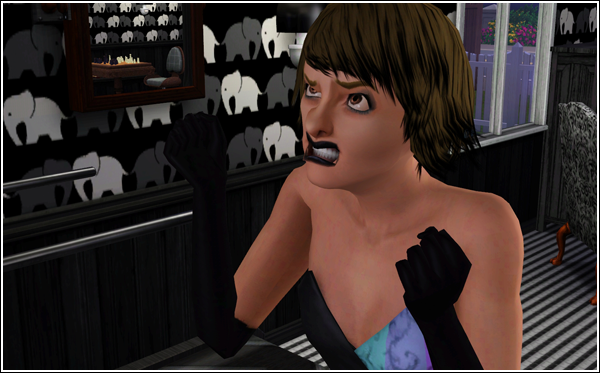 Jet: Damn you Mr.Lefty! Damn you to hell!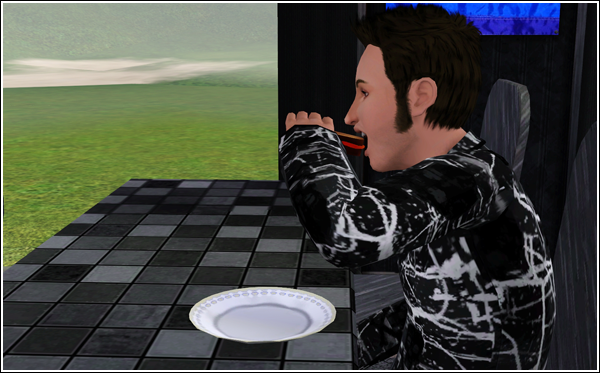 Tar: How about one last sammitch before I grow up?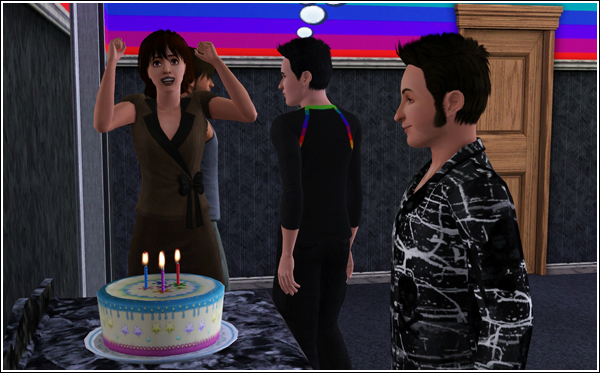 Mimi: YAY! I can take over his garden once he leaves!!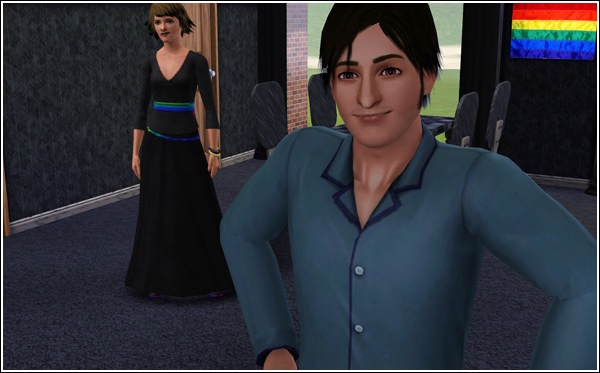 Ler---TAR rolled Charismatic as his last trait!
Jet: Hmph.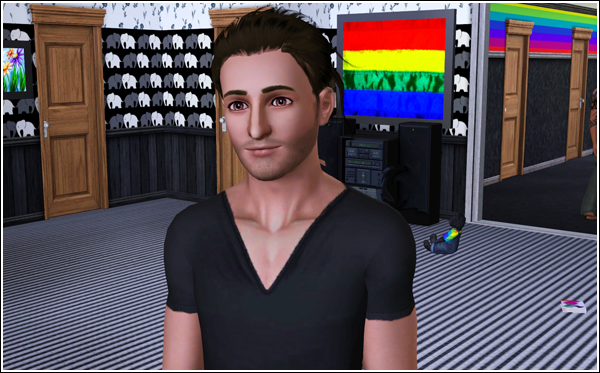 I give him a new haircut so I won't be mixing him up with Leroy for sure!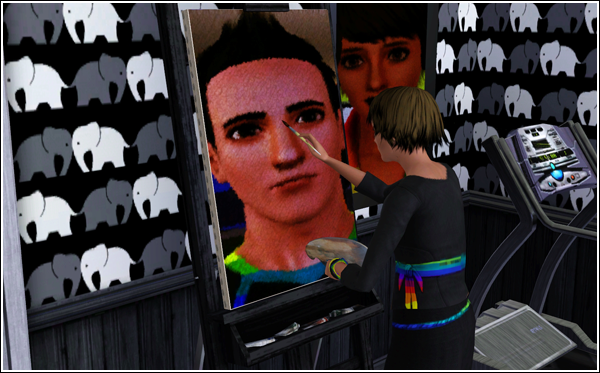 Jet finishes work on his fiancé's portrait. Best so far!
Jet: He deserves the bestest.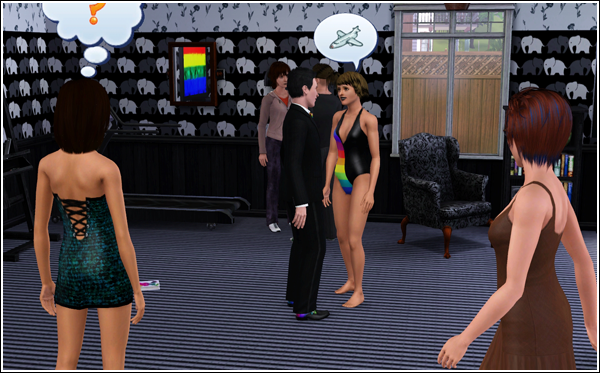 I call the wedding party over and..
annaf94
: What's with the swimsuit?
Jet: I like planes.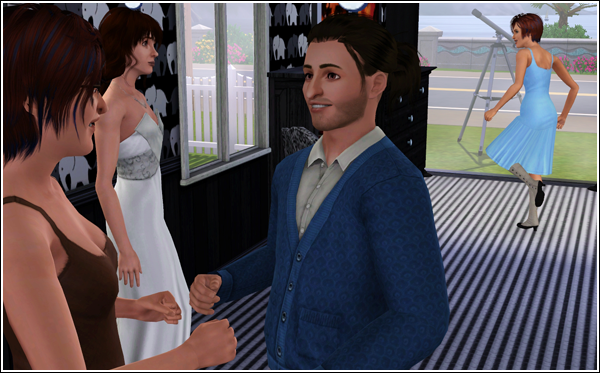 Dancing with the wrong twin there, Tar. Joelle is by the window.
Mimi *does her signature blank stare*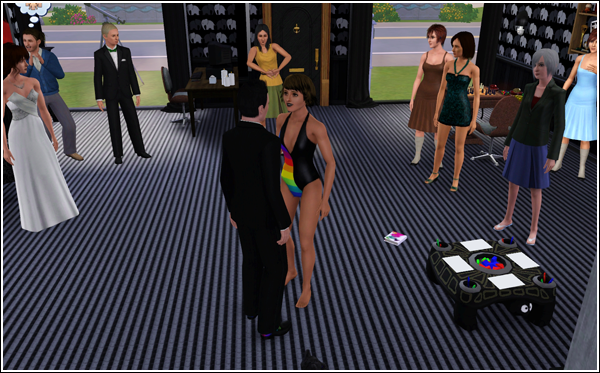 If Jet wants to get married in her swimsuit who am I to tell her she's wrong.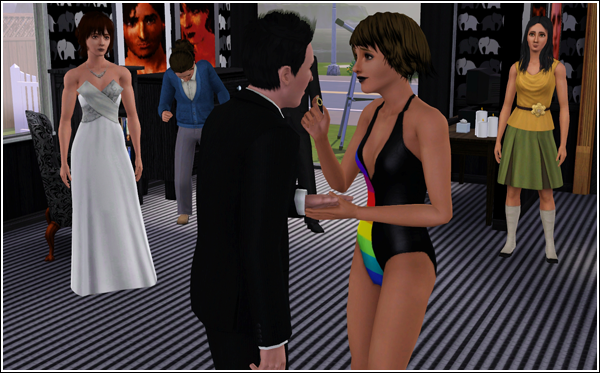 It was a beautiful little ceremony and everyone had a good time watching it, except Tar, he was too busy being bothered by--
Tar: TOO MANY PEOPLE!!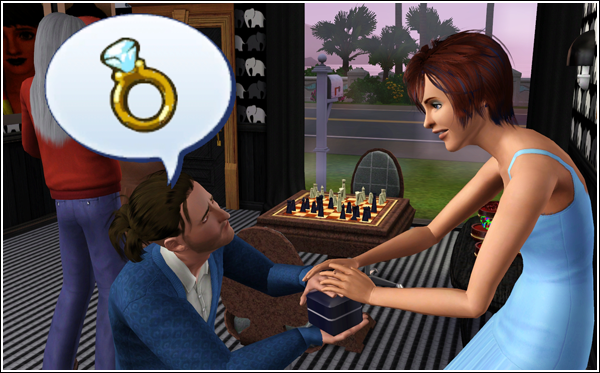 Tar: WILL YOU--
Joelle: Omg, no..
Tar: What?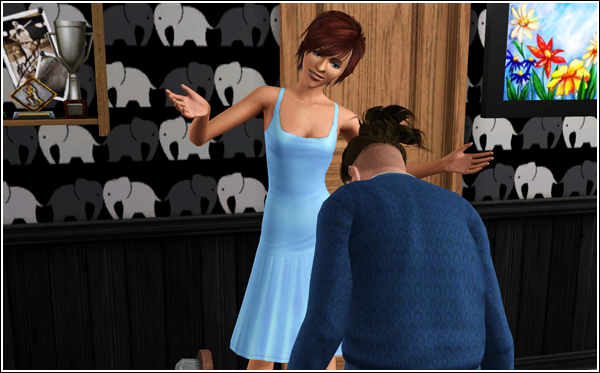 Joelle: I'm evil, what can I say?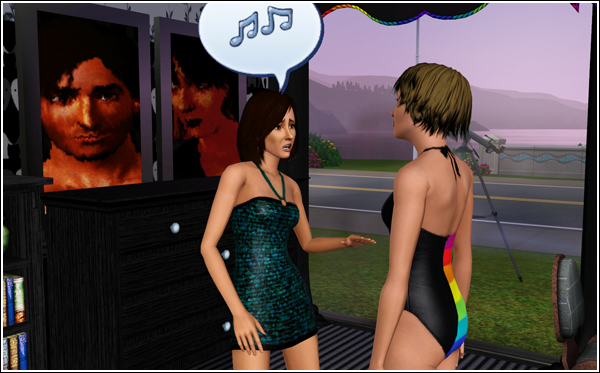 annaf94
: I like the party, but the music sucks.
Jet: That's my husband playing the guitar.
annaf94
: Oh.
Jet: It's okay, he makes my ears bleed too.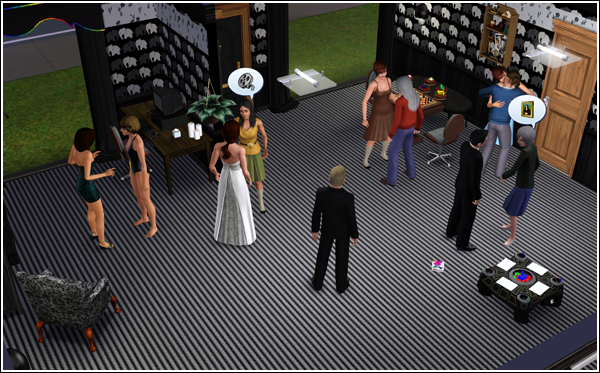 Everyone was having a good time, chatting with people.
Everyone, that is, except MALCOLM.. IN THE MIDDLE.
NOBODY INVITED YOU MALCOLM.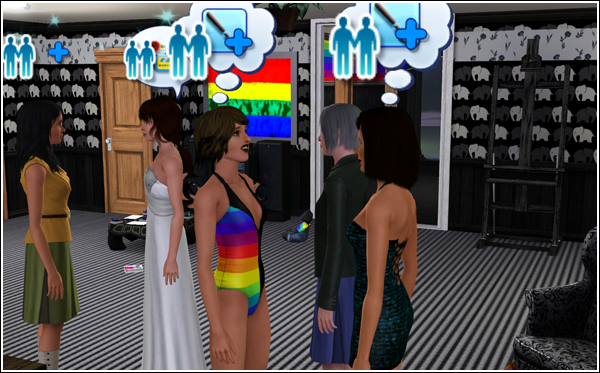 Jet: We're both artistic! So is Mort! We're gonna be such good friends!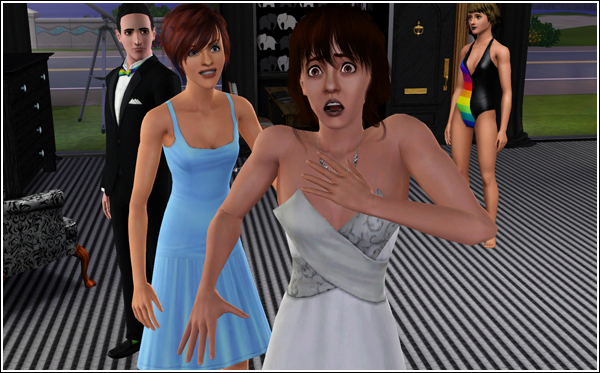 Joelle decided to scare people, namely poor Mimi.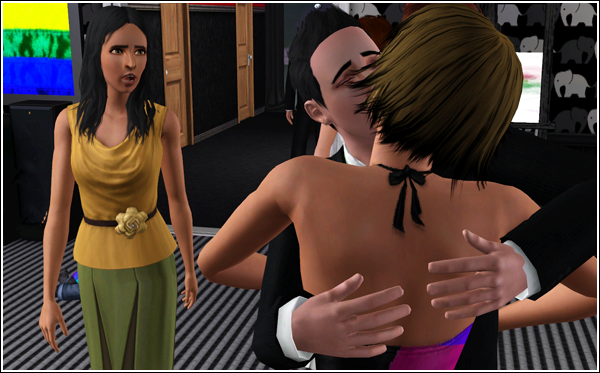 Bella: Way to rub it in my face, you guys.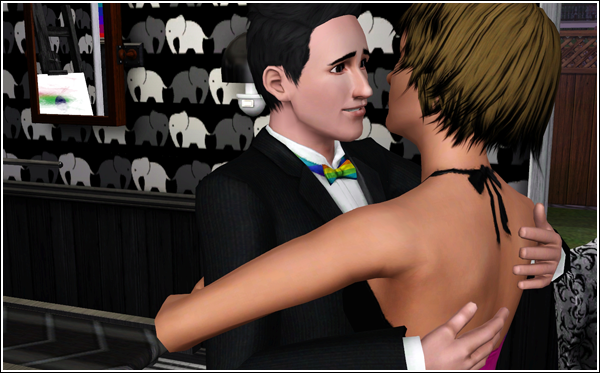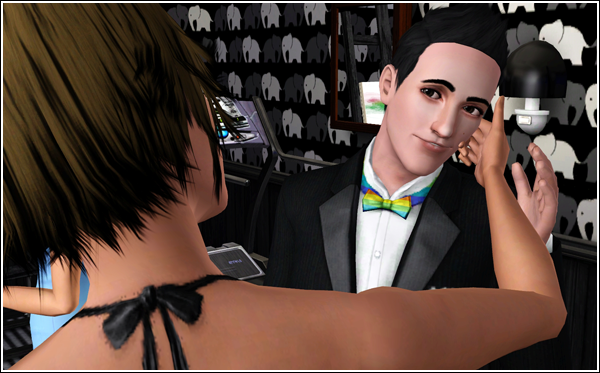 AHWWW those two.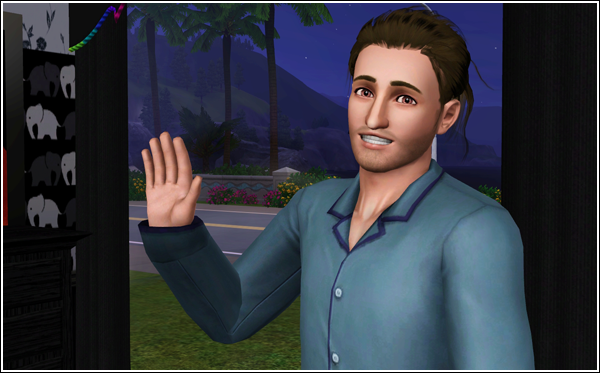 As the party ended, Tar moved out. I have since received news that he got married to Joelle after she moved in with him.
Guess she changed her mind :)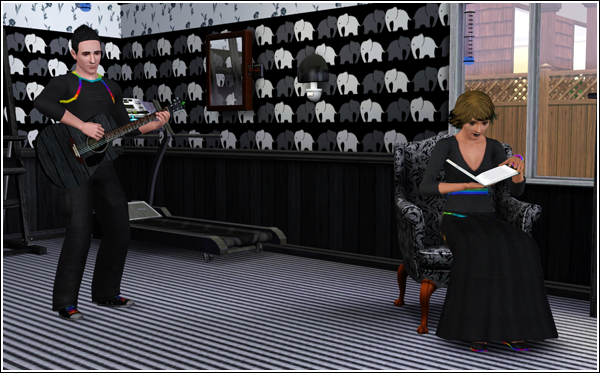 No this is not the same shot as the one earlier, that's really what they do most of the time.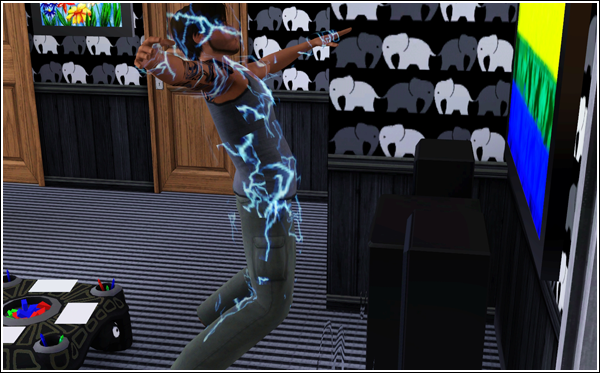 OH GOD NO!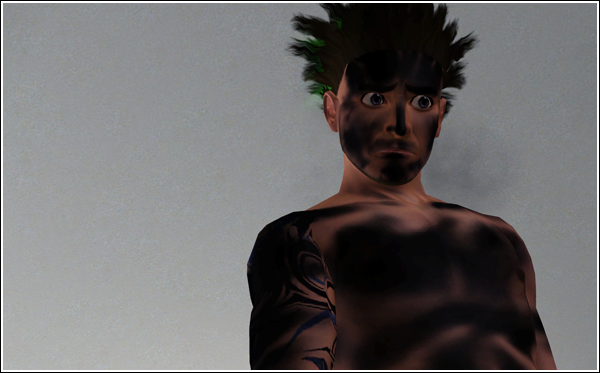 LEROY LIVES.
Leroy: Poor Chad died this way..
Yes he did. And we miss him.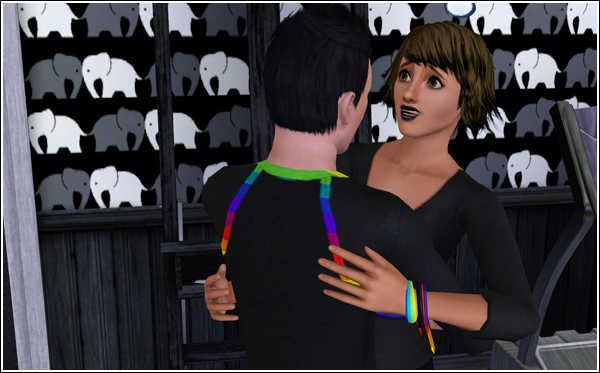 Mort: You know.. both your parents are at work right now *wiggles eyebrows*
Jet: Oh!
10 minutes later.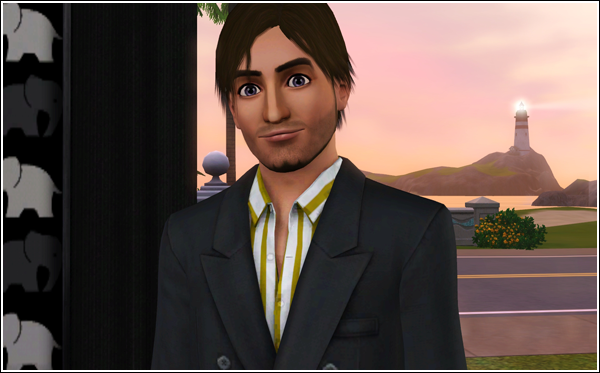 Leroy: OH HAI GUYS!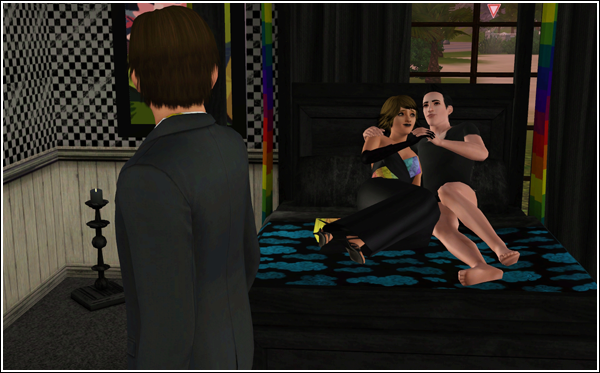 Leroy: WHAT'S GOING ON, YOU GUYS?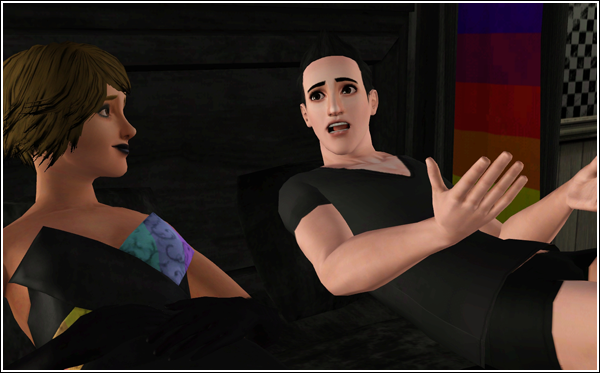 Mort: How embarrassing!
Jet: Tell me about it.
Mort: Anyhow.. I was saying, we don't need to have kids so soon yet, since you're so young.
Jet: YAY!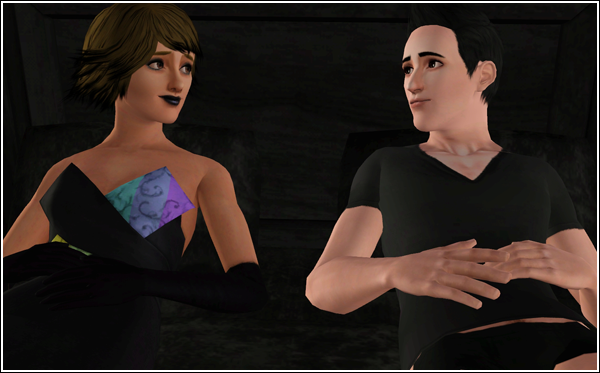 Jet and Mort *do the loving stare*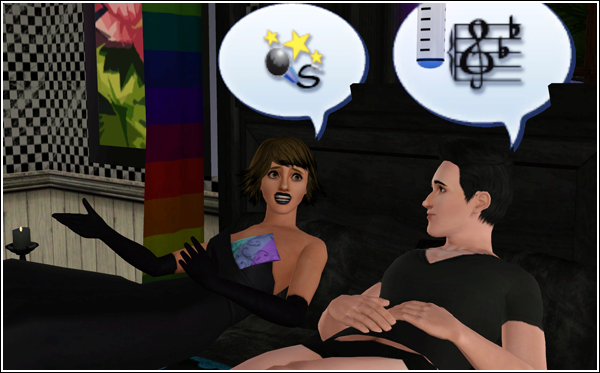 Jet: How can you not like pop music!?
Mort: I'm supposed to portray an old guy from the previous game.
Jet: But I WASN'T In the previous game!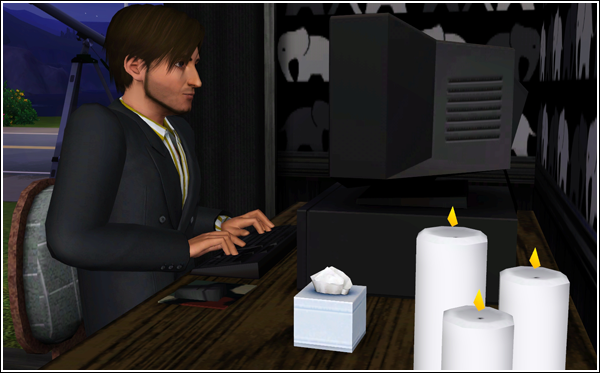 HotLegacyFounder17: LOL. My daughter is totally in the other room DOING IT with her husband!
AgnesCrumplebottom4: ...I WILL NEVER TOLERATE ROMANTIC STUFF AGAIN, EVER!
Nice work, Leroy, now there will not be a paradox :)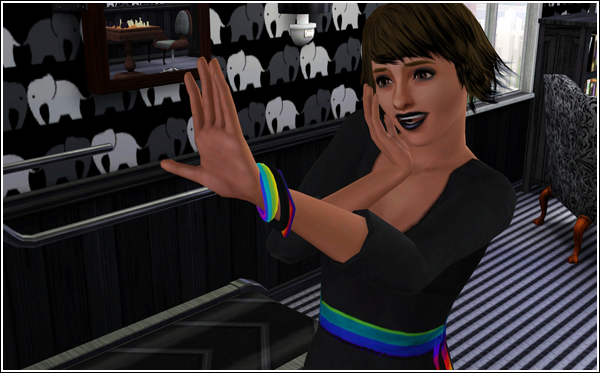 Jet: I AM MARRIED!
And then I noticed there's no wedding ring.
I was annoyed and changed it.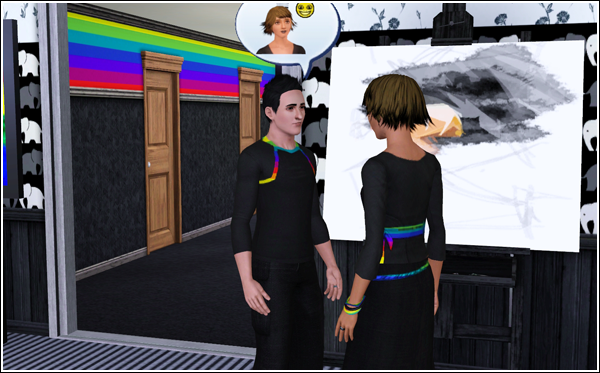 Mort: I'm so glad I married you! You make me happy.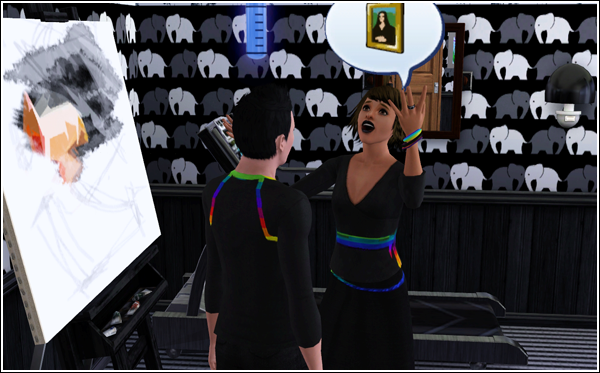 Jet: Well, yeah, you got a sweet deal. I had to marry you. You used to look like a Picasso piece.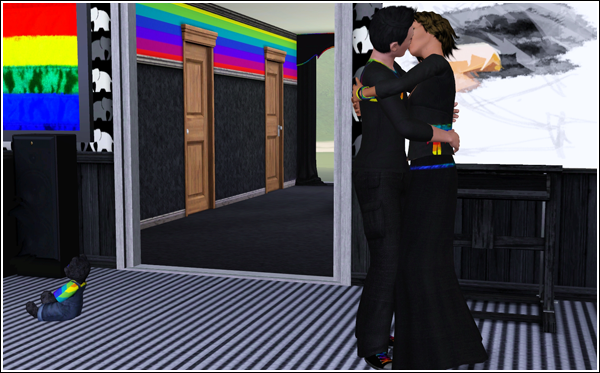 *SUCKFACE*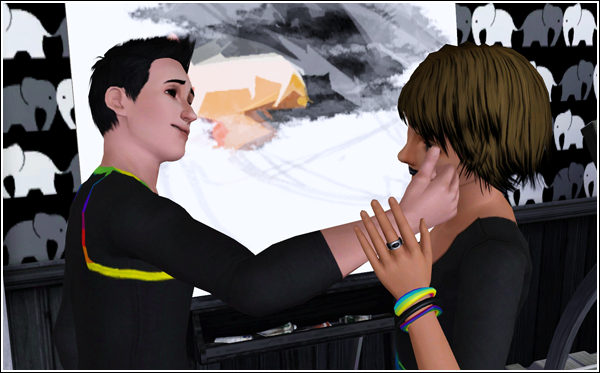 Mort: You're so sweet to me.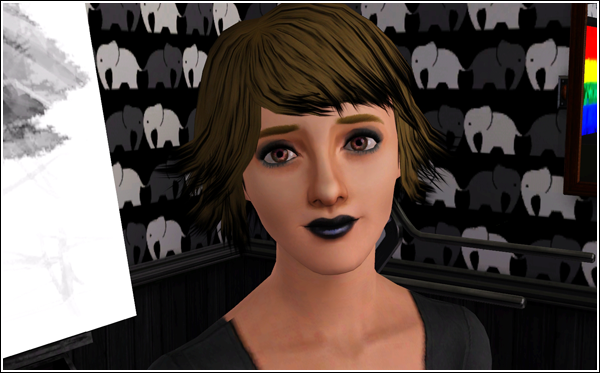 I got new eyes. I don't really like small irises and pupils.
I like my sims with big eyes, however.. I think I like these.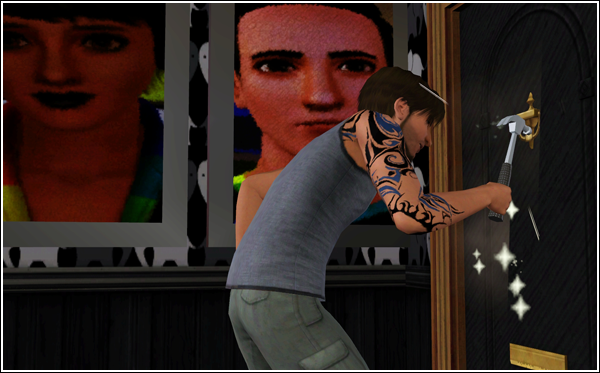 Leroy has been working on handy things and now he's changing the doorbell.. Can't you just.. buy one from the store and install it? Why the banging?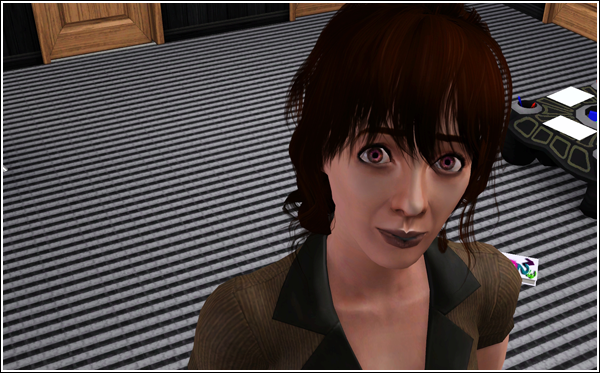 The small eyes make Mimi's creepy stare even creepier.
Mort: YOU'RE PREGNANT?! I thought we had a plan!!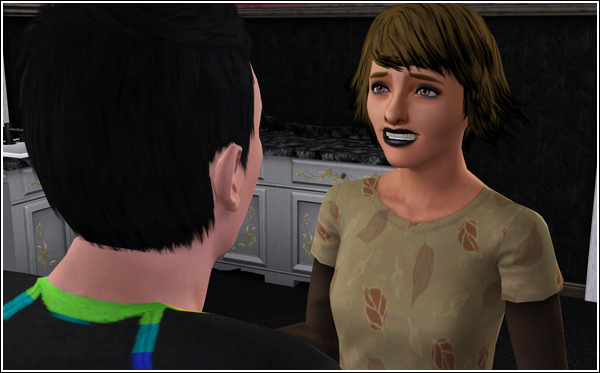 Jet: Oops.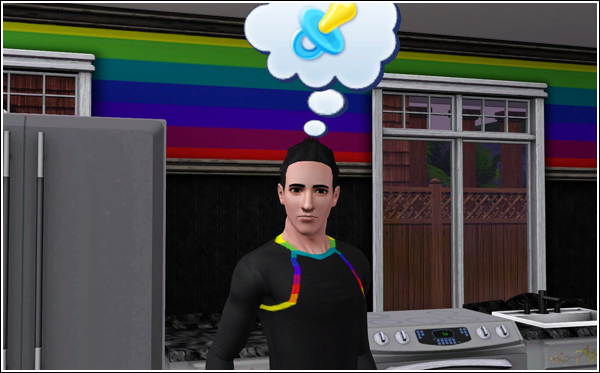 Mort: I'm gonna be a father?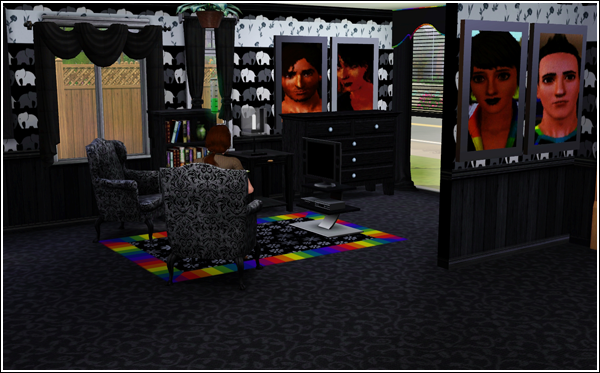 New living-room! Doesn't it look great?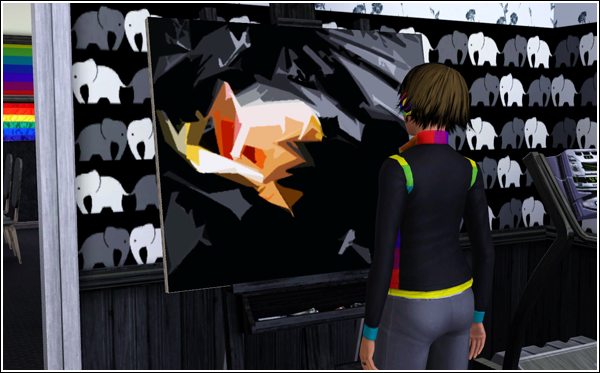 I have NO IDEA what that is.. but it's a masterpiece.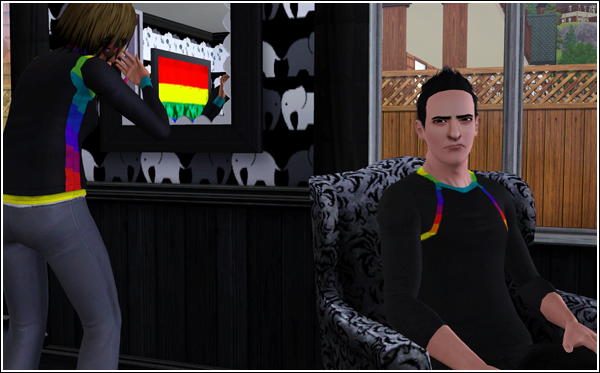 Mort: I am not amused by this situation.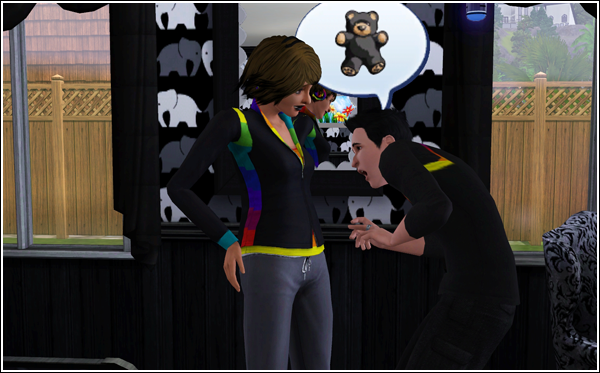 Mort: Who's daddy's little baby? Who is? Who is? YOU ARE YESYOUARE!
Bi-polar or just a liar?
Mort was going stir-crazy so I sent him and his wife on a romantic dinner downtown.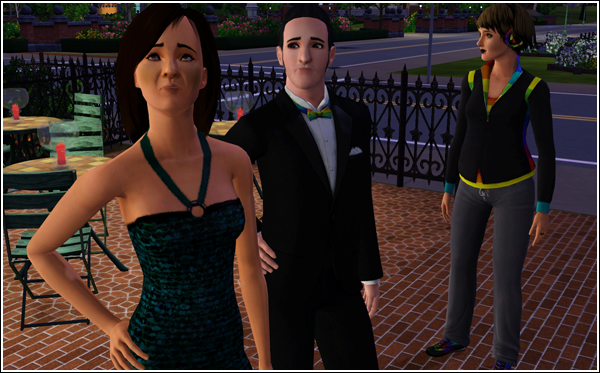 Oh that is not suspicious AT ALL, you two.
annaf94
: I don't know what you're talking about.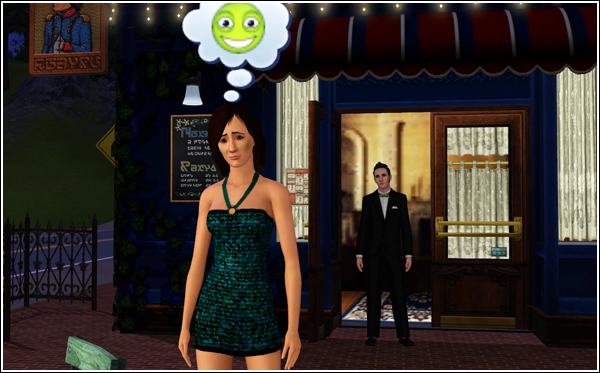 annaf94
: I had a GREAT TIME!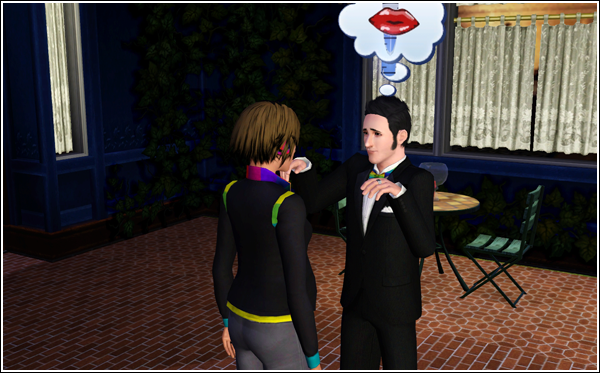 Mort: I love you so much and I noticed your back hurts.
Jet: That's nice. Wait are you just doing this because you have a wish to massage me?
Mort: No *shifty eyes*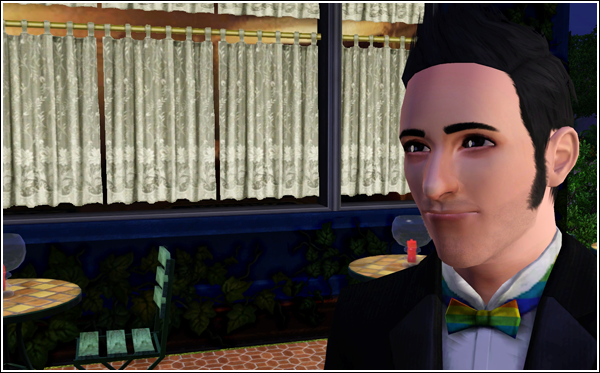 He is sort of handsome.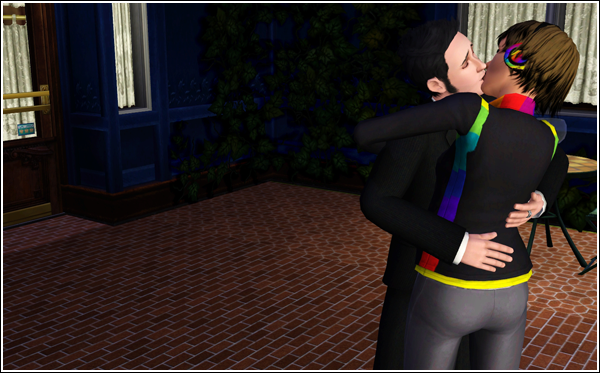 They're sort of a beautiful couple.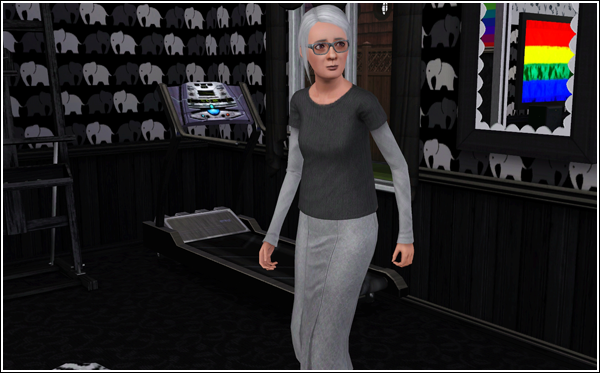 When they got home they found out Mimi had gained elder status!
Isn't she the CUTEST!? AHW..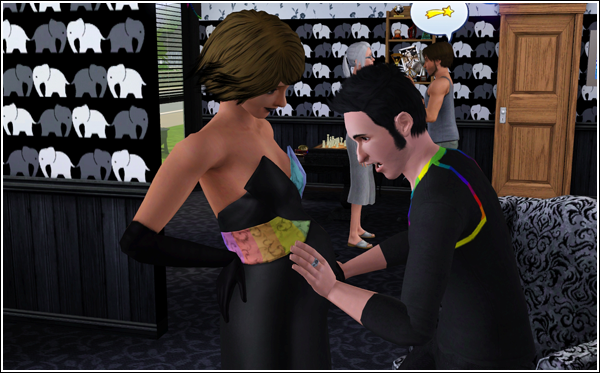 Mort rolled a want to read the pregnancy book TWICE. I guess he wanted to make sure xD
He's been generally sweet towards Jet and her pregnant belly.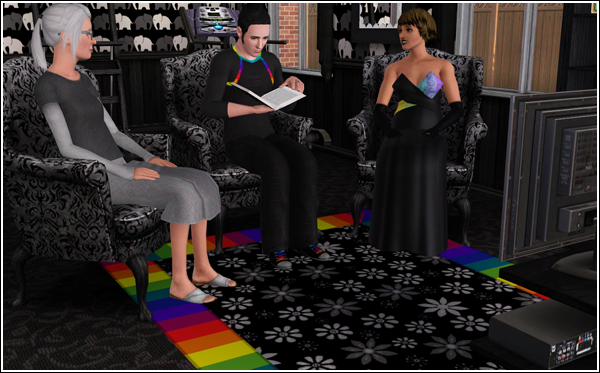 What a lovely family :)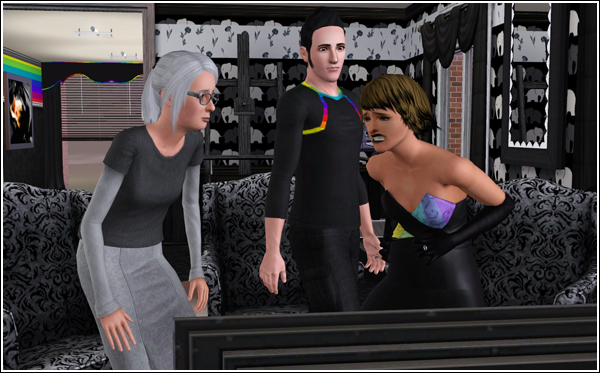 Jet: UGGGGG.
Mort: OH MAN!
Mimi: What's going on?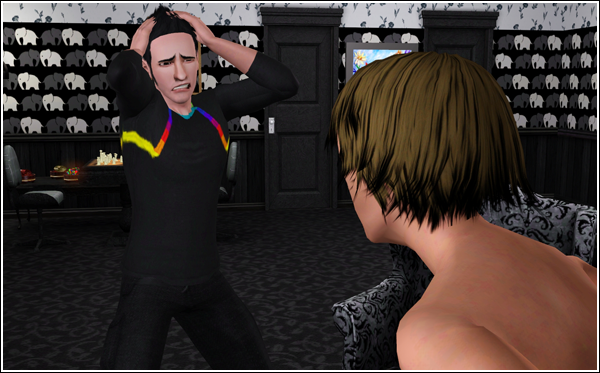 Mort: OMGOMGOMGOMG
DING DONG!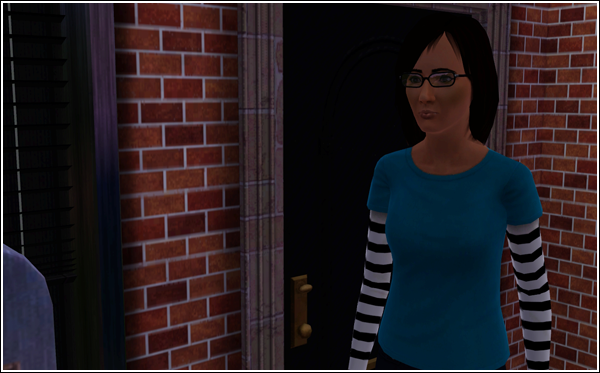 You have killer timing.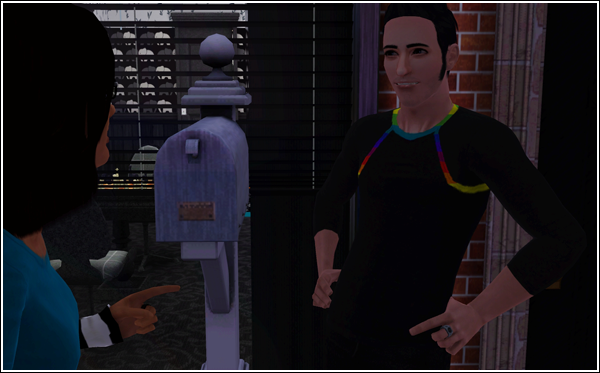 Mort: Hey ya, buddy!
annaf94
: what's going on chief?
Mort: My wife's giving birth to my baby inside, wanna come help or just watch?
annaf94
: I don't see why... not.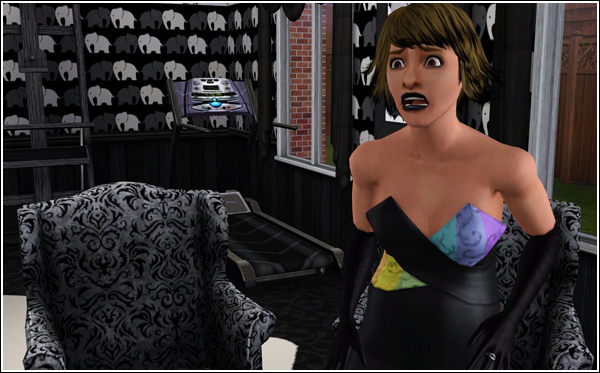 Jet: But I don't want an audience!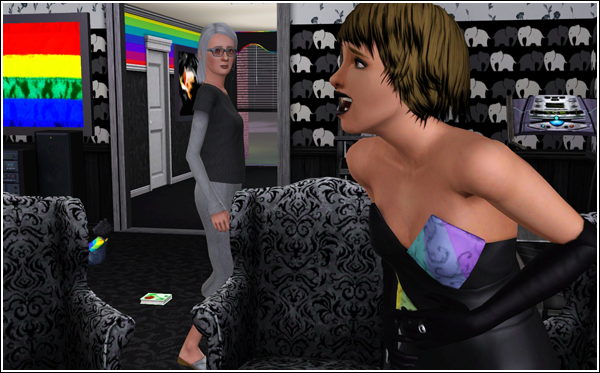 Mimi: When I gave birth to your brother, Vienna Apple was watching. It's only fair.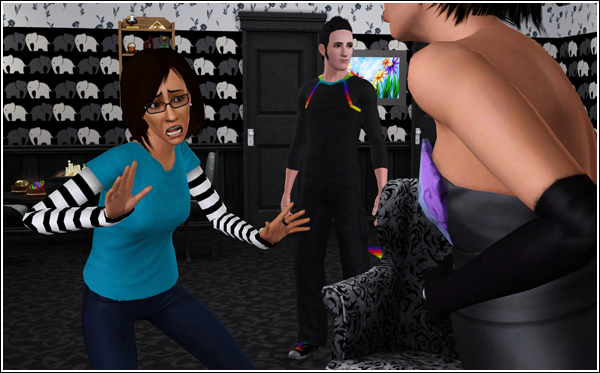 annaf94
: I THOUGHT YOU WERE KIDDING!!
Mort: Hmm..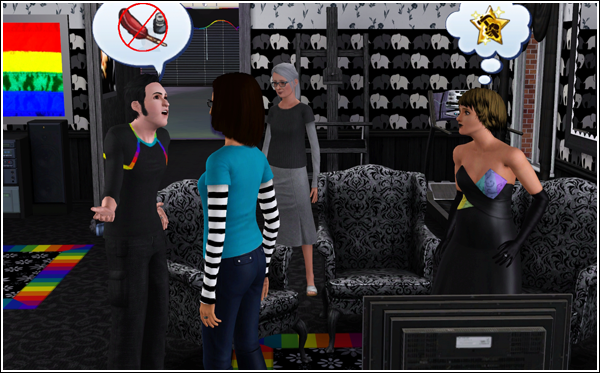 Mort: So I read this book recently and it SUCKED!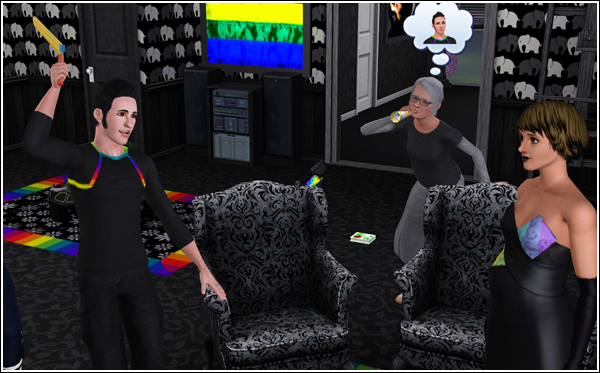 Mort: OH HEY! It's my birthday to adult!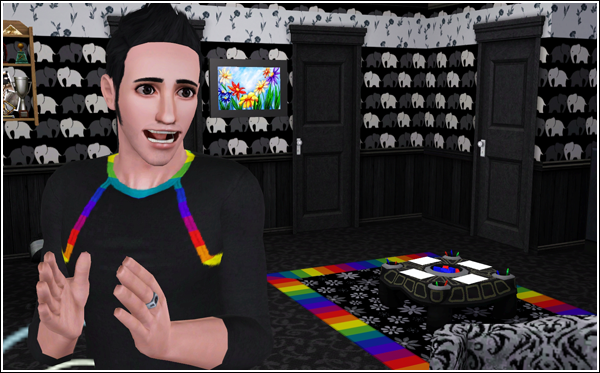 Mort: YAY!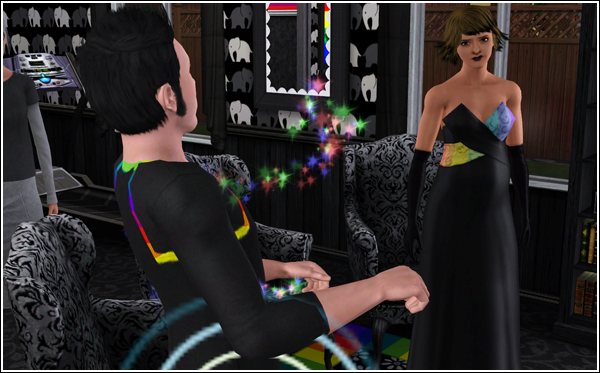 Jet: OF COURSE they take away my spotlight!
YOU said you didn't want an audience.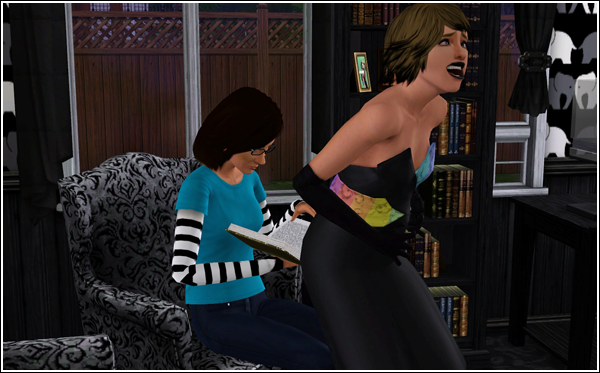 Oh.. I don't know if you want to sit there at that moment.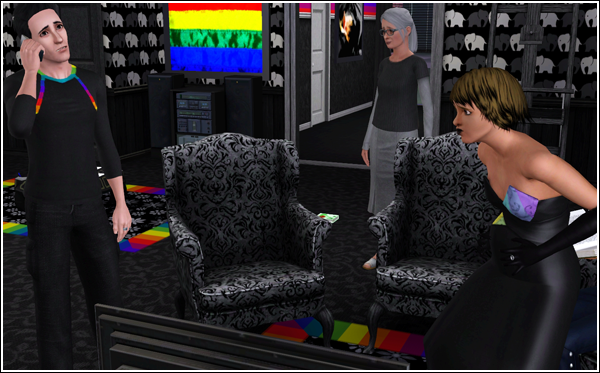 Mort: Hey pa, yeah I just grew up.
Jet: UGGGGG.
Mort: Sorry, that's just my wife, giving birth.
Jet: *gasp-gasp-gasp*
Mort: Yeah, you're gonna be a grandpa.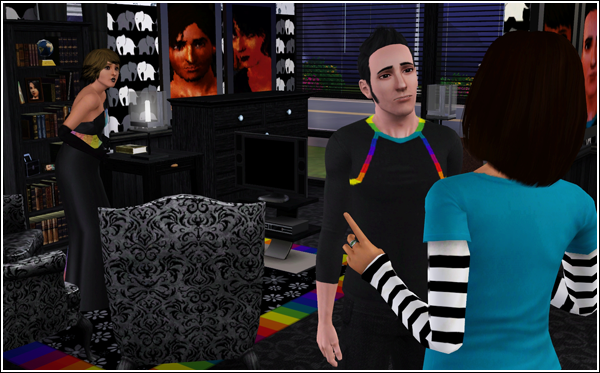 annaf94
: And then all these zombies are in my neighbourhood, right? And they're fighting and making more zombies, it's crazy stuff.
Mort: wow, is that so?
Jet: HELLO?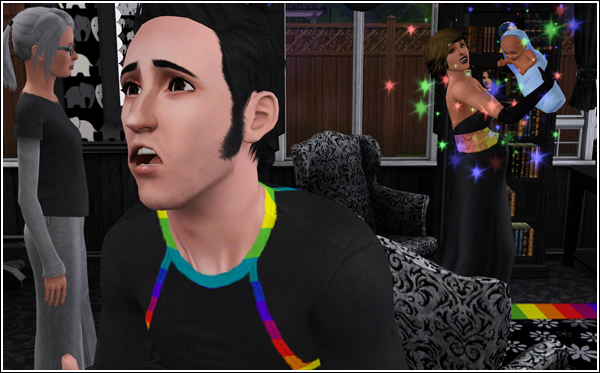 Jet: You've got a son, Morty!!
Mort: BUT I WANTED A DAUGHTER!!
xD most amusing labour time EVER.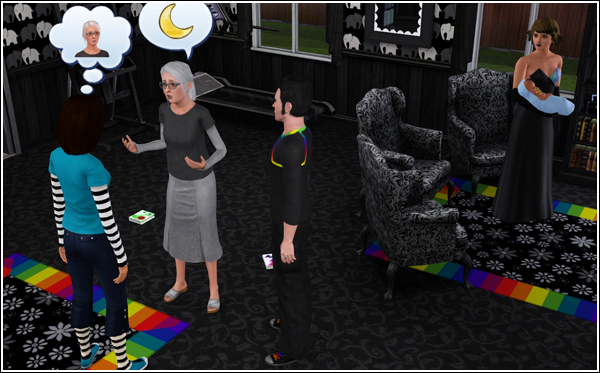 NOBODY is paying ANY attention to the new mother OR her baby.
You might be asking where Leroy Chimeree was this whole time.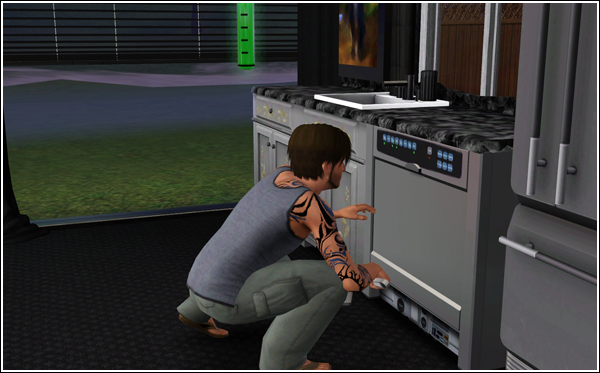 He was upgrading the dishwasher. Because that is SO much more important than his daughter giving birth to his grandchild.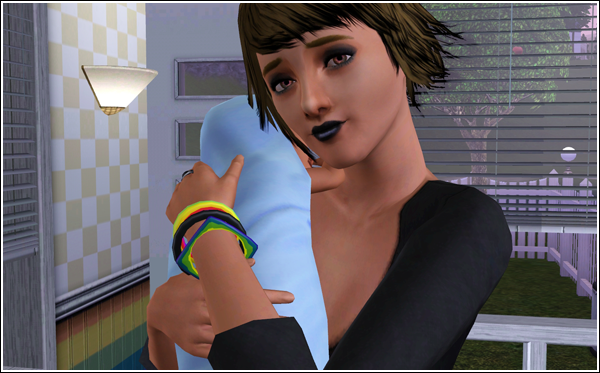 The boy was named Light.
Yes I just went there.
Jet: But you haven't even finished watching that anime!
Shut it. His name is Light.
He is brave and loves the outdoors.
He also likes the colour Spiceberry, Classical music and goopy carbonara.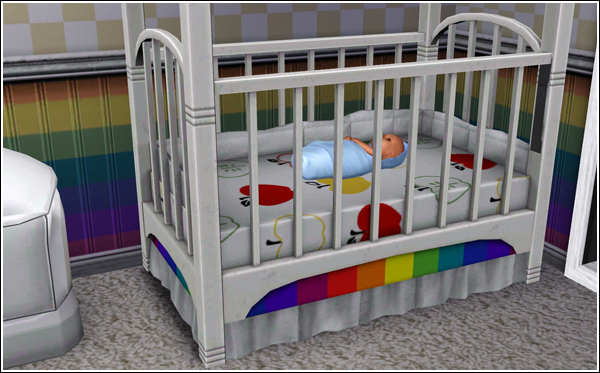 YES his crib has apples on it.
I decorated it before I decided on the name.
Just saying.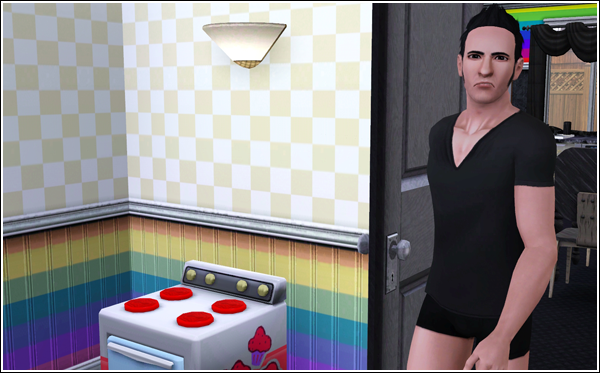 Mort: There is TOO MUCH LIGHT in here!
Really now?
Whiny baby.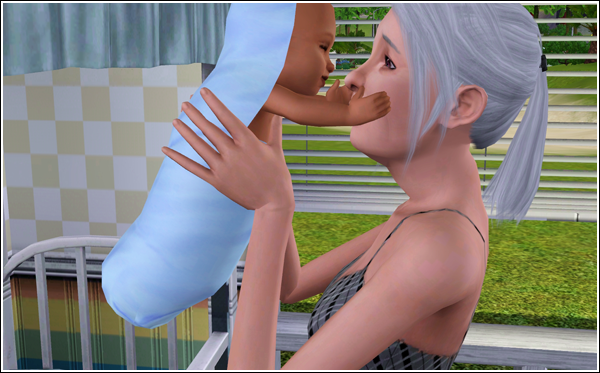 Eventually everyone got around to seeing Light and everyone loved him.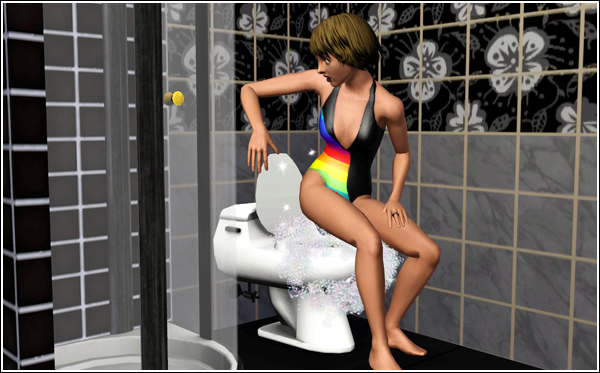 Jet: THIS TOILET CLEANS ITSELF WHILE I SIT ON I
T!?
So it seems.
Sorry for the long chapter xD I didn't feel like having 2x60-picture chapters.