Our opening today is the lovely Tar Chimeree, showing off his beautiful.. pink eyes. Ain't that something.
80 Pictures Under The Cut Again
Mimi: I'm so glad we have time to play chess together. Oh and Checkmate, bb.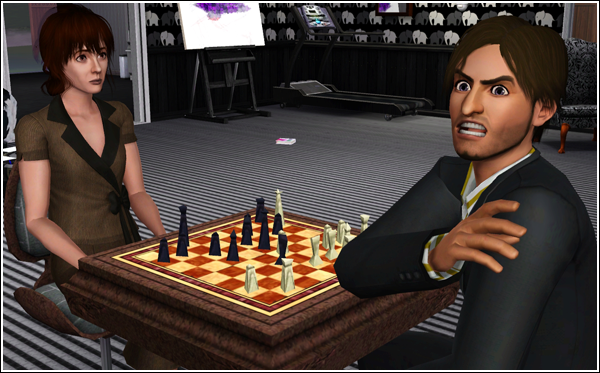 Leroy: I BET YOU CHEATED! I NEVER LOSE!
Mimi: Oh my..
Guess who's her mother's daughter?
Wait is her hand going through the carpet?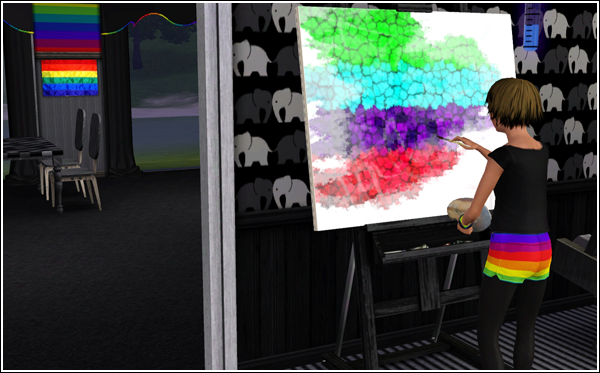 Insane sims see rainbows differently as you can see. I made her paint the flag on the wall.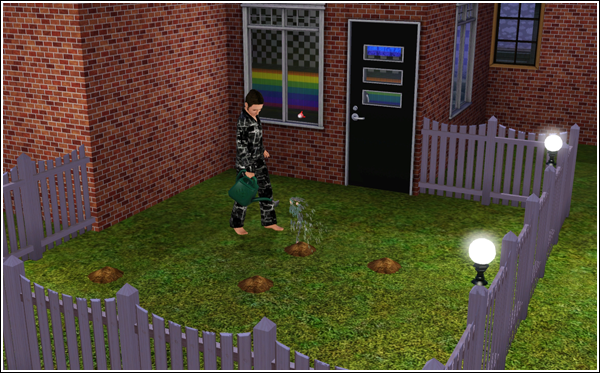 In the meantime, Tar gets his own little garden, with a door leading to it in his own room.
Tar: Now I can enjoy solitude AND gardening AND the great outdoors at the same time!
Tar: You're insane!!
Jet: Yeah, so?
Jet: Talk to mister Righty, because I ain't listening.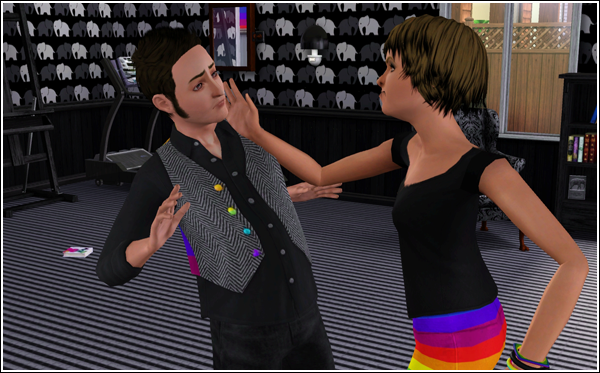 *SLAPFEST*
Tar: Oh yeah?! BRING IT, SIS!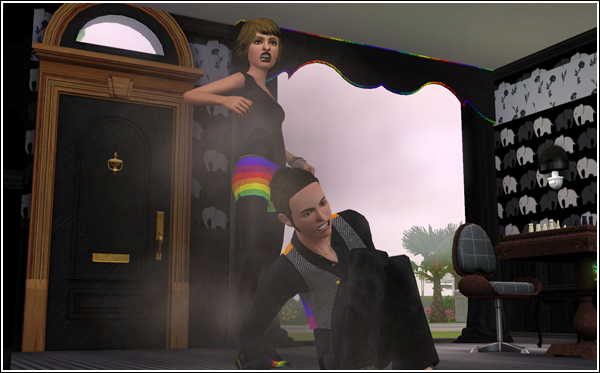 Jet delivers!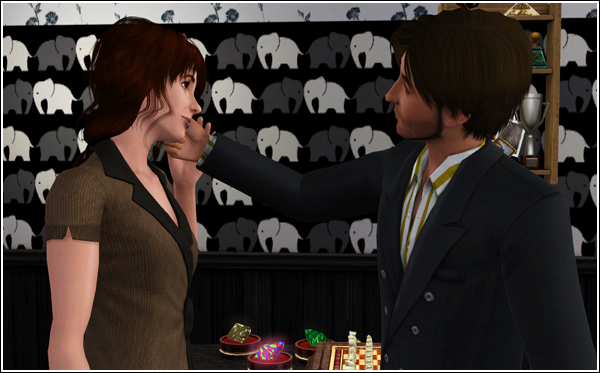 The parents live in blissful ignorance. They're constantly autonomously flirting and kissing. It's sweet.
Jet: COFFEE!
I love the way she holds the cup!
Tar: Oh hi. Looks like my sister invited you and then crashed after the coffee wore off.
Joelle: WHUT?
Tar: Well on come in.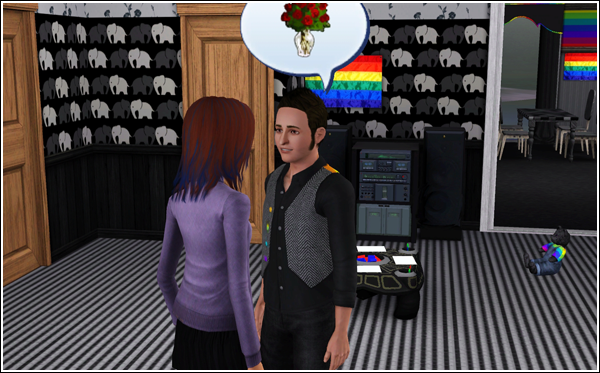 Tar: Good thing we have plenty a vase, because I'd like to pick up a flower like you.
Joelle: Well, that was kinda cute. I don't see why your sister dislikes you so.
Joelle: Unfortunately she's my BFF and I have to respect her dislike of you.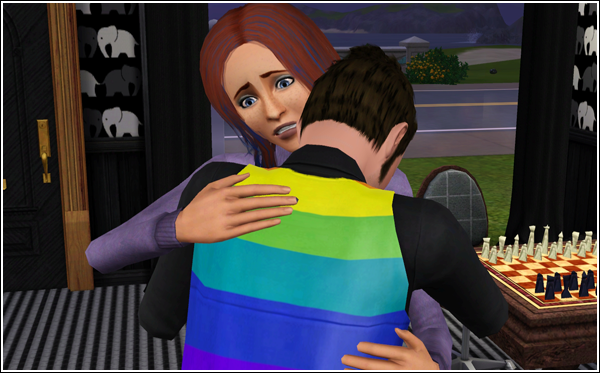 Tar: WAAAAA! I KNEW THIS WOULD HAPPEN! That's why I never flirted with girls before...
Joelle: Oh my..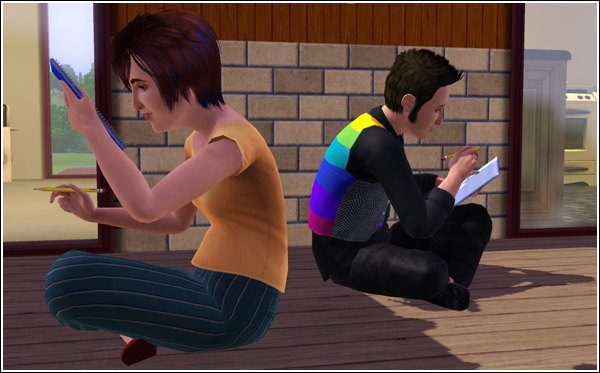 The next day Tar went home with JoAnna and they did homework together.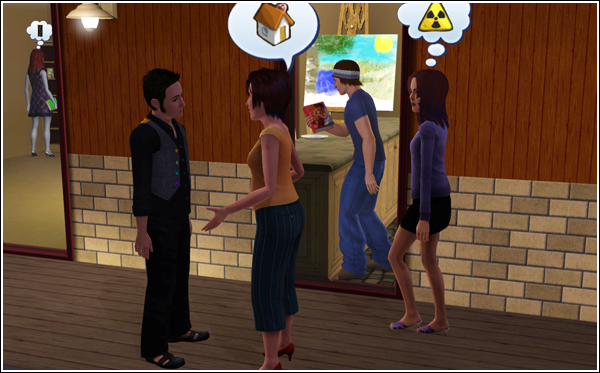 Joelle: Oh I see what you're doing there.
HI VIENNA AND VIENNA'S HUSBAND!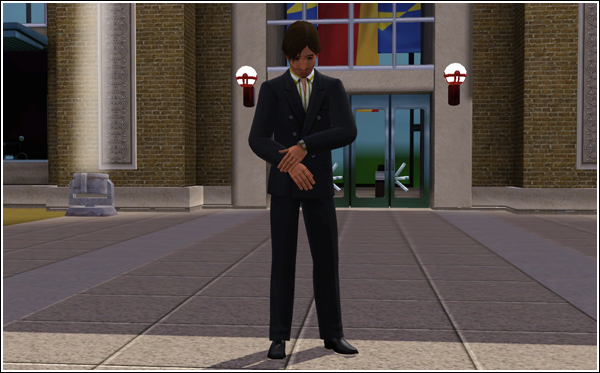 Meanwhile Leroy holds an autograph session~!
Not many people were there. Only like.. 6.
Among whom:
Bella: OMG. I AM SUCH A HUGE FAN!
Leroy: Oh yeah? Did you see the last game?
Bella: Game? I mean the legacy, not your stupid sports career.
Leroy: Oh I C.
annaf94
: Oh! I voted for You!!
Leroy: Well, then I'll write some hearts for you <3 <3 <3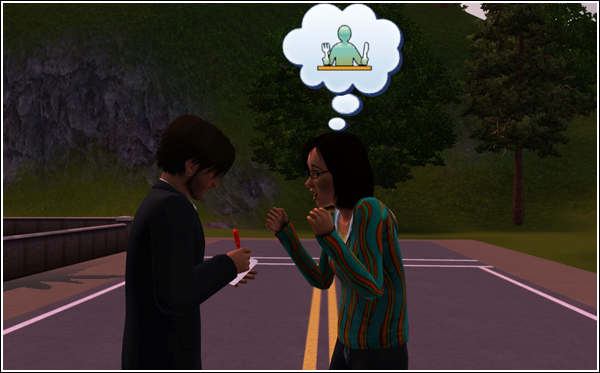 annaf94
: Could you hurry? I'm kinda hungry!
Mariah: Is she flirting with that rainbow boy?! I am not pleased!
Oh simself, you.
More than just flirting I see.
I never bothered to make JoAnna up so, I think it's time to do so now.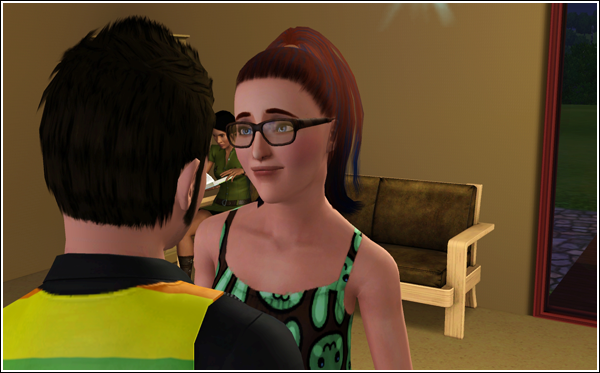 How's that?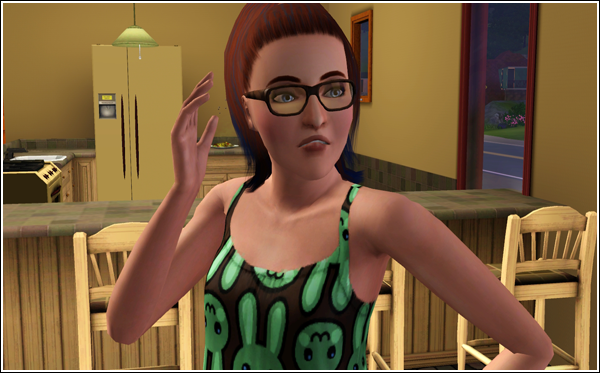 JoAnna: Simself's daughter, ready for duty, ma'am!
Back home Jet has painted another painting. Nice work.
Jet: I'm the awesomest painter EVER! I only need a few more skill points, then 6 more for guitar and 9 for cooking and I'm set!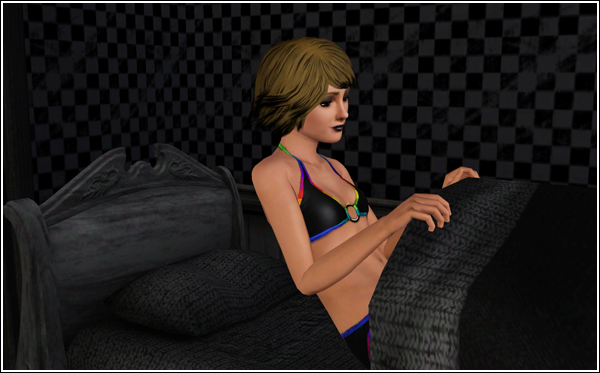 You do have jammies you know?
Jet: I like my swimwear fine, thankyouverymuch.
Tar: Hello lovely lettuce plant, I have a girlfriend, how are You doing today?
Tar: JOA... oh it's you.
Joelle: When did you become such a jerkface, Tar?
Tar: Well you're probably here to see my sister, so come on in.
Joelle: Oh, not that big of a jerkface after all.
Jet: There's antimony, arsenic, aluminum, selenium
And hydrogen and oxygen and nitrogen and rhenium
And nickel, neodymium, neptuni---
Joelle: Shut up already! DO. NOT. WANT.
Does anyone else know this song? xD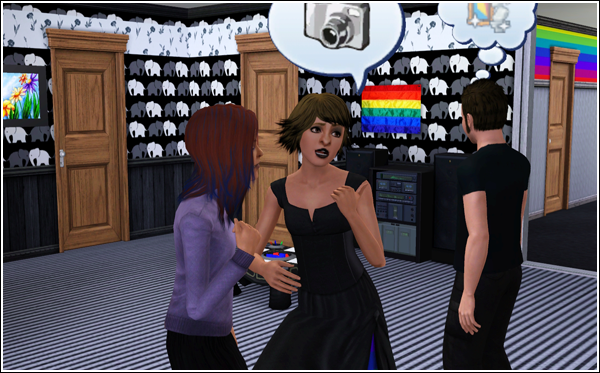 Jet: I have embarrassing baby pictures of Tar in my room, wanna see?
Joelle: OMGYESMORE!
Apparently Joelle liked baby pictures of Tar. Or he's just that good a flirt.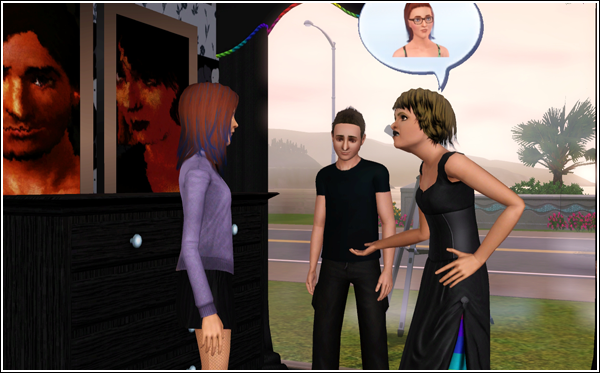 Jet: What you just did was not acceptable. Think of your TWIN sister!!
Jet: You are EVIL.
Joelle: Oh. Tell me something I don't know.
Tar: Tralala.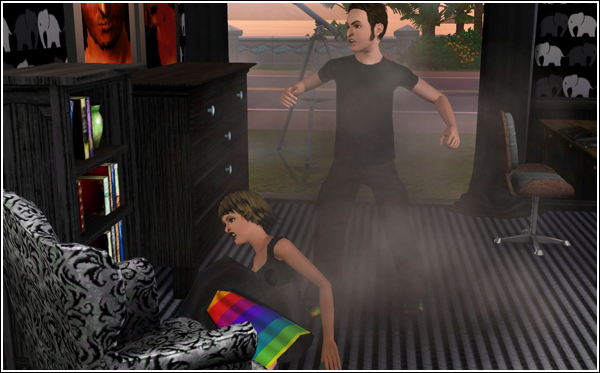 Tar: Nobody insults my romantic interests!
And then Joelle went and slapped Leroy in the FACE.
Jet: Do you see what you've done?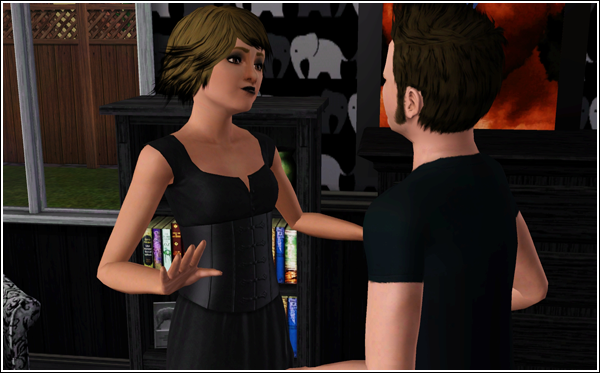 Jet: You've gotta tell JoAnna what you did! Then we'll call it a truce.
Tar: And I can stay with Joelle?
Jet: Do what you want.
Tar: Deal.
Tar: Tomorrow I'll break up with your sister and then we can be together forever. You know I was only with her to make you jealous..
Joelle: How sweet.
Tar: Oh, thanks for coming, sweetcheeks, I gotta tell you something.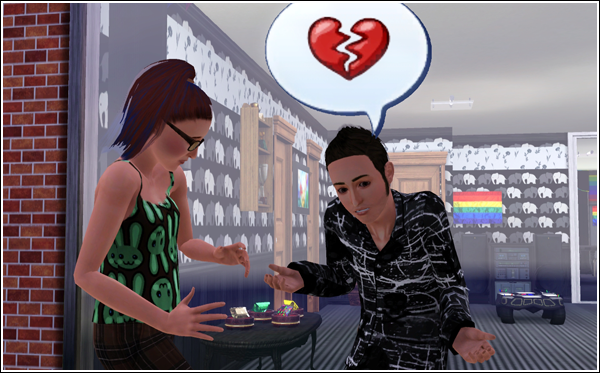 Tar: I wanna be with your sister and not you. I don't really like you at all.
JoAnna: What?
Tar: Are you okay?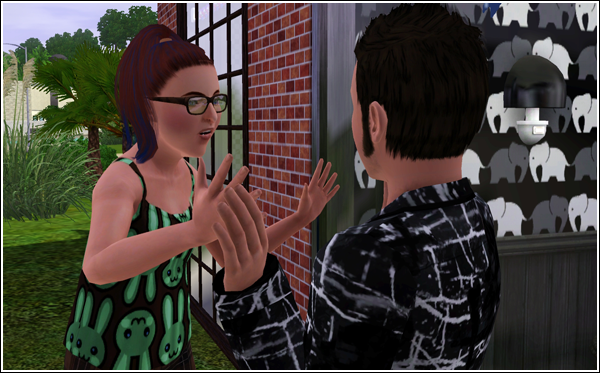 JoAnna: Don't even touch me.
Tar: This wasn't my idea! My sister made me do it!
HotLegacyFounder17: LOL my spn just dumped his gf.
HotLegacyFounder17: son*
BellaAndTarForever: lol can I have his babies nao?
Jet: Hey, I hope you're okay. my brother's such an idiot. He's so in love with your sister, he didn't even think what you would feel.
JoAnna: Thanks, Jet.
Jet: ANYHOO..
Jet: I lost my BFF, wanna be my new one?
JoAnna: YES~!
JoAnna: You're a good person, Jet.
Jet: So's my brother, he's just.. confused and misdirected by his brain.
JoAnna: Well.. thankfully..
Jet: Yours and Joelle's birthday is tonight, so he'll have to wait till he grows up too to be with Joelle.
JoAnna: Haha.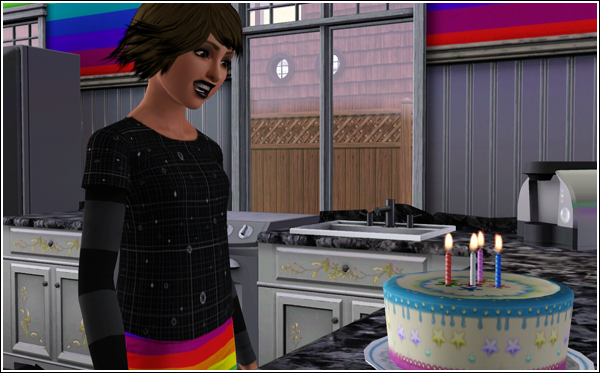 The next morning Jet grows up as well.
Jet: Cake? :D
Jet: I'm so friggin' EXCITED!
Good for you.
Jet: This explosion of colour is disturbing.
Not to worry, love!
Jet: Ohyeah. Much better.
Jet's fifth trait is Hot-Headed.
I forgot to do a nice banner for her, but I'll do it next time, so you can see all her traits again and her LTW.
See that half-finished painting?
Jet finished it and it turned out to be her first masterpiece!
I called it.. One Rainbow to Rule Them All.
Jet: Mortimer Goth!
Mort: Jet! Nice to see you've aged enough to make me not a paedophile to be attracted to you.
Jet: And you're welcome.
Ehehe.. creeps!
Jet: I was hoping you haven't gotten married since or last meeting in the park..
Jet: Cause I... I think I'd fancy marrying you myself.
Mort: Oh really now?
I've gotta say EA: VERY nice job on the hands of these sims. Nice.
Jet got her first kiss from good ol' Mort. He's really rather good looking, I think.. if you can look past the fact that there's some clipping with his eyelashes. His sockets aren't high enough.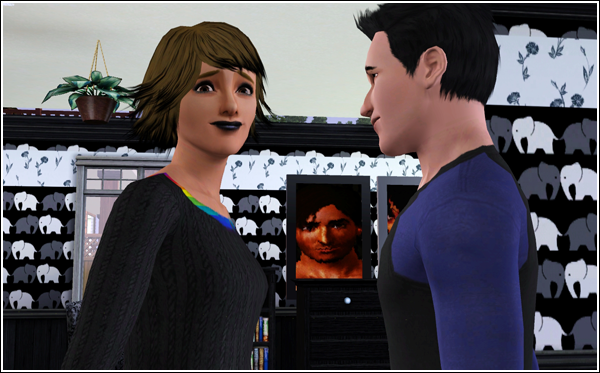 Jet: I like this guy.
GOOD.
My favourite interaction: the embrace.
Jet: So, should I hurry and ask him to go steady before he decides to date someone else?
Yes, do it NOW!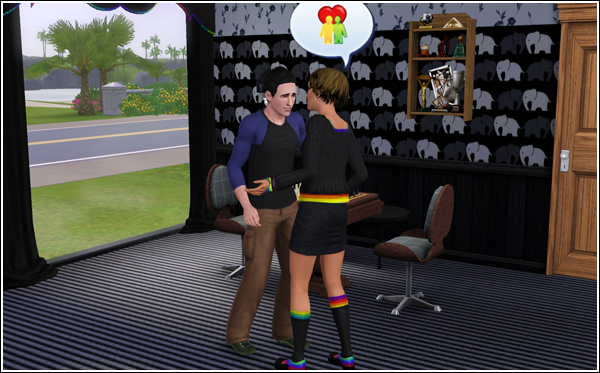 Jet: You and me equals a couple, yes?
Mort: Okay.
Jet: In yo face, Bella.
Mort: I'm pretty sure she's after your brother.
D'Awwwwwww!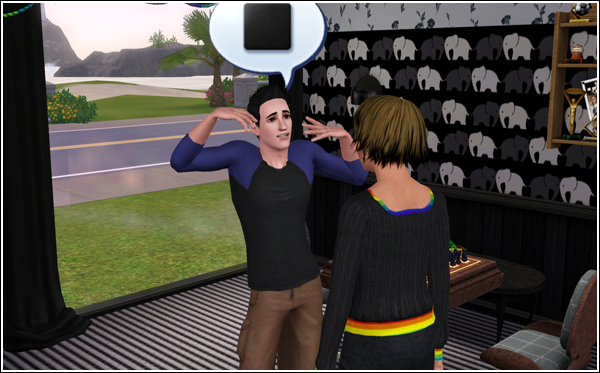 Mort: I LOVE BLACK!
Jet: Uh huh.
AND HE LOVES BLACK!
Jet: Well, we have TONS of colours here, in our legacy!
Jet doing some crazytalk follows: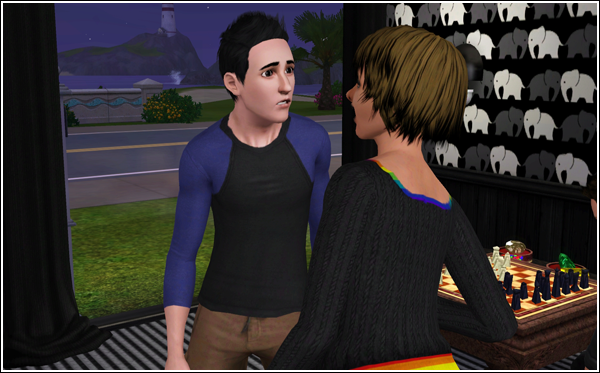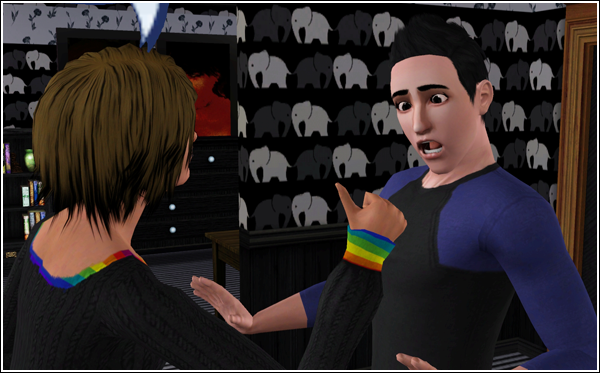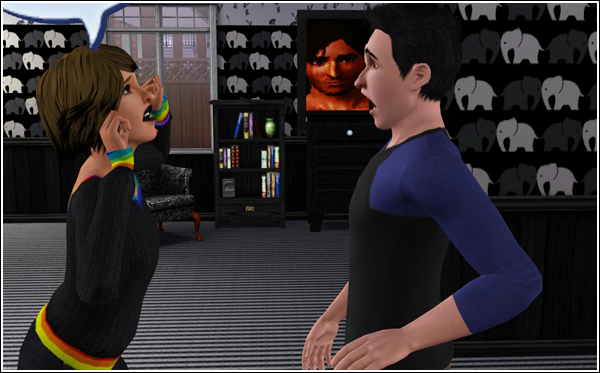 Mort: My new girlfriend is INSANE.
Mort: I am grumpy and you're hot-headed! WE WILL NEVER GET ALONG!
Mort: OH NEVER MIND.
I never say goodbye to visitors, if they wish to stay late, I let them, so while Jet went to take a shower and sleep, Mortimer sat outside and ate marshmallows. Yumm. And that's her bedroom window, too xD
Whatsherface: YOU KNOW WHAT? I've had ENOUGH of your nice behaviour! Always paying your bills eh? WELL..
Whatsherface: PAY THIS!!
What's her problem?
What's
Your
problem?
Jet: My dress is not black enough. See, my gloves are darker than the dress.
Shut it. You're not getting a new dress. Why are you wearing formal anyway?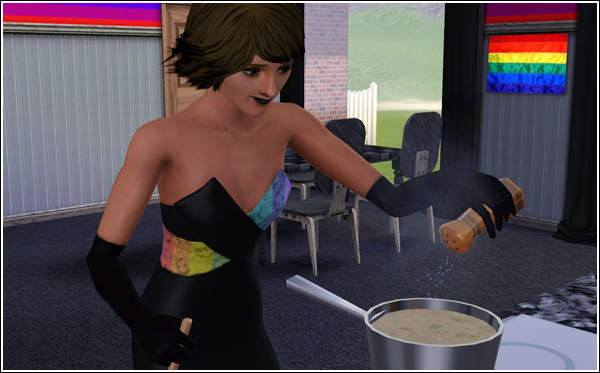 Jet: Because it's cooking time!! Oh yeah, men loooove a good cook.. right?
Actually I think men are better cooks than--
Jet: MEN LOVE A GOOD HOUSEWIFE WHO COOKS FOR THEM.
Whatever makes you happy, love.
That's it for today!
Next time: A black wedding?