Guess what time it is!
It's Chimeree time!!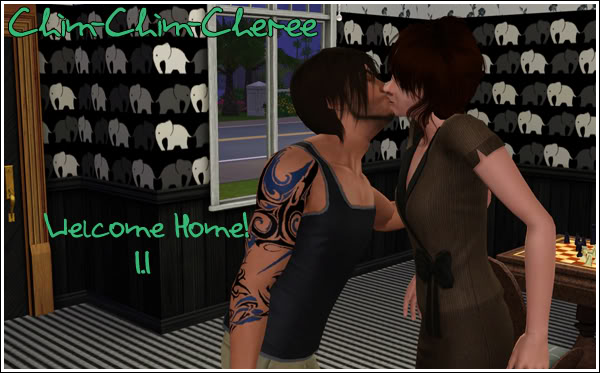 Some 70 Pictures Under the Cut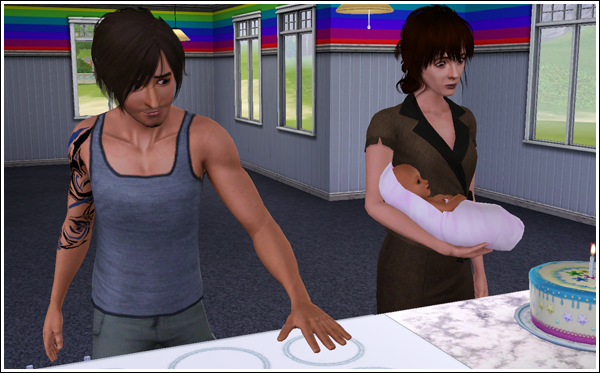 Babies are boring, so as a rule we're growing them up when it says 2 days left.
Leroy: Must check the stove! Make sure you don't drop the baby on the stove, honey.
Mimi: CAKE.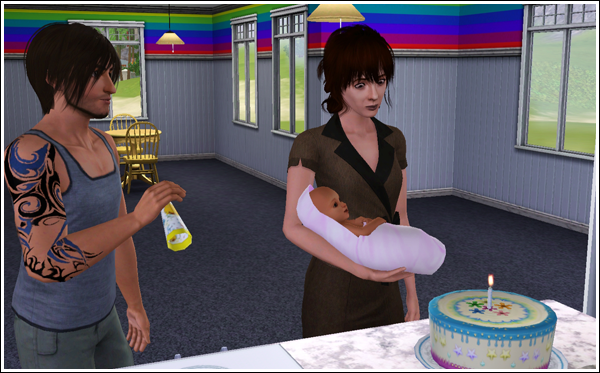 Leroy: TOOOT!
Mimi: CAKECAKECAKE!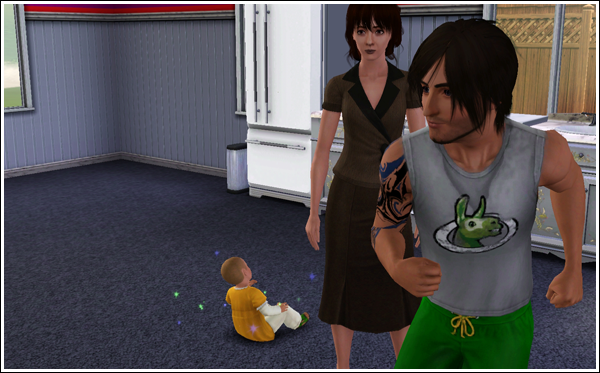 Leroy: 'Kay, off to work, bb.
Mimi: Figures.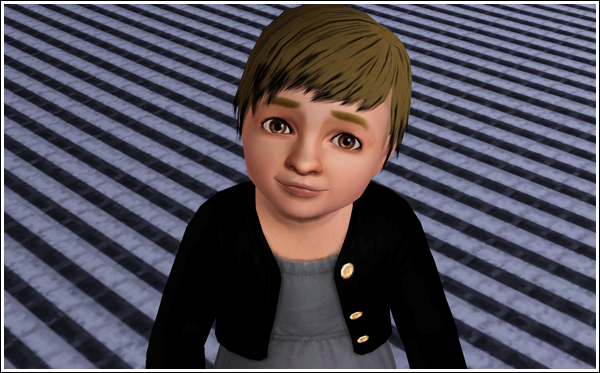 This is Jet. D'aaawwwww!
Jet as said in the last update is a clumsy insane person.
She has her grandpa-Oscar's(Leroy's dad) blonde hair so I spiced it up with black highlights and tips, which is how I plan to portray their colour, as well as clothes.
She also sports Mimi's pink/orange sunset coloured eyes and which looks like Mimi's skin also.
CUTENESS.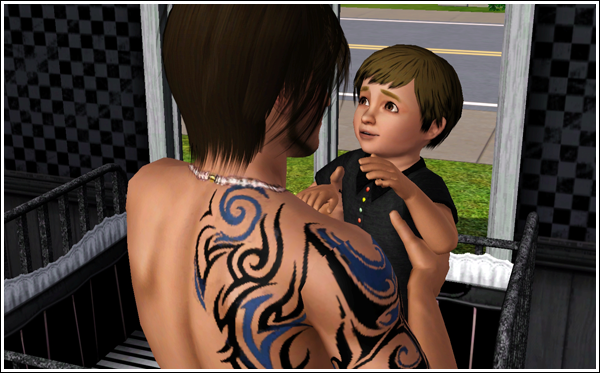 Although Mimi is the one mostly taking care of the baby, when Leroy gets home he goes to her immediately.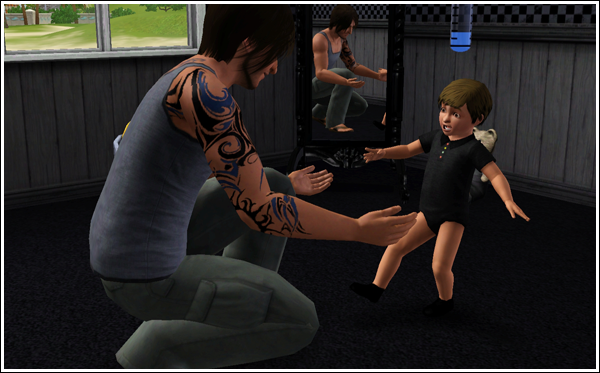 He already rolled a want to teach her to walk too.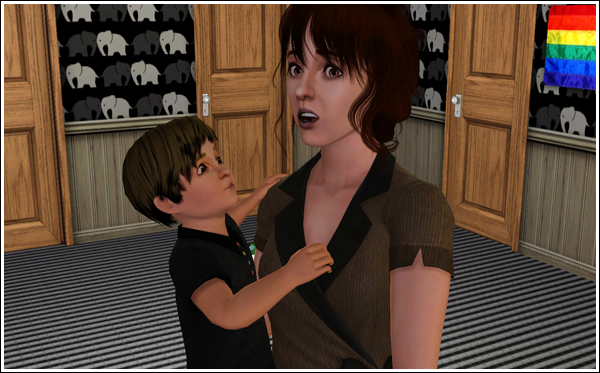 Mimi: This one's a success, maybe we should have another one.
We do need a spare.
Mimi: Excellent.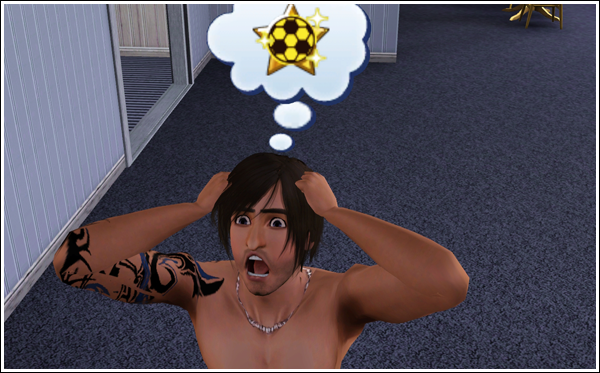 Leroy: Oh God, will I ever reach the top!?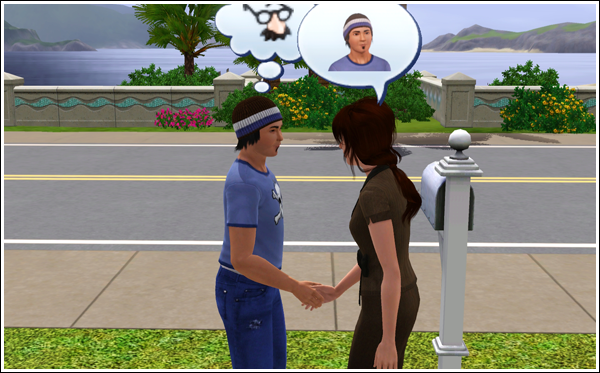 Mimi: Hello, Milton, let's try this again shall we.
Milton always has to go somewhere when Mimi tries to defeat him in chess. Sore loser.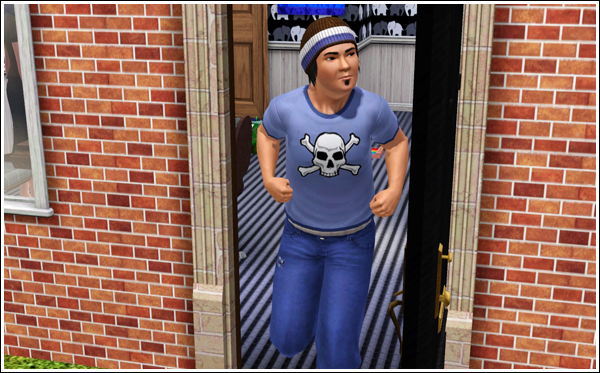 There he goes again.. sigh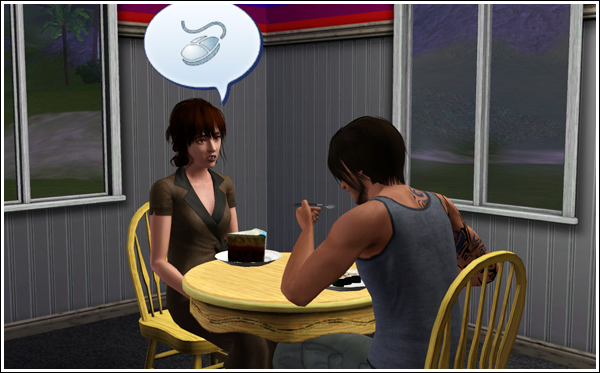 Mimi: So I saw we have a computer in the front room..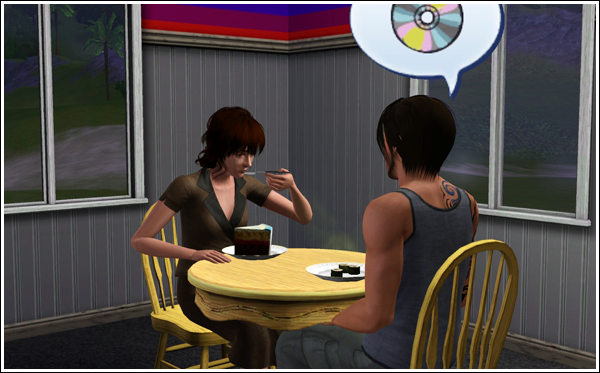 Leroy: That's right, I use it to buy CDs online.
Somehow in-between the bites, Leroy's sushi managed to go bad.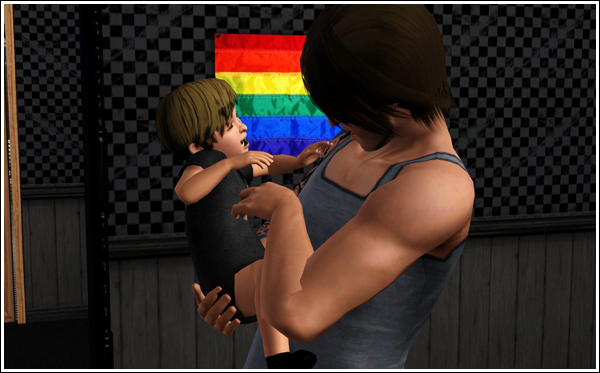 Leroy: Who's daddy's little cutie? You are, yes you are.
Jet: it tickles so bad!!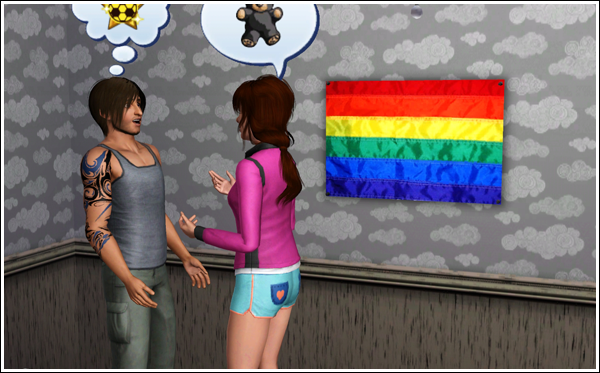 Soon enough Mimi was able to tell Leroy the good news.
Leroy: OMG, another baby will surely aid me in my quest to reach the top!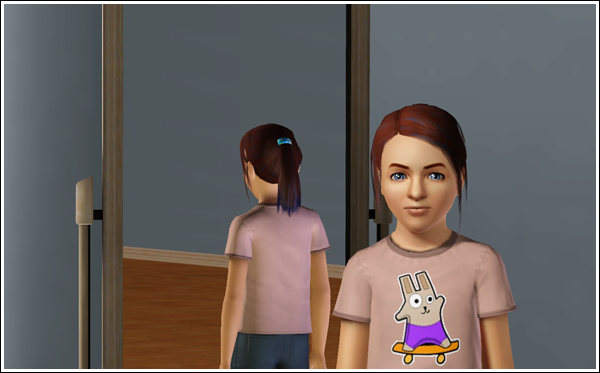 In the meantime here's my simself's twins: Joelle and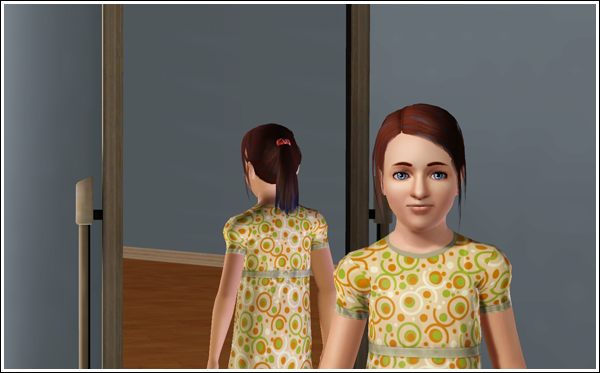 JoAnna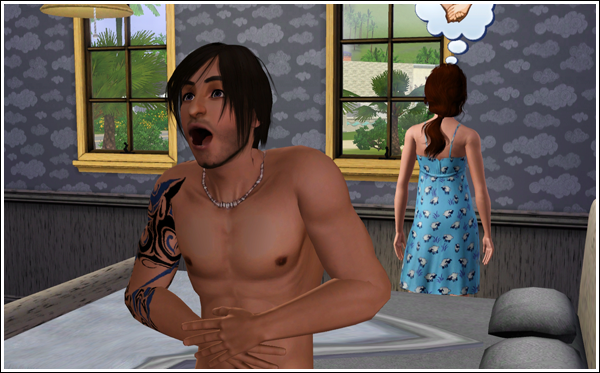 Leroy: SOMEONE FEED ME, PLEASE!
Mimi: We haven't held hands in a while..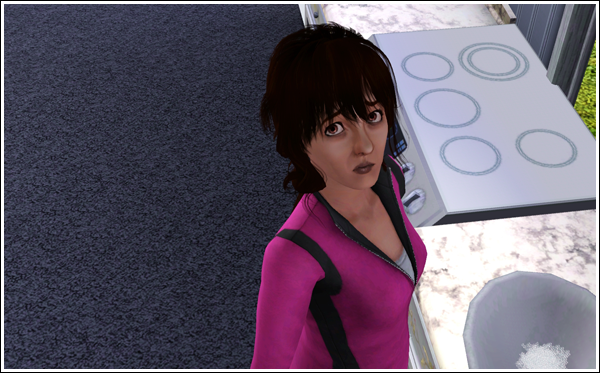 Mimi: What else needs cleaning before Leroy comes home and checks everything?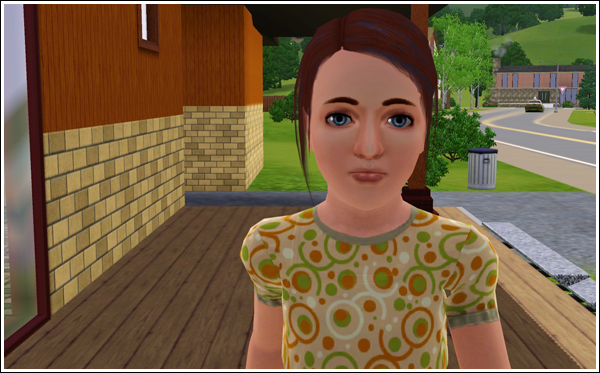 GUESS WHO HAS TOBIAS' LIPS!?
BOTH OF THE TWINS.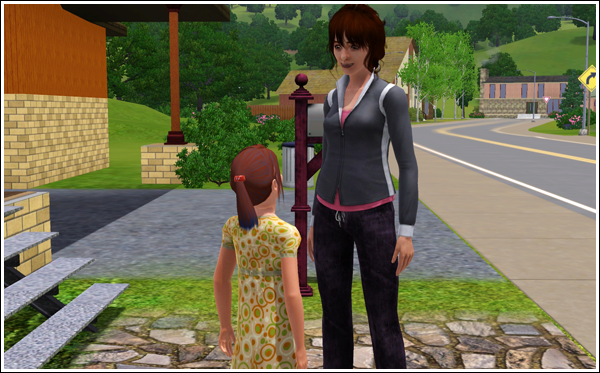 Leroy had a day off and Mimi was going stir-crazy so I sent her to simself's new house.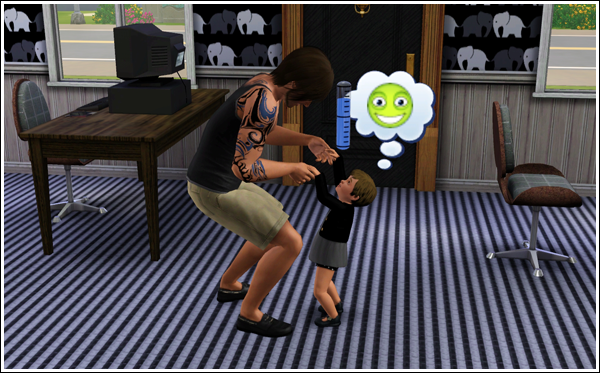 While the man continued his mission to teach Jet to walk, yes it's taken him that long because he's constantly working D: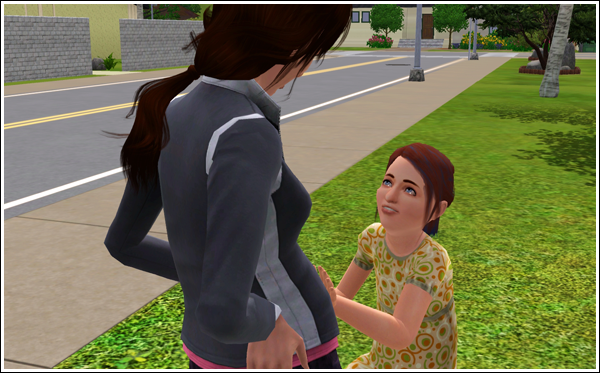 JoAnna: Aww, it's a baby.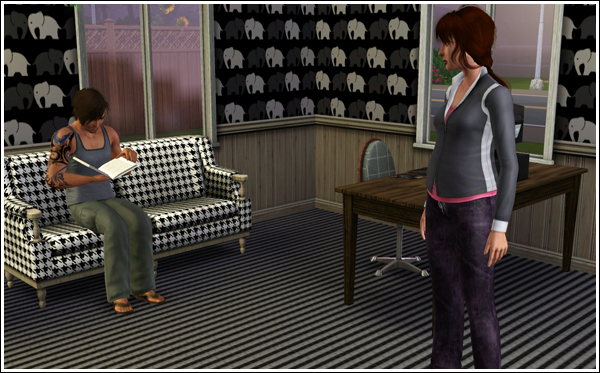 Back home Leroy is reading a pregnancy book again. And Mimi just rolled a want for it too! Win-Win!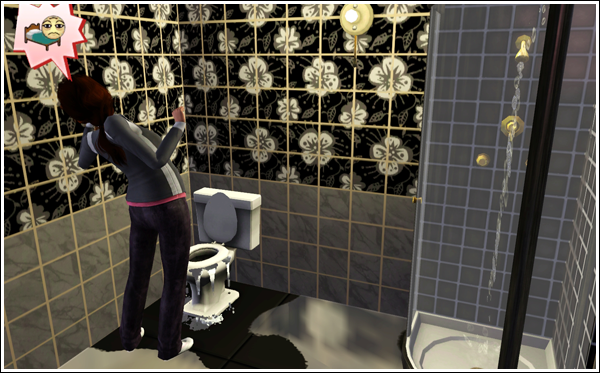 The toilet AND the shower are broken??
Mimi: Don't forget..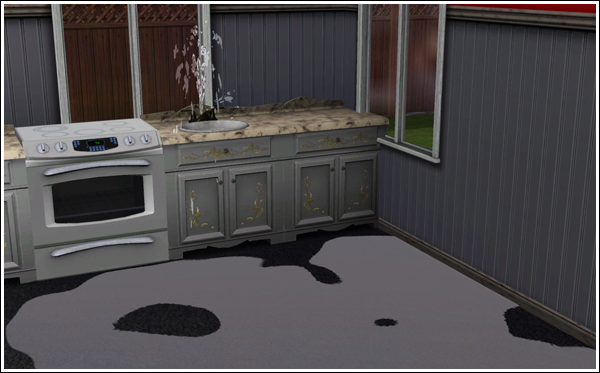 Mimi: the kitchen sink.
Are you serious.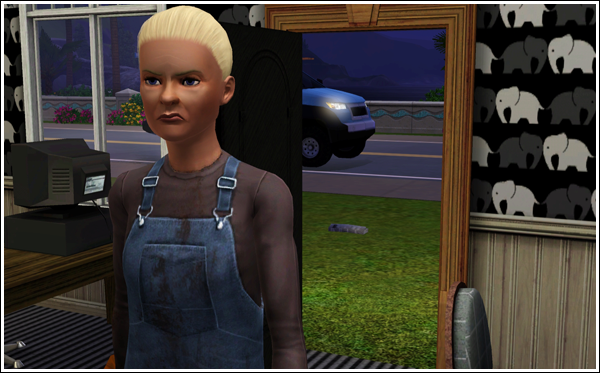 Tuesday(yes that's really her name xD): It is two AM. Can't they fix their own damn toilet?
Frankly, no.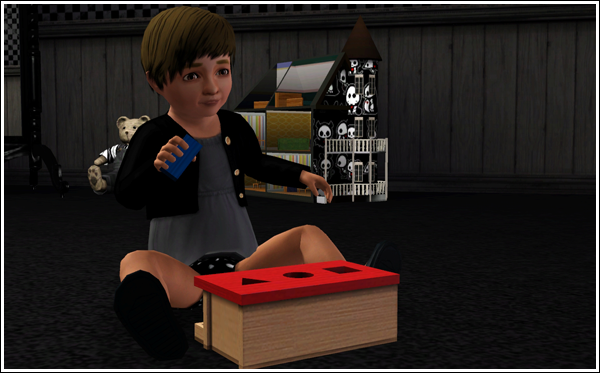 The only one awake at this hour is the toddler. And she can barely connect the cylinder to the circle.
Jet: I'm so smart!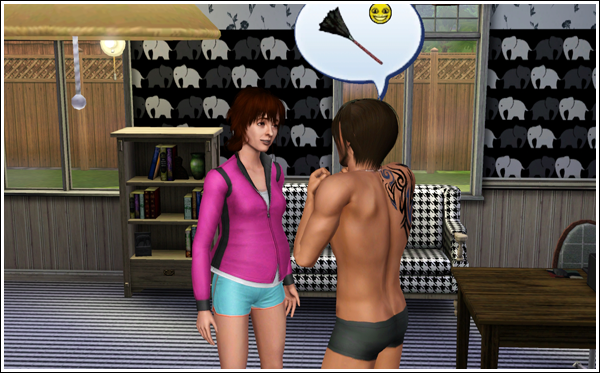 Leroy: Wow, bb, thanks for mopping up all that scum from last night's uber-pipage breakdown.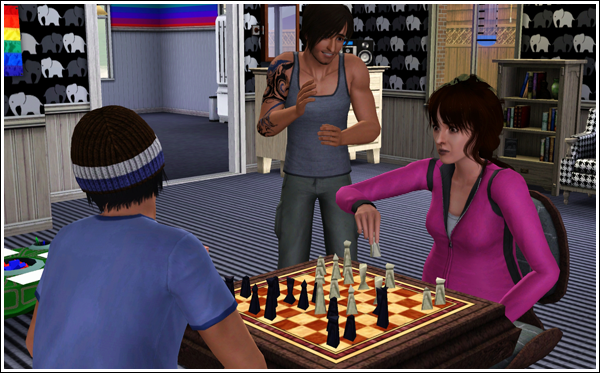 Leroy: YOU CAN DO IT HONEY!
She lost. And had to re-match, but we finally got rid of Milton.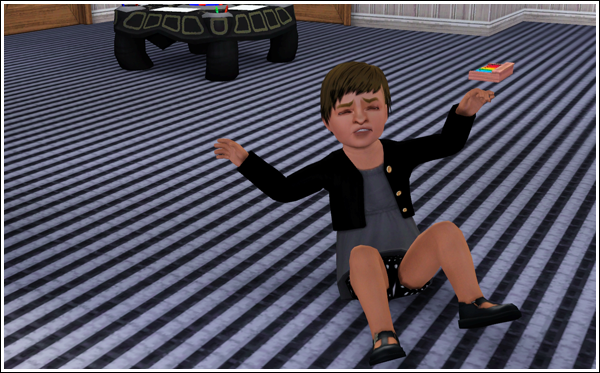 You have 4 good moodlets and all your needs are green. WHAT DO YOU WANT?!
Jet: I don't like black! I like aqua!
Shush. You are gen-black!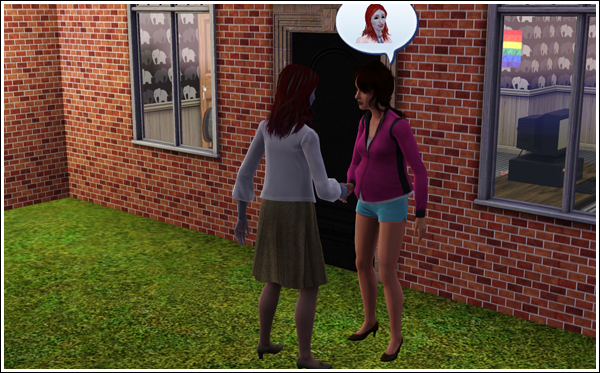 And the night that Mimi was gonna give birth, Vienna comes to visit.
She did have 10 kids in my the Sims 2 game so I guess she can help out a lot here.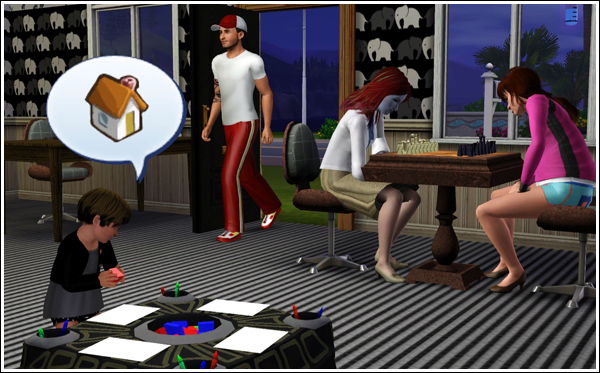 The moment Leroy steps in Jet comes up with this talk bubble.
Jet: Welcome home, daddy!
AWWWWW.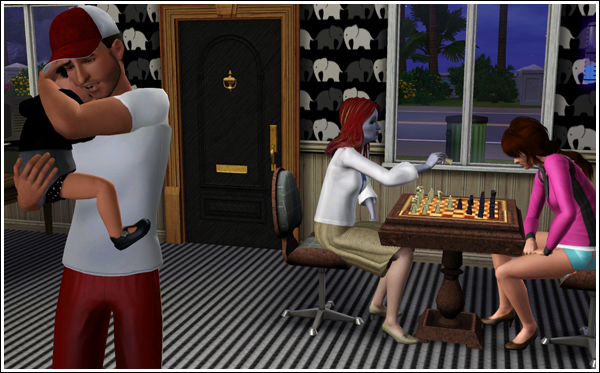 Leroy: Thank you sweetie, daddy loves you.
Jet: Yay.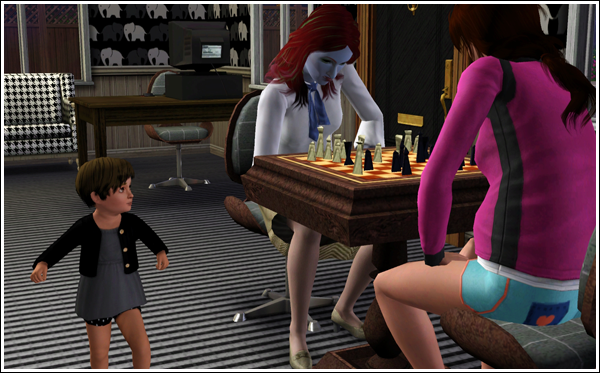 Jet: Hey mumzel, what's going on?
Mimi: I am tired!
Vienna and Leroy: SHE IS IN LABOUR!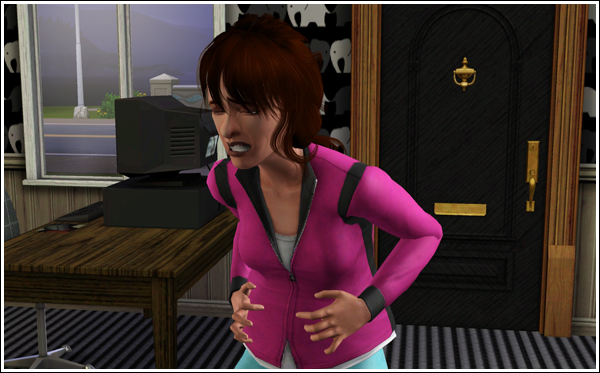 PUUUSH!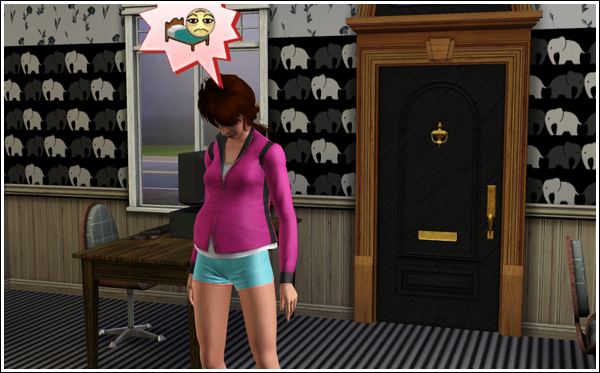 Mimi: I am TIRED!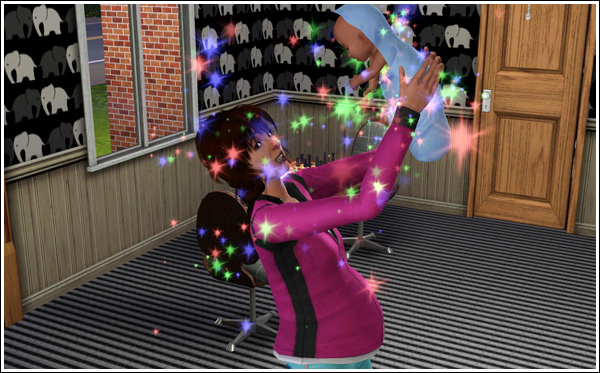 Mimi: It's a boy!
Leroy had wished for another girl but no dice.
His name is Tar.
Tar is a viscous organic black liquid.
Yeah it's also a river in North Carolina and a village in Hungary, but that does not matter right now!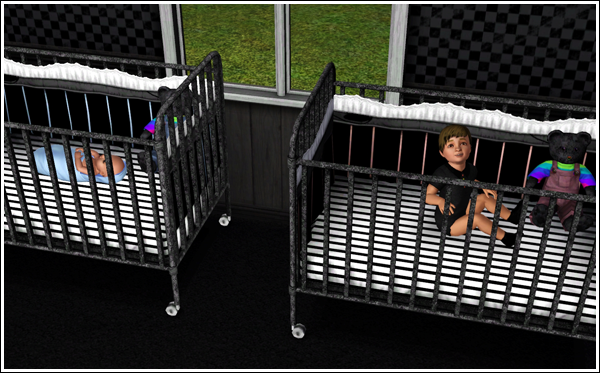 Jet: You still pay attention to me too, right?
Yes.
Do you like their cribs? I put pink stripes on the sides for Jet and blue ones for Tar.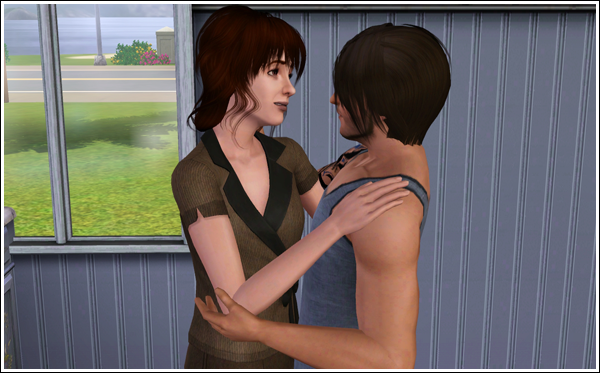 Mimi: You make me happy.
Leroy: Damn right, I do!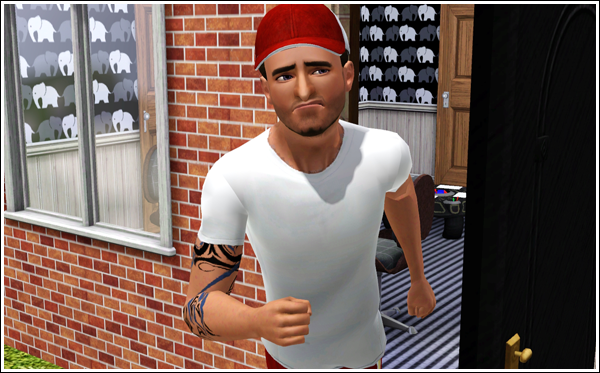 Leroy: I just wish I didn't have to work so often..
Aww.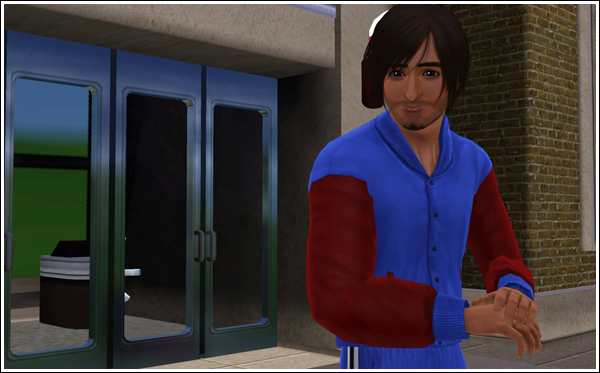 Well here's a treat, he got to leave early and got a promotion.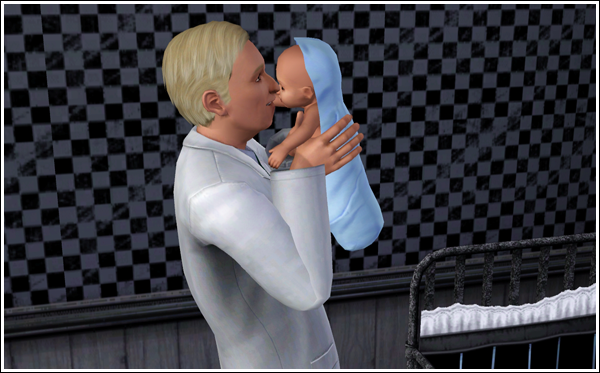 PUT DOWN THE BABY AND PLAY CHESS WITH MIMI LIKE WE WA
NT YOU TO.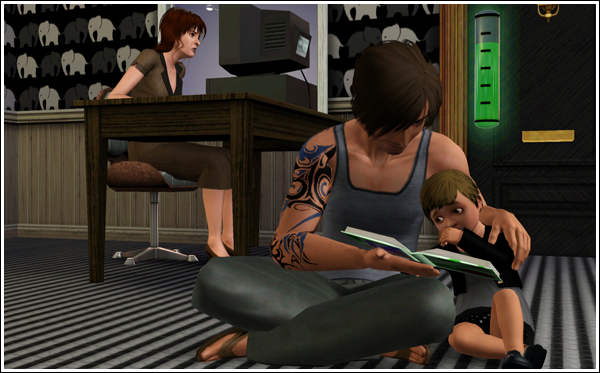 Little Jet still has some days left as a toddler so we got some cheap books for her to read.
We're still very poor.. sort of. We pay the bills but I can't go out buying expensive beds yet.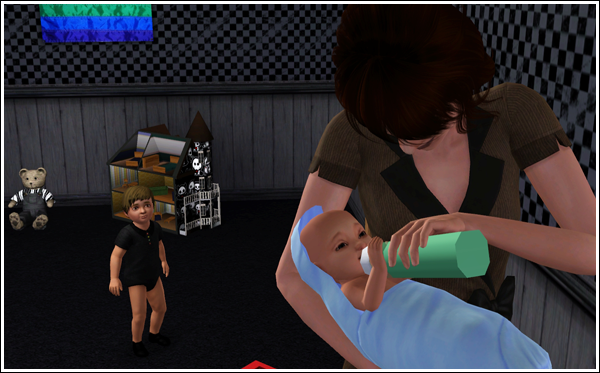 Mimi: Who's growing up in the next caption? Who is? You are!
Jet: I have a birthday to-morrow, mummy!!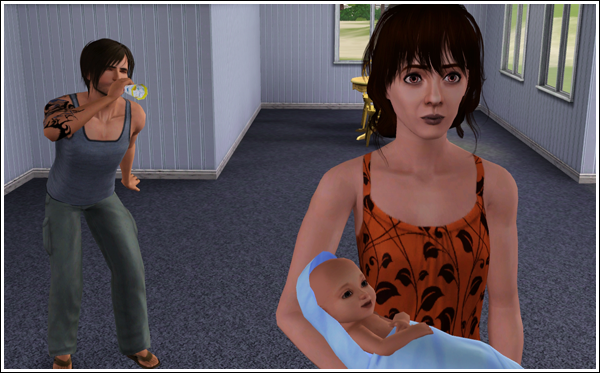 Leroy: TOOOT!
Mimi: Ouch, that was loud.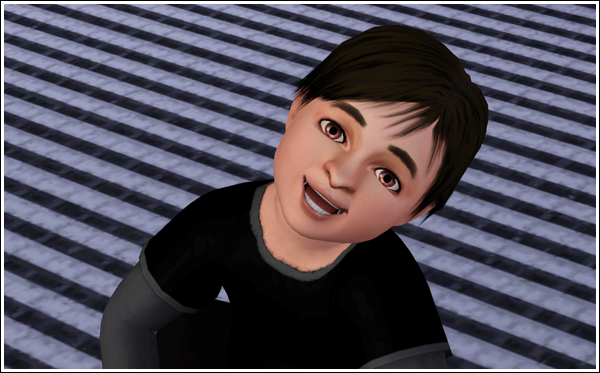 Here is Tar.
Tar is an absent-minded little man who loves the outdoors.
Leroy's brown hair and Mimi's eyes.
He also has a very wide jaw, which you can't see right now, but it's there.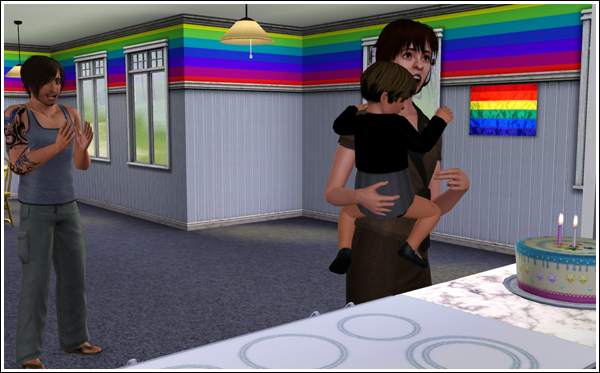 The next day it's time for little miss Jet to grow up.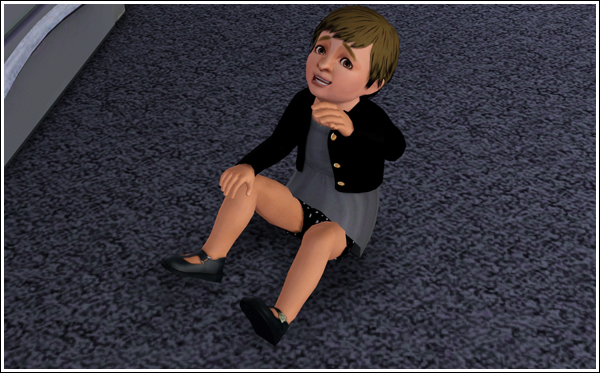 Last picture as toddler!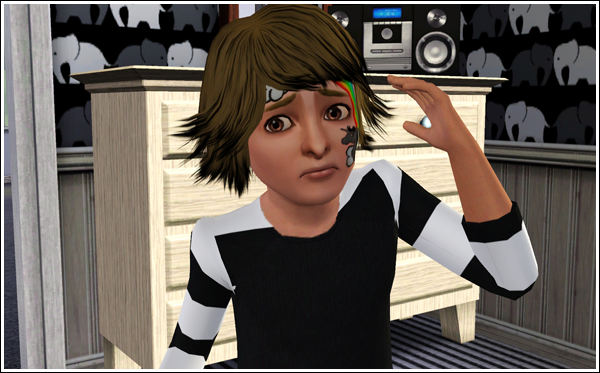 Jet: There is a pony on my face..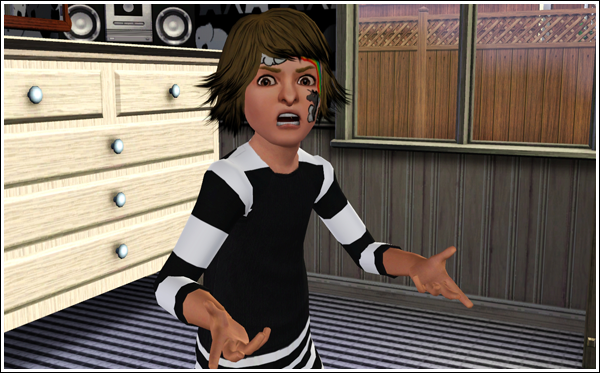 Jet: YOU PAINTED A PONY ON MY FACE!!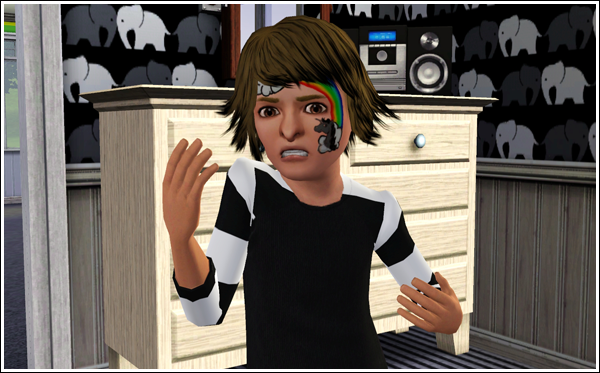 Jet: I will never forgive you!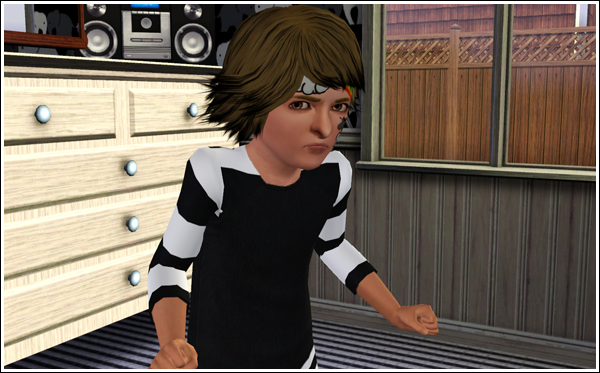 Jet: This is outrageous.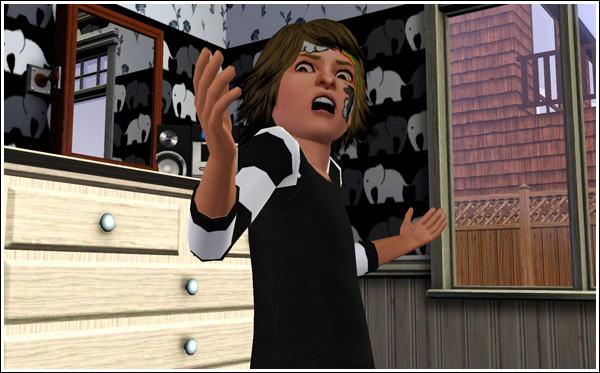 Jet: WILL YOU STOP SPAMMING ME!?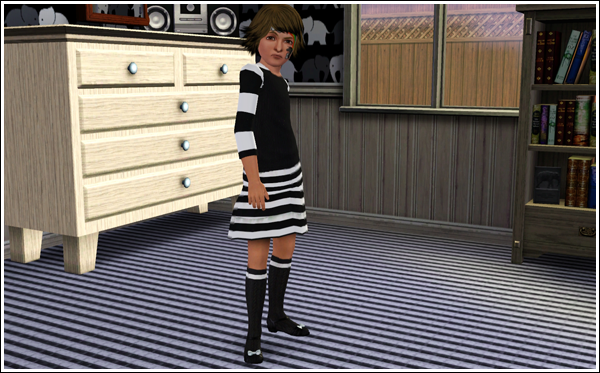 Jet: I refuse to talk to you.
Do you love her? She's awesome.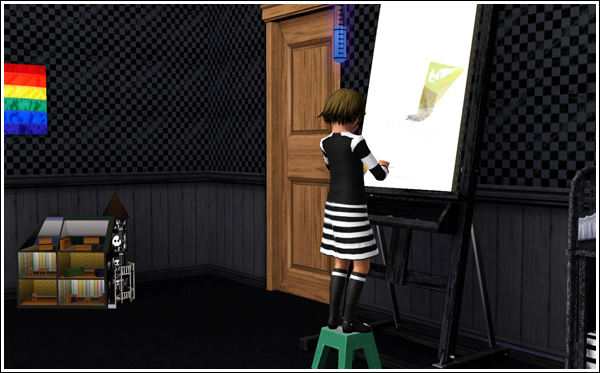 Jet's third randomized trait is Artistic, so I got her an easel, she can pour her angst all over.
Jet: I am not angsty!
Mimi: The toddler is in bed, why does he keep screaming?..
Mimi looks defeated.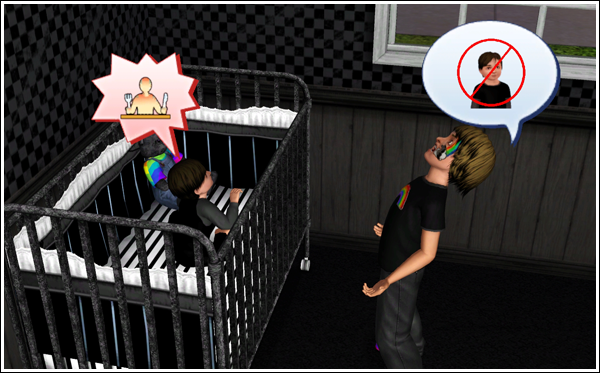 Jet: QUIET DOWN I HAVE SCHOOL TO-MORROW!
Jet hates this kid.
He IS a big whiny baby..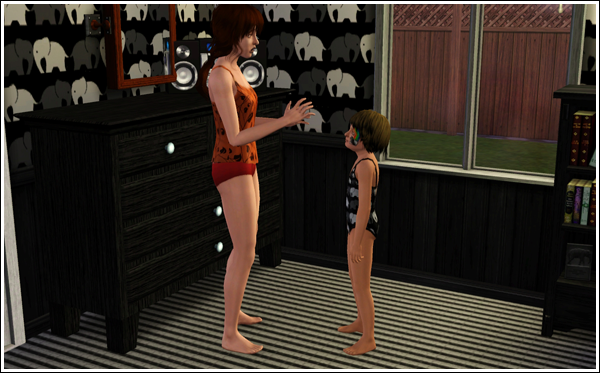 Mimi: So why the swimwear, cupcake?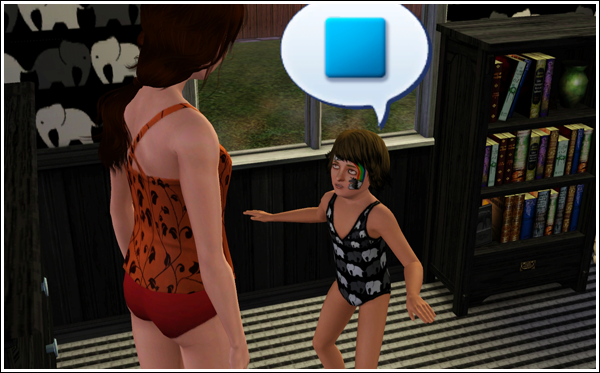 Jet: I figures, since I'm gen-black but my fave colour is aqua, which means water, right, so the closest I can get to that is.. wearing this. It's perfectly normal.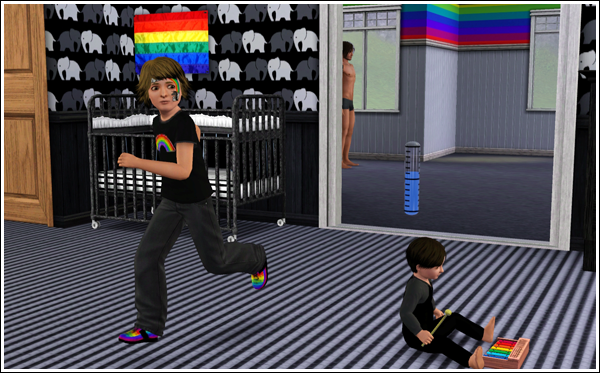 Count the rainbows in the picture!!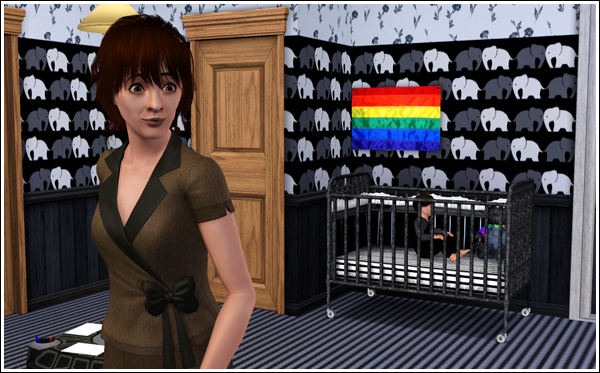 Mimi was going stir-crazy again so I got her a part-time job at the bookstore.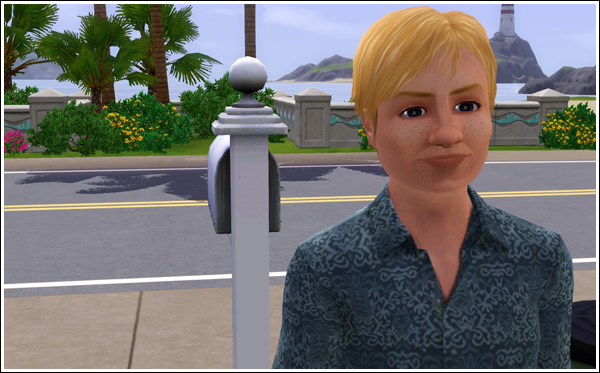 And Tar got this babysitter.
He reminds me of
that creepy guy
a little.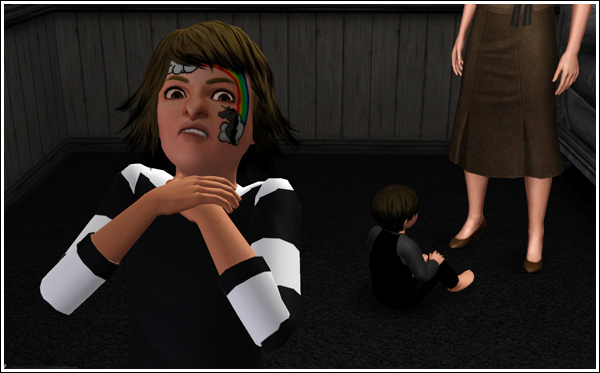 Jet: That baby makes me want to inflict pain on myself!
Jet really hates that kid.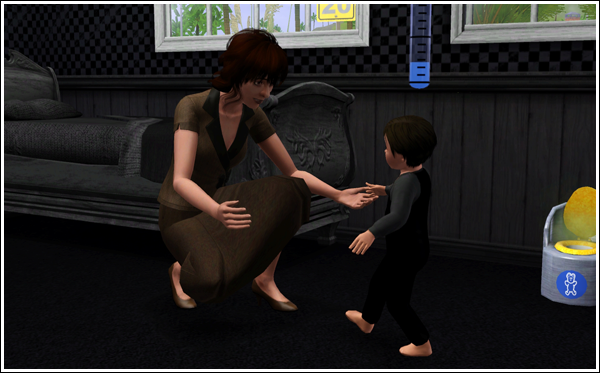 Mimi: Teaching kids is fun!
I decided to do just that and keep Mimi's LTW for after Tar is old enough.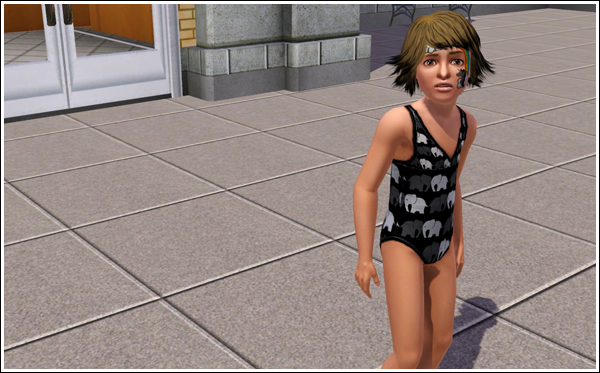 Looks like Jet went to school with her swimsuit.
Jet: Yeah, what's wrong with that?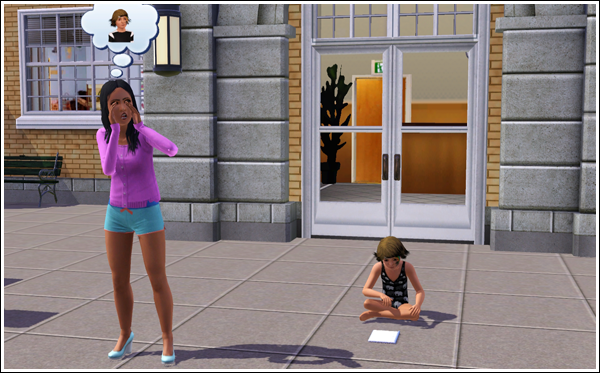 Bella: BOOOOO! KID IN SWIMSUIT SUCKS!
Wow, thanks Bella..
what a bitch.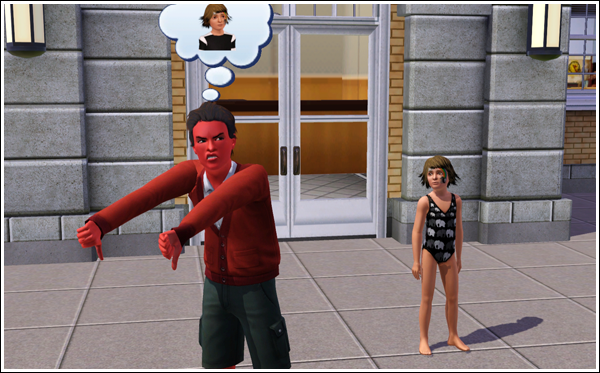 Some red kid: TWO THUMBS DOWN FOR THAT CRAZY LEGACY GIRL!
Wow.. high school is gonna SUCK for you.
Jet: Why do they hate me?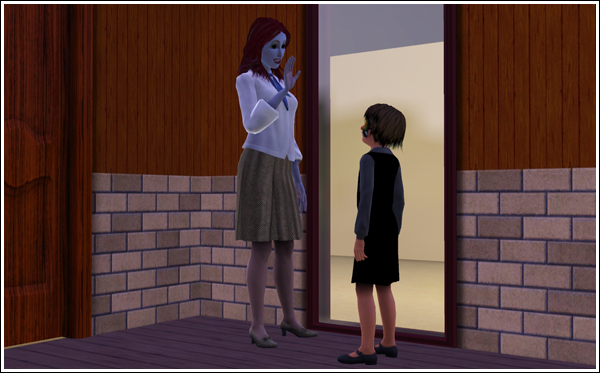 Vienna: OH HI!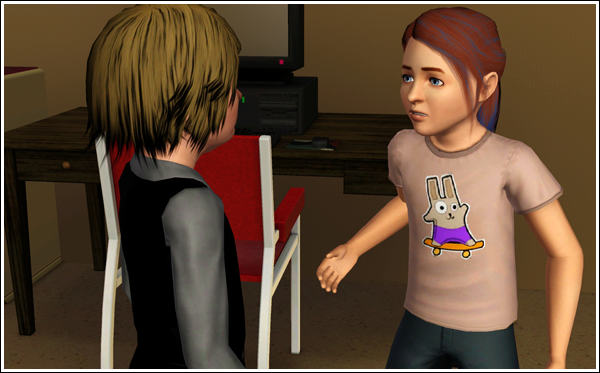 Joelle: Hey loser. What was with the swimsuit today at school?
Jet: I don't get it..
Poor Jet.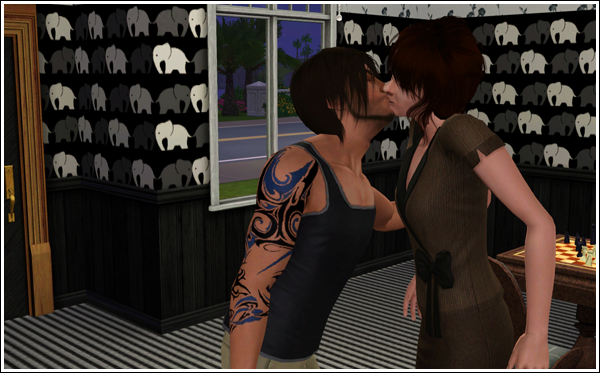 Back home the parents autonomously kiss. How sweet.
Now go teach the toddler to talk and the child to do homework.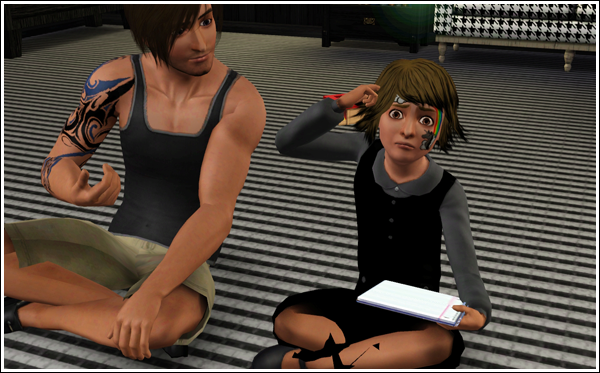 Jet: HELP! MATH IS HARD!!
That's all for this time!
Next time: Sibling rivalry?
I haven't played yet so your guess is as good as mine :D
I counted 7 rainbows in that picture if you count Jet's shoes individually.
The kitchen wall, the flag, the xylophone, one on each of Jet's shoes, the one on her shirt and one on her face.